Ranked third among the best airports in the world in 2021 according to Skytrax, Singapore Changi International Airport not only serves as a major hub for passenger and cargo traffic in the Asia-Pacific region but also stands out as a massive entertainment complex that can satisfy all travelers who set foot here.
More: Top 10 Hottest Free Tourist Attractions in Singapore
Singapore Changi International Airport
Introduction to Singapore Changi International Airport
When booking a flight to Singapore, you will land at Changi International Airport:
Full Name: Changi International Airport or Singapore Changi International Airport
Address: Airport Boulevard, Singapore
Distance to the center of Singapore: Approximately 19km
Airport Code: SIN
Country Code: 65
Phone: +65 6595 6868
Number of terminals: 4
GMT: +7 hours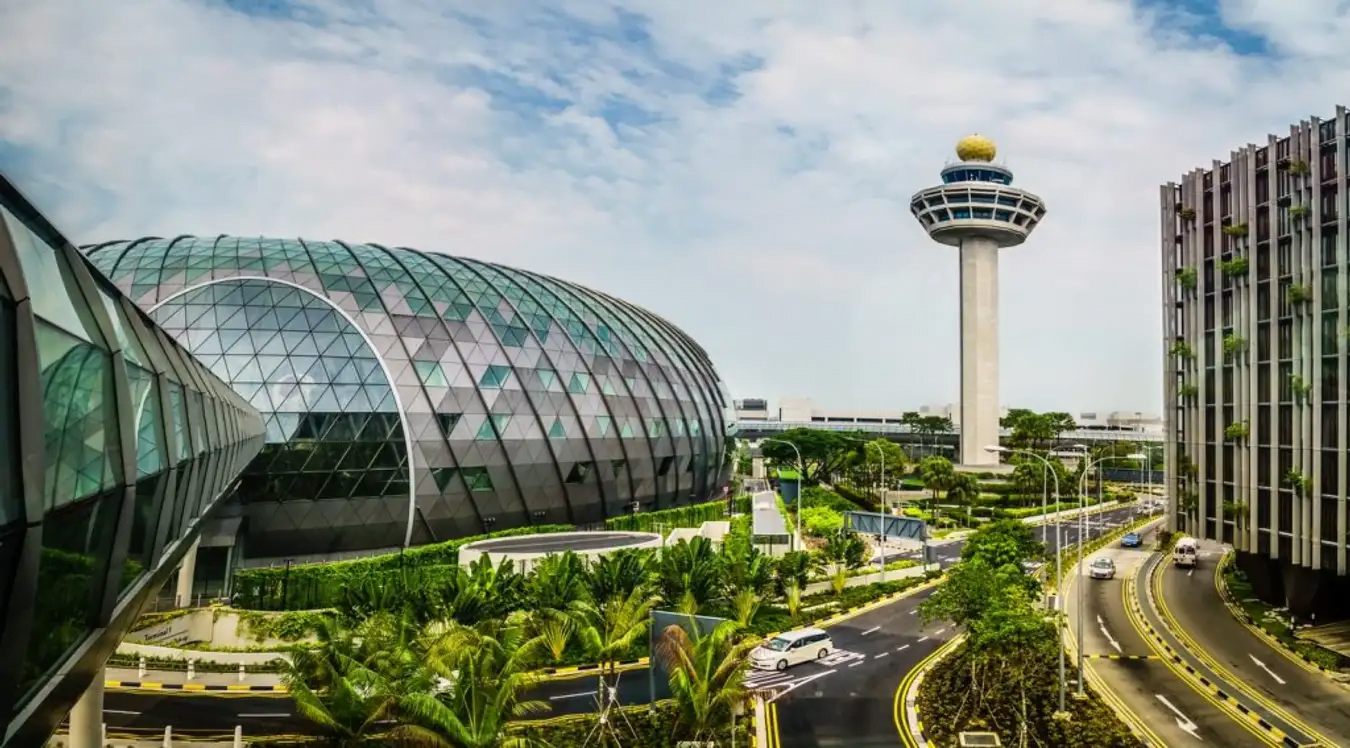 Singapore Changi International Airport is operated by the Changi Airport Group and is one of the world's top 5-star airports, known for its impeccable service quality.
For five consecutive years from 2013 to 2017, Skytrax organization rated it as the best airport in the world. In 2021, the airport maintained its position at third place in this ranking.
As a vital gateway for cargo and passengers in the region and globally, in 2019 alone, Changi Airport accommodated approximately 73 million passengers and transported over 2 million tons of cargo.
On average, each year, operations at Singapore Changi International Airport contribute over 4.5 billion dollars to the Lion City.
History of Formation and Development of Singapore Changi International Airport 
Singapore Changi International Airport, also known as Changi Airport, was built and began operations in 1979. By 1988, the airport had the honor of receiving the 'Best Airport in the World' award from the Business Traveller UK magazine.
In 1990, the second passenger terminal officially became operational, connecting Singapore to many countries worldwide.
The year 2007 marked a significant milestone for Singapore Changi International Airport when the world's first commercial A380 flight took off from Singapore to Sydney. This was also the year when the third terminal was constructed and completed, with a total designed capacity of 22 million passengers per year.
In October 2017, the fourth terminal was inaugurated and put into operation, becoming the first terminal to provide automated facilities, estimated to serve over 16 million customers annually.
Recognizing its strong development potential, in 2019, Singapore officially inaugurated the Jewel Changi complex, consisting of 10 floors – a must-visit tourist destination for passengers arriving at Singapore Changi International Airport .
To date, after more than 40 years of official operation, Singapore Changi International Airport serves the operations of over 100 airlines with more than 7,000 flights per week, connecting to over 380 destinations in over 90 countries worldwide.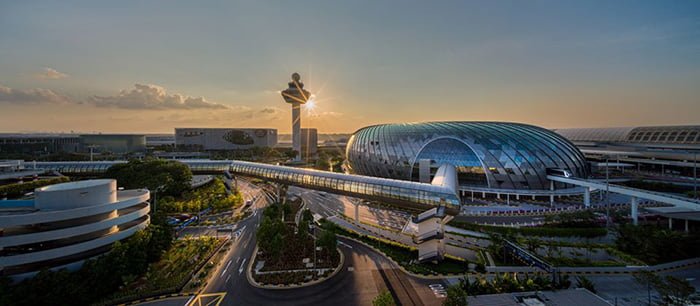 Travel Time from the Airport to the Center of Singapore
The distance between Changi Airport and the center of Singapore is approximately 19.2 kilometers. According to Google Maps, the estimated total travel time by road is around 17 minutes under favorable traffic conditions.
Getting to the Center of Singapore from Singapore Changi International Airport 
Taxi
This is the most comfortable and fastest mode of transportation chosen by many travelers, especially those in larger groups, families with children, and elderly individuals.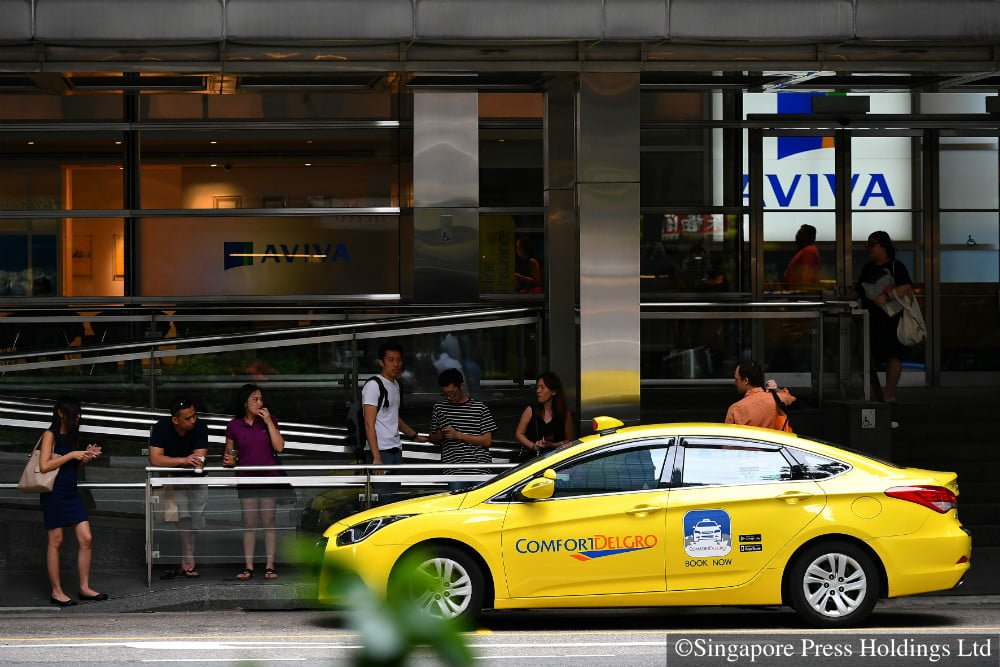 The average taxi ride from Singapore Changi Airport to the city center takes about 25-30 minutes.
There are two common taxi options at the airport with varying fares for peak and off-peak hours:
| Taxi Type | Peak Hours | Off-Peak Hours |
| --- | --- | --- |
| Regular taxi | 30 – 35 SGD | 20 – 30 SGD |
| Premium taxi | 40 – 50 SGD | 30 – 40 SGD |
Mass Rapid Transit (MRT)
The MRT, Mass Rapid Transit, is a fast and time-efficient mode of transportation.
This mode is suitable for independent travelers with minimal luggage and a smaller number of passengers.
The MRT station at Changi Airport is located in the basement of Terminal 2.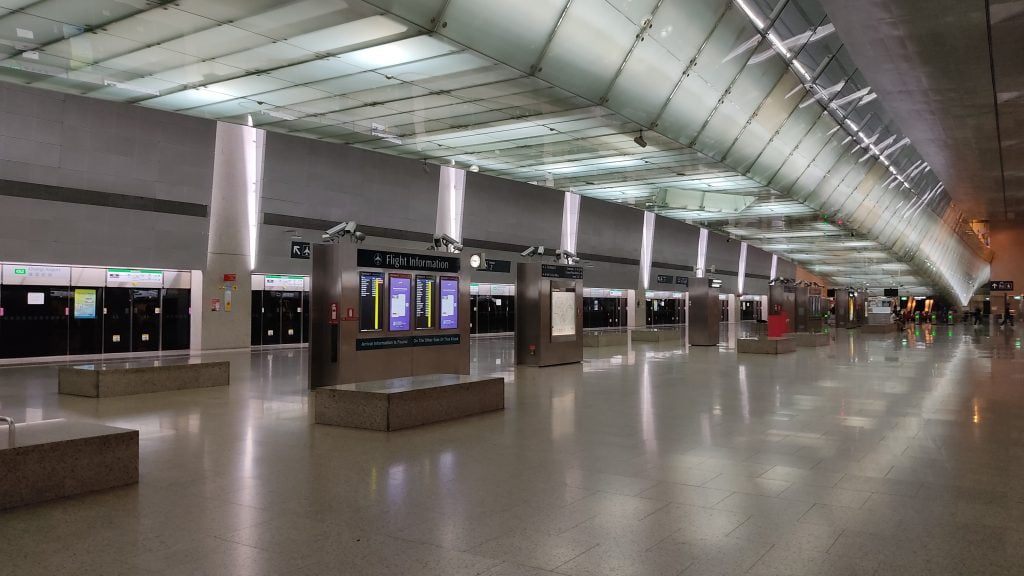 If you land at other terminals but wish to use the MRT, you will need to make your way to Terminal 2. Once there, follow the signs that say 'Train to City' to reach the MRT station.
Ticket Price: 2.8 SGD (approximately 48,500 VND) for a Single Ticket
Tickets can be purchased at the Ticket Vending Machines at the train station.
Directions to take the MRT from the airport to the center of Singapore (Bugis Station):
Take the train from Changi Airport Station to Tanah Merah Station, which takes about 6 minutes.

Exit the train on the left and cross to the opposite side to switch to the green line – East West Line heading towards Tuas

Link Station.

Stay on the train for another 9 stations to reach Bugis Station, with a total travel time of approximately 25-30 minutes.
Operating Hours:
| Journey | Monday – Saturday | Sunday & Public Holidays |
| --- | --- | --- |
| First Journey | 05:31 | 05:59 |
| Last Journey | 23:18 | 23:18 |
Peak Hours

(8h – 9h; 12h30 – 14h; 19h30 – 22h15)

7 – 9 minutes per trip

Off-Peak Hours

12 – 13 minutes per trip
Note:
Here, BestPrice provides instructions on how to travel by MRT from the airport to the Bugis station.

However, depending on the location of your hotel in proximity to which MRT station, you may choose to take the train to that station for convenient access to your accommodation.

You can download the Moovit app to look up the relevant train lines for your destination.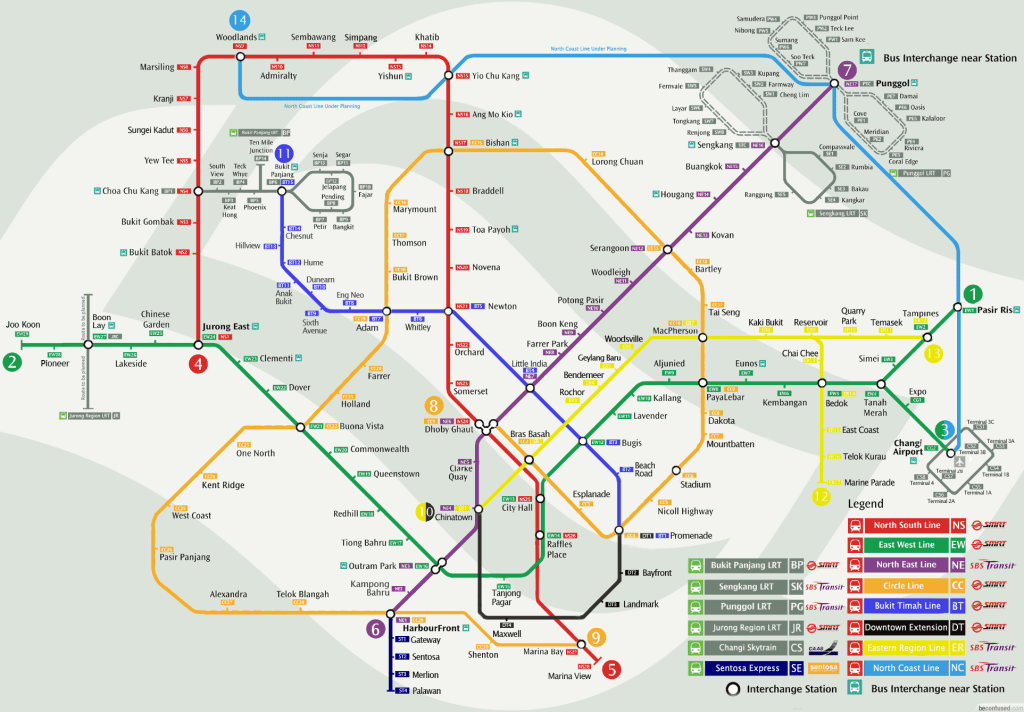 Public Bus Service
You can choose from several bus routes, including route number 36, which departs from the bus terminal on the basement level of Terminals 1, 2, and 3.
Route

6A: Changi Airport – The Regent Singapore

36B: Lagoon View – Opposite Mandarin Gardens

Ticket Price

2.5 SGD per trip

Travel Time

Approximately 1 hour

Frequency

8 – 12 minutes per trip

Operating Hours

Weekdays: 06:08 AM – 10:52 PM

Saturday: 06:07 AM – 10:52 PM

Sunday and Public Holidays: 06:06 AM – 11:53 PM
Structure and Infrastructure
Runways
Currently, Changi Airport has two parallel runways for takeoff and landing, each measuring 4,000 meters in length and 60 meters in width. Both runways are equipped with state-of-the-art aviation equipment to ensure safe landings in all weather conditions.
Aircraft Parking Stands
At present, Changi International Airport has approximately 68 aircraft parking stands. The aircraft parking infrastructure can accommodate a wide range of aircraft, from medium-sized planes like the A321 and A320 to larger aircraft such as the Boeing 787, Boeing 777, A380, and equivalents.
Passenger Terminals
Changi Airport consists of four separate passenger terminals: T1, T2, T3, and T4, along with the Jewel Changi complex, all interconnected in a long 'U'-shaped configuration.
Each terminal boasts unique and lush green garden architecture, providing a refreshing natural ambiance and various amenities.
In addition, the airport is currently constructing a fifth terminal. The total designed capacity of the entire Changi Airport complex can accommodate up to 85 million passengers per year.
Terminal 1 (T1)
As the oldest terminal at Changi International Airport, Terminal 1 primarily serves international flights to and from Singapore. The terminal includes main sections such as the Arrival Hall, Departure Hall, Transit Halls on Levels 2 and 3, as well as airline lounges.
Here, passengers can experience a variety of services such as shopping centers, medical services, local SIM card services, free currency exchange services, entertainment lounges, and business services, ensuring diverse traveler needs are met.
T1 also features the Aerotel Transit Hotel located on Level 3 – the Transit Hall. This hotel provides 70 premium transit rooms with amenities like a gym, bar, swimming pool, and Jacuzzi, catering to passengers in transit.
One of the highlights of this terminal is its unique garden areas, including the Cactus Garden, Piazza Garden, and sculptures throughout the terminal.
Additionally, passengers can admire the impressive Kinetic Rain sculpture, a 1216-meter-long artwork, or share images and videos with other travelers at Changi Airport via the 'Social Tree,' a 9-meter-tall display screen located in T1.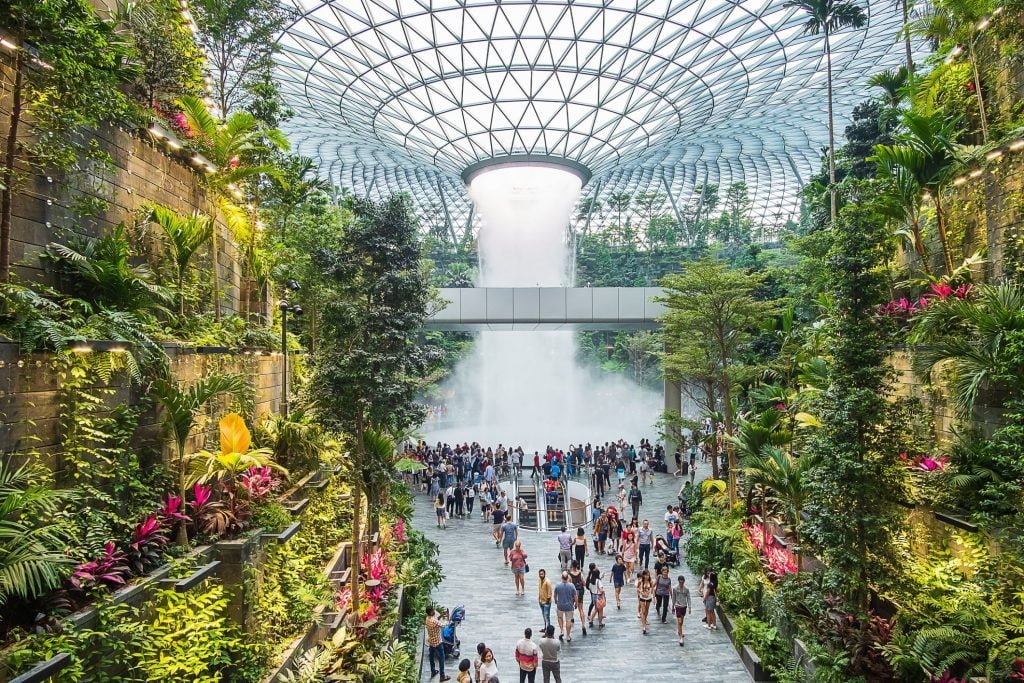 Terminal 2 (T2)
Terminal 2 of Changi International Airport has been operational since 1990, connecting to the east of Terminal 1. The terminal comprises six levels, including the basement level with the MRT subway station, Departure Hall, Departure Transit Areas on Levels 2 and 3, and airline lounges.
T2 primarily handles flights between Singapore and the Middle East, Africa, Southeast Asia, and the Indian subcontinent.
This terminal is a lively entertainment hub for travelers during their wait time, with various restaurants, bars, spas, cinemas, and a multitude of impressive garden areas such as the Enchanted Garden, Orchid Garden, and Sunflower Garden.
On Level 3, there is the Ambassador Transit Hotel, providing transit passengers with a wide range of amenities, including free Wi-Fi, a fitness room, and a spa. The hotel operates 24/7 and accommodates travelers staying for a minimum of 6 hours.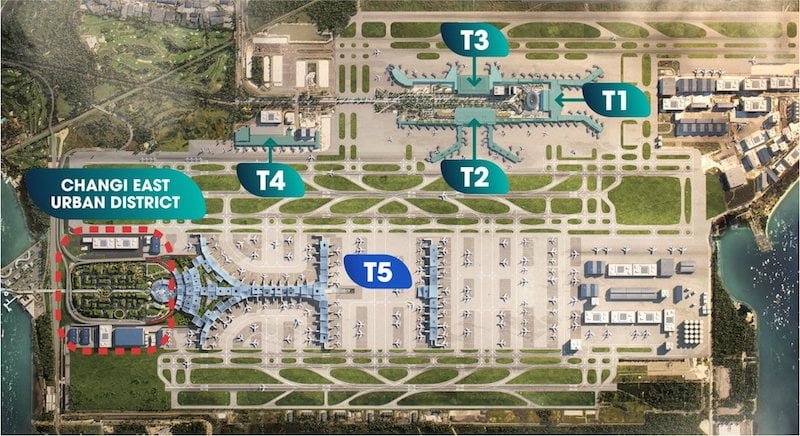 Terminal 3 (T3)
Terminal 3 serves as the headquarters of Singapore Airlines and manages flights between Singapore and Europe, North America, South America, East Asia, and the South Pacific. The terminal's structure consists of a basement level, Arrival Hall on Level 1, Departure Hall on Level 2, Departure Transit Areas on Levels 2 and 3.
A striking feature of this terminal is the Green Wall, surrounding the building from the basement to Level 5. Furthermore, T3 boasts the Butterfly Garden located in the Departure Transit Areas on Levels 2 and 3, featuring over 1,000 tropical butterflies from more than 40 different species.
T3 is also home to an impressive collection of art installations found throughout the terminal, including 'Birds in Flight,' 'Daisy,' 'Going Home,' 'Floral Inspirations,' Saga Seed, Vessel, and more. There is also a dedicated exhibition space for Changi Airport's aviation-themed artworks.
For transit passengers, T3 offers the Crowne Plaza Airport Hotel and Ambassador Transit Hotel, both of which provide premium amenities.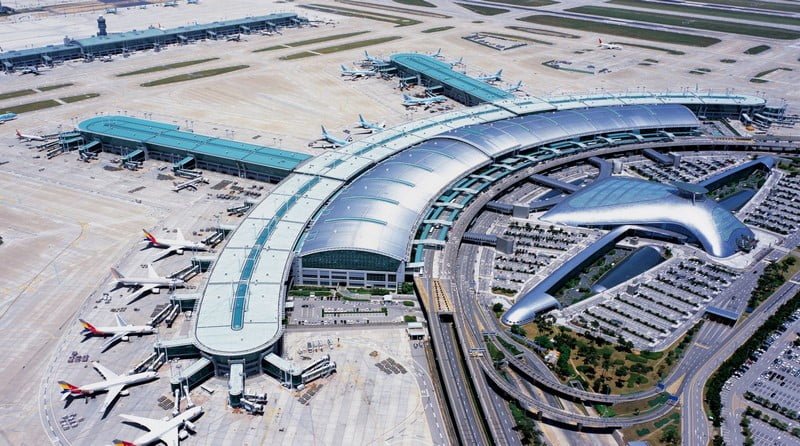 Terminal 4 (T4)
Terminal 4 is the most modern and automated terminal at Changi Airport, focusing on fast and seamless travel. It serves the operations of various budget airlines.
The terminal's structure consists of a basement level with an underground transportation system, Arrival Hall, and Departure Transit Areas.
All operations in T4 are automated through facial recognition technology. Passengers can complete self-check-in, self-tag their baggage, self-baggage drop, immigration procedures, and boarding by scanning their passport and fingerprints.
Inside T4, passengers can explore several remarkable features, including the Heritage Facade that sells local souvenirs and products, 19 restaurants with a diverse range of cuisine from Asia to Europe, an entertainment zone with electronic games and gaming machines, a 70-meter-long LED screen known as the Kinetic Wall for passenger entertainment while waiting, the 'Steel in Bloom' central garden area, impressive art installations such as 'Hey, Ah Check!,' 'Les Oiseaux,' 'Pétale Cloud,' and more.
Jewel Changi Complex
Opened in 2019, the Jewel Changi complex at Changi Airport is a modern, nature-themed architectural marvel filled with diverse and attractive amenities. It has a total area of 135,700 square meters, spread across 10 levels, including 5 basement levels and 5 above-ground levels. The centerpiece of the complex is The Rain Vortex, the world's tallest indoor waterfall at 40 meters in height.
Apart from The Rain Vortex, travelers can visit various attractions, gardens, retail shops, restaurants, and other features located throughout the complex. Some of the most attractive spots include the Shiseido Forest Valley, Canopy Park, Canopy Bridge, Mirror Maze, Hedge Maze, and more.
The creation of this nature-themed retail and entertainment complex, Jewel Changi, significantly contributes to maintaining Changi Airport's status as a premier aviation hub. On average, Jewel Changi welcomes more than 300,000 passengers each day, and this number is expected to grow as Changi Airport expands in the future.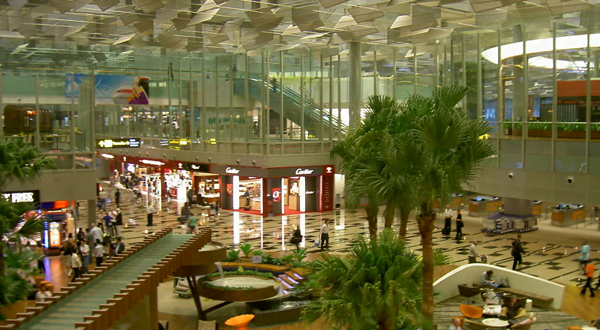 Terminal 5 (T5)
According to plans, Terminal 5 of Changi International Airport will be officially completed and operational between 2020 and 2030. Once finished, it will be the world's largest airport terminal, capable of accommodating 50 million passengers annually.
T5 is expected to offer the most advanced, fully automated service infrastructure, ensuring maximum convenience for passengers and improving the efficiency of Changi Airport's operations.
The launch of T5 is not only significant for Singapore's economy but also creates tens of thousands of employment opportunities in the tourism, hotel, and retail sectors.
Overall, Changi Airport remains at the forefront of global aviation and continues to innovate and expand to meet the growing demands of international travelers.
Useful Tips for Your Visit to Singapore Changi International Airport
Keep these practical tips in mind to ensure a smooth experience when visiting Singapore Changi International Airport:
Free Wi-Fi: The airport provides free Wi-Fi access for up to 3 hours. You can obtain the login details from the information counters.
4G SIM Cards: You can purchase 4G SIM cards at convenience stores like 7-11, Cheers, or the StarHub booths in all airport terminals.
iChangi App: Download the iChangi app, which offers a digital map of the entire airport, making it easy to navigate.
Shopping and Dining: Changi Airport boasts over 550 retail outlets offering a wide range of products from around the world, as well as more than 200 renowned restaurants and cafes to cater to your needs.
Tax Refunds: If you make purchases totaling over 100 SGD (~1,700,000 VND) including tax at participating stores, you can get a tax refund. To receive a cash refund, visit the Central Refund Counter at Changi Airport's Departure area before departing.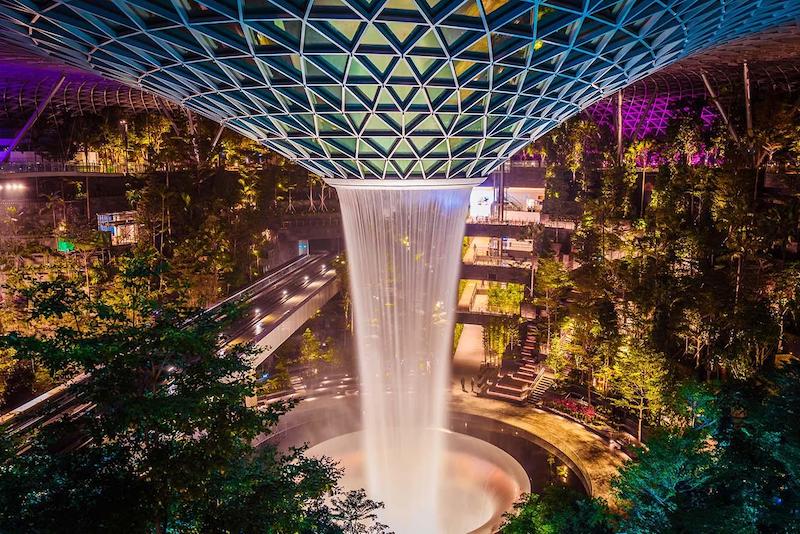 Airport Services: The airport offers a range of services, including parking facilities, car rental services, medical services, meeting areas, a tax refund zone, and baby care facilities.
These tips will help you make the most of your time at Singapore Changi International Airport and ensure a convenient and enjoyable journey.