Hanoi, the capital city of Vietnam, is a vibrant metropolis that never fails to captivate visitors with its rich history, diverse culture, and bustling atmosphere.
Among its many districts, Hai Ba Trung stands out as a captivating blend of tradition and modernity.
As we step into the year 2024, let us embark on a virtual journey through the captivating Hai Ba Trung District, immersing ourselves in its distinctive landmarks, cultural treasures, and exciting developments.
Let's explore the fascinating things in Hai Ba Trung District together with TripWorldwide.
More: About Hoang Mai District in Ha Noi 2024
Hai Ba Trung District | About Hai Ba Trung: Map, postal codes, Tourist, History 2024 
History of Hai Ba Trung District
The history of Hai Ba Trung District is deeply intertwined with the rich tapestry of Vietnam's past. Located in Hanoi, the capital city of Vietnam, this district holds immense historical significance and has played a pivotal role in shaping the country's cultural heritage. Let us delve into the captivating history of Hai Ba Trung District.
Hai Ba Trung District takes its name from the revered Trung Sisters, who rose to prominence during the first century AD. Trung Trac and Trung Nhi were born into a noble family and became legendary figures for their valiant efforts in leading a rebellion against the Chinese Han Dynasty, which had occupied Vietnam at the time.
Their uprising, known as the Trung Sisters' Revolt, aimed to reclaim Vietnamese independence and restore self-governance.
In 40 AD, the Trung Sisters rallied an army of brave Vietnamese men and women, successfully expelling the Chinese forces from many parts of the country. They established their headquarters in Me Linh, a region that is now part of Hai Ba Trung District. The sisters' leadership inspired and united the Vietnamese people, and they were hailed as national heroines.
However, their reign was short-lived. The Chinese Han Dynasty, determined to regain control, launched a counteroffensive. Despite fierce resistance, the Trung Sisters' army was eventually defeated in 43 AD.
Rather than surrender, the sisters chose to end their lives, symbolizing their unwavering dedication to the cause of Vietnamese independence.
Throughout the centuries, Hai Ba Trung District has continued to hold the memory and legacy of the Trung Sisters close to its heart. Monuments and shrines dedicated to the sisters can be found in the district, serving as reminders of their bravery and sacrifice.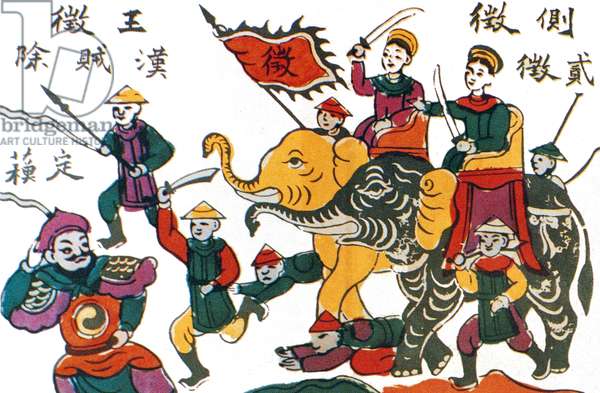 Over time, Hai Ba Trung District has witnessed significant changes and developments. It has grown into a bustling urban center, embracing modernity while preserving its historical roots.
The district's architecture reflects a blend of colonial-era structures and contemporary buildings, showcasing its journey through time.
Today, Hai Ba Trung District stands as a vibrant and thriving part of Hanoi. Its streets are lined with bustling markets, cultural landmarks, and residential areas, offering a unique blend of tradition and progress.
The district continues to attract visitors who seek to connect with Vietnam's history and experience its vibrant present.
The history of Hai Ba Trung District is a testament to the resilience and determination of the Vietnamese people in their pursuit of freedom and independence.
It serves as a reminder of the sacrifices made by the Trung Sisters and the indomitable spirit they embodied.
As the district continues to evolve and shape the future, it remains deeply rooted in its historical legacy, honoring the heroic legacy of the Trung Sisters and inspiring generations to come.
Geographical Location
Hai Ba Trung District is situated in the heart of Hanoi, the capital city of Vietnam. It occupies a central location within the city, contributing to its accessibility and prominence. The district is bordered by several other districts, including Dong Da District to the west, Hoan Kiem District to the east, Thanh Xuan District to the southwest, and Long Bien District to the northeast.
Spanning an area of approximately 9.2 square kilometers, Hai Ba Trung District encompasses a diverse range of neighborhoods, commercial areas, and cultural landmarks. Its strategic position within Hanoi makes it a hub of activity and an integral part of the city's urban fabric.
The district is traversed by major roads and thoroughfares, facilitating transportation and connectivity. Prominent roads such as Dai Co Viet Street, Nguyen Dinh Chieu Street, and Nguyen Du Street intersect the district, linking it to other parts of Hanoi and beyond. Additionally, the district benefits from its proximity to key transportation hubs, including Hanoi Railway Station and Giap Bat Bus Station, which provide convenient access to different regions of Vietnam.
Hai Ba Trung District is characterized by a mix of residential and commercial areas. It is home to a diverse population, including local residents, expatriates, and students who are drawn to the district's dynamic atmosphere and numerous amenities. Residents enjoy the convenience of having various educational institutions, healthcare facilities, shopping centers, and entertainment venues within close proximity.
The district's geographical location also grants easy access to significant landmarks and tourist attractions. The iconic Hoan Kiem Lake, which lies just east of Hai Ba Trung District, is a popular destination for locals and visitors alike. Other notable sites nearby include the Temple of Literature, the Old Quarter, and the vibrant commercial districts of Hanoi.
In summary, Hai Ba Trung District occupies a central and strategic geographical location within Hanoi. Its proximity to major transportation routes, diverse neighborhoods, and key landmarks contributes to its appeal and makes it a vibrant and thriving part of the city.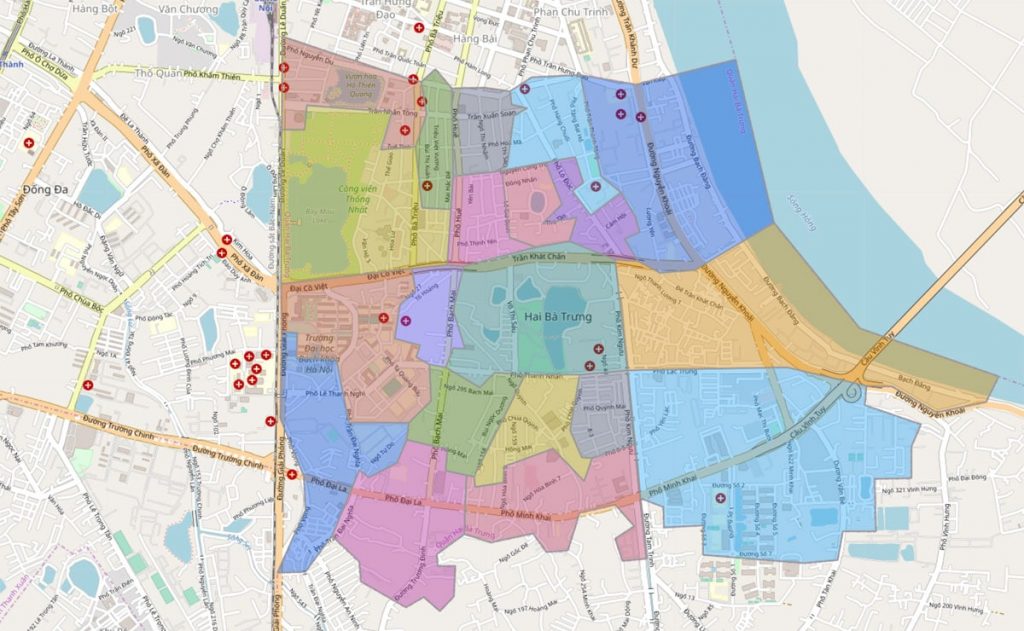 Administrative Divisions
Hai Ba Trung District, located in Hanoi, Vietnam, is divided into 16 administrative divisions, known as wards. These wards serve as local administrative units within the district, each with its own unique characteristics and features. Let's explore the administrative divisions of Hai Ba Trung District:
Bach Mai Ward
Bui Thi Xuan Ward
Cua Dong Ward
Giap Bat Ward
Hai Ba Trung Ward
Le Dai Hanh Ward
Minh Khai Ward
Ngo Thi Nham Ward
Nguyen Du Ward
Pham Dinh Ho Ward
Pho Hue Ward
Quynh Loi Ward
Quynh Mai Ward
Thanh Luong Ward
Thanh Nhan Ward
Truong Dinh Ward
Each ward within Hai Ba Trung District has its own distinct character, amenities, and community. They encompass a mix of residential areas, commercial districts, educational institutions, healthcare facilities, and cultural sites. The wards collectively contribute to the vibrant and diverse fabric of Hai Ba Trung District.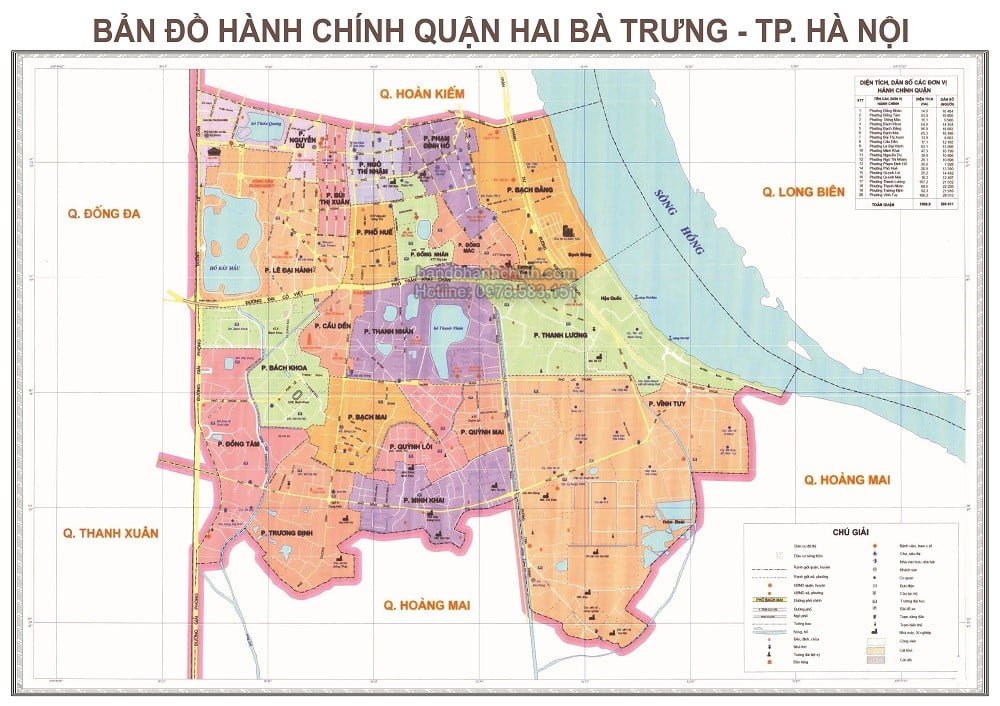 These administrative divisions play a crucial role in local governance, ensuring the efficient provision of public services and addressing the specific needs of their respective communities. They serve as important units for administrative and planning purposes, facilitating the management and development of Hai Ba Trung District.
Overall, the administrative divisions of Hai Ba Trung District provide a structured framework for governance, community engagement, and the effective delivery of services to residents and businesses within the district.
Hai Ba Trung District Ha Noi Postal Code
The postal code for Hai Ba Trung District in Hanoi, Vietnam is 100000. This code is used for mailing and addressing purposes within the district, ensuring efficient delivery of mail and packages to the correct locations. When sending mail or packages to addresses in Hai Ba Trung District, it is important to include the postal code to ensure accurate and prompt delivery.
Exploring Hai Ba Trung District
Hai Ba Trung District, located in the heart of Hanoi, Vietnam, is a captivating destination that offers a blend of historical charm, cultural treasures, and modern vibrancy. Let's embark on a journey to explore the wonders and highlights of this district.
Famous landscapes and renowned historical sites in Hai Ba Trung District
Hai Ba Trung District has 91 historical, cultural, and revolutionary relics (33 of which have been classified). Among them are famous relics such as Huong Tuyet Pagoda, Lien Phai Pagoda, Thien Quang-Quang Hoa-Phap Hoa Pagoda, Hai Ba Trung Temple, Tuong Mai Communal House, 152 Bach Mai Revolutionary Relic, Hoang Van Thu Memorial Site, 1945 Famine Memorial Site, 18 Nguyen Du Historical Revolutionary Relic, and more.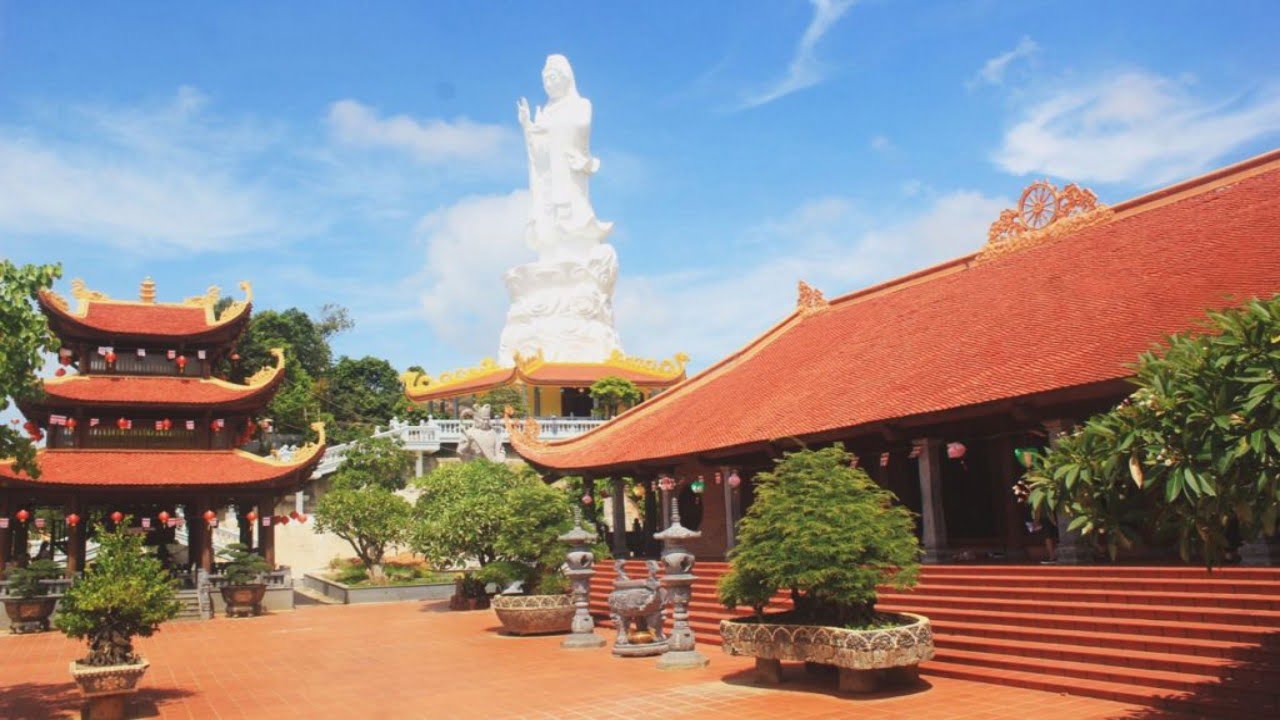 Within the area of Hai Ba Trung District, there are two large parks: Thong Nhat Park and Youth Park. In the coming years, these parks will be renovated in a modern direction and offer a diverse range of activities, contributing to the improvement of cultural and spiritual life for residents in the district and attracting tourists from other places.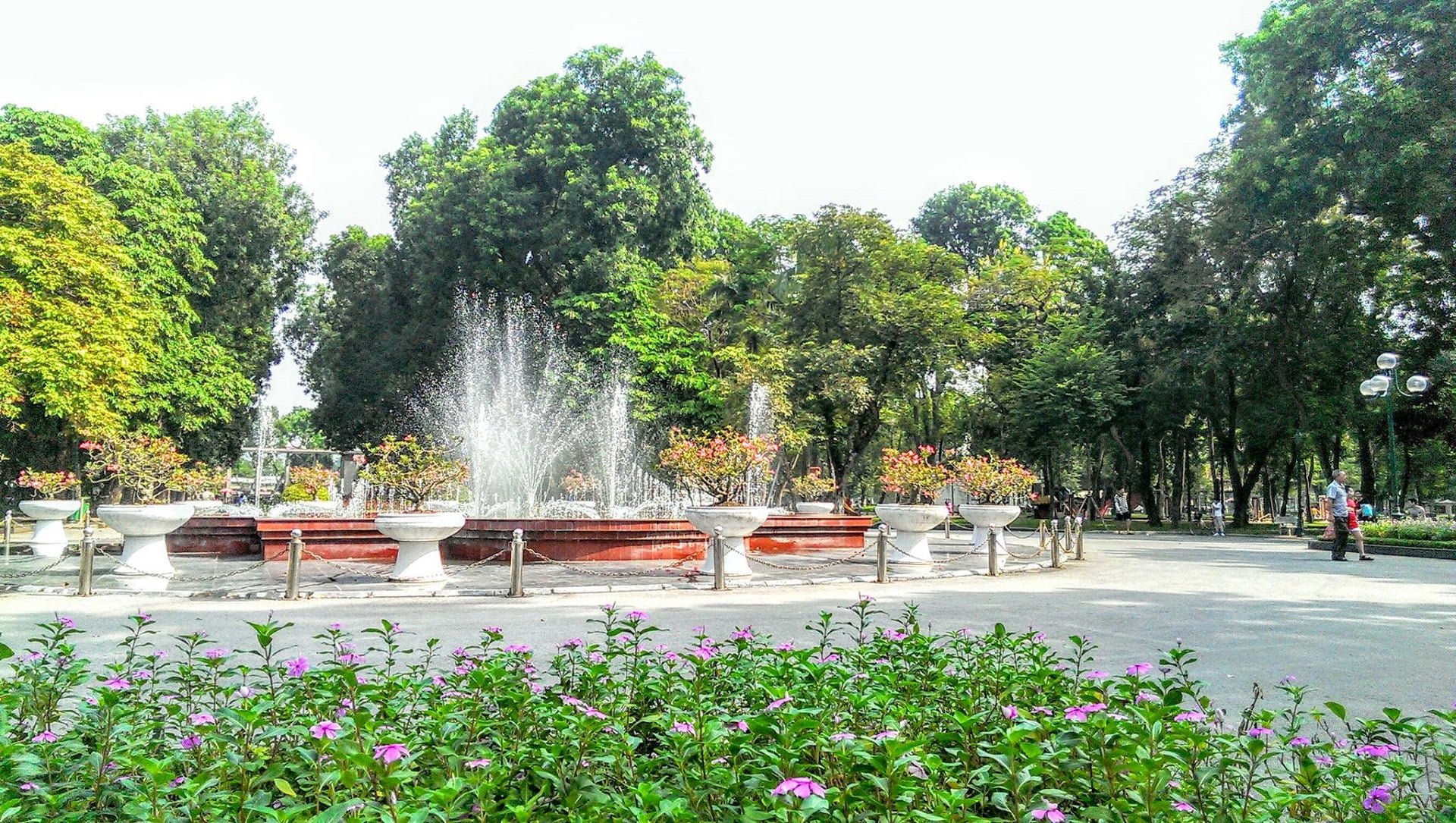 Being the southern gateway of the ancient Thang Long Citadel, Hai Ba Trung District still retains traces of three ancient gates: Dong Lâm Gate, also known as Kim Lien Gate, located at the intersection of Kim Lien and Dai Co Viet Streets; Cau Den Gate, also known as Thinh Yen Gate, at the end of Hue Street near Bach Mai Street; and Dong Mac Gate, which is Lương Yên Gate, at the intersection of Lo Duc and Tran Khat Chan Streets.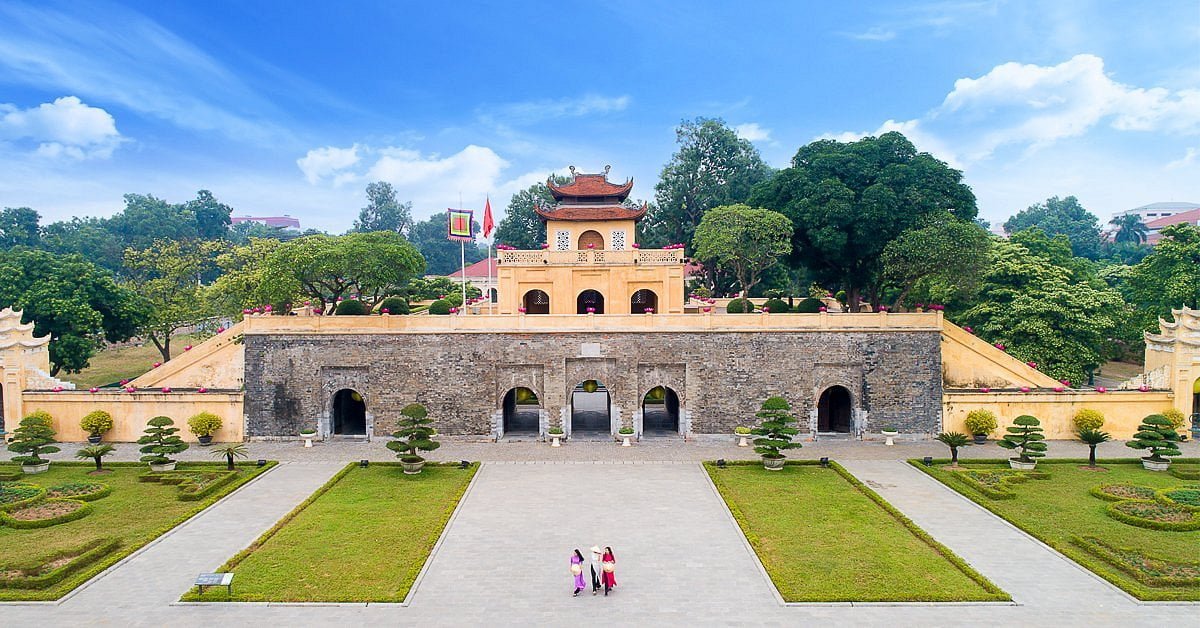 There are market areas from the past such as Hom Market, Mo Market.
Mo Market has undergone multiple renovations and changes in its architecture. Up to now, it has three market bridges without corrugated iron or thatched roofs, without iron frames, yet still retaining the atmosphere of a rural market with brick columns and tiled roofs. The market layout carries a suburban vibe, and Mo Market provides all the necessary daily consumer goods.
Alongside preserving the beautiful traditional architecture, the area also showcases the development of infrastructure for later constructions, including modern and well-equipped high-rise apartment buildings.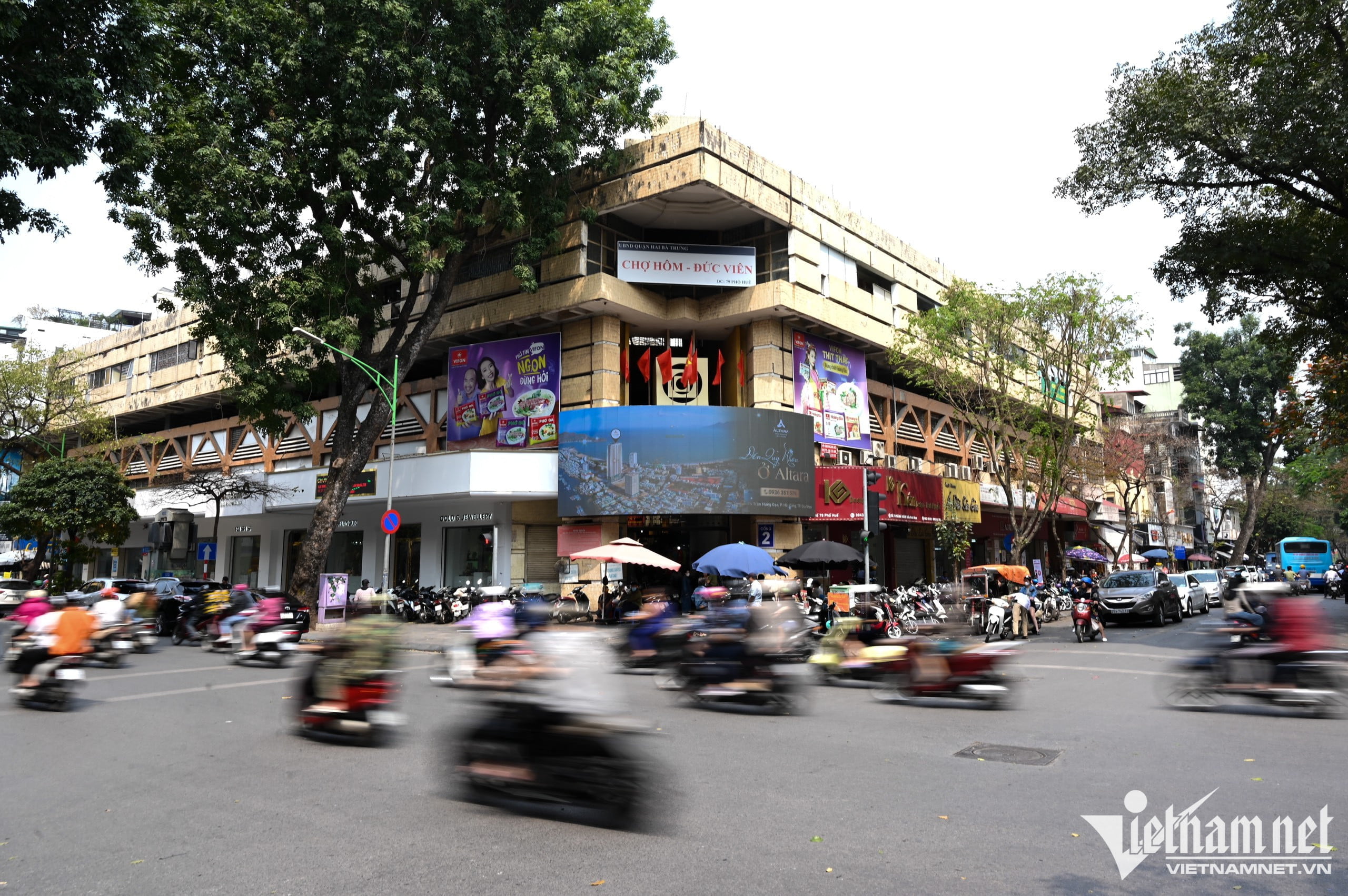 Cuisine in Hai Ba Trung District
Due to its proximity to many major universities, this area is a gathering place for food enthusiasts, especially students, seeking delicious, nutritious, and affordable options. Along streets like Ta Quang Buu, Le Thanh Nghi, and Giai Phong, there are countless street food stalls serving a variety of dishes, such as shellfish porridge, rib cartilage porridge, tripe porridge, self-service sweet soup, grilled and fried snacks.
Specific addresses include:
Ham Long Alley for self-scooped sweet soup, 321 Tran Khat Chan for shellfish porridge

Quan Loan Beo at 42 Bui Ngoc Duong for assorted duck noodle soup,

Hong Mai for clear tapioca dumplings

46A Luong Dinh Cua

 banh xeo, Ngoc Street for duck noodle soup,

275 Bach Mai for Malaysian-style sweet soup,

Be Nhim's Che Sau Che Bo at 53C Hai Ba Trung, 61 Lo Duc for rice with crab meat,

Che Bun at 57 To Hien Thanh for coconut milk Singaporean sweet soup,

King Dagalbi at 309 Tran Dai Nghia for boneless chicken with cheese sauce.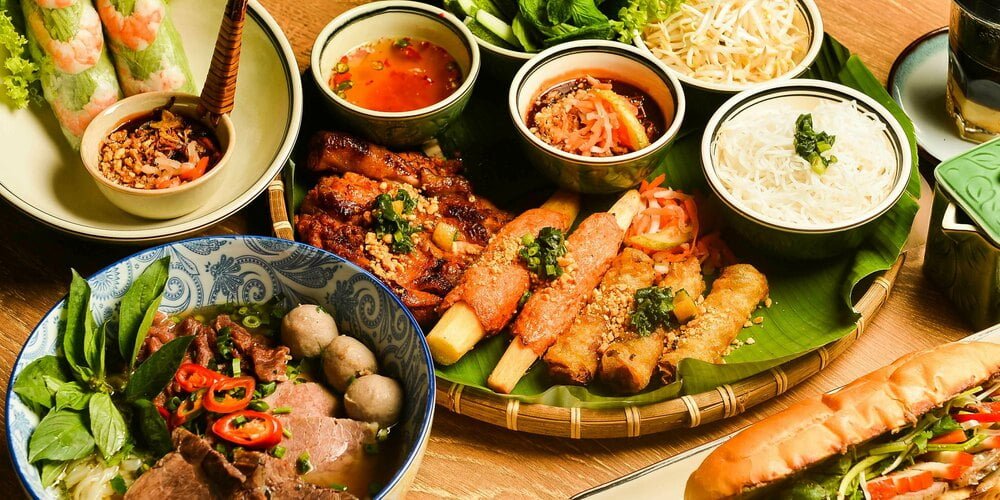 For family and friends gatherings, there are restaurants like Phuong Dong at 13 Le Van Huu, Hai Ba Trung District, Nhang Nuong at 81 Dai Co Viet, Chen by Namchen at 18 Doan Tran Nghiep, Da Lien Restaurant at 55A Nguyen Du, Fondue Hot Pot at 112 Trieu Viet Vuong, Net Hue at 43 Mai Hac De.
For upscale dining experiences, there are Capricciosa at Vincom Ba Trieu, King BBQ Buffet at TimesCity, Cha Ca Gia Nguyen at 339-341 Tran Khat Chan, Thanh Nhan Ward, ANT Club at 10 Hoa Lu, Isushi at 158 Trieu Viet Vuong, De De Song Duong at 9 Han Thuyen, Tasaki BBQ at 74 Bui Thi Xuan.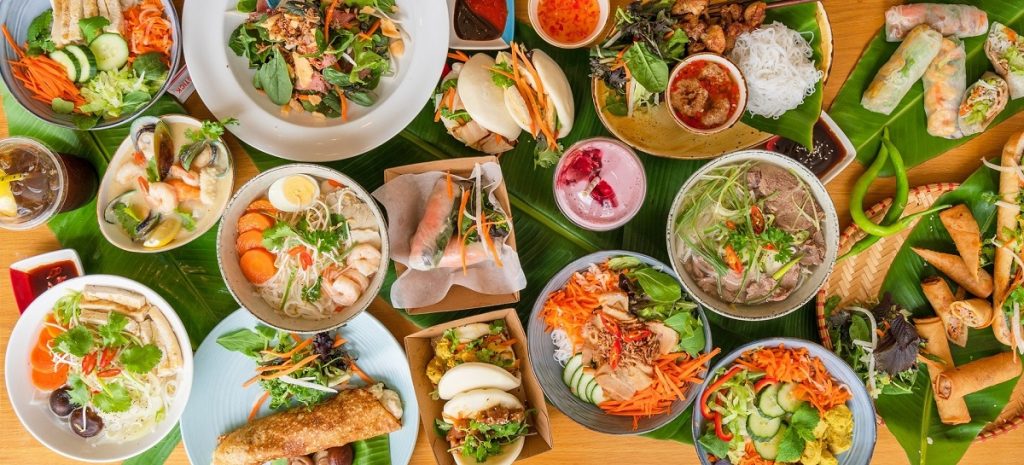 For coffee shops with beautiful views, there's Lofita on the 9th and 10th floors at 338 Hue Street, 70s Coffee at 69 Tran Dai Nghia, Cong Cafe at 195 Lo Duc, Dato Coffee at 17 Tran Xuan Soan, Greecy Coffee at Alley 10 Tran Dai Nghia, and Fika Café at 50 Lo Duc.
Experience the Allure of Hai Ba Trung District
Hai Ba Trung District is the southern gateway to the ancient capital of Thang Long, with a fast and steady economic development. The real estate market in Hai Ba Trung District is always bustling, attracting the attention of many people.
You can find countless interesting things through prominent tourist destinations in Hai Ba Trung District. From lush green parks with beautiful picnic spots to entertainment areas and career orientation for young people, or impressive underwater tunnels with lively marine life. You will undoubtedly have no hesitation when planning your weekend outings.