As the bustling capital of Vietnam, Ha Noi is renowned for its rich history, cultural heritage, and vibrant city life. Within this captivating city lies Hoang Mai District, an up-and-coming neighborhood that offers a unique blend of tradition and modernity.
In 2024, Hoang Mai District continues to evolve, captivating both residents and visitors with its diverse attractions, thriving economy, and strong community spirit.
Let's explore the fascinating things in Hoang Mai District together with TripWorldwide.
More: About Thanh Xuan District in Ha Noi 2024
Hoang Mai District | About Hoang Mai: Map, postal codes, Tourist, History 2024 
History of Hoang Mai District
Hoang Mai District is located in the southeast of Ha Noi's inner city. It was established and began operating on January 1, 2004, under the Government's Decree No. 132/2003/NĐ-CP dated November 6, 2003, which adjusted the administrative boundaries to establish the districts of Long Bien and Hoang Mai, as well as the wards under Long Bien District, Hoang Mai District, and Ha Noi City.
Covering an area of 4,104.1 hectares, as of June 30, 2009, Hoang Mai District had a population of approximately 333,483 people. The district is home to 58 Party organizations with over 12,000 party members.
Hoang Mai District shares borders with Thanh Xuan and Hai Ba Trung districts to the north, Thanh Tri district to the west and south, and the Red River-Long Bien District to the east. It stretches from east to west, divided into three relatively equal parts by Giải Phong and Tam Trinh streets (along the north-south axis).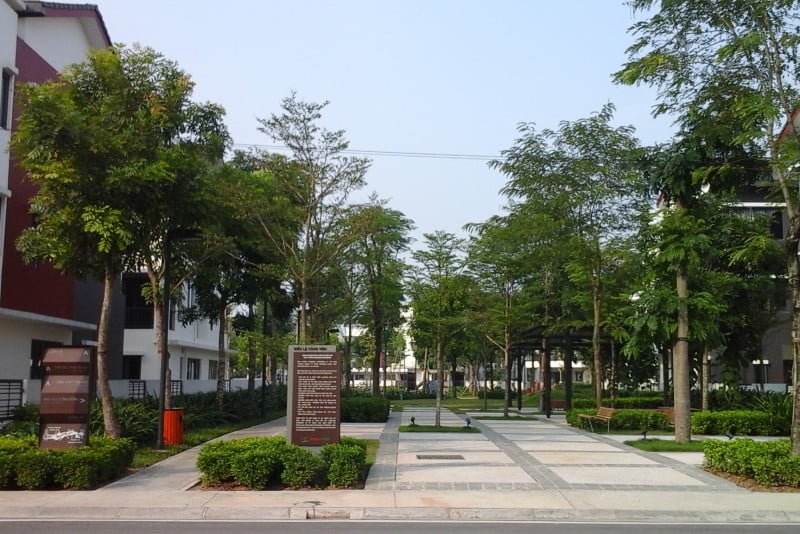 The administrative unit consists of 14 wards, which were formed by merging nine communes from Thanh Tri district and five wards from Hai Ba Trung district: Hoang Liet, Yen So, Vinh Hung, Dinh Cong, Dai Kim, Thinh Liet, Thanh Tri, Linh Nam, Tran Phu, Mai Dong, Tuong Mai, Tan Mai, Giap Bat, Hoang Van Thu.
Under the guidance of the Party Committee, People's Committee, and the direct leadership of the District Party Committee, People's Council, and People's Committee, the various layers of the community in the district have made concerted efforts to develop Hoang Mai into a thriving district.
Its landscape changes daily with the construction of modern high-rise apartment buildings and new, well-planned urban areas such as Dinh Cong, Linh Dam, and Den Lu. Particularly noteworthy is the positive shift in the economic structure towards industrialization and modernization, with an increasing share of commercial, tourism, and industrial value.
Agriculture has also developed in-depth, with high-value crops being cultivated, generating high-income agricultural products. On the foundation of strong economic development, cultural and social activities have received increased attention and improved quality, particularly in the fields of education and training, healthcare, and cultural relocation within the district.
The robustly built and consolidated political system serves as a solid foundation for the notable achievements of Hoang Mai District in recent years.
These accomplishments not only reflect the effectiveness of leadership and administration at various levels, the activities of mass organizations and political entities, but also provide great encouragement and motivation.
They are a source of pride for the Party Committee and the people in the district as they move towards the future, in the renewal process and the journey of integration. The district was honored to receive the Third Class Labor Medal.
Geographical Location
Hoang Mai District is situated in the southeastern part of Ha Noi, the capital city of Vietnam. It is positioned to the southeast of the city's central area and is bordered by several neighboring districts. To the north, Hoang Mai shares borders with Thanh Xuan and Hai Ba Trung districts. The western and southern boundaries of the district touch Thanh Tri district. Finally, to the east, Hoang Mai District is adjacent to the Red River and Long Bien District.
This strategic geographical location places Hoang Mai in close proximity to key areas of Ha Noi, allowing for convenient access to various parts of the city. The district's position along the Red River also offers scenic views and potential recreational opportunities for residents and visitors alike. With its central location within the capital, Hoang Mai District benefits from the city's extensive transportation network, enabling easy connections to other districts, suburbs, and transportation hubs.
Overall, the geographical location of Hoang Mai District enhances its appeal as a residential area and a hub for economic and social activities, contributing to the district's growth and development within the broader context of Ha Noi.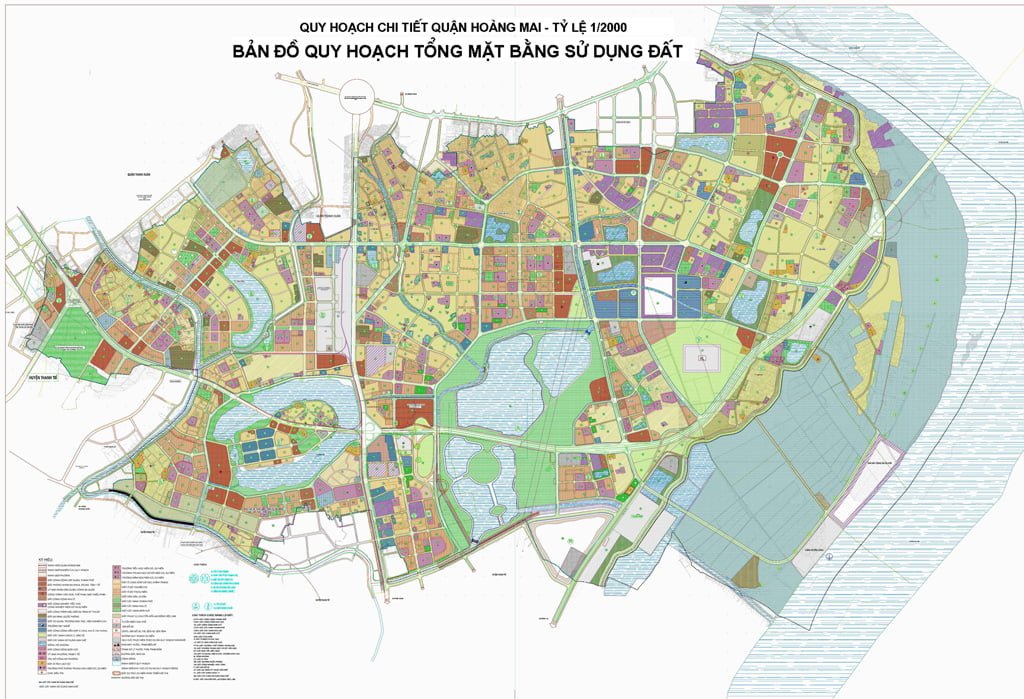 Administrative Divisions
Hoang Mai District is divided into 14 administrative units called wards, including the following: Dai Kim, Dinh Cong, Giap Bat, Hoang Liet, Hoang Van Thu, Linh Nam, Mai Dong, Tan Mai, Thanh Tri, Thinh Liet, Tran Phu, Tuong Mai, Vinh Hung, and Yen So.
As an inner-city district, Hoang Mai possesses the necessary conditions and factors for development, becoming a vibrant area in the capital city. In addition, the security and social welfare in the area are ensured, allowing residents to focus on settling down and pursuing their livelihoods.
Exploring Hoang Mai District
Architecture of Hoang Mai District
The precursor to Hoang Mai District was the suburban areas, characterized by numerous lakes and vast stretches of land, which have undergone significant transformations. Hoang Mai District is known for its rapid urbanization and large-scale infrastructure development among the new districts of the capital. It boasts a series of urban areas such as Linh Dam, Bac Linh Dam, Dinh Cong, Dai Kim, Den Lu, Kim Van – Kim Lu, Vinh Hoang, Hoang Van Thu, Ao Sao, Thinh Liet, Dai Kim – Dinh Cong, Southwest Linh Dam Lake, Southwest Kim Giang, as well as a range of apartment complexes along Linh Nam Street, Tam Trinh Street, Phap Van Street, and Nghiem Xuan Yem Street, including Gamuda City, Hateco Yen So, Phap Van – Tu Hiep Urban Area, and The Manor Central Park.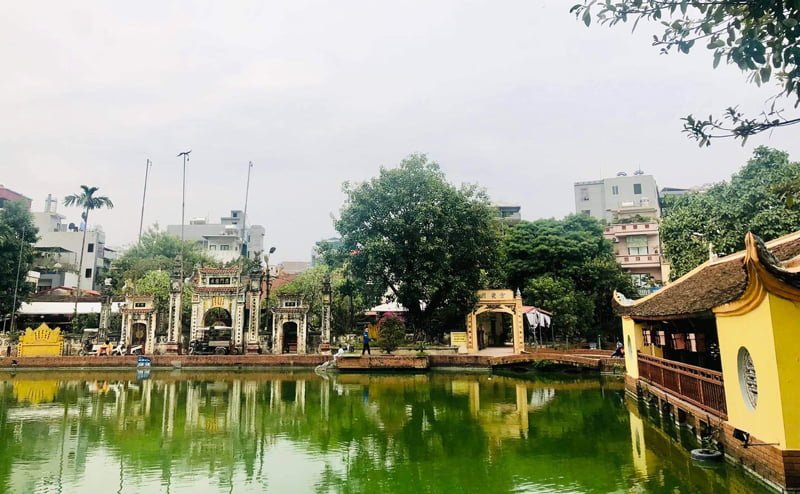 There are significant religious structures that contribute to the overall life of the residents and the respective religious communities. The district is home to Giap Bat Church and Nam Du Church, located in Nam Du Street, approximately 7km southeast of downtown Hanoi and near the banks of the Red River.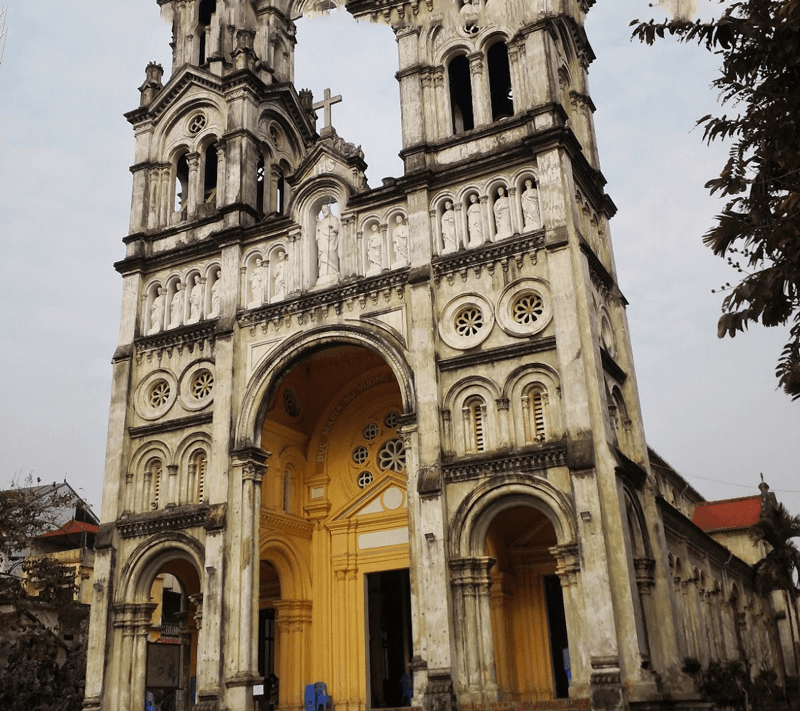 One of the famous communal houses in the district is Linh Duong Communal House in Phuong Liet Ward. The locals take pride in this communal house, as it is believed to be the place where Chu Van An, a renowned educator throughout history, was a student.
The communal house consists of a ceremonial gate, a high-pitched roof, and a main hall with five compartments, as well as a rear hall with three compartments. It houses more than 10 precious imperial seals from different dynasties.
Nga My Pagoda, situated in Hoang Van Thu Ward, has a nearly 1000-year history. The main pagoda complex features a large-scale architectural design, including a front yard, an incense burning area, and an upper sanctuary.
The front yard is built in the style of a wooden-framed house with five compartments, two wings, tiled hipped roofs, and decorative ceramic flower patterns on the eaves and ridges.
The roof frame consists of six columns, with four sets of identical pillars stacked together. The floor level is raised 120cm above the ground and includes a spacious veranda.
The front entrance is adorned with a carved table, while the central compartment at the back connects to the upper sanctuary, and the outer compartments are enclosed by walls. Along the sides of the main building and the rear wall, raised brick platforms of 60cm height are constructed to hold worship statues.
Nga My Pagoda is a significant Buddhist site closely associated with the formation and development of Thang Long – Hanoi. Located in a beautiful and charming landscape, the pagoda boasts a grand architectural scale and a diverse collection of artifacts. It is truly a noteworthy cultural heritage of Hanoi.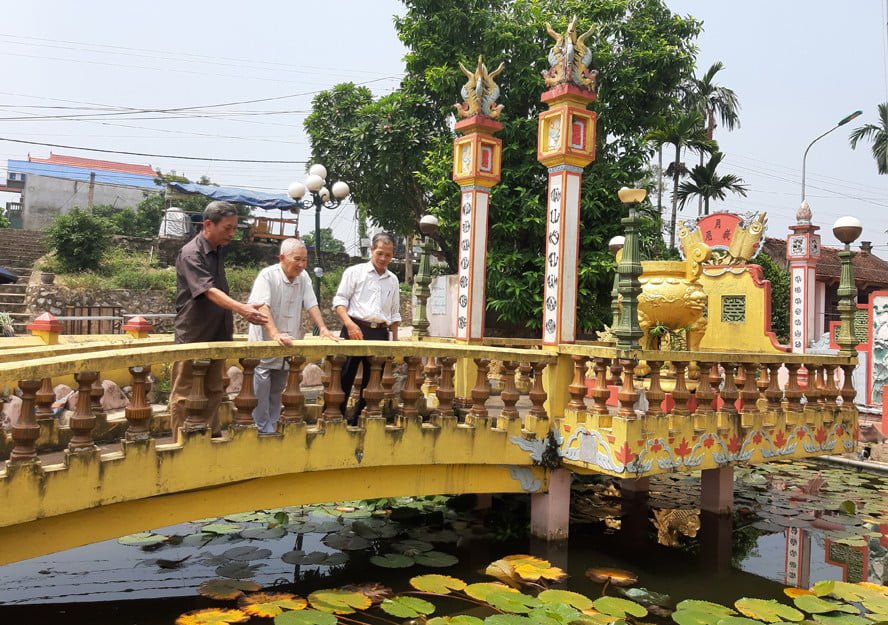 Cuisine in Hoang Mai District
The number of eateries in Hoang Mai District is increasing, offering a variety of culinary options that attract food enthusiasts. Some popular dining establishments include Mường Hoa Quan Linh Dam at No. 9 TT3C, Southwest Linh Dam Urban Area, Hoang Liet. This restaurant brings the flavors of Lai Chau's mountainous region with dishes such as buffalo meat cooked on a stove, wild boar cooked on a stove, various chicken dishes, and dishes prepared with wild boar. Another notable restaurant is Khói Bếp 2 at No. 11 TD3D, Southwest Linh Dam Urban Area, Hoang Liet, offering dishes like fried chicken with fish sauce, field crab hotpot, watercress with pork fat, grilled ribs on skewers, grilled freshwater fish with ginger fish sauce, fried mountain fish, chicken hotpot with sticky rice wine, pigeon rice, vermicelli with mussels and crab paste, red wine stewed with pork, and a variety of delicious dishes made from wild boar, well-known in this area.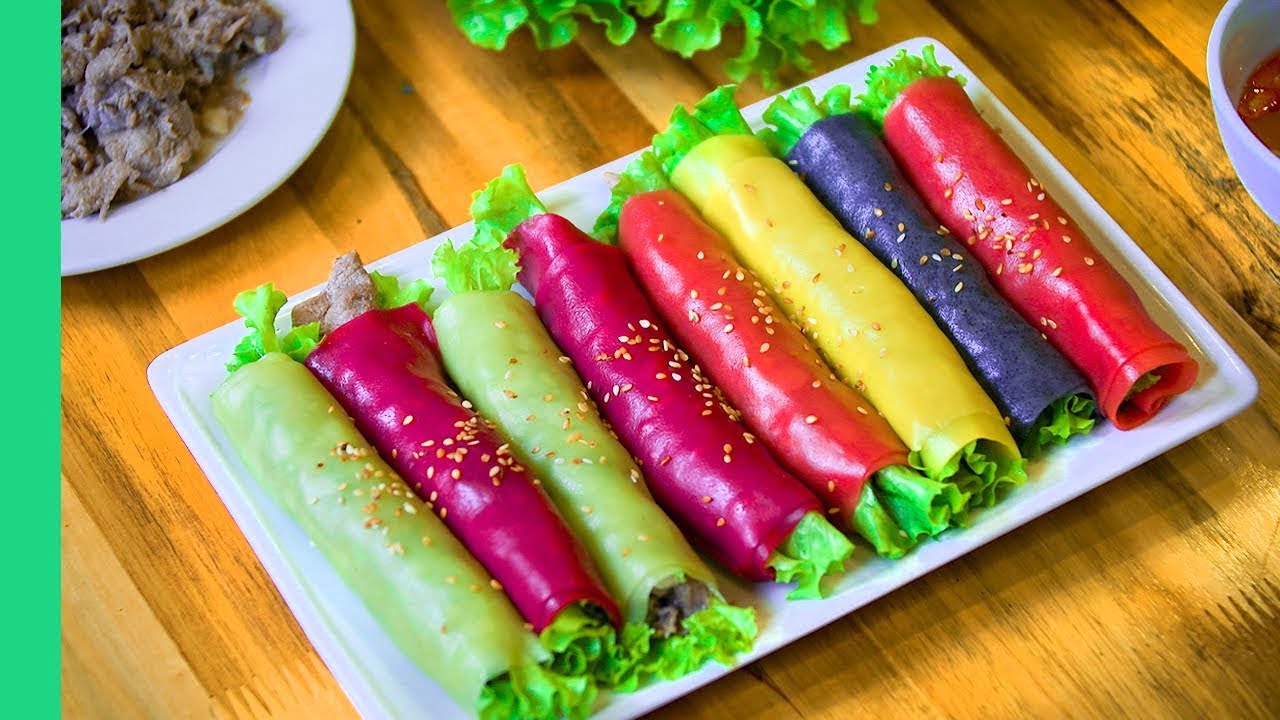 Tengcho BBQ Restaurant, located at HH3C, Linh Dam Urban Area, Hall T1, Hoang Liet Ward, offers over 100 grilled and hotpot dishes, as well as traditional flavorful dishes. Here, guests can enjoy a complete buffet in the authentic style of Korean cuisine, featuring a wide range of grilled dishes such as pork and mushroom in soybean paste sauce, Tengcho-style beef belly, spicy Samyang sauce with shrimp, and five delicious and enticing hotpots including Tengcho hotpot, cartilage rib hotpot, American beef kimchi hotpot, frog hotpot, and lime hotpot.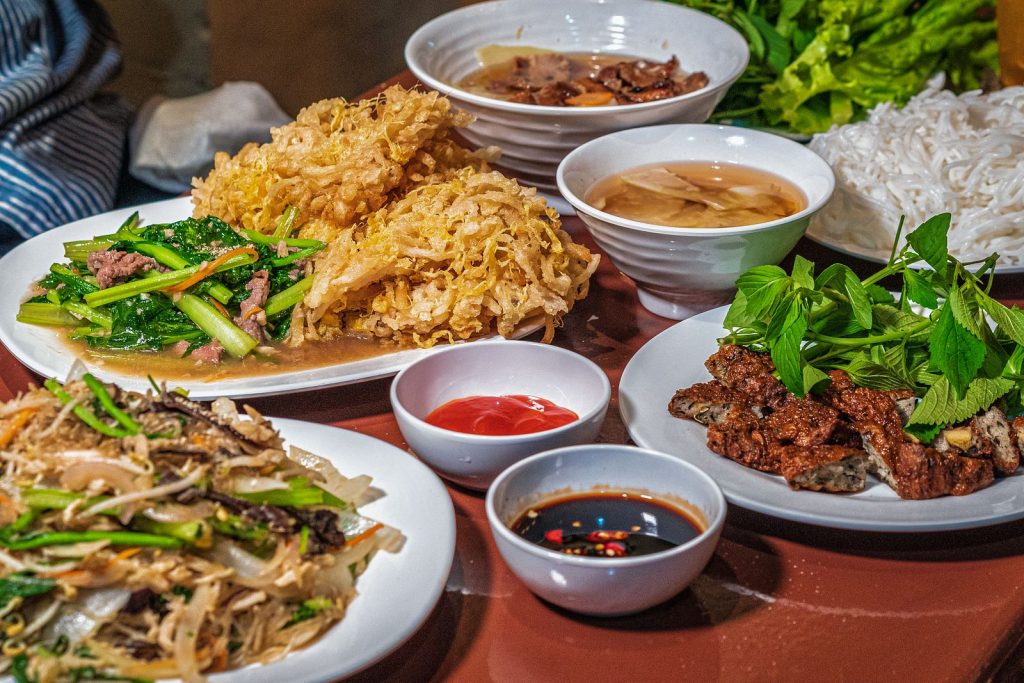 Nam Son Restaurant at No. 809 Giai Phong Street provides a rich selection of seafood ingredients, including fresh and delicious sashimi. The interior of the restaurant exudes a classic and elegant European architectural style, creating a warm and cozy atmosphere. Another notable establishment is Bò Ngon 555 at No. 555 Den Lu, located in Building A4, Den Lu 2 Residential Area, Tan Mai Ward. The cuisine here combines simple ingredients such as beef, fruit vinegar, fermented fish sauce, spring rolls, and various fresh vegetables. The highlight is the beef dipped in vinegar, which is prepared with simplicity yet offers a unique taste when dipped in the pot of broth.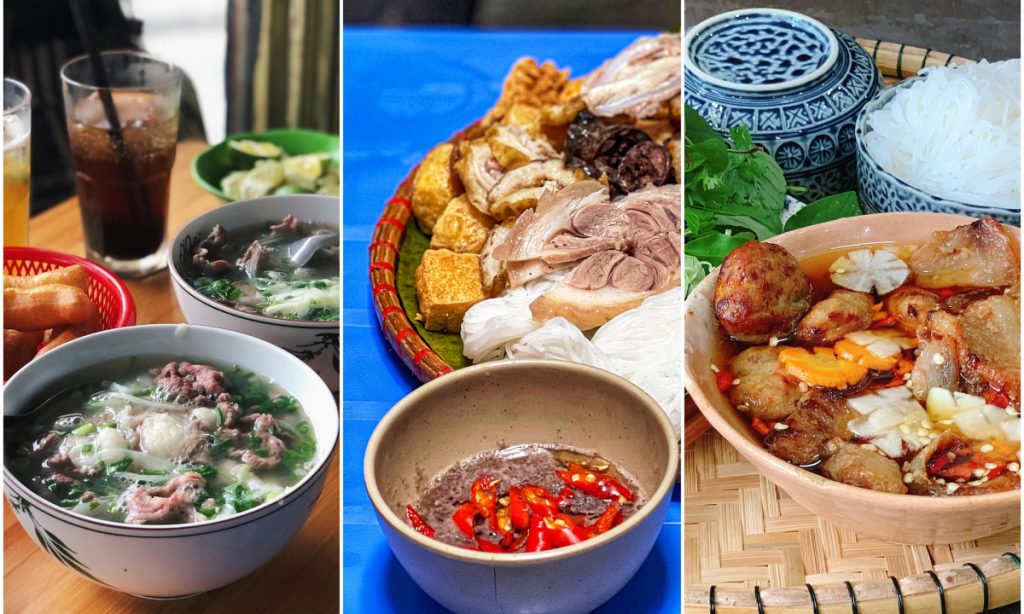 There are also numerous snack options spread across different wards in the district. These include hot Bánh Đúc (rice cake) at No. 112 Truong Dinh, Tào Phớ on Dai Tu Street, grilled shellfish at No. 195 Linh Nam, stir-fried clams on Mai Dong Street, whole-grain bread rolls dipped in red wine sauce at No. 458 Minh Khai, Bánh Gà (chicken cake) at No. 121 Dong Thien, Đà Nang-style pancakes on Truong Dinh Street. For desserts, there is Chè Bốn Mùa in Tan Mai, Vằn Thắn Đình in Mai Dong, grilled chicken feet and soup in Dinh Cong, spicy bubble snails at No. 241 Dinh Cong, and roasted chicken on Le Trong Tan Street.
Experience the Allure of Hoang Mai District
With new developments in infrastructure and transportation planning, Hoang Mai District is gradually developing in all aspects and becoming a shining area in the capital city, driving economic growth. Along with the new planning direction, it is certain that in the future, this will be an ideal land for real estate investors to explore.
The above is an overview of Hoang Mai District, Hanoi, along with assessments and insights into the development potential of the real estate market in this area. Stay tuned for more articles on TripWorldwide to learn more details about the area you are interested in!