One of the dishes that showcases the rustic flavor of the Southwest region is crab porridge hot pot. This dish is best enjoyed during the floating season from September to November in An Giang, Vietnam. Update 09/22/2023 
The hot pot features fresh crabs cooked in a flavorful broth, creating a delicious and hearty porridge. The sweetness of the crab meat and the aromatic broth make this dish a delightful culinary experience. Five delicious dishes for first-timers to Long Xuyen, Vietnam
Another recommended dish is pureed broken rice. This is a traditional dish that highlights the local flavors of An Giang. Broken rice is steamed and then pounded into a smooth and creamy texture. It is typically served with various toppings such as grilled pork, roasted peanuts, green onions, and fish sauce. The combination of textures and flavors in this dish creates a unique and satisfying meal.
Forest vegetable pancakes are also popular in the Southwest region. These pancakes are made with a mixture of forest vegetables and rice flour, resulting in a crispy exterior and a soft and flavorful interior. The pancakes are often served with a side of fresh herbs, vegetables, and dipping sauce, allowing diners to customize their own flavors and textures.
While exploring An Giang, visitors can not only enjoy the scenic beauty of Tra Su Melaleuca forest, floating markets, and historical sites but also savor the distinctive cuisine that represents the region's culinary heritage.
See more: Hu Tieu stall for more than 60 years in the middle of Saigon, Vietnam
Pureed broken rice
Broken rice is a beloved dish in Long Xuyen, known for its unique presentation and delicious flavors. Unlike other regions where grilled meat takes center stage, the broken rice plate in Long Xuyen stands out with its tender braised meat and eggs, finely ground rice grains, crispy pork skin, and sweet pickles (some places even add soaked morning glory).
The dish is served with a flavorful fish sauce dip that complements the various components. A plate of broken rice in Long Xuyen typically costs between 25,000 and 35,000 VND, offering a satisfying and affordable meal option. Suggested address: 67 Ly Tu Trong; 32 Phan Dinh Phung; 143/2 Thoai Ngoc Hau…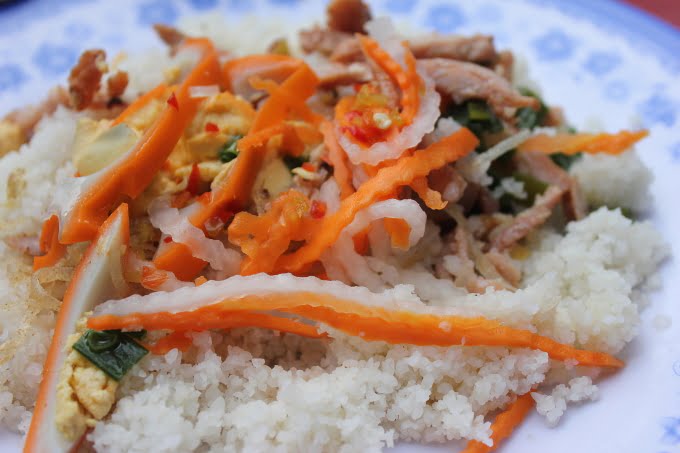 Fish sauce hot pot
This dish showcases the distinct flavors of the Long Xuyen region, particularly along the river. The key ingredient of this dish is Linh fish sauce, which forms the base of the flavorful broth.
The fish sauce is infused with lemongrass, chili, minced garlic, and other seasonings to create a sweet and savory taste. The hotpot is then filled with a variety of ingredients, including meat, shrimp, squid, fish cakes, and howling fish, enhancing the richness of the broth.
To accompany the hotpot, there are over a dozen types of vegetables such as dandelion, grated banana flower, grated water spinach, bitter vegetables, coriander, pumpkin flower, rafter, and water lily. It is customary to enjoy this dish with a cup of clear fish sauce and chili peppers, and it can be served with vermicelli or noodles.
A serving of hotpot with fish sauce typically costs between 150,000 and 200,000 VND, offering a delightful and satisfying dining experience.
Suggested address: 95/4 Tran Hung Dao; 5D Le Lai, 291 Nguyen Hoang…
Forest vegetable pancakes
Banh Xeo, a popular Vietnamese dish, is made by combining rice flour and turmeric powder, with a touch of beer added for a crispy texture and aromatic flavor.
The filling typically consists of pork, shrimp, and bean sprouts, although some variations may include cassava root or coconut tofu instead. In Long Xuyen, Banh Xeo is traditionally served with a variety of forest vegetables, offering over 20 different types with a distinct sour and tangy taste.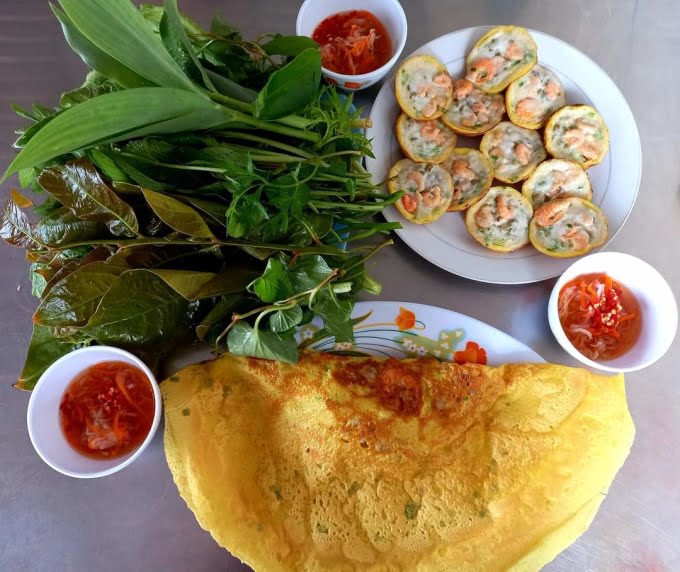 These vegetables can include lettuce, herbs, perilla, basil, fenugreek leaves, cassava leaves, and convex sand. The combination of the crispy pancake, flavorful filling, and assortment of forest vegetables creates a delightful mix of sweet, sour, and spicy flavors. Each Banh Xeo is usually priced between 20,000 and 35,000 VND. In addition to Banh Xeo, many shops also offer Banh Khot, which are small, savory pancakes topped with shrimp paste.
Suggested address: 4/4 Le Quy Dong; 38 Ly Thai To; 796/5 Tran Hung Dao; 63/2 Thoai Ngoc Hau…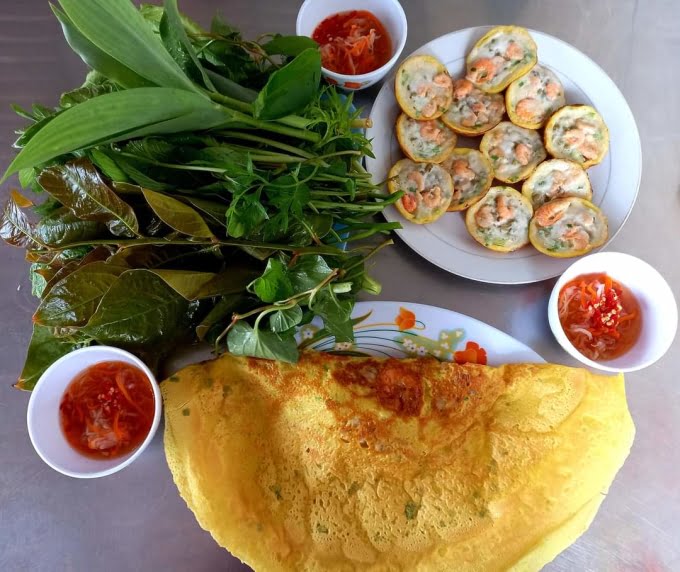 Fish noodles Update 09/22/2023  
Long Xuyen is known for its special noodle dish made from snakehead fish, which features fragrant, chewy, and sweet meat with minimal bones. The fish meat is stir-fried with lemongrass and yellow turmeric, resulting in a bold and aromatic flavor. The broth, made from the fish bones, adds a natural sweetness to the dish. When enjoying fish noodles in Long Xuyen, it is customary to have a variety of accompanying vegetables such as water spinach, dandelion flowers, and sliced banana flowers. Additionally, a cup of salt, pepper, and lemon is provided to enhance the flavors. A bowl of Long Xuyen fish noodle soup typically costs around 20,000 to 30,000 VND.
Suggested address: 22-24 Nguyen Thai Hoc; 4 Ly Thuong Kiet; 60 Nguyen Thai Hoc; 502 Vo Thi Sau.
Crab porridge hot pot Update 09/22/2023 
The porridge pot is highly regarded for its harmonious combination of the sweet flavors of field crab and fresh vegetables. In Long Xuyen, they prepare the dish by using pureed copper crab, extracting the meat and cooking it separately.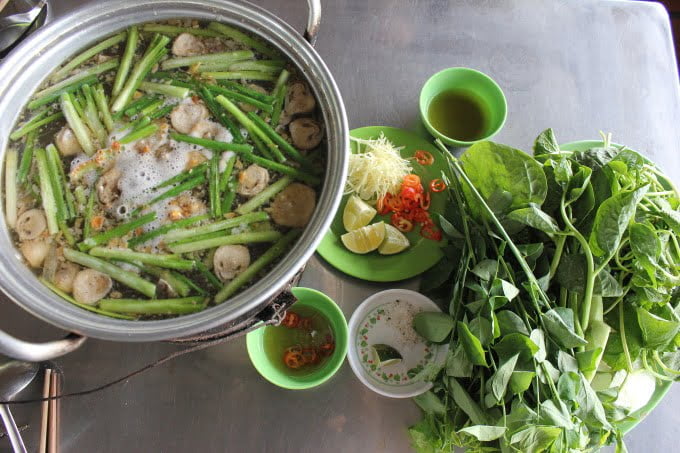 The remaining water is combined with roasted yellow rice to create a porridge base, enriched with ingredients like straw mushrooms and onion heads. As the porridge boils, various vegetables such as melon, spinach, and centella asiatica are added. The dish is typically enjoyed by dipping the vegetables in fish sauce and adding chili for extra flavor. This hot and delicious dish usually costs around 60,000-80,000 VND per serving.
Suggested address: Sao Mai field crab porridge hot pot restaurant, Binh Khanh ward or 16G1, Pham Cu Luong, My Phuoc ward.