Located in the old market on Ton That Dam Street, District 1, HCMC, Vietnam, Mrs. Chanh's noodle stall has been a beloved spot for many customers for decades.
The history of this noodle soup dates back over 60 years when Mrs. Chanh's uncle first established the stall. In 1991, he made the decision to settle abroad, and he entrusted the stall to Mrs. Chanh, who has been running it ever since. Throughout the years, the stall has continued to thrive under her ownership.
See more: Vegetarian restaurant on the cliff to eat, you have to climb the pass and wade streams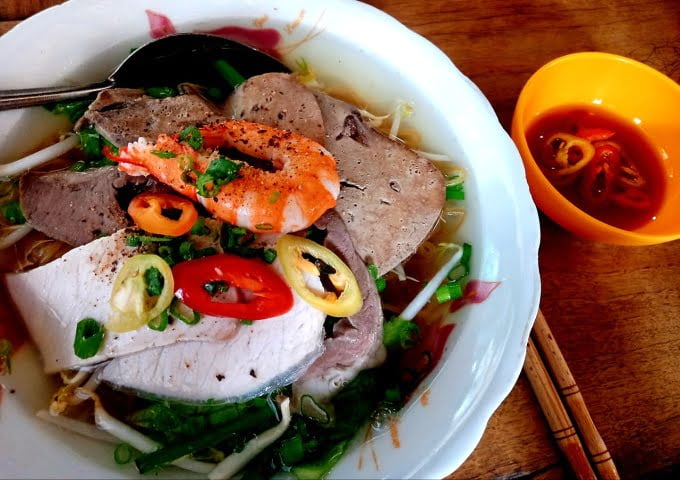 Hu Tieu stall for more than 60 years in the middle of Saigon, Vietnam
According to Ms. Chanh, her family's Chinese origins influenced the initial offerings at the stall, which primarily focused on serving Cantonese-style noodle soup with thick flat noodles resembling pho noodles. The soup was served with lean char siu meat. However, as the demand for diverse dishes from Saigon residents grew, the stall expanded its menu to include different types of noodles, vermicelli, and wontons. Customers visiting the stall can choose between dry or soup-based noodles according to their preferences, and the wontons are freshly packed on-site.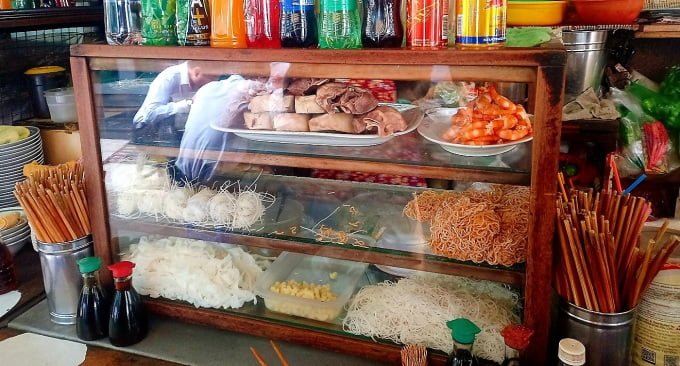 Ms. Chanh begins her day at 4 am, preparing the broth, boiling the meat and shrimp, and arranging the necessary ingredients. She sources the noodles, vermicelli, and wonton wrappers from trusted suppliers. The broth, a highlight of the dish, is meticulously simmered using pork bones from the tube and neck, requiring regular skimming to achieve a clear, fragrant, and flavorful result.
The stall captivates customers not only through its delectable offerings but also with its vintage items, such as the noodle cabinet, meat display, and satay jar, which have been a part of the stall for decades. These items, along with the distinctive flavors found in the bowl of noodles, create a sense of familiarity and nostalgia. Customers like Ms. Ngoc Thy from District 1 often visit multiple times a week without getting bored.
The stall's space is relatively small, accommodating only a few chairs and 2-3 tables for on-site dining. During peak hours, guests may experience a wait, but Ms. Chanh has no plans to expand. She aims to preserve the classic stall, as it represents a family tradition passed down through the decades.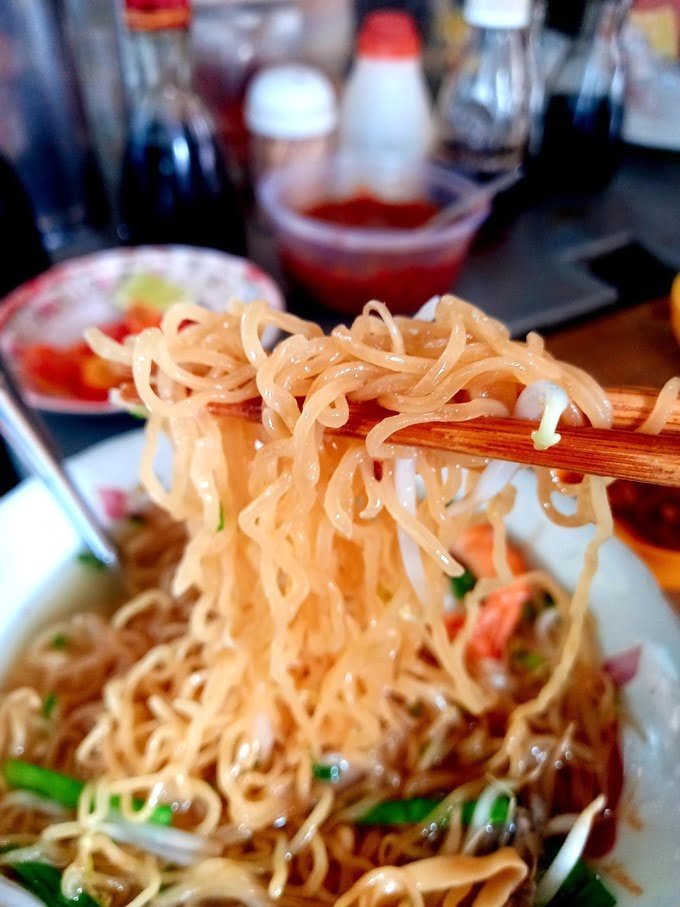 The stall opens its doors to customers at 7:30 am, with the busiest hours being from 11 am to 1 pm. The majority of patrons consist of office workers and laborers. A well-appointed bowl of noodle soup, including ingredients like liver, heart, sliced meat, shrimp, bean sprouts, chives, fat, and fried onions, ranges in price from 35,000 to 50,000 VND. The stall closes at 2 pm daily.