As the bustling capital of Vietnam, Hanoi has long been known for its rich history, vibrant culture, and thriving urban life.
However, beyond the city's busy streets and historical landmarks lies an oasis of tranquility and natural beauty: Chuong My District.
Located just a short distance from the heart of Hanoi, Chuong My District offers a unique and refreshing experience that showcases the best of both rural and urban worlds.
In 2024, this charming district continues to captivate locals and visitors alike with its idyllic landscapes, cultural heritage, and warm hospitality.
Let's explore the fascinating things in Chuong My District together with TripWordwide.
More: Phuc Tho District | About Phuc Tho: Map, postal codes, Tourist, History 2024
Chuong My District | About Chuong My: Map, postal codes, Tourist, History Update 09/22/2023  
History of Chuong My District Update 09/22/2023  
Regarding administrative geography, Chuong My, originally part of Giao Chi district, was established during the early formation of the country. During the Ly Tran period, it became part of Chau Quoc Oai and later included Lo Quoc Oai and Lo Ung Thien.
In 1397, Ho Quy Ly changed the name of Quoc Oai to Quang Oai, and a part of Chuong My was included in this region.
In the 15th century, after administrative reforms under Le Thanh Tong, the country had 13 provinces, including Son Tay and Son Nam provinces, which contained lands from Chuong My district.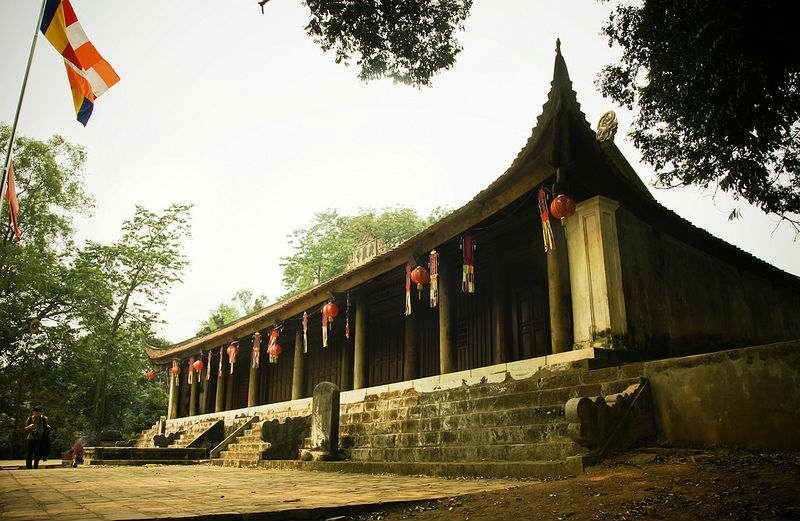 In the third Dong Khanh year (1888) in the summer, in the fourth month, the Nguyen dynasty divided My Duc into two regions: the Muong people joined Phuong Lam province (Hoa Binh), while the ethnic Kinh people were divided into two districts: Yen Duc (My Duc) and Chuong My.
The historical milestone for the establishment of Chuong My district is marked on April 1st. In 2018, the Party, the Government, and the people of the district celebrated the 130th anniversary of its establishment (April 1, 1888 – April 1, 2018).
Throughout its history, Chuong My has been a land rich in the tradition of nation-building and preservation, with many legendary figures associated with significant contributions recorded in history books.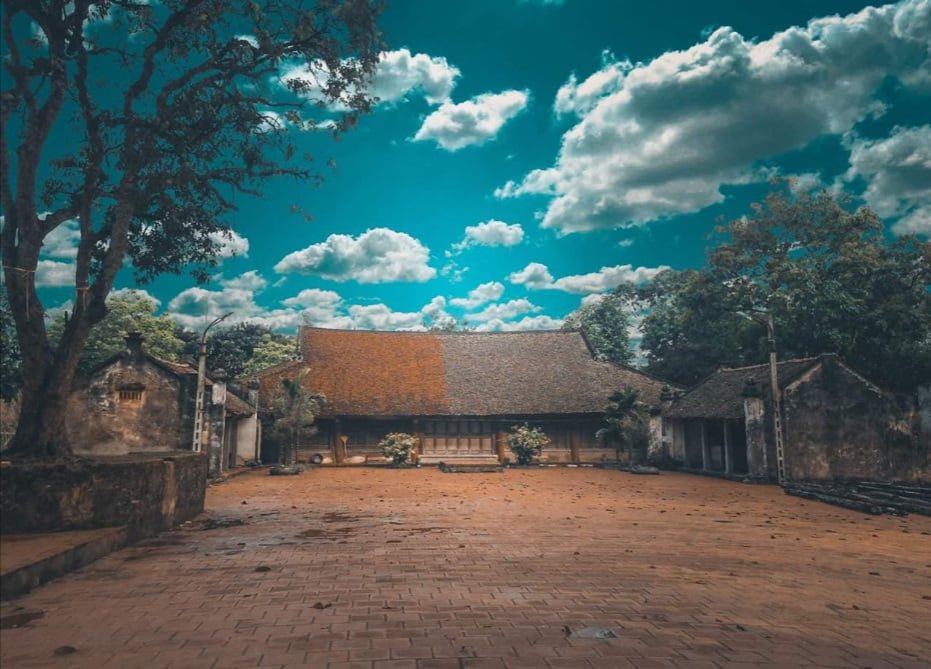 The people of Chuong My were early adopters of the revolutionary cause, and on November 26, 1938, the Yen Truong Party branch, in Truong Yen commune, was established, with four party members.
This marked the first Communist Party organization established in Chuong My, signifying a historic milestone and a new stage of development in the revolutionary struggle in the district.
From this point, the Party branch became the nucleus that led the people in the district and throughout the country to achieve victory in the August Revolution of 1945, overthrowing the feudal regime, seizing power for the people, and succeeding in the two great resistance wars against French and American imperialism.
During these intense struggles, Chuong My district had 3,346 martyrs, 1,298 wounded soldiers, and 901 sick soldiers.
In recognition of their remarkable achievements and significant contributions in the two resistance wars against France and the United States, on February 1, 2002, the people and armed forces of Chuong My district were awarded the title of "Hero of the People's Armed Forces" by the Party and the State.
This prestigious honor was officially received in a solemn ceremony organized by the Party, the Government, the people, and the armed forces on March 27, 2002.
Additionally, eight communes and townships in Chuong My have been awarded the title of "Hero of the People's Armed Forces." These include Truong Yen, Tien Phuong, Thuy Xuan Tien, Dai Yen, Tran Phu, Nam Phuong Tien, Hoa Chinh, and Xuan Mai.
Furthermore, there have been individuals recognized with titles and medals, such as "Vietnamese Heroic Mother" bestowed upon 276 mothers, and thousands of individuals receiving various medals and awards.
These esteemed rewards have served as powerful encouragement for the Party, the Government, and the people of Chuong My to continue their efforts during the new revolutionary period.
Embracing the heroic traditions of their homeland, the Party, the Government, and the people of Chương Mỹ have always united, made great efforts, been innovative, and bold in their actions to promote comprehensive economic and social development.
Together, they have been building the New Countryside and achieving significant results in various fields, leading to improved living standards for the people.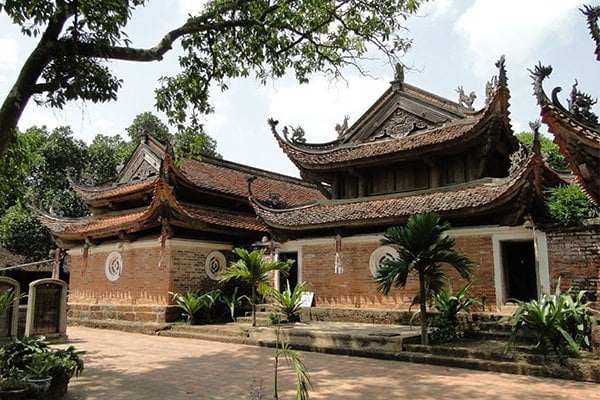 As a recognition of their notable accomplishments, for four consecutive years from 2016 to 2019, the Party members and people of Chuong My district have been awarded the "Excellent Unit in Emulation" flag by the Government and the People's Committee of Hanoi.
Notably, in 2018, during the celebration of the 130th anniversary of the district's establishment and the 80th anniversary of the founding of the first Communist Party branch (November 26, 1938 – November 26, 2018), the Party and the State honored some individuals with the Labor Order First Class.
Among them were Comrade Le Trong Khue, a Party Committee member, Chairman of the City Farmers' Association, and former Secretary of the District Party Committee, and Comrade Dinh Manh Hung, Deputy Secretary of the District Party Committee and Chairman of the District People's Committee, who were awarded the Labor Order Third Class.
Geographical Location Update 09/22/2023  
Known for its lush countryside, traditional villages, and agricultural heritage, Chuong My offers a peaceful escape from the urban hustle. In this article, we invite you on a virtual journey to explore the enchanting corners of Chuong My District, using the map as your guide.
Chuong My District is a serene and rustic haven, as revealed through the map's lens. From the traditional weaving village of Van Duc to the spiritual haven of Thay Pagoda and the timeless charm of Duong Lam Village, the district offers a captivating blend of culture and heritage.
As you explore the hidden gem of Tram Gian Pagoda and the natural beauty of Suoi Hai Lake, you'll be enchanted by the rural charms and peaceful allure of Chuong My District.
 Chuong My district is located on the western outskirts of Hanoi with the following geographical positions:
To the East, it borders Ha Dong district and Thanh Oai district, with the Day River as the boundary.

To the West, it borders Luong Son district in Hoa Binh province.

To the South, it borders My Duc district and Ung Hoa district.

To the North, it borders Quoc Oai district.
Chuong My lies in the southwestern direction from Hanoi. The district capital is Chúc Sơn town, situated approximately 15km from the city center.
Alongside Ba Vi and Soc Son, Chuong My is one of the three districts with the largest natural area in the whole city.
Its total natural area is 237.38km2, and it has a population of 339,469 people. The majority of the population is of the Kinh ethnic group, with one Muong ethnic hamlet. Additionally, there are some other ethnic minority groups scattered in various communes and towns.
Chuong My shares borders with Ha Dong district, as well as Thanh Oai, Quoc Oai, My Duc, and Ung Hoa districts.
The terrain of Chuong My is quite diverse, featuring characteristics of both the plain region and the semi-mountainous area.
It encompasses rivers, mountains, lakes, fields, and meadows, along with the Day River to the East and the Bui and Tich Rivers to the West, creating a picturesque landscape of water and mountains.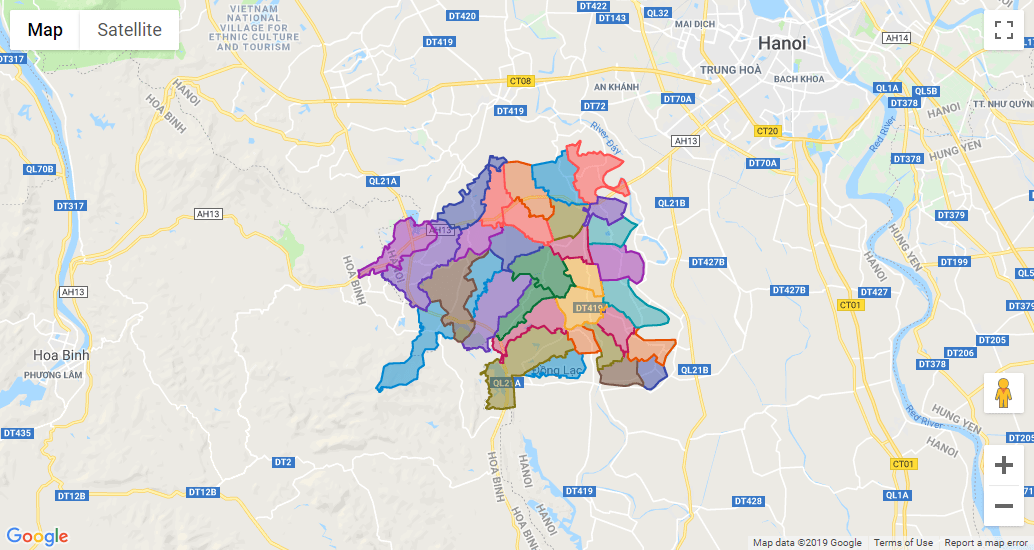 Administrative Divisions Update 09/22/2023 
Chuong My district in ancient times was part of two regions: Yen Son and My Luong districts under the Quoc Oai district, Son Tay town, and Chuong Duc district under the Ung Thien district, Nam Thuong town.
In the 13th year of Gia Long's reign (1814), it was changed to the Ung Hoa district.
In the 3rd year of Dong Khanh's reign (1888), Chuong Duc district was divided into two districts: Yen Duc, belonging to the My Duc prefecture, and Chuong My, belonging to the Ung Hoa prefecture, Hanoi province.
Through various provincial divisions and mergers, Chuong My became part of the Ha Dong, Ha Tay, and Ha Son Binh provinces before finally merging with the capital, Hanoi, on August 1, 2008, according to Resolution 15 of the 12th National Assembly.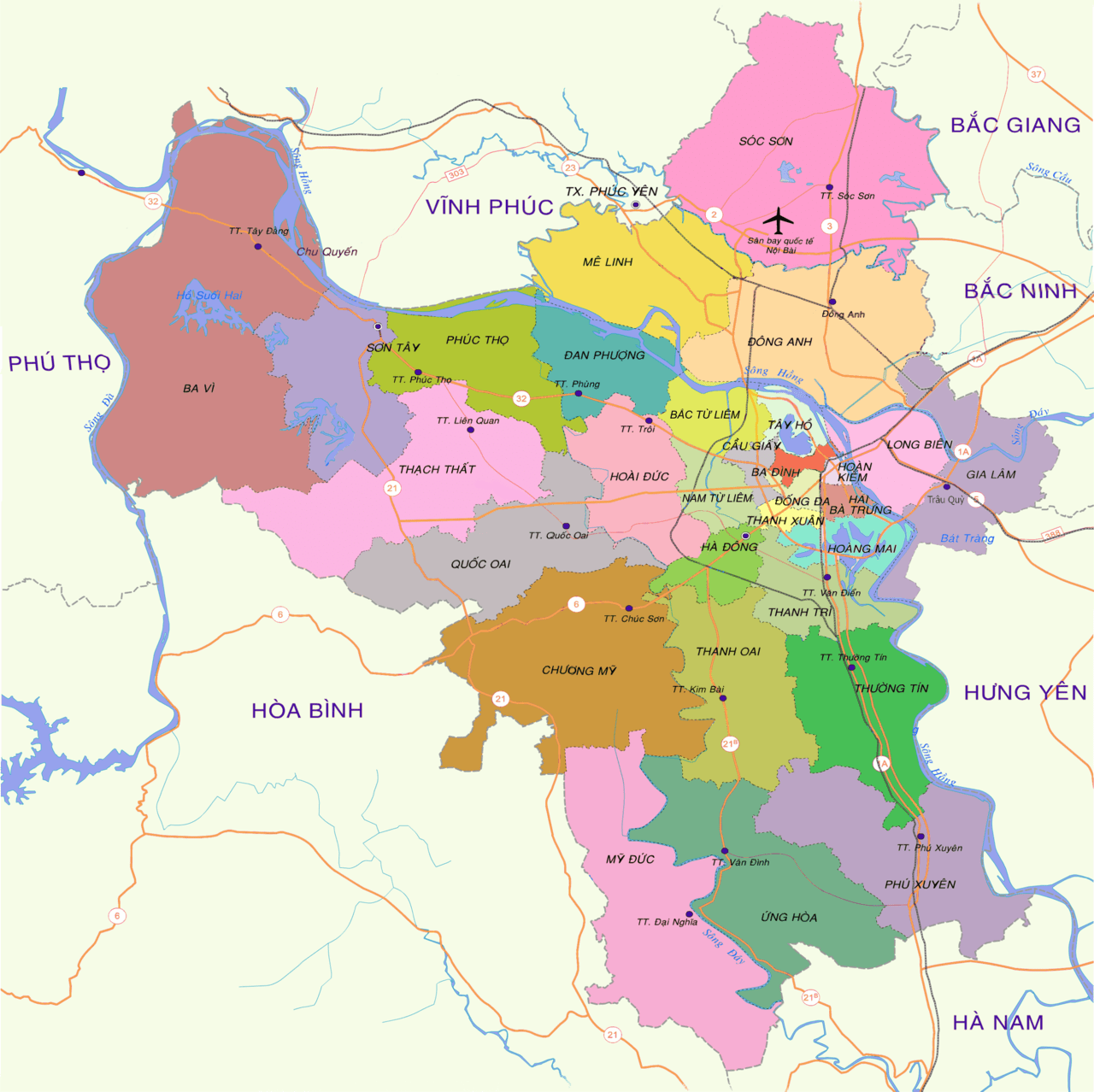 Today, Chuong My district is known as a heroic district of the armed forces and consists of 2 towns and 30 communes, including Chuc Son town, Xuan Mai town, and the following communes:
Phung Chau

Tien Phuong

Phu Nghia

Dong Phuong Yen

Dong Son

Thuy Xuan Tien

Thanh Binh

Truong Yen

Ngoc Hoa

Thuy Huong

Dai Yen

Trung Hoa

Tot Dong

Nam Phuong Tien

Tan Tien

Hoang Van Thu

Huu Van

My Luong

Quang Bi

Hop Dong

Lam Dien

Hoang Dieu

Thuong Vuc

Van Vo

Dong Phu

Hong Phong

Tran Phu

Dong Lac

Hoa Chinh

Phu Nam An.
The administrative center of the district is located in Chuc Son town.
Chuong My District Hanoi Vietnam postal code 2024
District / County Zipcode
Chuong My District Postal Code 13400
Ward / Commune Zipcode
Chuc Son Town 13406

Xuan Mai Town 13417

Dai Yen Commune 13435

Dong Lac Commune 13424

Dong Phu Commune 13426

Dong Phuong Yen Commune 13412

Dong Son Commune 13415

Hoa Chinh Commune 13427

Hoang Dieu Commune 13431

Hoang Van Thu Commune 13420

Hong Phong Commune 13425

Hop Dong Commune 13433

Huu Van Commune 13421

Lam Dien Commune 13436

My Luong Commune 13422

Nam Phuong Tien Commune 13418

Ngoc Hoa Commune 13409

Phu Nam An Commune 13428

Phu Nghia Commune 13411

Phung Chau Commune 13407

Quang Bi Commune 13432

Tan Tien Commune 13419

Thanh Binh Commune 13414

Thuong Vuc Commune 13430

Thuy Huong Commune 13437

Thuy Xuan Tien Commune 13416

Tien Phuong Commune 13408

Tot Dong Commune 13434

Tran Phu Commune 13423

Trung Hoa Commune 13413

Truong Yen Commune 13410

Van Vo Commune 13429
Topography and Climate of Chuong My District
Temperature
Chuong My is located in the tropical monsoon climate region of the North Central Coast, which serves as a transitional zone between the Northwest Mountains and the Red River Delta.
The average temperature from November to April is around 20°C, with January and early February experiencing several days of cooler temperatures ranging from 8 to 12°C.
From May to October, the average temperature rises to 27.4°C, and during June and July, it can reach a peak of 38°C. The summer season receives ample rainfall, while the winter season experiences relatively less rainfall, and occasionally, there is fog with salt deposits.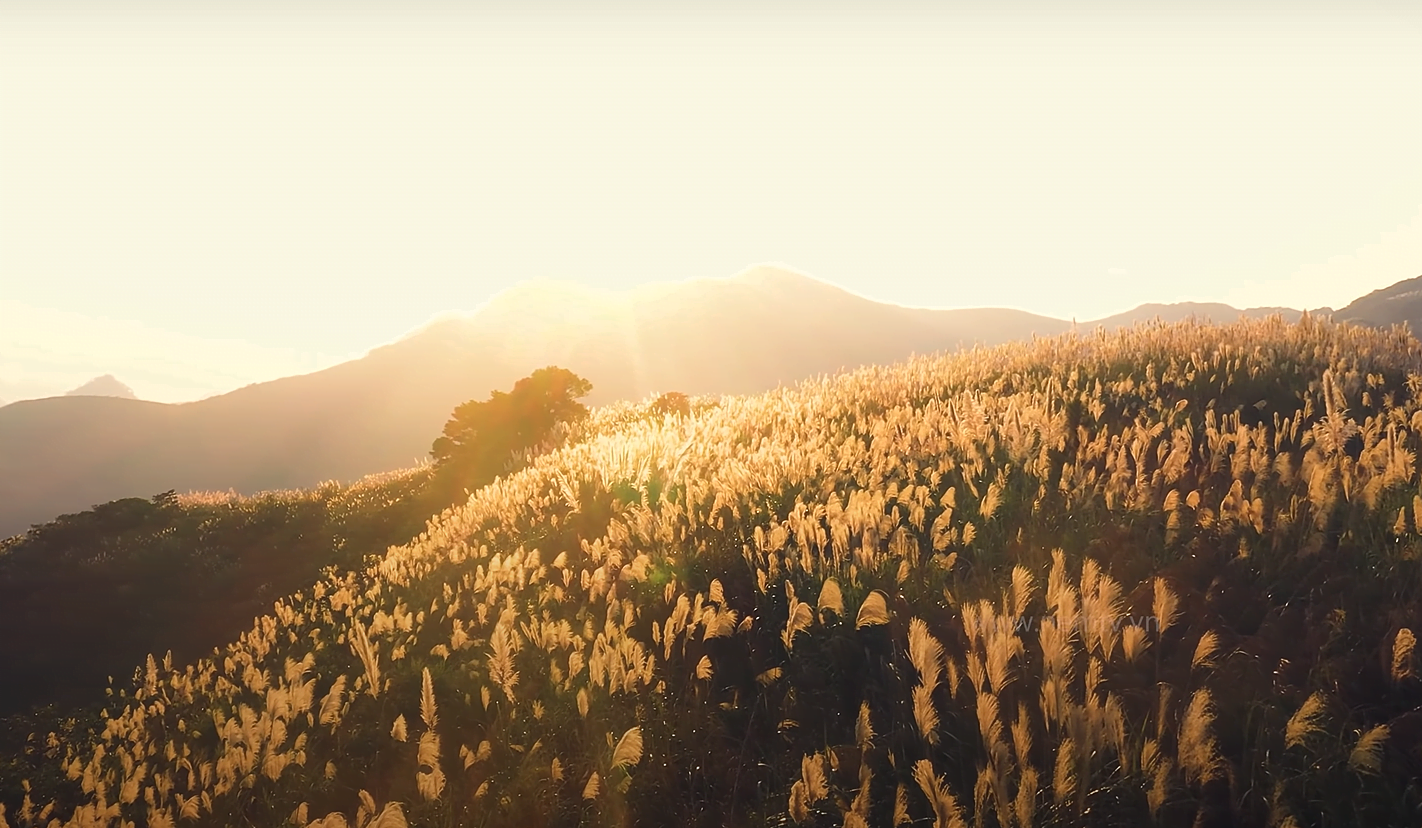 Rainfall
The average annual rainfall in Chuong My district is between 1500 – 1700 mm. On average, it reaches 129.0 mm per month.
The majority of the rainfall, around 84% of the total annual precipitation, occurs during the summer season, with an average of 1300 mm. In contrast, the winter season receives approximately 400 mm of rainfall.
Rainy season in Chuong My district usually starts from May and lasts until October. The peak of rainfall occurs during the months of June, July, and August.
The average humidity during these three months ranges from 89% to 91%, while from October to December, the average humidity is around 81% to 82%. The overall average humidity throughout the year is between 82% and 86%.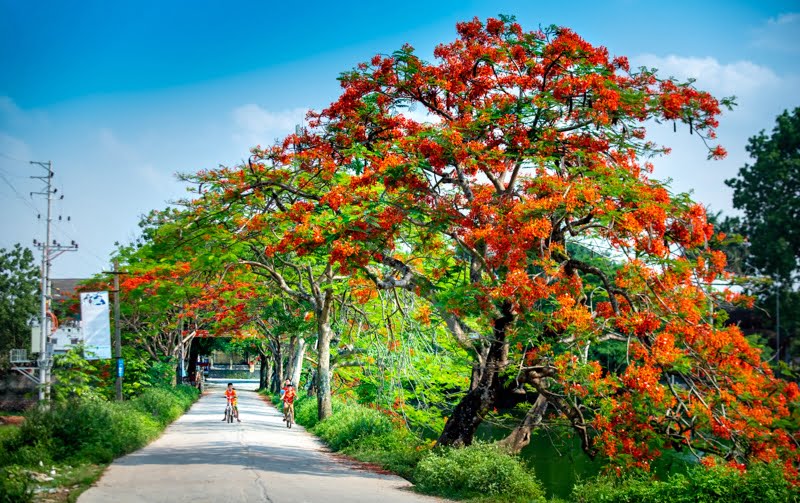 Wind patterns
During the current season, the district experiences frequent Northeast monsoon winds, while in the summer, Southeast winds (cool and humid) prevail.
Additionally, during each season, there are typically 4 to 5 episodes of hot and dry Southwest winds blowing across the area.
In hilly regions, these Southwest winds often heat up the ground, leading to significant impacts on annual crops and plants with shallow root systems.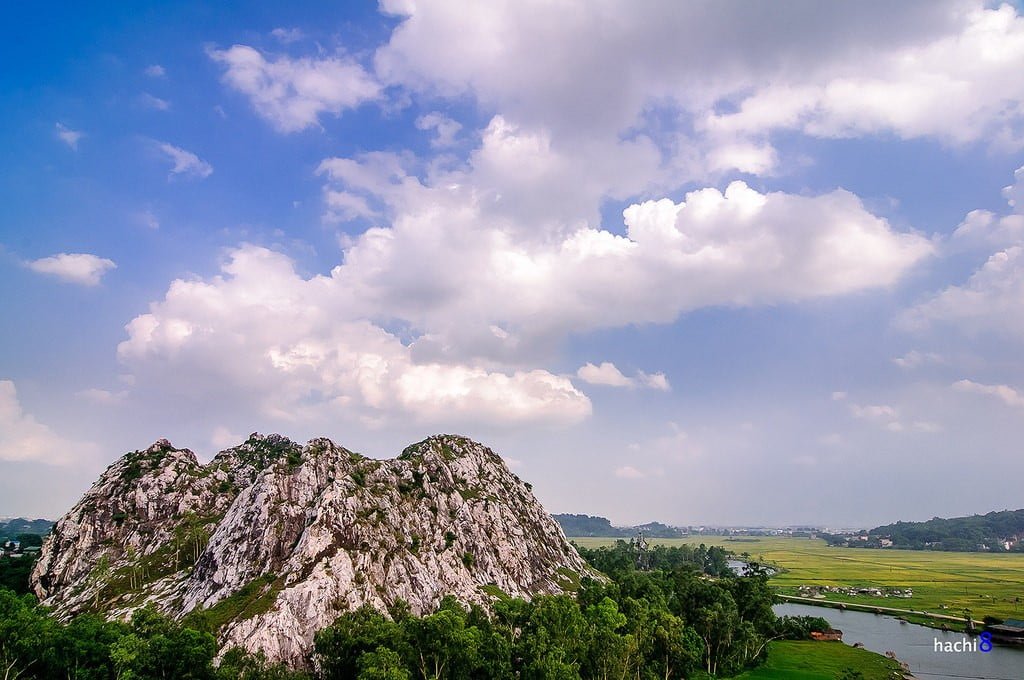 Transportation in Chuong My district
Within the Chuong My district, there are two national highways passing through: National Highway 6A, spanning 18 km, and Ho Chi Minh Road, stretching 16.5 km.
Chuong My is also included in the capital region's planning as a green belt area, housing the Xuân Mai satellite urban area and the Chuc Son ecological urban area.
To travel to Chuong My for tourism purposes, visitors can use various means of transportation such as buses, tourist coaches, taxis, or motorbikes. These transportation options are convenient, well-serviced, and provide quick access to the district.
Chuong My district is located near Noi Bai International Airport, and customers can utilize airport shuttle services when using cheap flight tickets to travel to Hanoi.
With this transportation option, travelers can save time and efficiently accomplish their itinerary.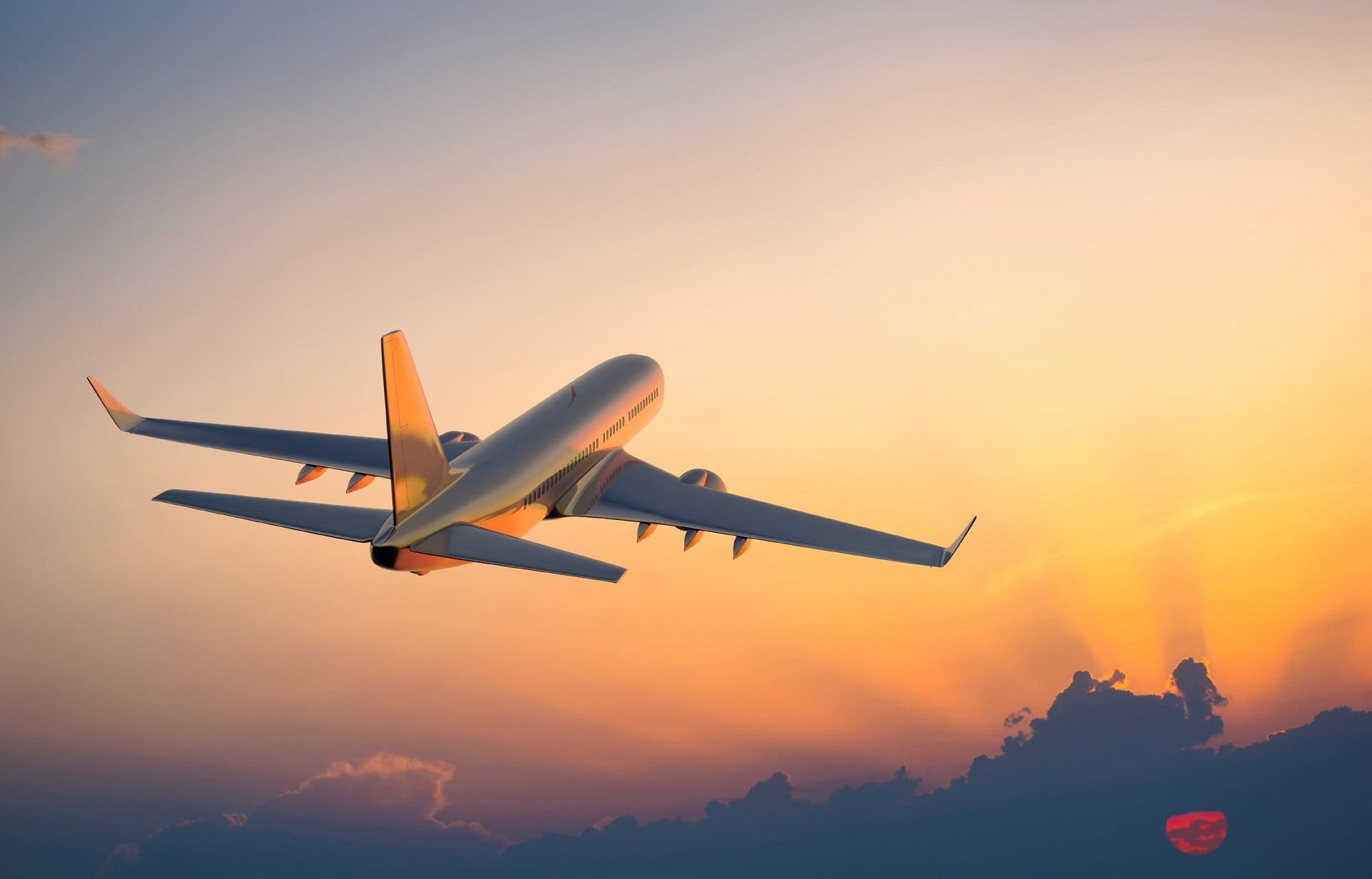 Accommodation Services in Chuong My
Chuong My district, located not far from the center of Hanoi, is considered an ideal destination for travelers seeking tranquility and natural beauty.
Hoang Long Hotel:
Hoang Long Hotel offers a modern and well-equipped space with intricate and eye-catching decor, creating a unique ambiance in each room. Additionally, the hotel provides various room categories designed with different themes, offering travelers more choices.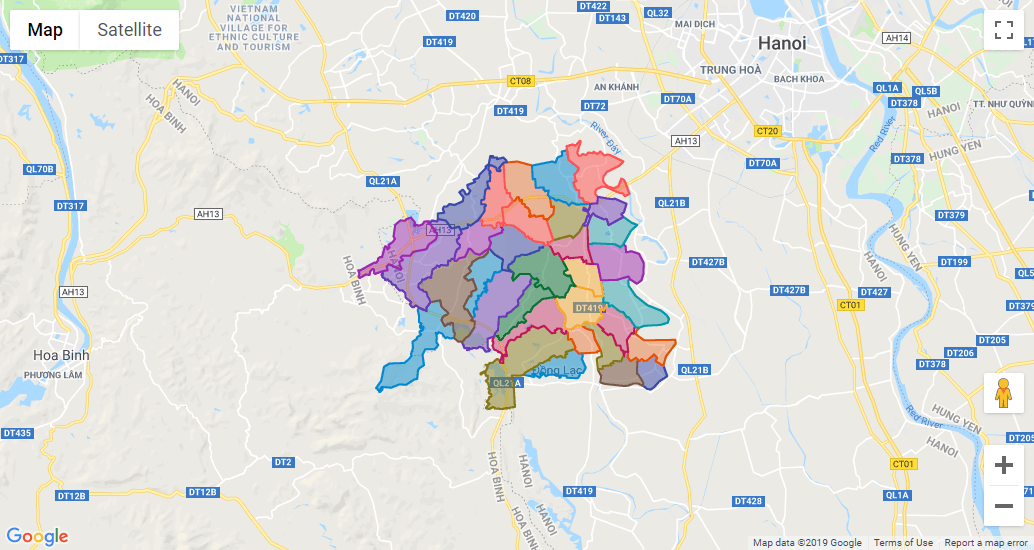 Lakeside House:
The rooms at Lakeside House provide a comfortable and cozy atmosphere. Beautifully designed with all the necessary amenities, guests are ensured a complete relaxation experience.
Most rooms also feature private balconies, allowing guests to admire the lake view and unwind after a day of exploration.
The hotel also boasts excellent facilities, including a swimming pool, a restaurant serving delicious and diverse dishes, a friendly bar, and other exciting entertainment activities.
Travelers can enjoy delightful meals and relaxation after a day of sightseeing.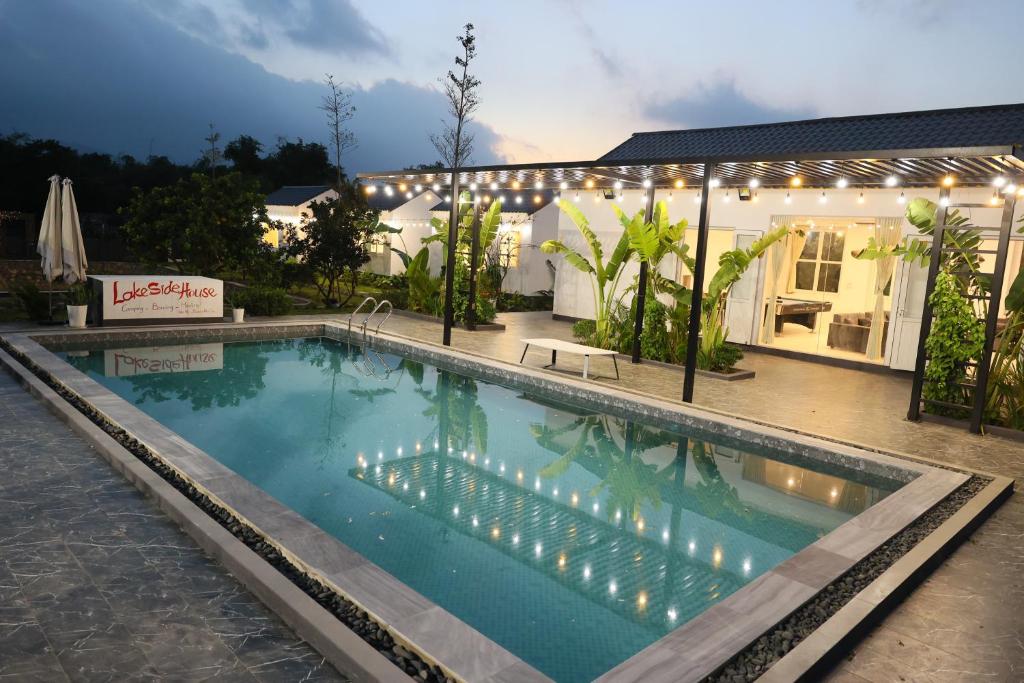 Wyndham Sky Lake Resort and Villas:
Wyndham Sky Lake Resort and Villas is an ideal resort for those who wish to experience a luxurious and lavish relaxation space.
The resort offers a peaceful and stunning landscape, promising a fascinating and memorable experience.
The architecture of Wyndham Sky Lake Resort and Villas impresses with its perfect combination of modern and traditional Vietnamese elements.
Every detail, from the beautifully designed reception hall to the spacious and elegant villas, is meticulously cared for.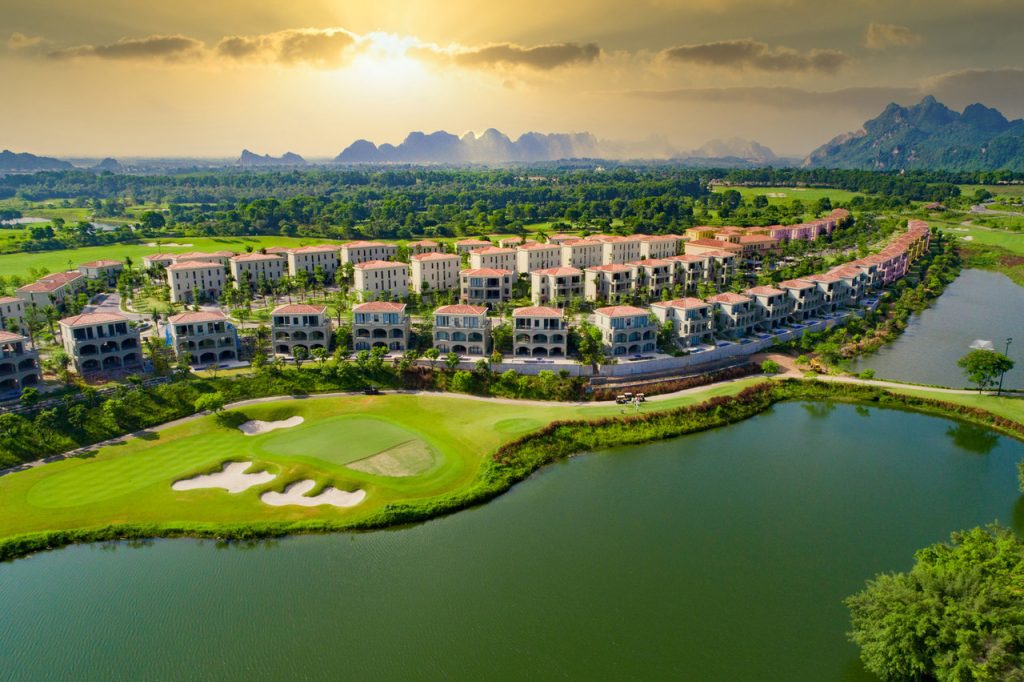 Veque Farm:
Veque Farm is an excellent suggestion for those who want to experience a friendly and close-to-nature farm space. Thanks to its spacious premises, the hotel boasts a peaceful and green environment.
The rooms at Veque Farm are designed to be simple yet extremely comfortable, equipped with all necessary amenities. Moreover, guests can enjoy the breathtaking views of the farm and lush green gardens from their rooms.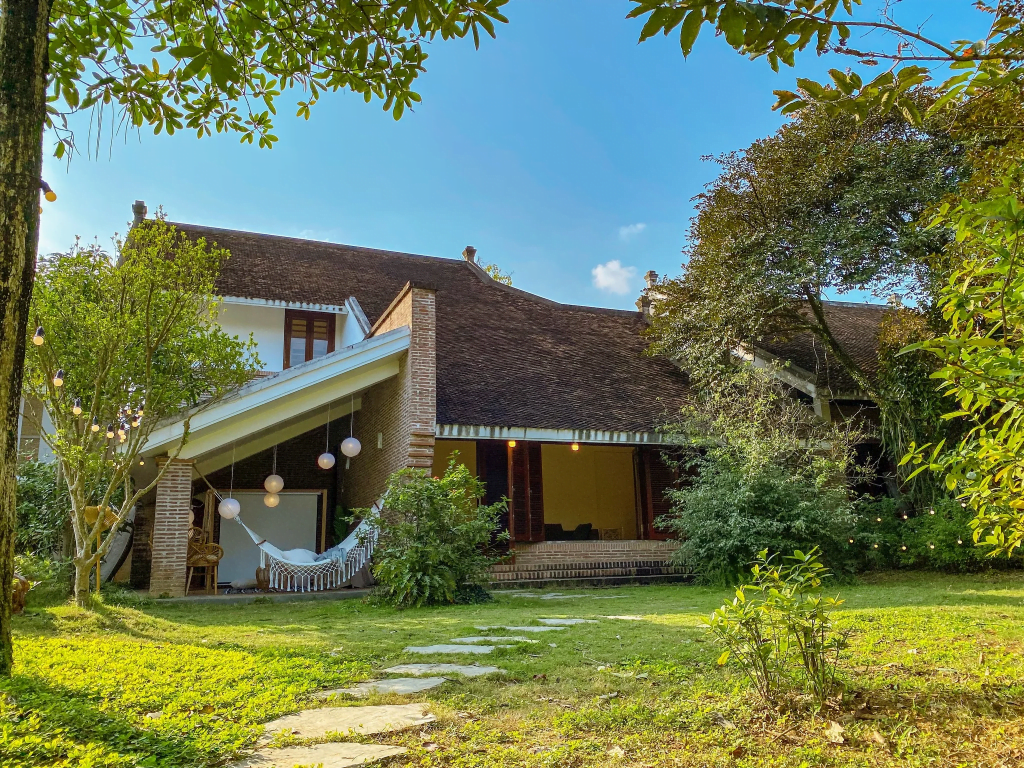 Exploring Chuong My District Update 09/22/2023  
Traditions, Festivals, and Historical Relics
Since ancient times, Chuong My has been known as the land of "extraordinary talents," rich in cultural traditions, and a strong commitment to education, with many academically accomplished villages that have been passed down through songs and verses:
Rich and abundant are Quang Bị and Boi Khe, Scholars and officials from Luong Xa, Chi Ne, and Dai Tu.
Alongside the renowned scholars, military leaders, and academically accomplished individuals of ancient dynasties, in modern times, Chuong My has produced famous artists known worldwide.
One such artist is Dang Thai Son, a People's Artist and a musical genius from Thụy Huong village in Chuong My. In 1980, he won first prize in the international piano competition named "Sôpanh" for the tenth time.
Another notable figure is painter Nguyen Gia Tri, a native of Truong Yen village. He was an extraordinary and versatile artist, considered a master in Vietnamese painting.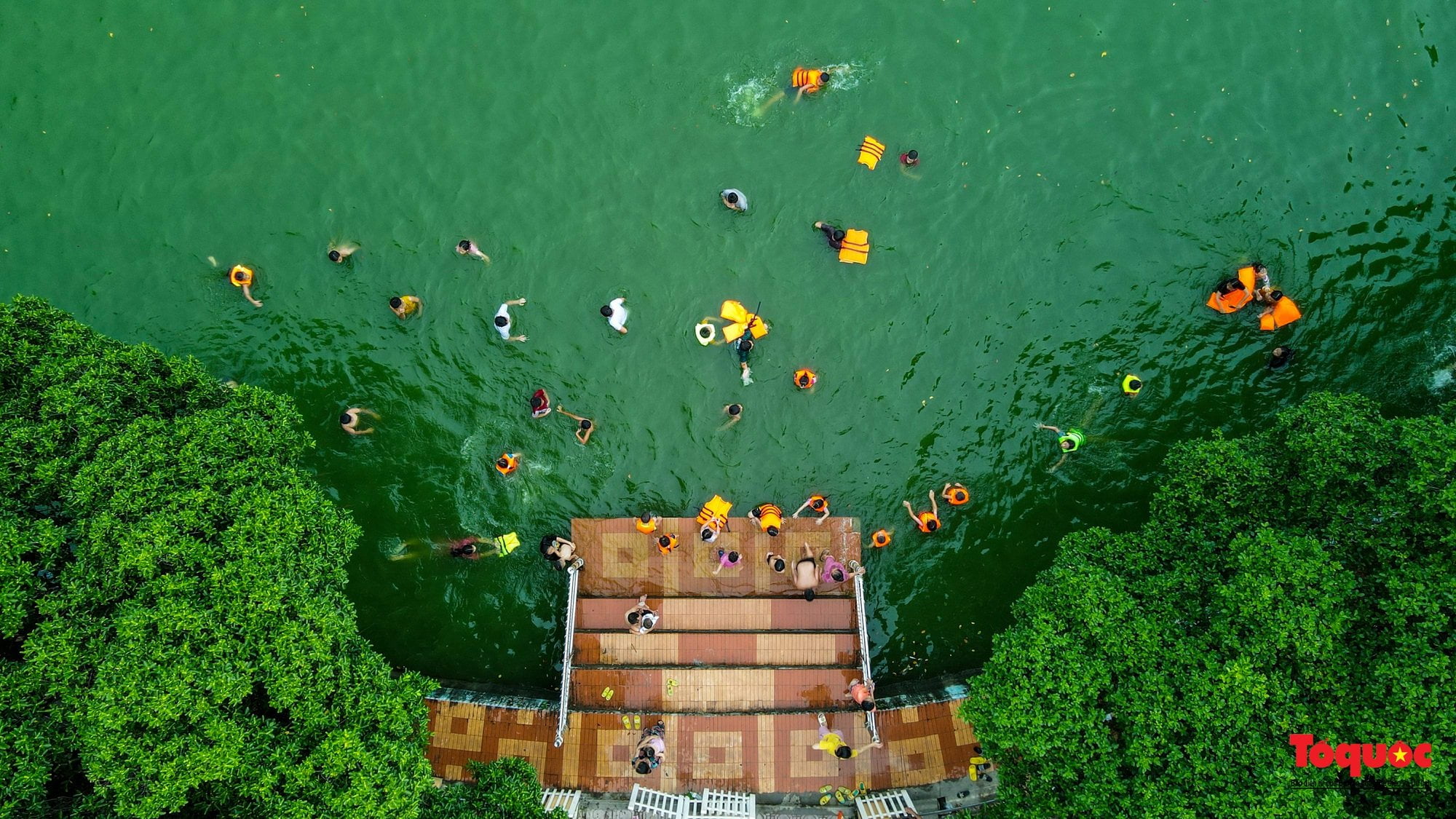 Throughout the long history of the country, Chuong My has been one of the regions rich in revolutionary traditions.
There are 374 historical relics under management in the district, among which 170 relics are officially recognized (32 at the national level and 138 at the provincial and city levels).
Additionally, there is one intangible cultural heritage at the national level and 11 relics commemorating revolutionary resistance events. The National relics include Tram Gian Pagoda and Trầm Pagoda, both of which bear significant historical marks.
Tram Gian Pagoda, located in Tien Phuong commune, was initially called "Quảng Nghiêm Tự" and was built during the reign of Ly Cao Tong (1185).
During the Tran dynasty, it served as a place of study for the monk Binh An, whose real name was Nguyen Nu (also known as Nhu), with the religious name Đuc Minh.
Binh An hailed from Boi Khe village. According to researchers, Tram Gian Pagoda stands atop a 50-meter high hill, part of the Tien Lu mountain range, also known as Nui Ma.
The pagoda's unique architectural ensemble consists of 100 chambers and currently preserves over 100 statues, most made of wood, with a few sculpted from baked clay.
Among them, the statues of Tuyet Son, Quan Am Bo Tat, and Admiral Đang Tien Đong, a military leader of the Tay Son dynasty, are particularly precious.
The pagoda also houses the venerated Đuc Thanh Boi statue, made from carved wood, which is believed to contain the relics of Binh An. Tram Gian Pagoda has been recognized as a National Historical Relic.
Tram Gian Pagoda holds an annual festival from the 4th to the 6th day of the first lunar month. During the festival, there are processions, vegetarian feasts, water puppet performances, and fireworks.
It remains a traditional celebration of the rural population, promoting patriotism, unity, and fostering talents and skills. These valuable traditions are preserved and passed down to future generations.
Tram Pagoda is a group of pagodas situated on Tram Mountain (also known as Tu Tram Son), located in Phung Chau commune. The pagodas enjoy a picturesque location surrounded by small mountains such as Ninh Son, Dong Lu, and Tien Lu.
Visitors who come to explore the famous landscapes will visit Tram Mountain and the three pagodas: Tram Pagoda, Hang Pagoda, and Vo Vi Pagoda.
The three pagodas achieve a harmonious balance between the mountains and the pagodas, creating a peaceful and tranquil ambiance.
During the resistance against the French colonial rule, Hang Tram was the place where President Ho Chu Tich lived and worked in the early days of the resistance.
This location was also the first site where the Vietnamese Voice of Vietnam Radio Station was established after leaving Hanoi to continue its work (from December 20, 1946, to March 4, 1947). It was from here that the station broadcasted the nationwide call to arms on December 20, 1946.
Among the three ancient pagodas, the most famous is Vo Vi Pagoda, situated about 1 km from the main Tram Pagoda. It was built in 968.
After ascending a few dozen stone steps and taking a rest, visitors will encounter a large stone stele on the left side, engraved with verses written in Nom characters by Tran Van Tang: "Trung phang Vo Vi Tu" (Ancient and Venerable Vo Vi Pagoda).
The pagoda also houses a bronze bell cast in 1814 during the Nguyen dynasty. Ascending over 100 stone steps, visitors will reach the Nghenh Phong floor at the mountain peak, where they can enjoy a panoramic view of the scenic Tram Mountain and the lush countryside along the Day River.
The Tram Village Festival takes place on the 2nd of February in the lunar calendar. During the Tram pagoda festival, thousands of visitors gather to celebrate.
Even on weekends, hundreds of people come to visit the pagodas and explore the area. Tram Mountain and its pagodas are significant landmarks in Hanoi's tourism, representing a cultural and historical destination that attracts visitors from near and far.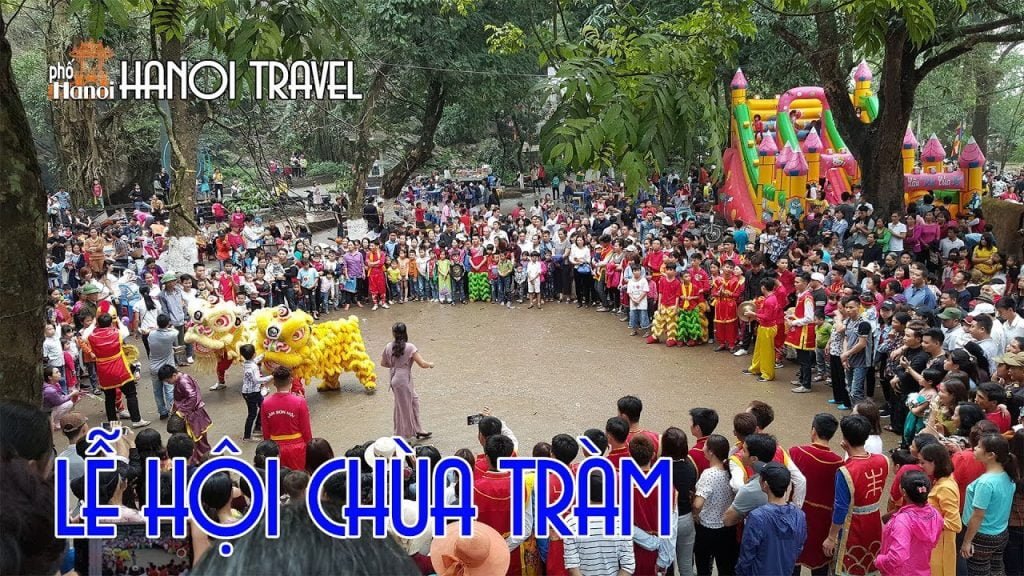 Culture
The district has many communal houses, pagodas, temples, shrines, and beautiful landscapes, such as
Tram Gian Pagoda

Tram Pagoda

Hoa Tinh Pagoda

Cao Pagoda

Thap Pagoda

Sau Pagoda (Sung Nghiem Tu)

Yen Khe Communal House

Nghiem Kinh Pagoda

Tran Bac Phuong Pagoda (located in Yen Khe hamlet, Dai Yen commune)
Most of these communal houses and pagodas hold festivals during the Lunar New Year (January and February in the lunar calendar).
The Prestige of Chuong My's Traditional Craft Land Update 09/22/2023 
Currently, in Chuong My district, there are 175 villages engaged in various trades, with a remarkable 172 villages specializing in bamboo and rattan weaving.
Among these 172 villages, 33 have been officially recognized as traditional handicraft villages.
The bamboo and rattan weaving industry has attracted over 10,000 regular workers and several tens of thousands of seasonal laborers.
On average, a worker in these villages earns an income ranging from 13 to 15 million Vietnamese dong per year, whereas agricultural laborers typically earn only around 6 million dong per year.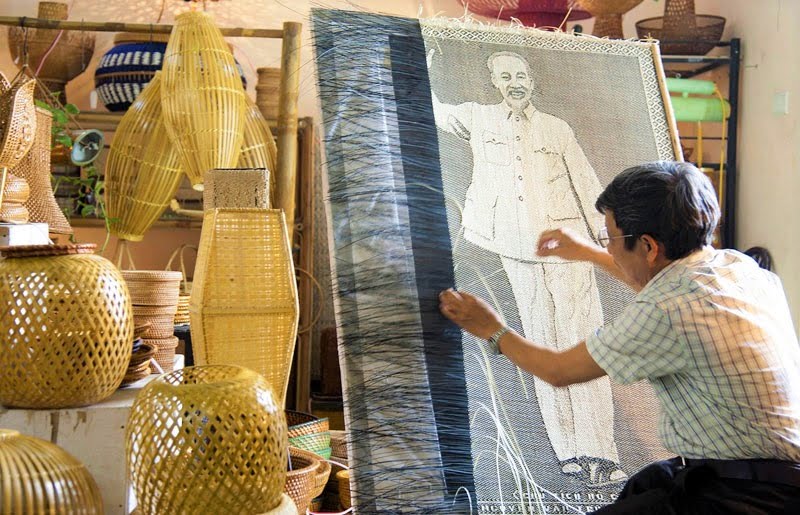 One exceptional village in the district is Phu Nghia, where all the villages have been recognized as traditional handicraft villages. In this area, nearly 90% of the 2,300 households are engaged in bamboo and rattan weaving.
The region boasts hundreds of cooperatives, production facilities, and limited liability companies specializing in exporting bamboo and rattan products.
The thriving traditional bamboo and rattan weaving industry has provided regular employment for the local residents, leading to an improved standard of living.
Approximately 50% of the households in the area are classified as relatively prosperous.
The bamboo and rattan products from Phú Nghĩa have gained international recognition, with numerous companies and enterprises exporting them to markets in 50 countries worldwide.
Thanks to the strength of the handicraft villages, in 2004, Phu Nghia was selected by the World Tourism Organization to be part of a sustainable tourism and poverty reduction program.
This initiative has brought in thousands of tourists, including high-ranking officials from the Party and State and various international delegations, to visit and explore the region.
Not only Phu Nghia, but several other villages in Chương Mỹ district engaged in bamboo and rattan weaving have also experienced considerable development, with many of them being officially recognized as handicraft villages, such as Trung Hoa, Đong Phuong Yen, Truong Yen, and Đong Son.
Alongside bamboo and rattan weaving, carpentry, especially the construction of private homes, temples, and pagodas, has become a particularly popular and sought-after profession.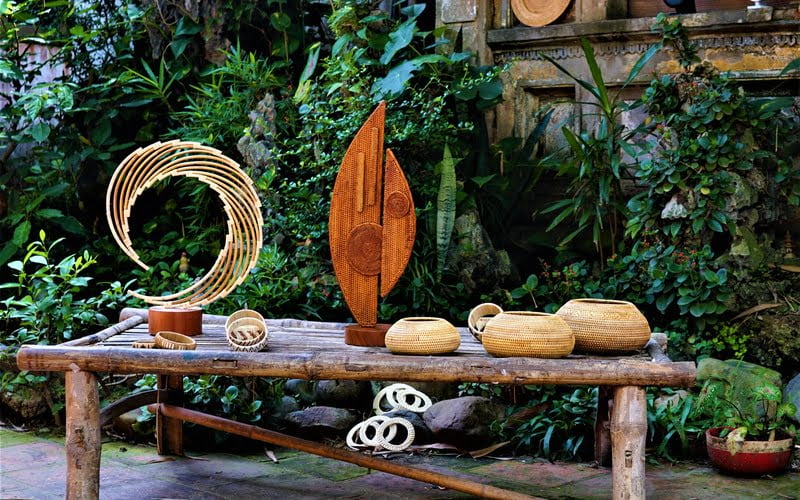 Skilled carpenters are in high demand, earning significant incomes, and often have to receive orders from customers well in advance, sometimes even a year ahead.
Notable carpentry villages include Phu Yen in Truong Yen commune and Phuc Cau in Thụy Huong commune.
Throughout both the northern and southern regions of Vietnam, the craftsmanship of these skilled carpenters can be seen and admired everywhere.
Prominent Destinations
Visiting Chuong My district is synonymous with immersing yourself in the picturesque landscapes of this area, as its abundant nature creates breathtaking scenery. Let's take a look at the outstanding destinations:
Tram Mountain, Chuong My
This renowned landmark is located approximately 30 kilometers from Hanoi. The best time to visit Tram Mountain is in the second quarter of the year, when the weather is pleasant, and the scenery is at its most beautiful.
Tram Mountain is ideal for excursions and overnight camping due to its magnificent natural landscapes. You can also enjoy lush green meadows, creating a truly refreshing atmosphere.
Visiting Tram Mountain allows you to leave behind the stresses of life and immerse yourself in its beauty.
Some tips for your camping trip to Tram Mountain: Make sure to prepare all the necessary camping gear and personal belongings, as the area is quite remote with limited tourist facilities.
There are rental services for tents and equipment at reasonable prices, usually below 500,000 VND, and you can set up your own tent.
Additionally, the nights at Trầm Mountain can get quite cold, so bring warm blankets, heat patches, or fever medication to avoid any discomfort.
In summary, when you visit Chuong My, you shouldn't miss Tram Mountain, often referred to as the "Northwest Stone Plateau."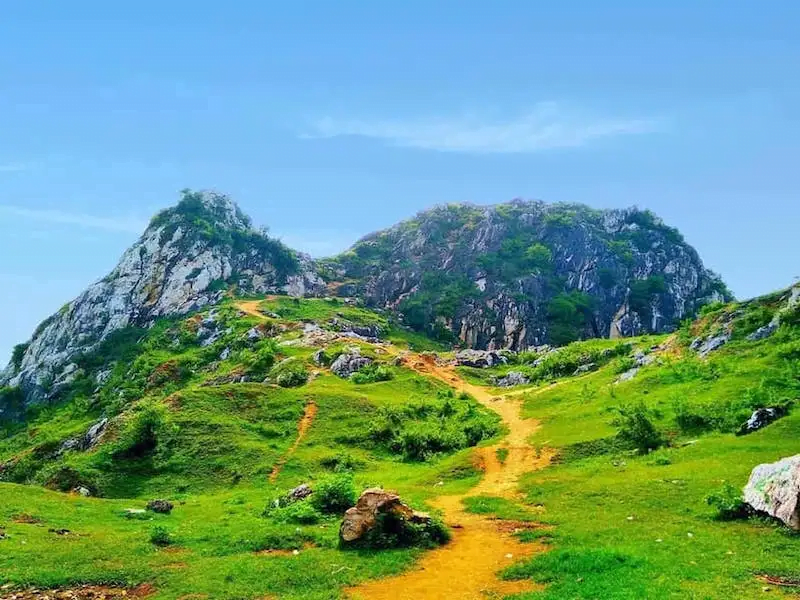 Van Son Lake
Another must-visit destination in Chuong My district is Van Son Lake. This vast lake covers an area of nearly 170 hectares and is a favorite spot for tourists due to its stunning scenery and various activities.
Visitors can enjoy sightseeing and organize independent outdoor activities. Moreover, there are additional services at and around the lake, such as fishing and a golf course.
Van Son Lake is famous for the Sky Lake Resort & Golf Club, offering a wonderful golfing experience in a clean and breezy environment, complemented by the refreshing winds from the lake.
As a result, this golf course attracts a considerable number of tourists. Furthermore, the Sky Lake resort is under construction and expected to open soon.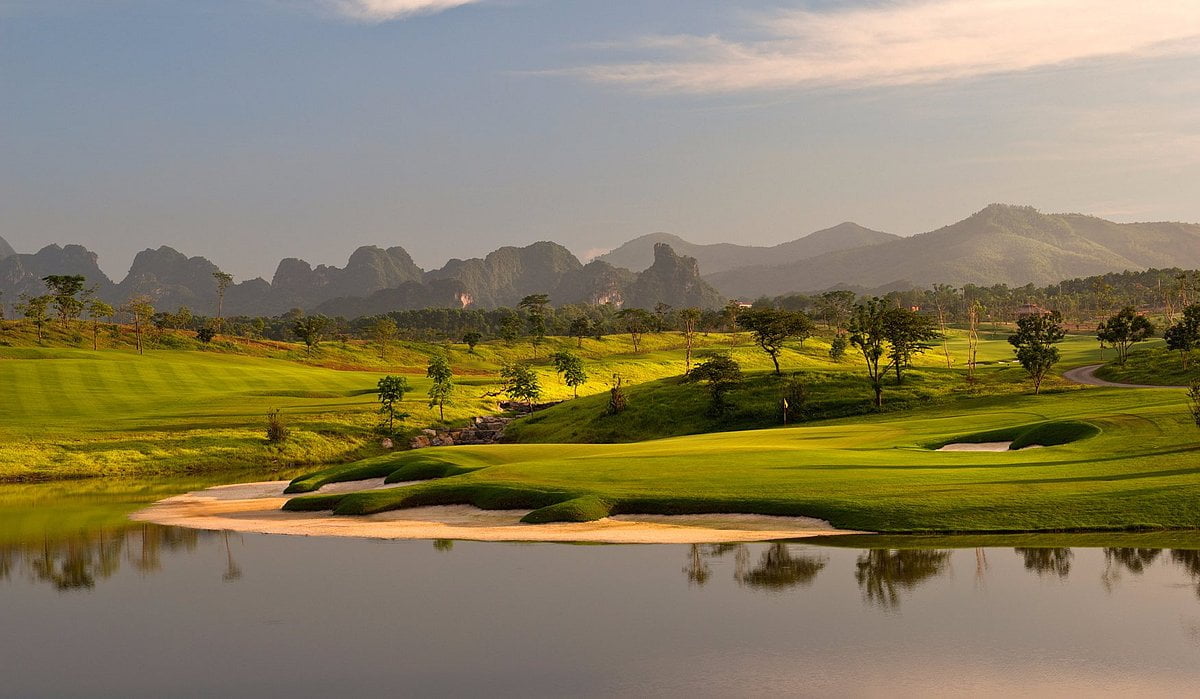 Tram Pagoda
Tram Pagoda is located in Chuong My district, about 25 kilometers from Hanoi. With a history of over 400 years, Tram Pagoda is considered one of the four sacred pagodas in the Northwest region.
The unique feature of Tram Pagoda lies in its architectural design from the 16th century, which has been preserved and maintained until today.
The pagoda showcases the traditional Vietnamese architecture with intricately carved wooden pieces and exquisite paintings on its doors.
Tram Pagoda is part of a complex that includes several smaller pagodas, such as Hang Pagoda, Vo Vi Pagoda, and Tram Mountain. As a result, visitors can explore multiple places and enjoy various beautiful sceneries during their visit.
A small note when visiting the pagoda is to check the weather forecast beforehand and dress comfortably for easy movement while still maintaining modesty to respect the pagoda's environment and activities.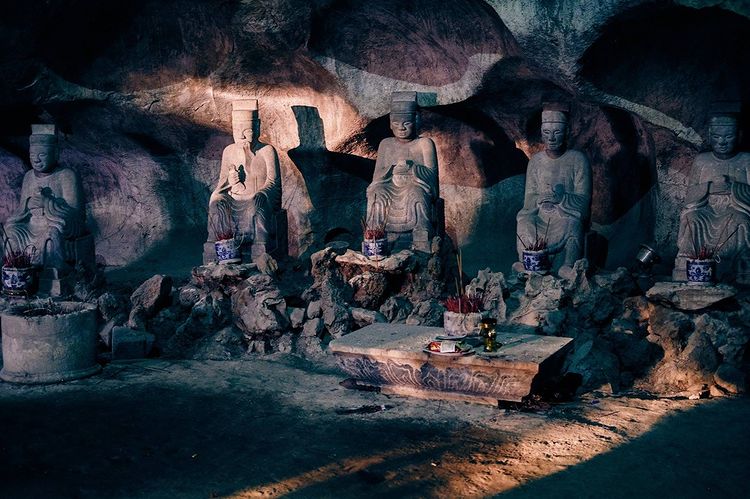 Chuong My cusine
In modern times, finding a place that meets the criteria of delicious food, beautiful ambiance, and excellent service is no longer a luxury.
In Hanoi, in any area or district, whether in the suburbs or city center, you can easily find restaurants with delicious food and appealing ambiance. Let's take a look at some of the famous restaurants in Chương Mỹ, Hanoi, for you to make a suitable choice!
Quán Ăn Ngon – Xuan Mai Chuong My
Quán Ăn Ngon – Xuân Mai Chuong My always aims to satisfy local and distant diners. With its spacious capacity and central location, the restaurant is committed to providing fresh and quality meals.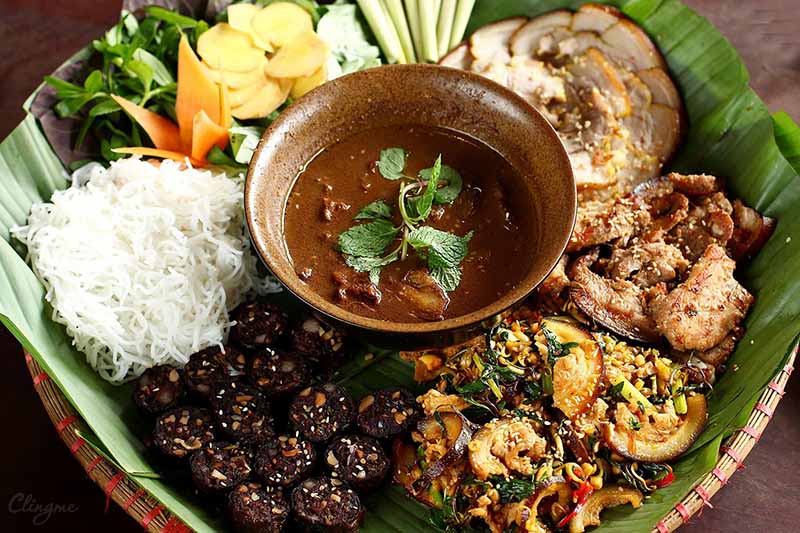 Nhà Hàng Trâu Vàng Chúc Sơn
Nhà Hàng Trâu Vàng specializes in catering services for companies, businesses, weddings, events, and individual customers. They offer a diverse and enticing menu prepared from fresh ingredients.
The menu includes various options both à la carte and set meals. The restaurant has a spacious and breezy atmosphere and also features a swimming pool, making it suitable for group gatherings.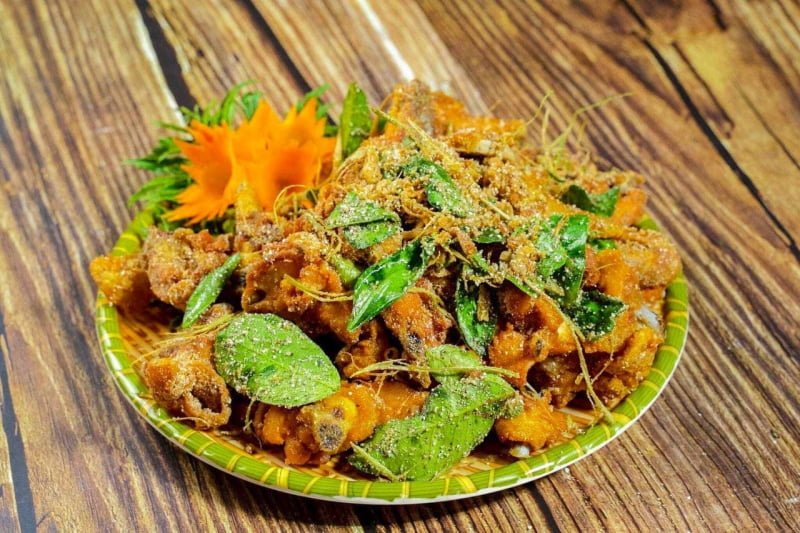 Nhà Hàng Phạm Xá Mạnh Hoạch
Nhà Hàng Phạm Xá Mạnh Hoạch is renowned for its top-quality fresh chicken, a brand that is well-known among food enthusiasts.
Along National Highway 21, on the Ho Chi Minh Road from Hai Phong to Hanoi, you will find impressive advertisements that lead you to this restaurant in Xuan Mai, Chuong My, Hanoi.
Mạnh Hoạch chicken is a free-range chicken left to forage for food on the hills and supplemented with rice.
Raised naturally in rural areas, weighing from 1.2kg to 1.3kg, Mạnh Hoạch chicken is favored for its fragrant, firm meat with a rich and flavorful taste, yet not dry.
Quán Kệ Lẩu Cua Đồng Xuân Mai
When you visit Quán Kệ Lẩu Cua Đồng Xuân Mai, you'll be impressed by the eye-catching decoration of the hotpot shelves in the restaurant.
The hotpot shelves are placed in the middle of the dining table, fully stocked with various ingredients such as beef, pork, fresh shrimp, green vegetables, mushrooms, and banana flower salad, providing you with a homely experience.
The diverse dishes are perfect for organizing gatherings with friends and family.
The restaurant's food quality is unquestionable, as Quán Kệ Lẩu Cua Đồng is always bustling with customers and has several branches, ensuring you have a pleasant dining experience.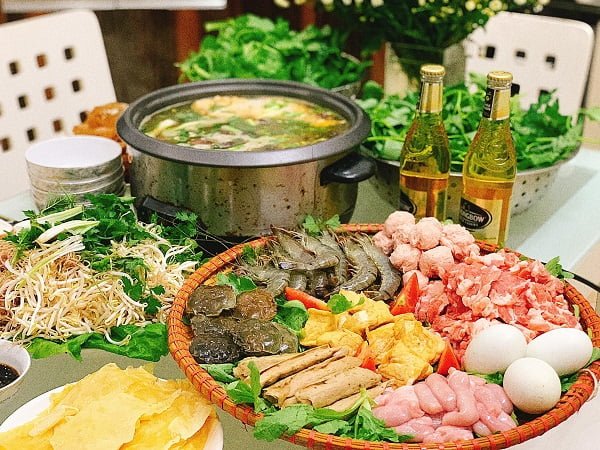 Experience the allure of Chuong My District
Chuong My is a land rich in historical significance, bearing numerous imprints of the nation's history and boasting beautiful landscapes, making it a plentiful resource for tourism development.
It is also an area that the government has planned for economic development and infrastructure construction. In the future, Chuong My is expected to attract the attention of millions of tourists.