Hanoi, the capital city of Vietnam, is known for its rich history, vibrant culture, and bustling city life. Within Hanoi lies Bac Tu Liem District, an area that has been steadily growing and evolving over the years.
As we step into 2024, Bac Tu Liem District continues to make strides in development and offers a promising future for residents and visitors alike.
Let's explore the fascinating things in Bac Tu Liem District together with TripWorldwide.
More: About Tay Ho District in Ha Noi 2024
Bac Tu Liem District | About Bac Tu Liem: Map, postal codes, Tourist, History Update 09/22/2023 
History of Bac Tu Liem District
According to Resolution No. 132/NQ-CP issued by the Government on December 27, 2013, based on the division of 9 communes: Tay Tuu, Lien Mac, Thuong Cat, Phu Dien, Minh Khai, Dong Ngac, Co Nhue, Xuan Dinh, Thuong Cat; 9.30 hectares of natural land area along with a population of 596 in Xuan Phuong commune; 75.48 hectares of natural land area along with a population of 10,126 in Cau Dien town, the district covers an area of 4,335.34 hectares (43.35 km²) with a population of 320,414 people.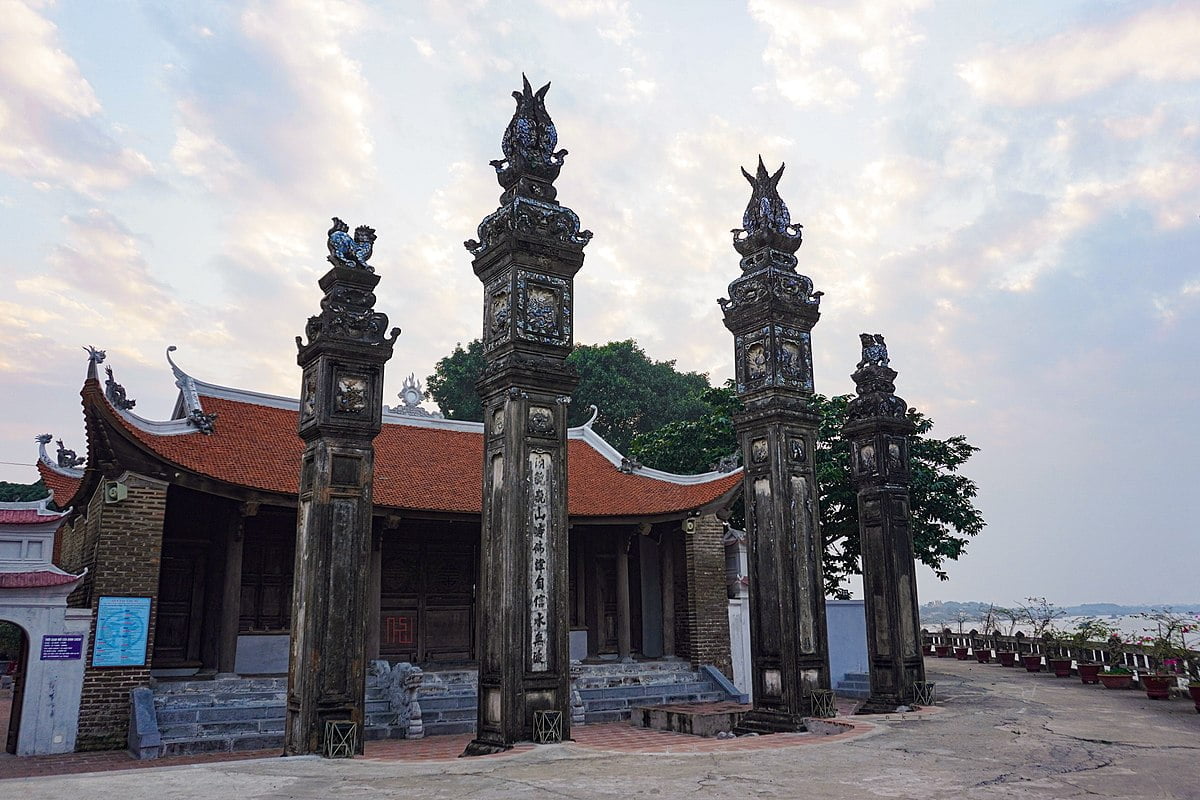 Geographical Location
Located along the southern bank of the Red River, Bac Tu Liem district is approximately 10km west of the city center of Hanoi, the capital of Vietnam. Bac Tu Liem enjoys a favorable geographical location, bordering districts and provinces that are experiencing strong development, including:
To the north, it borders Dong Anh district.

To the south, it borders Nam Tu Liem district.

To the east, it borders Tay Ho district.

To the west, it shares borders with Hoai Duc district and Dan Phuong district.

To the southeast, it borders Cau Giay district.
With such a geographical position, Bac Tu Liem district is expected to become an important economic hub of Hanoi in the near future. It will serve as a connecting point for important economic regions within the city and its suburbs, as well as neighboring provinces. Therefore, the district has great opportunities and potential for development in the future.
Administrative Divisions
Bac Tu Liem district in Hanoi currently consists of a total of 13 wards, including Xuan Dinh, Xuan Tao, Tay Tuu, Thuy Phuong, Thuong Cat, Phu Dien, Phuc Dien, Lien Mac, Minh Khai, Dong Ngac, Duc Thang, Co Nhue 1, and Co Nhue 2.
According to statistics in 2020, Bac Tu Liem district has a total area of 45.24 square kilometers and a population of 340,605 people, with a population density of 7,529 people per square kilometer.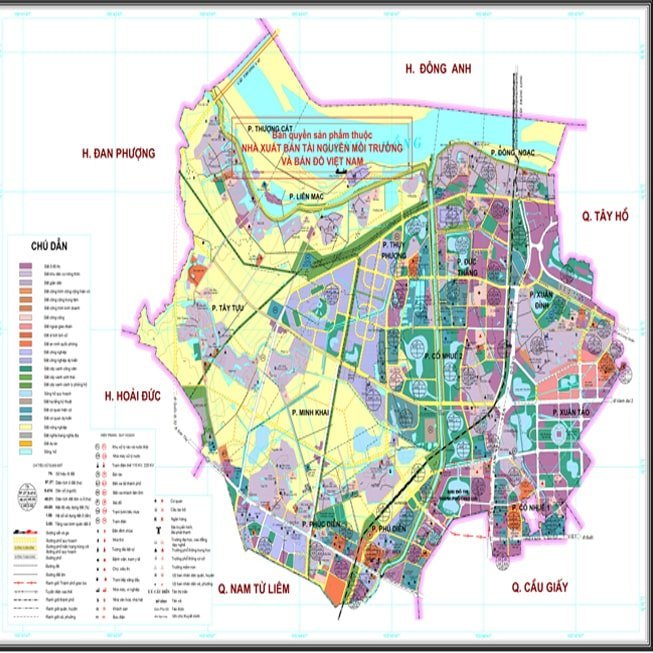 Bac Tu Liem district Hanoi Vietnam postal code
District / County Zipcode
Bac Tu Liem District Postal Code 11900
District / Commune Zipcode
Co Nhue 1 Ward Postal Code 11917

Co Nhue 2 Ward Postal Code 11907

Dong Ngac Ward Postal Code 11909

Duc Thang Ward Postal Code 11910

Lien Mac Ward Postal Code 11911

Minh Khai Ward Postal Code 11915

Phu Dien Ward Postal Code 11916

Phuc Dien Ward Postal Code 11906

Tay Tuu Ward Postal Code 11914

Thuong Cat Ward Postal Code 11912

Thuy Phuong Ward Postal Code 11913

Xuan Dinh Ward Postal Code 11908

Xuan Tao Ward Postal Code 11918
Exploring Bac Tu Liem District
Culture, Historical Sites, and Landmarks
Bac Tu Liem District has a total of 133 historical sites. Among them, 58 sites have been classified as historical and cultural relics, 27 sites are related to the revolutionary resistance, and 11 sites have commemorative plaques.
Some well-known historical sites include Dinh Chem, Dong Ngac, Thuong Cat, Ky Vu Pagoda, Mieu Dong Co, and Dam Tay Tuu Shrine. The revolutionary sites include Xuan Tao Fortress, Chem Missile Base, Ho Chi Minh Memorial Site in Kieu Mai, and Chem Irrigation Works.
There are also notable attractions such as Tay Tuu Flower Village and Dong Ngac Calligraphy Village.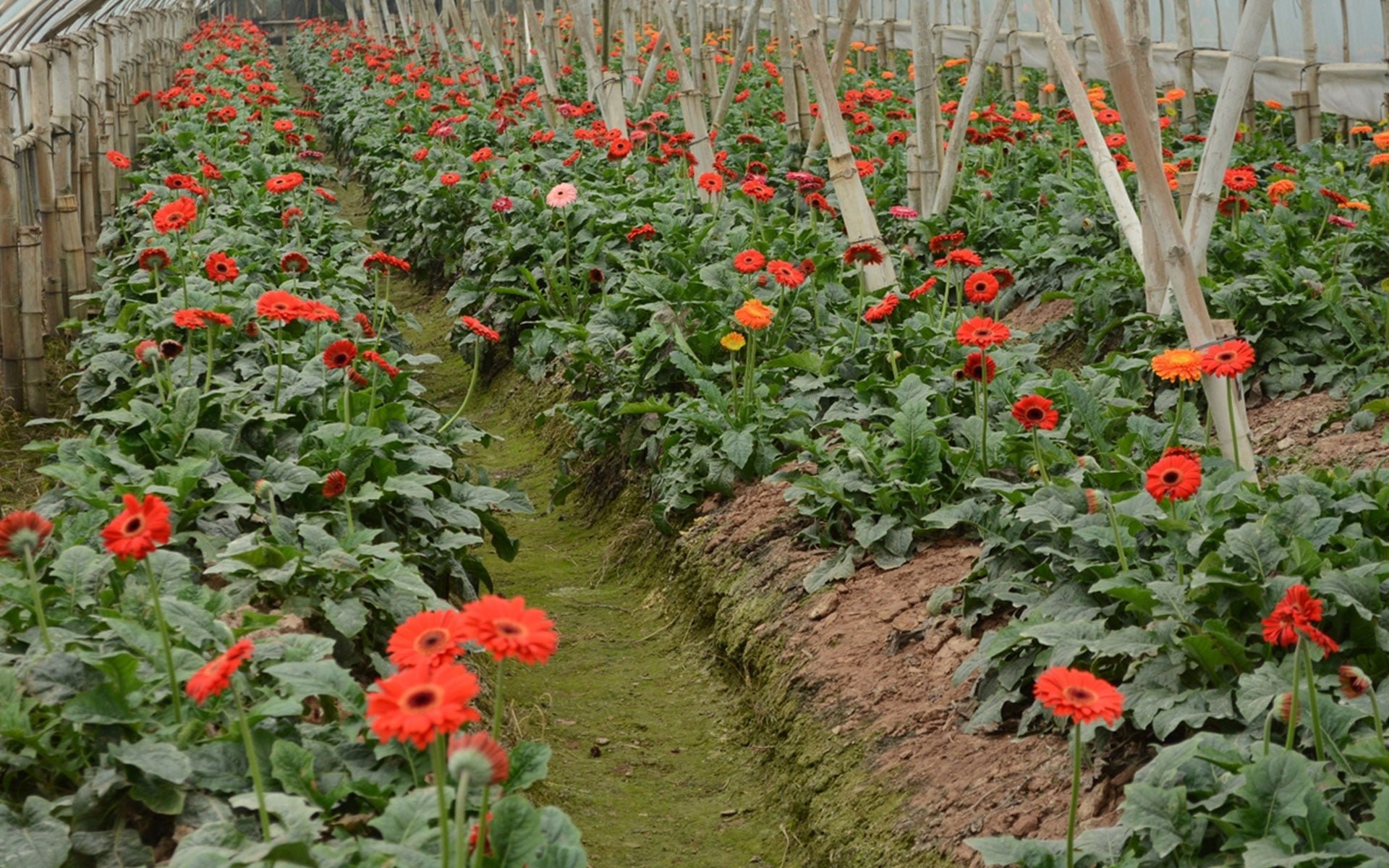 Among them, Dong Ngac Calligraphy Village deserves special mention as a renowned cultural hub. Before becoming a district, Dong Ngac (locally known as Lang Ve or Ke Ve) was one of the oldest villages in Hanoi, located near Thang Long Bridge.
The village is known as the "Village of Scholars" due to its association with 18 Confucian scholars, including one Thai student, one Bang Nhan, two Hoang Gia, and fourteen Dong Tien Si (similar to Confucian scholars).
Additionally, there were six successful candidates who only reached the third level of the imperial examination but were renowned for their talents, as well as seven French-era Ph.D. graduates. Today, more than 50 Ph.D. holders hail from Dong Ngac.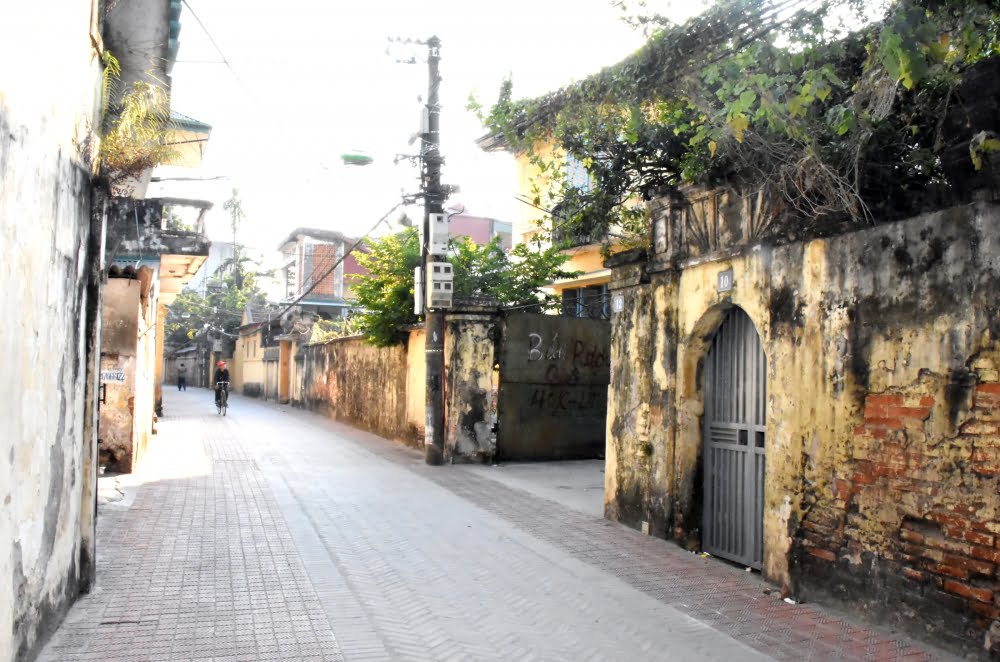 Dong Ngac has given birth to numerous distinguished individuals who have made significant contributions in various fields throughout different historical periods.
During the feudal era, notable figures included Phan Phu Tien and Do The Giai, while in the contemporary era, there are individuals like Phan Van Truong and Hoang Tang Bi. Notable individuals from Dong Ngac today include Hoang Minh Giam (former Minister of Culture) and Lieutenant General Professor Pham Gia Khanh (Director of the Military Medical Academy), as well as other politicians and scientists.
Within the Bac Tu Liem District, there is Hoa Binh Park, which is considered one of the iconic landmarks of the capital city. Spanning an area of 20 hectares, the park is located in Xuan Dinh Ward. In 2000, on the occasion of the 990th anniversary of Thang Long – Hanoi, UNESCO awarded the title "City for Peace" to the capital city.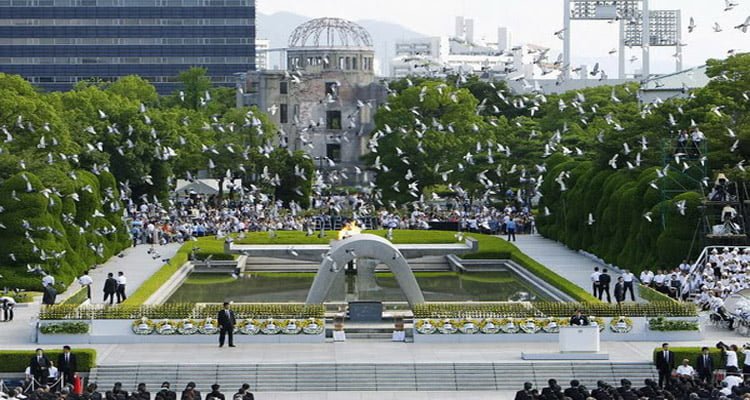 To create a symbol of the capital, the city decided to build a park named Hoa Binh. This modern and diverse park offers various activities that contribute to the cultural and spiritual life of the local residents and attract tourists from other places.
Inheriting and promoting the tradition of being the heroic unit of the people's armed forces from the former Tu Liem District, the Party Committee and people of Bac Tu Liem District are united and determined to take advantage of favorable conditions and opportunities to overcome difficulties.
They actively invest in technological innovation, apply advanced scientific and technical advances to production, and attract investment from domestic and international enterprises, aiming to make Bac Tu Liem District a new urban area of Hanoi with a modern and elegant appearance, complete infrastructure, and high quality.
In addition, many important projects of national and city importance have been, are being, and will continue to be constructed in the district. These achievements further affirm the correct direction and creativity of the Party Committee and the people of Bac Tu Liem District in their determination to build a modern and civilized district.
Famous Places
Chua Dinh Quan – Dinh Gian
Chua Gian – Dinh Hoang
Chua Van Tri – Dinh Nhat Tao
Chua Ve – Dinh Phu Dien
Den Ba Chua – Dinh thon Vien
Dinh – Chua Yen Noi – Dinh Thuong Cat
Dinh Chem – Dinh Van Tri
Dinh Dam – Mieu Dong Co
Dinh Dong Ngac
Some Fun Places in Bac Tu Liem District Update 09/22/2023 
Hoa Binh Park
Hoa Binh Park is located on Pham Van Dong Street, Xuan Dinh Ward, Bac Tu Liem District, Hanoi, and is modeled after Hoa Binh Nagasaki Park. With its spacious area and lush greenery, it is an ideal place for young people and families to relax and enjoy their weekends.
Tu Liem Fruit Garden Ecological Area in Bac Tu Liem District
Another destination in Bac Tu Liem District where you can immerse yourself in a cool natural environment. Just 15 minutes away from the center of Hanoi by motorbike, this tourist attraction is not only popular among the capital's residents but also among domestic and foreign tourists.
Here, you can freely organize picnics or team-building games and events. It is also an ideal place for couples to change their dating locations with a picnic surrounded by nature.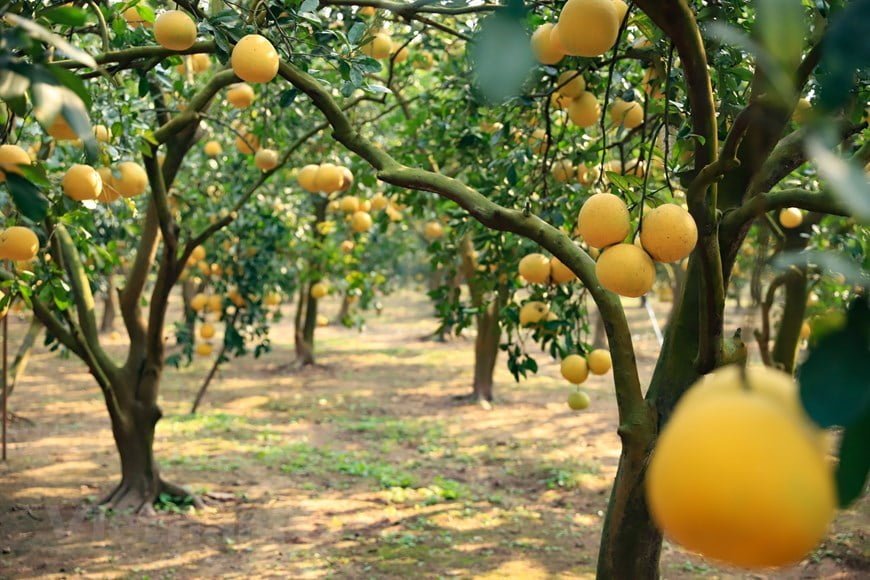 Dong Ngac Ancient Village
It is a must-visit place for history enthusiasts and those who want to explore ancient traditions in Hanoi. Dong Ngac is one of the oldest villages in the capital. It is also known as the "Village of Scholars" due to its many highly educated individuals.
With a history of over 500 years, the village still preserves rare and unique Lê dynasty paintings. The village's communal house worships three Phuc Thần deities. Additionally, the unique architectural style of the village's communal house attracts many visitors.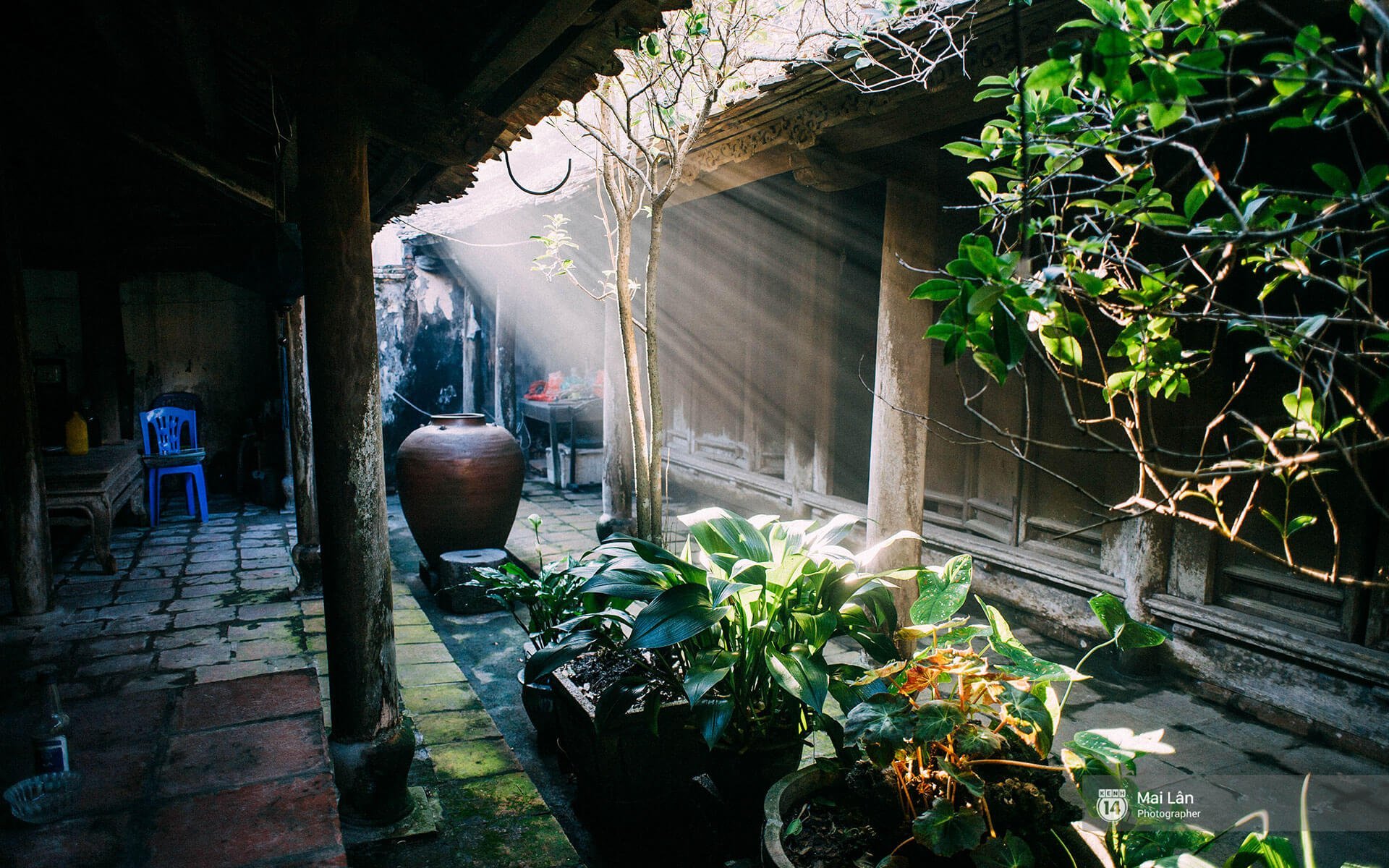 Dieu Hoa Lake Park
A super chill spot in the heart of Hanoi that couples should not miss. Dieu Hoa Lake Park is located behind the headquarters of the Ministry of Public Security, in the Thanh Pho Giao Luu Urban Area, Co Nhue 1 Ward, Bac Tu Liem District, Hanoi. It's a place where you can breathe in the cool breeze amidst the capital city. Moreover, it's an ideal dating spot for couples on weekends.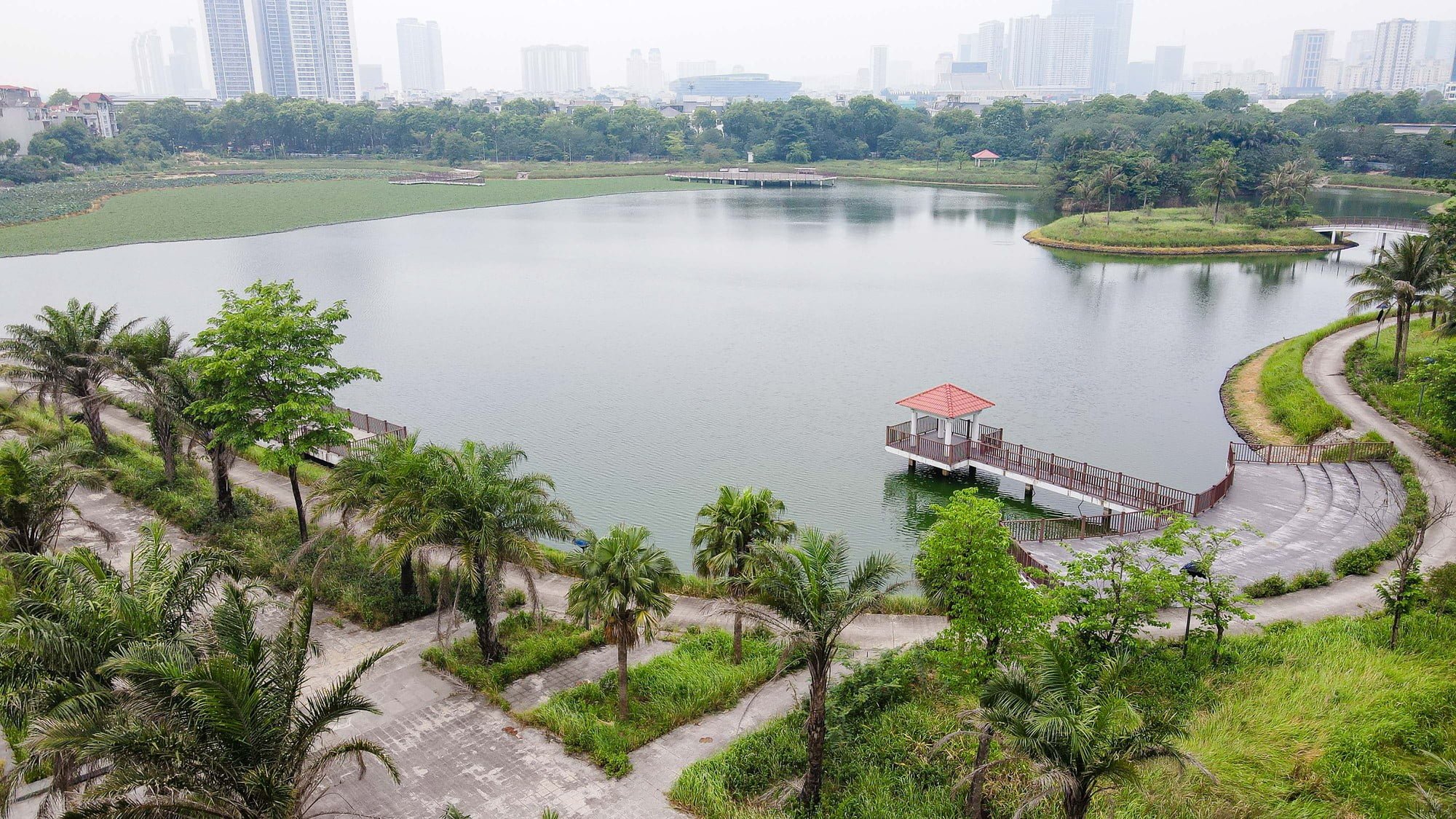 Vincom Plaza Bac Tu Liem Shopping Center
Located on the busiest street in Bac Tu Liem District, Vincom Plaza Shopping Center covers an area of over 27,000 square meters. It consists of main zones, including a large-scale shopping and service area, a chain of restaurants, consumer electronics stores, an amusement park, and a supermarket.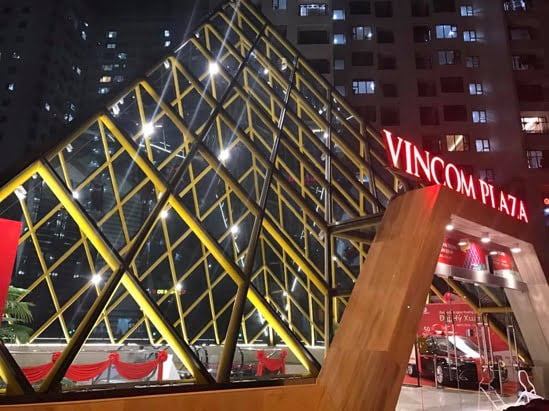 Bac Tu Liem District Cuisine Update 09/22/2023  
Bac Tu Liem District, located in Hanoi, Vietnam, not only boasts picturesque landscapes and cultural attractions but also offers a diverse and tantalizing culinary scene. From traditional Vietnamese delicacies to international flavors, the district's cuisine is a gastronomic delight for both locals and visitors alike. Let's embark on a culinary journey and explore the mouthwatering dishes that define Bac Tu Liem's unique food culture.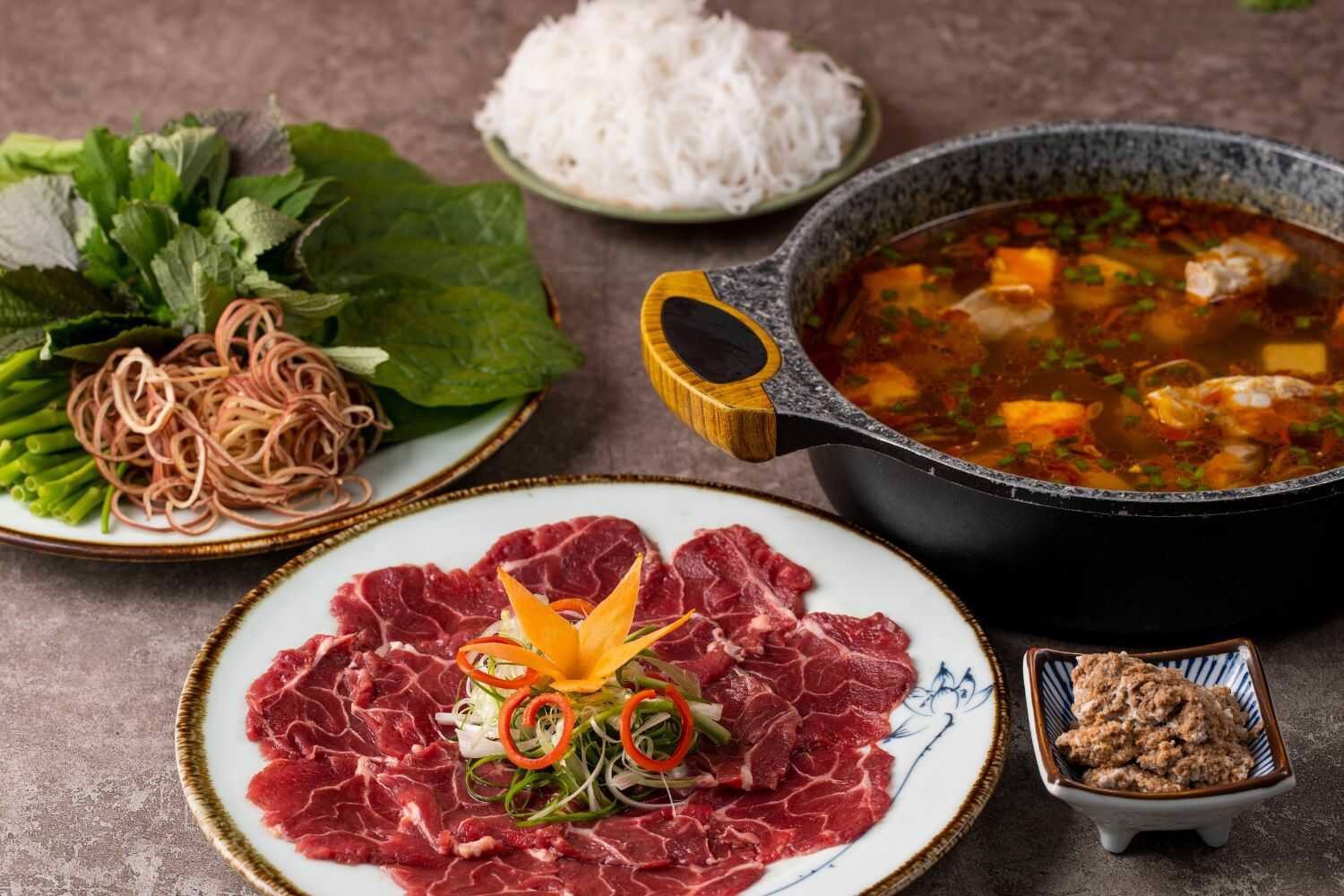 Pho Cuon One of the signature dishes of Bac Tu Liem District is Pho Cuon, a refreshing and flavorful roll consisting of fresh pho noodles, herbs, and various fillings such as beef, chicken, or shrimp. The rolls are served with a dipping sauce, creating a harmonious blend of textures and flavors. Pho Cuon is a must-try dish that showcases the district's creativity in reimagining traditional flavors.
Bun Cha Bun Cha, a beloved Vietnamese dish, holds a special place in Bac Tu Liem's culinary landscape. It features grilled pork patties and slices served with vermicelli noodles, herbs, and a sweet and tangy dipping sauce. The smoky aroma of the grilled meat combined with the freshness of herbs creates a delightful balance of flavors. Enjoying a bowl of Bun Cha is a true culinary experience that reflects the district's culinary heritage.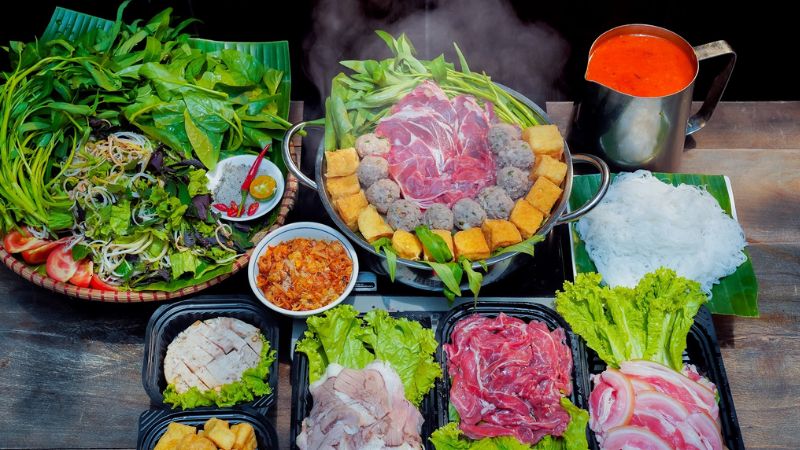 Nem Cua Be Nem Cua Be, or crab spring rolls, is another local delicacy that highlights the district's seafood offerings. These crispy spring rolls are filled with a mixture of crab meat, minced pork, mushrooms, and various aromatic spices. The rolls are deep-fried to perfection, resulting in a golden and crunchy exterior. Dip them in a savory sauce, and you'll be treated to a burst of flavors that encapsulate the essence of Bac Tu Liem's culinary tradition.
Com Chay Com Chay, or crispy rice, is a unique dish that showcases the district's skillful use of rice. Leftover cooked rice is pressed into flat squares and then deep-fried until crispy. The result is a delightful snack with a satisfying crunch. Com Chay can be enjoyed on its own or paired with a variety of toppings such as stir-fried vegetables, tofu, or meat. It's a popular street food item in Bac Tu Liem, loved for its simplicity and irresistible texture.
International Flavors In addition to its traditional Vietnamese cuisine, Bac Tu Liem District also offers a wide range of international flavors to cater to diverse palates. From cozy cafes serving aromatic coffee blends to stylish restaurants offering Western, Korean, Japanese, and Thai dishes, there's something for everyone. Whether you're craving a comforting bowl of pasta, a sizzling Korean barbecue, or a fragrant bowl of ramen, Bac Tu Liem has you covered.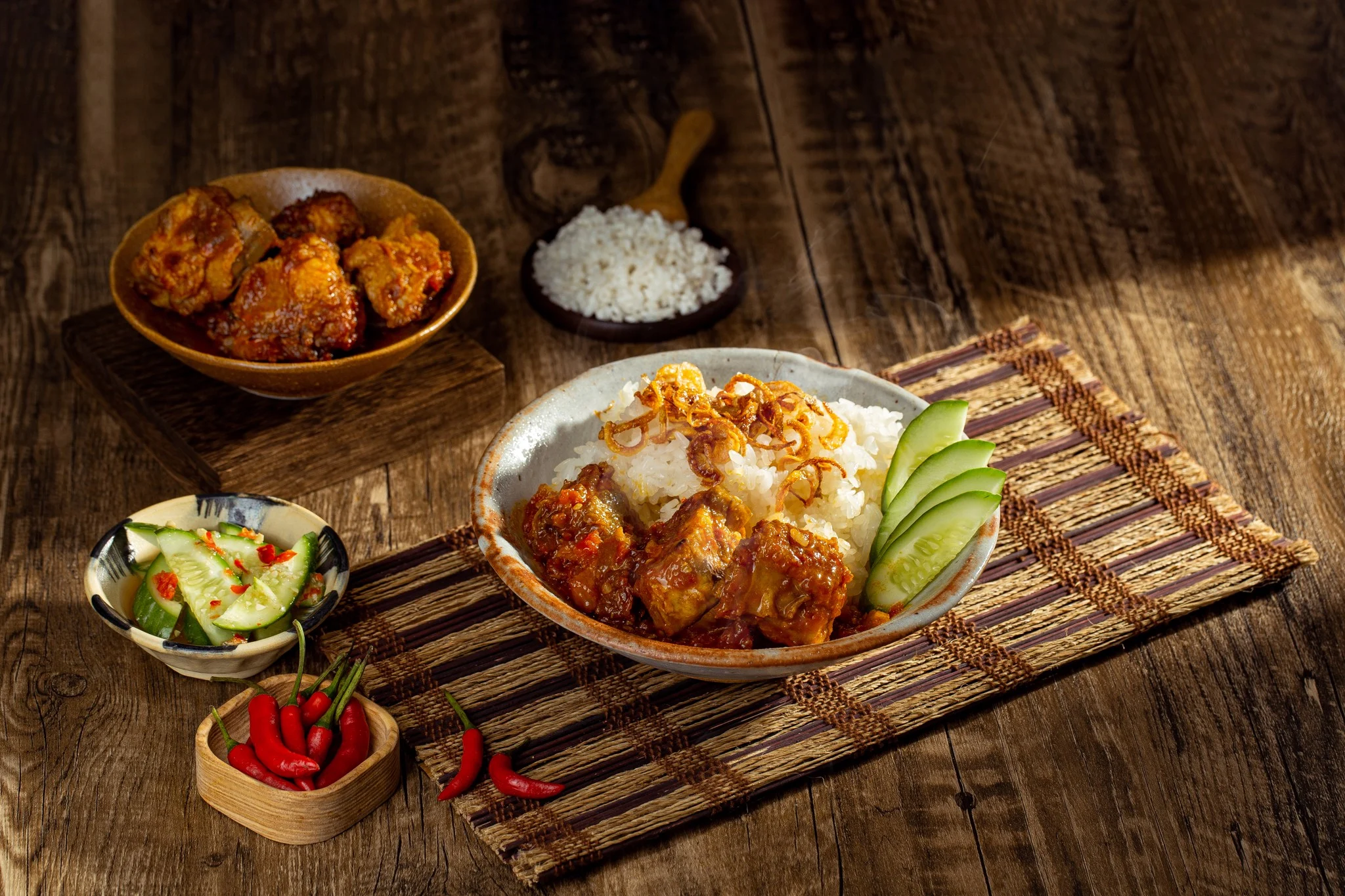 Exploring Bac Tu Liem District's culinary scene is an adventure that will satisfy your taste buds and provide a deeper understanding of the district's rich cultural heritage. With its array of traditional Vietnamese delicacies and international flavors, Bac Tu Liem offers a culinary experience that is sure to leave a lasting impression. So, immerse yourself in the vibrant food culture of Bac Tu Liem and indulge in the flavors that make this district a true gastronomic paradise.
Experience the allure of Bac Tu Liem District Update 09/22/2023 
Bac Tu Liem District is blessed with the picturesque banks of the Red River flowing through it. This is a destination that many young people visit during the summer.
In particular, the district is home to numerous historical relics, famous landmarks, and ancient architectural structures such as temples and shrines that have been preserved to this day.
Discover the famous attractions in Bac Tu Liem District to embark on meaningful journeys.