Broken rice, noodle soup, sticky rice, duck or snail porridge … are popular dishes, meeting the culinary needs of the night. Depending on the job, interests and ability, each diner can choose a suitable night dish. Some of the following dishes are considered popular and loved by many people. 7 familiar night dishes in Saigon, Vietnam
See more: Western pancakes – Cambodian dishes attract Vietnamese customers
Broken rice
Broken rice is a highly popular and iconic dish in Saigon (Ho Chi Minh City). It features soft, broken rice grains that are not sticky or clumped together. The rice is typically served with grilled pork ribs, which are marinated using a special recipe to ensure they remain moist, tender, and flavorful. The grilled ribs are often topped with a layer of scallion oil for added aroma and taste.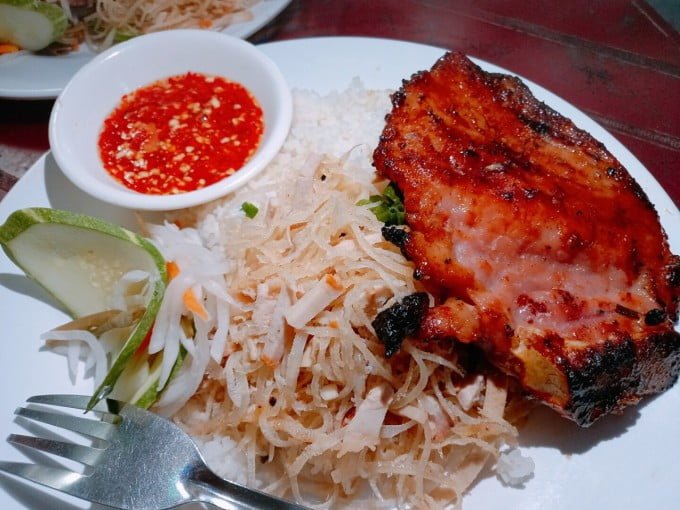 To enjoy this dish, you can pour the scallion oil over the ribs and complement it with a side of fish sauce mixed with cucumber and other sour condiments. This combination adds a refreshing and tangy flavor to the meal. In Saigon, you can find a plate of broken rice available at night for approximately 25,000 to 40,000 VND.
Broken rice has become a beloved and familiar dish in Saigon due to its delicious flavors and affordable prices. It is a quintessential part of the culinary experience in the city, reflecting the vibrant street food culture that Saigon is known for.
Suggested address: Alley 95 Dinh Tien Hoang, Binh Thanh District; 218A Nguyen Trai, District 1; 75A Pham Van Hai, Tan Binh district; 73 Le Van Linh, District 4; 139 Ngo Tat To, Binh Thanh; 375 Cach Mang Thang 8, District 10..
Noodles
Noodles, or noodle soup, is a beloved and iconic dish that showcases the local culinary culture in Saigon. This simple yet flavorful dish consists of various ingredients that come together to create a delicious bowl of noodles.
The key components of a tasty bowl of noodles include noodles with a balanced texture of toughness and softness, along with flavorful broth made from pork bones, pork thighs, minced shoulder, and ribs.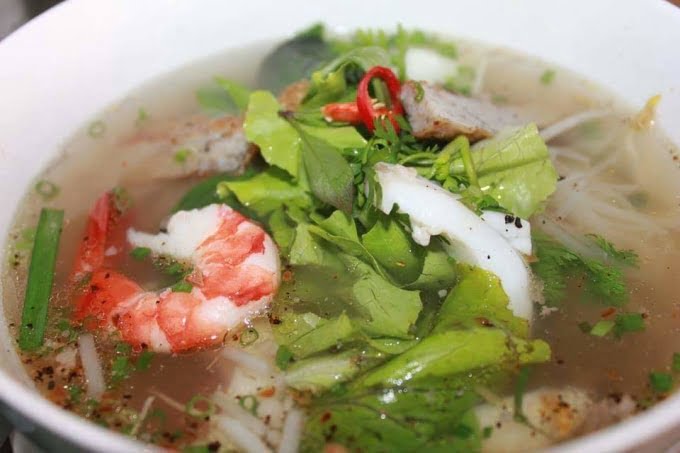 To enhance the broth's taste, dried shrimp, grilled squid, quail eggs, white radish, onions, and green onions are added. Depending on the specific noodle shop, additional toppings such as fish, shrimp, squid, or crab may be available to further elevate the dish.
A bowl of noodle soup is typically priced around 20,000 to 50,000 VND, making it an affordable and popular choice for locals and visitors alike. The rich flavors, comforting broth, and variety of ingredients contribute to the allure of this classic Saigon dish, representing the vibrant street food scene and culinary traditions of the city.
Suggested address: 253 Au Co, Tan Binh; 737 August Revolution, Tan Binh; 109 Van Kiep, Binh Thanh; 68 Van Kiep, Binh Thanh; 62 Ton That Thiep, District 1; 99 De Tham, District 1; 62 Truong Dinh, District 1…
Noodle soup – Pho
Pho, a traditional Vietnamese dish, is highly adored by diners for its simplicity, satisfying flavors, and quality ingredients. The main components of pho include noodle soup, beef, and a flavorful broth. If desired, you can also opt to have poached eggs added to your pho. To enhance the dish's appeal, various essential spices and garnishes are used, such as herbs, cilantro, braised cilantro, cinnamon leaves, lemon, chili, and crackers.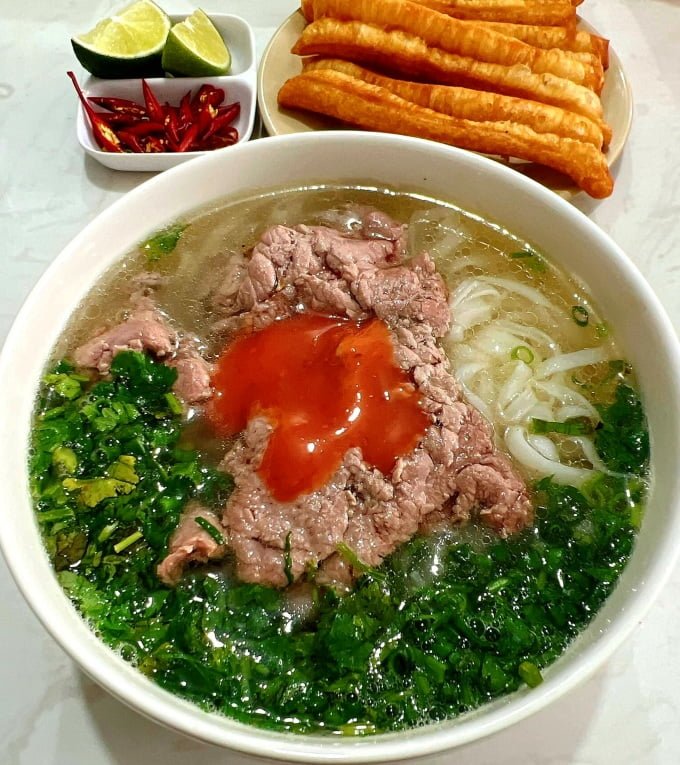 In addition to beef pho, many pho establishments also offer variations with chicken or shrimp. When serving pho, it is accompanied by condiments such as chili sauce and black sauce. Some diners prefer to add a touch of hot chili and squeeze some fresh lemon to elevate the flavors to their liking.
The price of a bowl of pho typically ranges from 30,000 to 70,000 VND, making it an affordable and popular choice among locals and visitors alike. The harmonious combination of the delicate broth, tender beef, aromatic herbs, and satisfying noodles creates a memorable dining experience. Pho represents Vietnamese culinary heritage and is a must-try dish for anyone exploring the diverse and delicious food scene in Saigon.
Suggested address: 142 Pham Van Hai, Tan Binh; 288 M1 Nam Ky Khoi Nghia, District 3; 158D Pasteur, District 1; 339 Le Van Sy, Tan Binh; 25A Cuu Long, Tan Binh; 380A Nguyen Thi Thap, District 7…
Duck rice soup
Duck porridge is a unique and flavorful dish that is particularly popular for dinner. It is prepared by cooking porridge with roasted rice, which imparts a distinct aroma to the dish. When enjoying duck porridge, it is customary to add fresh bean sprouts, cilantro, ground pepper, and crispy fried onions as toppings.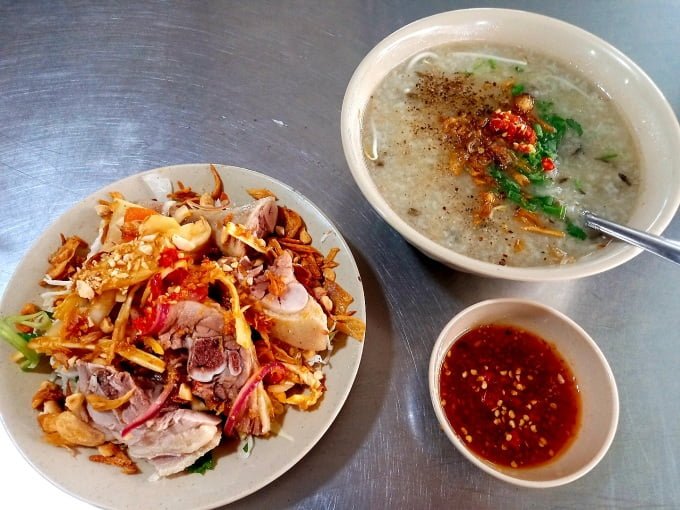 Additionally, it is typically served with a side of cabbage salad, which offers a delightful combination of sweet and sour flavors. The dish is further enhanced by dipping it in a spicy ginger fish sauce, adding a kick of heat and tanginess.
A serving of duck porridge with the accompanying salad is generally priced around 60,000 VND per person. The comforting and hearty nature of the porridge, combined with the vibrant flavors and textures of the toppings and condiments, creates a satisfying and enjoyable dining experience. Duck porridge is a delicious option for those seeking a flavorful and fulfilling meal in Saigon.
Suggested address: 281/26/9 Le Van Sy, Tan Binh; 521 Truong Chinh, Tan Binh; 21A/23C Xom Chieu, District 4; 120 Binh Quoi, Thanh Da residence, Binh Thanh; 91 Tran Nao, District 2; 108 Binh Quoi, Binh Thanh.
Frog porridge
Frog porridge, originating from Singapore, has made its way to Vietnam and has gained popularity among the people of Saigon. The frogs are meticulously cooked with a blend of spices, allowing the flavors to penetrate into every tender fiber. The result is tender, fragrant frog meat that is slightly spicy and adorned with a beautiful yellow-brown hue. It is traditionally served alongside smooth and creamy white porridge.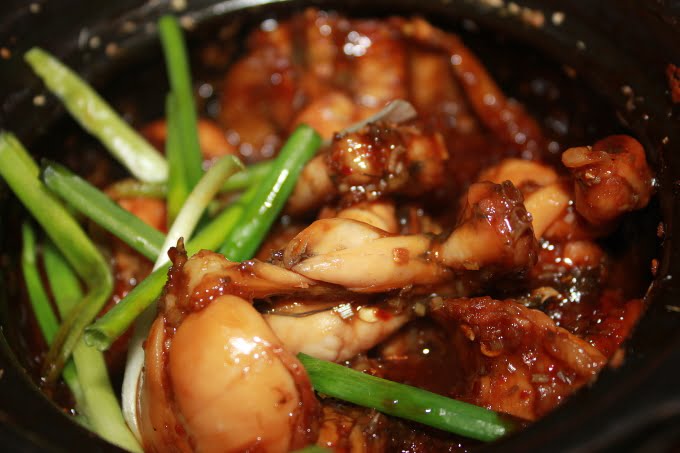 The frog meat itself is fresh, chewy, and aromatic, offering a delightful culinary experience. The accompanying sauce is rich and flavorful, complementing the taste of the meat perfectly. A sprinkle of green onions adds a touch of freshness to the dish. Enjoying a bowl of steaming hot porridge with fragrant frog meat not only satisfies the taste buds but also warms the stomach.
A serving of frog porridge typically costs between 50,000 and 70,000 VND. This dish has become a favorite among Saigonese, offering a unique and delicious option for those seeking a memorable dining experience.
Suggested address: 71 Co Giang, Phu Nhuan; 315 Hai Ba Trung, District 1; 91 Hong Ha, Tan Binh; 23 Nguyen Huy Tu, District 1.
Sticky rice
Saigon at night is bustling with numerous stalls offering a variety of sticky rice options for diners. For those with a sweet tooth, there are enticing choices like sticky rice with peanuts, sticky rice with pandan leaves, sticky rice with corn, and more. These sweet variations feature a warm and aromatic layer of sticky rice accompanied by a delightful blend of grated coconut, granulated sugar, peanuts, and bean sprouts. Each pack of sweet sticky rice typically costs between 7,000 to 10,000 VND.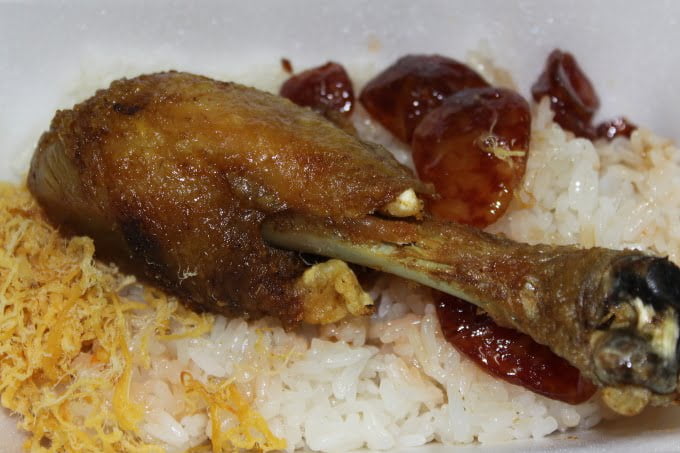 Alternatively, if you prefer savory dishes, you can opt for salty sticky rice. This version is usually prepared with sticky rice and served with flavorful toppings such as char siu pork, dried shrimp, sausages, cotton balls, and chicken thighs. To enhance the taste, fried onions and onion fat are added, along with a rich sauce. The price for a portion of savory sticky rice ranges from 20,000 to 30,000 VND.
These sticky rice stalls offer a wide range of options to satisfy different preferences, making them a popular choice for nighttime snacking in Saigon. Whether you crave something sweet or savory, these delicious sticky rice dishes provide a delightful culinary experience at affordable prices.
Suggested address: 31 Nguyen Huy Tu, District 1; 148 Nguyen Van Cu, District 1; 297 Hai Ba Trung, District 3; 577 Co Bac, District 1…
Types of snails
The people of Saigon have a special affection for dishes made from snails, and even visitors from other places often yearn for Saigon-style snails. The snail varieties available here are abundant, ranging from freshwater snails to those from the sea.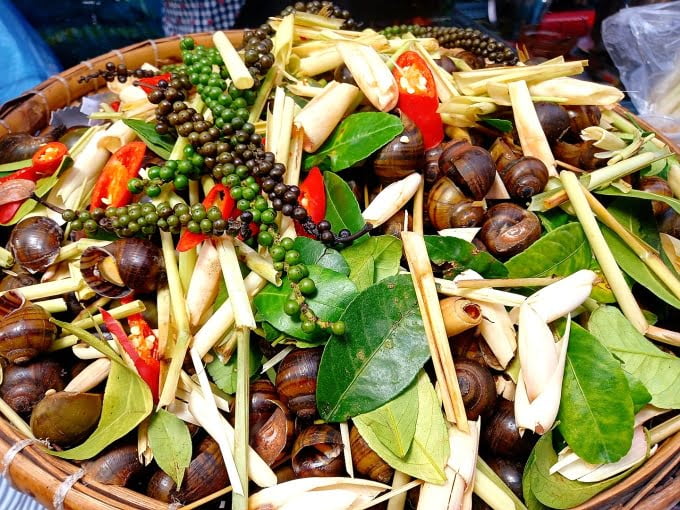 They are prepared using various cooking methods such as steaming, boiling, grilling, and more, all aimed at satisfying the diners' taste buds. With countless snail shops in Saigon, each offering around 10-20 different types of snails, you can easily find your preferred choice. The prices for these dishes typically range from 20,000 to 100,000 VND.
The diverse selection of snail dishes in Saigon ensures there is something for everyone's palate. Whether you prefer them steamed, boiled, or grilled, the flavors and textures of the snails are sure to please. Exploring the snail stalls in Saigon is a delightful experience, allowing you to indulge in a wide variety of delicious snail dishes at varying price points.
Suggested address: 51/24B Ho Thi Ky, District 10; 72 Duong Ba Trac, District 8; 859 Tran Xuan Soan, District 7; 381 Dien Bien Phu, Binh Thanh; Alley 25 Nguyen Binh Khiem, District 1; 383 Vinh Khanh, District 4; 235A Mai Xuan Thuong, District 6…