A popular dish often found in pagoda festivals is the soft and chewy Cambodian pancakes stir-fried with oyster sauce, soy sauce, bean sprouts, chives, and topped with a layer of egg.
In contrast to the sweet and coconut-infused banh chung, Cambodian cakes take on a savory twist when they are stir-fried with ingredients such as oyster sauce, eggs, and soy sauce.
The combination of the soft and chewy texture of the pancakes, the umami flavors of the sauces, and the freshness of the bean sprouts and chives create a delightful and satisfying dish. It is a unique and flavorful variation of the traditional Cambodian pancakes, showcasing the creativity and versatility of the local cuisine. Western pancakes – Cambodian dishes attract Vietnamese customers. 
See more: Three fish dishes for a chilly dinner in Dien Bien, Vietnam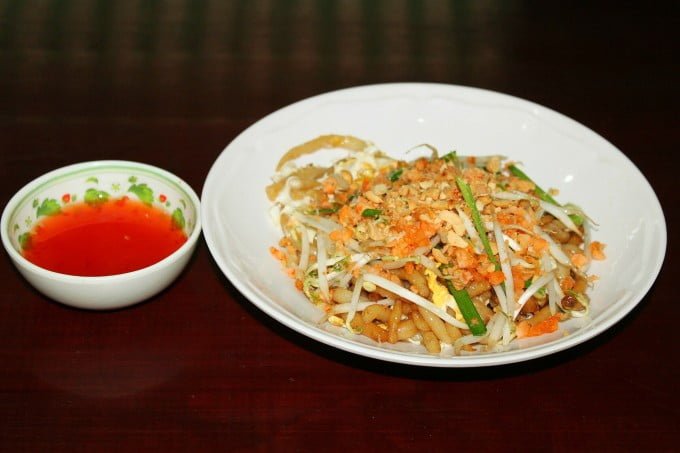 The fried cake shop owner in Ho Thi Ky market, located in District 10, Ho Chi Minh City, Vietnam, shared the unique characteristics of this dish, which lies in the harmonious combination of ingredients and spices. To create the soft and fragrant banh teo, the baker starts by grinding rice into a powder, which is then mixed with tapioca flour and cooked over low heat to thicken the dough. The resulting dough is sifted into a thin basket, allowing each strand to flow into a basin of cold water. After the dough cools and solidifies, it is taken out and left to dry.
The noodles are then lightly sautéed with oil and coconut-colored water to achieve firmness, smoothness, and an appealing color. Additional ingredients can be added to enhance the flavor. Notably, fried rice cakes are especially delightful when served with sweet and sour fish sauce. The seller typically prepares the fish sauce by boiling sugar water, skimming off any foam, and letting it cool. This method ensures a harmonious taste that remains unaffected even if it sits for a while. Finally, minced garlic, chili, and lemon are added to create a sweet and sour dipping sauce, adding a burst of flavor to the dish.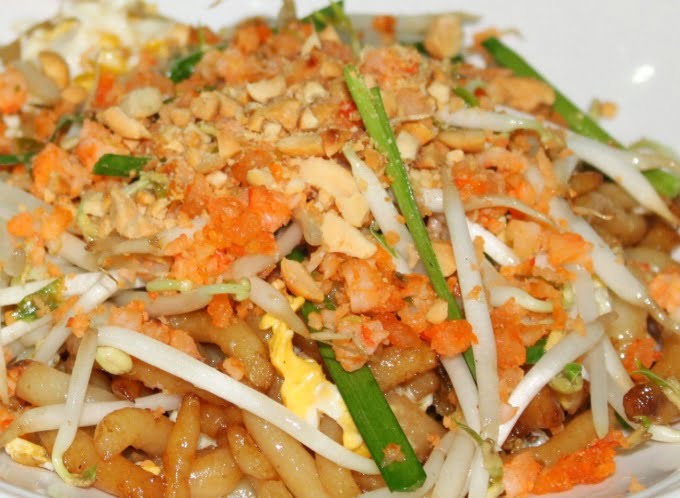 According to the fried rice cake seller at Ho Thi Ky market, stir-frying the cake is a simple process that involves preparing all the ingredients and quickly stir-frying them to create the final product. To achieve a delicious dish, it is important to stir-fry the cakes until they are completely dry and serve them while still hot.
The fried rice cakes are placed on a plate, topped with roasted peanuts, and then drizzled with sweet and sour fish sauce for enjoyment. This hot plate of fried rice cakes showcases the perfect balance between the softness and chewiness of the cakes, the richness of the eggs, the crunch of bean sprouts, and the crispness of chives.
Since their introduction to Vietnam, fried rice cakes have become a favorite dish among people in provinces such as Kien Giang, Soc Trang, Bac Lieu, and Ca Mau. In Ho Chi Minh City, this dish is particularly popular in markets where Cambodian communities reside and is also enjoyed by many Vietnamese people. If you're looking to try this dish, you can visit alley 438 Le Hong Phong in District 10. A plate of fried rice cakes there typically costs between 20,000 and 30,000 VND.