Located in Mu Nau plum valley, Ang village, Vietnam Son La Homestay offers a close-to-nature experience with beautiful views of flower gardens. While the plum and apricot flowers may be fading in early February, visitors can still enjoy the sight of white and yellow mustard flower gardens. For those looking for mountain views, suggested homestay options include Long Luong village, Pa Phach village, and Na Ka valley. These locations provide a scenic backdrop for a memorable stay in Moc Chau.
Homestay Love Mountain Street
Located in the tranquil Mu Nau plum valley, this homestay attracts many tourists during the New Year period. Guests can take leisurely walks to admire the blossoming apricots, plums, peaches, bans, and roses throughout the year. The homestay also offers a perfect vantage point for witnessing breathtaking sunrises and sunsets over the plateau, while enjoying a warm cup of tea amidst the mist.
Accommodation options at the homestay include private rooms and dormitories, built along the hillside. Each house is named after a typical flower of Moc Chau or given a simple name like "Bird's Nest." The surrounding area features a charming rose garden, a "Hobbit" village, and wooden swings for guests to capture memorable photographs.
One of the standout aspects of this homestay is the attentive and welcoming host. Room rates range from 300,000 to 700,000 VND on weekdays, and approximately 400,000 to 1,000,000 VND on weekends. The price includes a delicious breakfast prepared by the hospitable homestay owner.
Homestay Fairy House
This homestay is situated near Ban Ang pine garden, surrounded by blooming plum, apricot, and cabbage valleys. True to its name, the homestay is designed to resemble a village straight out of a comic book. The houses are constructed with wood, resembling old European houses or pumpkins. Inside, the cozy and vintage-style interiors are adorned with bedding sets, brocade-patterned curtains, and woven baskets.
The surrounding area is filled with various trees, including apricot, plum, strawberry, tomato, and persimmon. Along the stone paths, you'll find rattan chairs where visitors can relax, enjoy a cup of tea, and breathe in the fresh air. Close to the homestay, there is a green tea hill, offering stunning mountain views and great photo opportunities.
The room rates at the homestay range from 450,000 VND to 1,200,000 VND, depending on the type of accommodation, such as a regular bungalow, a family room, or an overhead room. Additionally, there is a communal stilt house available for 150,000 VND per person per night.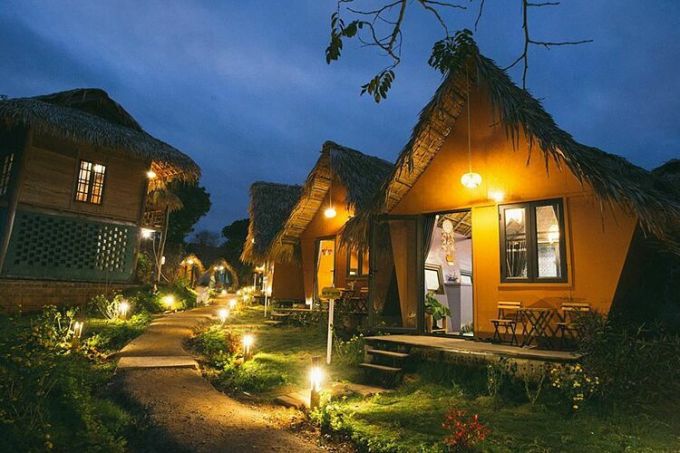 Mama's house
Mama's House is a homestay nestled deep within the apricot garden in Ban Ang 3, offering a serene and picturesque setting. During the flower seasons in January and February, the area is adorned with a stunning blanket of pure white blossoms. Gravel roads connect the homestay houses, weaving through the lush green vegetable garden.
The accommodation options at Mama's House include dormitory rooms, attic rooms, and bungalows, each designed with a charming color palette of white, blue, yellow, and brown. The dormitory rooms are priced at 100,000 VND per person, while private rooms range from 300,000 to 800,000 VND per night, including breakfast. One notable highlight of Mama's House is its cleanliness, and the owner also provides BBQ meals, coffee, tea, soft drinks, and juice. The vegetables and fruits served are freshly harvested from the garden, ensuring their cleanliness and quality.