In the bustling city of Hanoi, there lies a hidden gem just a short distance away – Son Tay town. Nestled in a picturesque setting, this charming town offers a unique blend of history, natural beauty, and cultural experiences.
Son Tay town is not only the economic, cultural, and social center of the region but also a training and military center for the entire country. It holds a crucial position in terms of security and national defense, contributing to the construction of a strong defense area in the western part of the capital city, Hanoi.
Through its formation and development, Son Tay town can be considered an ancient urban area in the land of Xo Doai, with a thousand years of civilization.
It has a long-standing process of formation and development, deserving to be a land of spiritual and talented people, worthy of being a city and the western gateway of the capital city, Hanoi.
As we venture into 2024, let's take a closer look at what Son Tay has to offer and why it deserves a spot on your travel itinerary.
Let's explore the fascinating things in Son Tay town together with TripWordwide.
More: About Ba Vi District in Ha Noi 2024
Son Tay Town | About Son Tay: Map, postal codes, Tourist, History Update 09/22/2023  
History of Son Tay town Update 09/22/2023 
According to the ancient chronicle "Dai Nam Nhat Thong Chi" and various historical records, Son Tay town has a history that dates back over 500 years.
In 1469, during the reign of King Le Thanh Tong, the administrative center of Son Tay was located in La Pham village, Tien Phong district, Quang Oai Prefecture (now part of Tan Hong commune, Ba Vi district, Hanoi), known as Son Tay Thua Tuyen at that time.
During the reign of King Le Canh Hung (1740-1786), the administrative center was moved to Mong Phu village, Phu Loc district, Quang Oai Prefecture (now part of Duong Lam commune, Son Tay).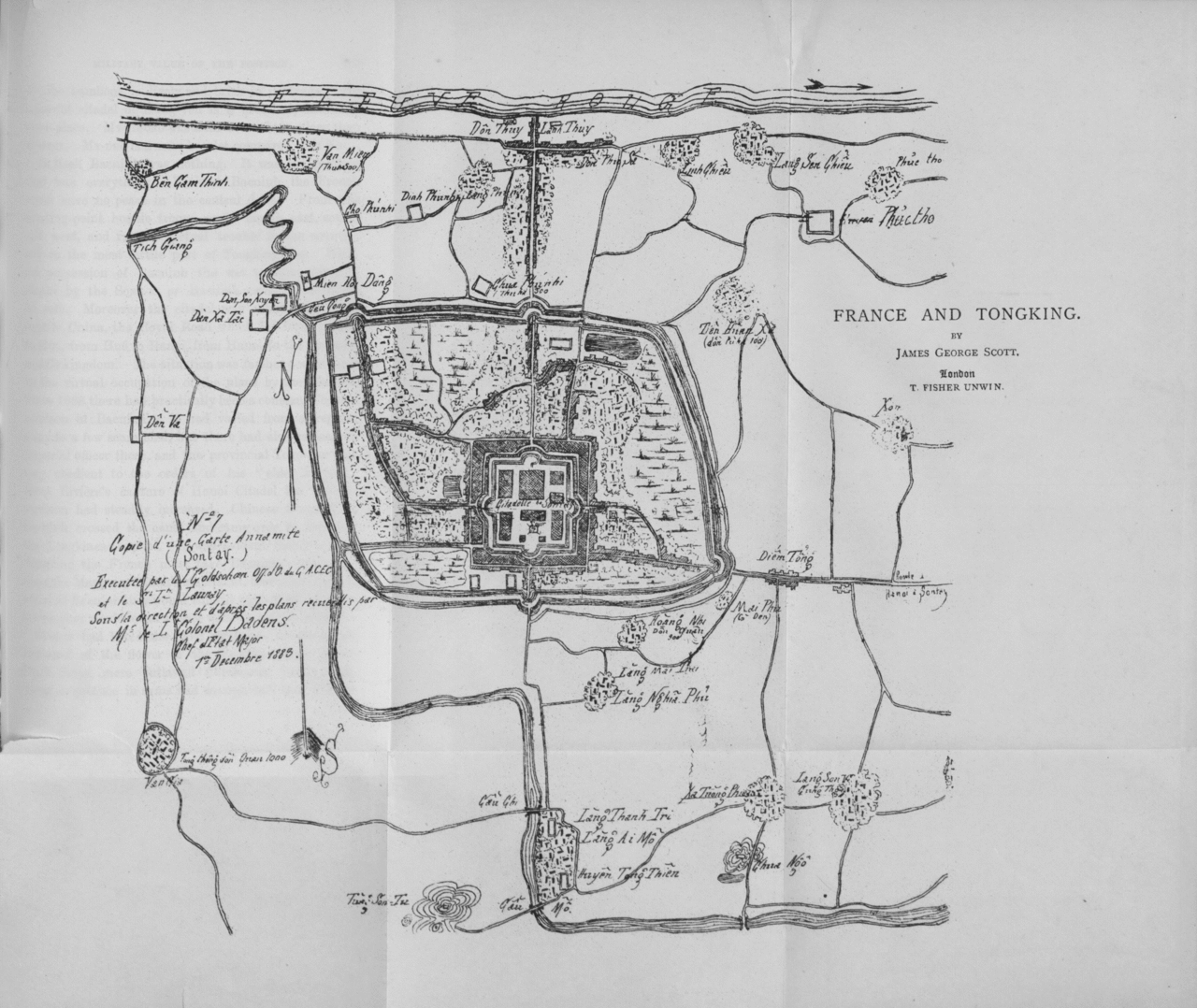 In the third year of Minh Menh's reign (1822), the administrative center was relocated to Thuan Nghe hamlet, Minh Nghia district (now within the inner city of Son Tay).
In 1831, Tram Son Tay was changed to Son Tay province, and the administrative center became the provincial capital. In 1942, during the French colonial period, the provincial capital was changed to Son Tay town.
Son Tay town served as the capital of Son Tay province, which included six districts: Quoc Oai, Quang Oai, Tung Thien, Phuc Tho, Thach That, and Bat Bat. It covered an area of 150 hectares and had a population of 6,116 people.
In June 1965, following a government decision, Son Tay town and the surrounding districts of Son Tay province were merged with Ha Dong province to form Ha Tay province.
In 1979, according to a decision by the Council of Ministers, Son Tay town and some districts from Ha Son Binh province were transferred to Hanoi city.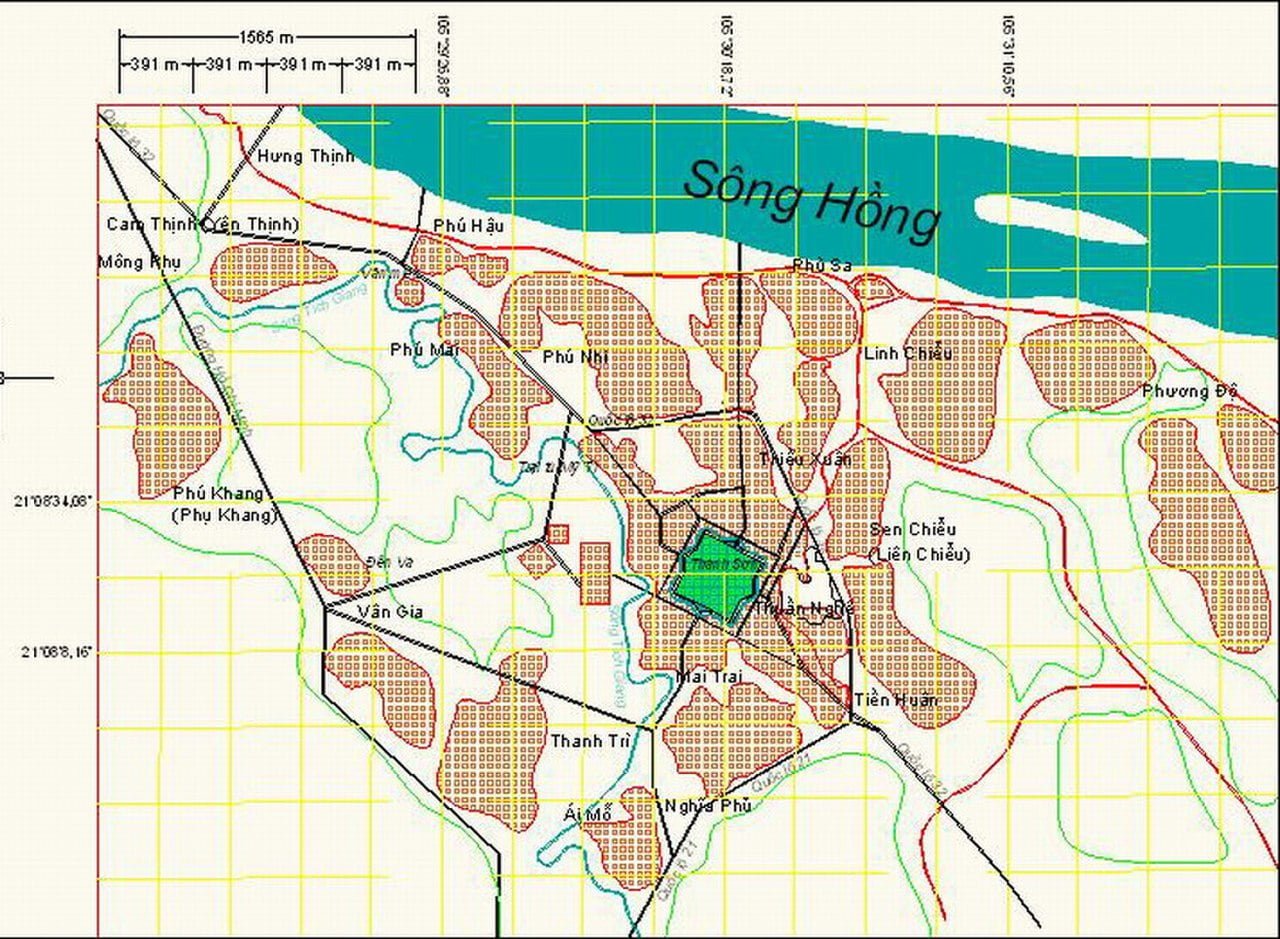 In October 1991, Son Tay town was separated and placed under the administration of Ha Tay province.
On April 13, 2006, the Minister of Construction issued Decision No. 655/QD-BXD recognizing Son Tay town as a third-class urban area.
Notably, on August 2, 2007, the Government issued Decree No. 130/ND-CP to establish Son Tay City under the administration of Ha Tay province. On August 1, 2008, following Resolution No. 15/2008/QH12 of the National Assembly of the Socialist Republic of Vietnam, Son Tay City was returned to Hanoi as a district.
Throughout its formation and development, despite multiple administrative boundary adjustments, Son Tay is renowned for its rich cultural heritage, resilience in revolutionary struggles, diligent and creative labor in production.
Son Tay has been awarded the titles of Hero of the Armed Forces during the resistance against the French, Second-Class Military Exploit Medal, Third-Class Labor Medal, and Second-Class Labor Medal.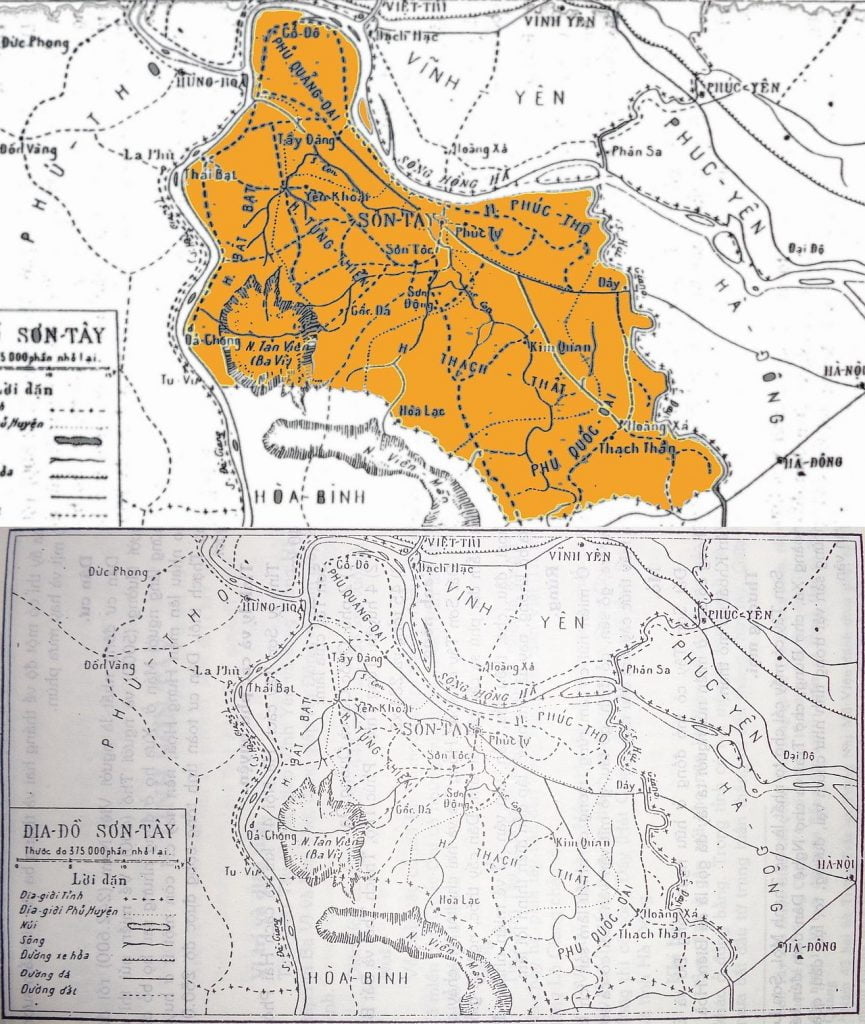 In recent years, the Party Committee of Son Tay town has focused on economic development, promoting the service and tourism sectors, and investing in urban infrastructure.
The town has gradually become more prosperous, clean, and beautiful, with a future development goal of being classified as a second-class urban area and a tourist and service city of Hanoi, the capital.
Geographical Location
Known for its historical significance, natural beauty, and cultural heritage, Son Tay offers a tranquil retreat from the hustle and bustle of the city. In this article, we invite you on a virtual journey to explore the enchanting corners of Son Tay Town, using the map as your guide. 
Son Tay Town is a captivating blend of history, culture, and natural beauty, as revealed through the map's lens. From the historical significance of Son Tay Ancient Citadel to the traditional charm of Duong Lam Ancient Village and the artistic treasures of Thanh Chuong Viet Palace, the town offers a diverse range of experiences for visitors.
As you explore the natural wonders of Ba Vi National Park and the traditional art of water puppetry at Dao Thuc Water Puppetry Village, you'll be enchanted by the serene and captivating allure of Son Tay Town.
 Son Tay town is located in the northwest of Hanoi City, about 35-45km west and northwest of the city center. The boundaries of this town are as follows:
To the north, Son Tay town borders Vinh Tuong district, Vinh Phuc province, with the natural boundary being the Hong River.
To the south, Son Tay town borders Thach That district, Hanoi City.
To the east, Son Tay town borders Phuc Tho district, Hanoi City.
To the west, Son Tay town borders Ba Vi district, Hanoi City.
Son Tay has a total natural land area of 113.5 km2, and the estimated population according to the 2019 statistics is around 146,856 people. The population density is 2,067 people/km2.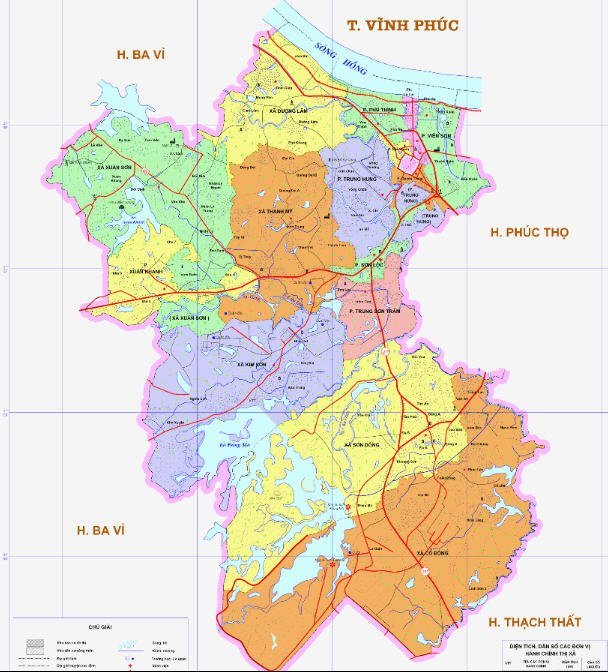 Administrative Divisions
Currently, the town of Son Tay has a total of 15 subordinate administrative units, including 6 communes (Xuan Son, Thanh My, Son Dong, Kim Son, Duong Lam, Co Dong) and 9 wards (Xuan Khanh, Vien Son, Trung Son Tram, Trung Hung, Son Loc, Quang Trung, Phu Thinh, Ngo Quyen, Le Loi).
Son Tay town was recognized as a type III urban area on May 30, 2006. On August 2, 2007, the Government issued a decision to establish Son Tay City under Ha Tay province (formerly).
On August 1, 2008, the entire Ha Tay province was merged into Hanoi City. Consequently, the Government also issued a resolution to convert Son Tay City into Son Tay town under Hanoi City on May 8, 2009.
Since then, Son Tay has had 15 subordinate administrative units, including the aforementioned 9 wards and 6 communes.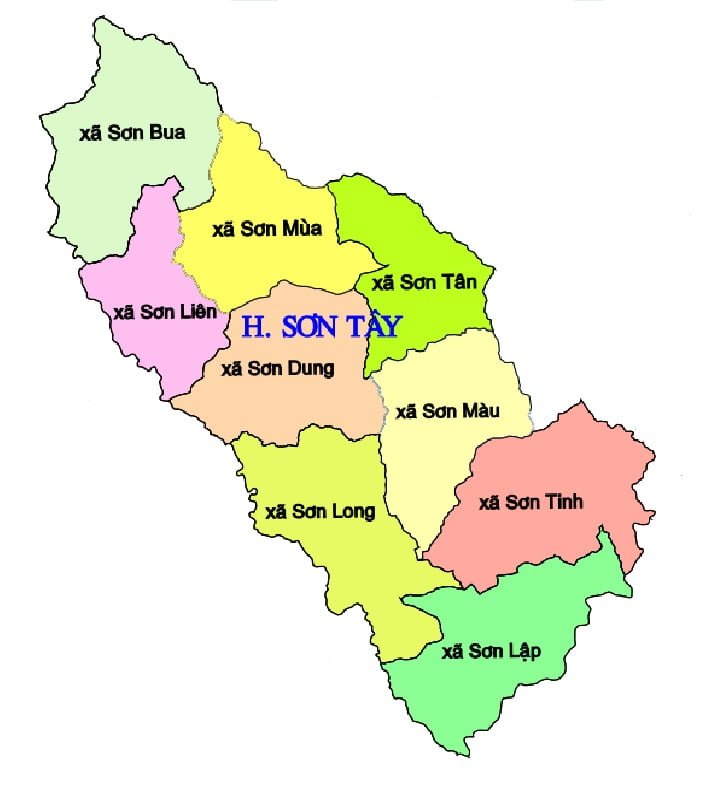 Son Tay town Hanoi Vietnam postal code
District / County Zipcode
Son Tay Town Postal Code 12700
Ward / Commune Zipcode
Le Loi Ward 12706

Ngo Quyen Ward 12720

Phu Thinh Ward 12708

Quang Trung Ward 12719

Son Loc Ward 12717

Trung Hung Ward 12718

Trung Son Tram Ward 12716

Vien Son Ward 12707

Xuan Khanh Ward 12712

Co Dong Commune 12714

Duong Lam Commune 12709

Kim Son Commune 12713

Son Dong Commune 12715

Thanh My Commune 12711

Xuan Son Commune 12710
Topography and Climate of Son Tay Town
In terms of topography, similar to Ba Vi district, Son Tay Town is located in a transitional zone between mountainous and plain areas. The topography gradually slopes from the west to the east, consisting of two main types: the hilly region and the plain region.
The diverse topography of Son Tay contributes to its rich vegetation, beautiful natural landscapes, and potential for tourism development.
In regards to climate, Son Tay Town belongs to the humid subtropical climate zone, characterized by hot and humid summers with abundant rainfall, and dry and cold winters with less precipitation.
With distinct four seasons, Son Tay enjoys favorable conditions for diversifying crop structure and developing specialized agricultural production areas.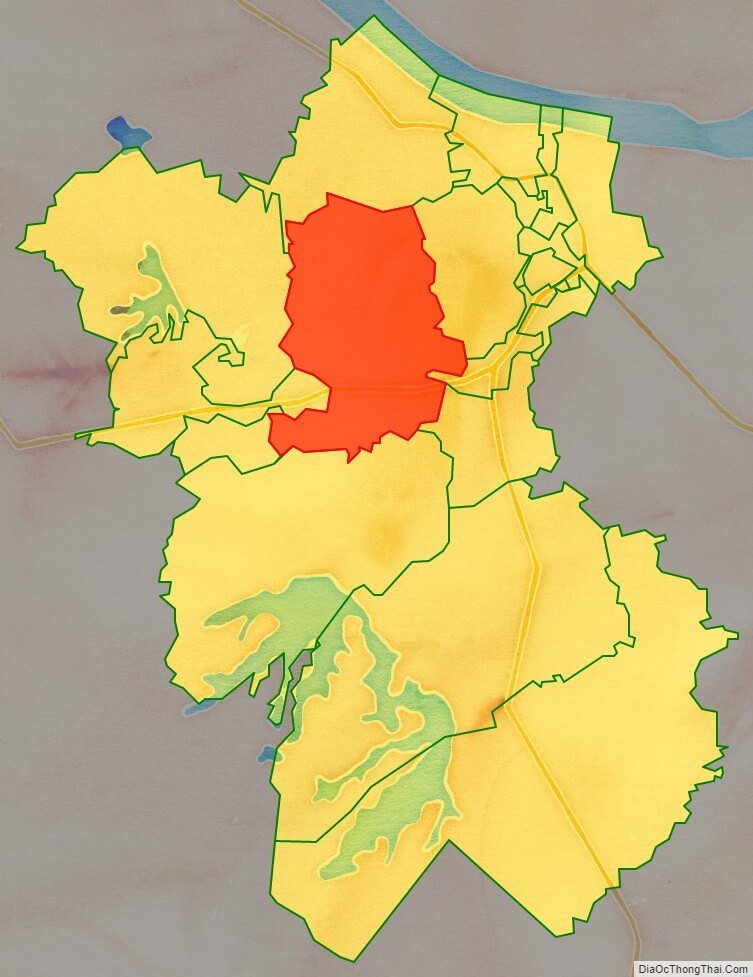 Exploring Son Tay town
Culture of Son Tay Town
Son Tay Town is a land with ancient cultural traditions and a long history. Located in the Red River Delta region, Son Tay is characterized by its distinctive cultural features and is home to many attractive tourist destinations and beautiful natural landscapes.
Son Tay is known for various forms of tourism, such as spiritual tourism, cultural tourism, ancient villages, and culturally significant temples and pagodas.
Son Tay Town boasts numerous famous scenic spots and historical-cultural relics, including Khai Nguyen Pagoda, Duong Lam Ancient Village, Village of Vietnamese Ethnic Cultures, Son Tay Ancient Citadel, Mia Pagoda, Dong Mo Lake, and Den Va Festival.
In terms of cuisine, there is the famous Phu Nhi rice cake, a small and slender cake filled with lean meat and mushrooms, known for its delicious taste. There is also the Mia Duong Lam Chicken, known as the "royal specialty," a rare and noble breed of chicken resembling a peacock in appearance.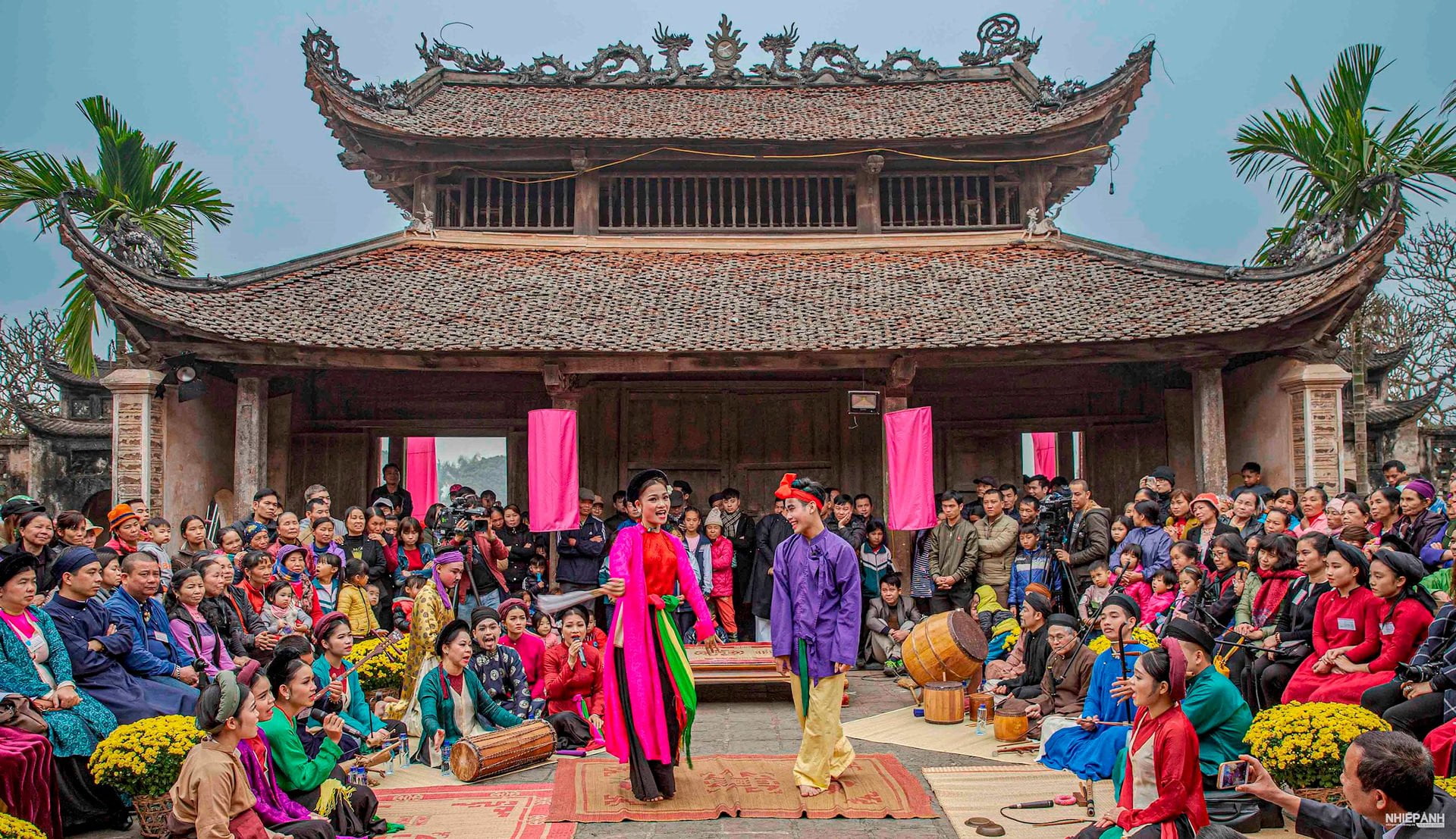 Famous Landmarks in Son Tay Town
Son Tay Town is home to many famous scenic spots and historical-cultural relics, including Dong Mo Lake, Son Tay Ancient Citadel, Duong Lam Ancient Village, Mia Pagoda, and Den Va Festival.
It is renowned for the legend of Son Tinh-Thuy Tinh, depicting a mythical love story.
Son Tay Ancient Citadel
Located in the city center, it is a military architectural structure built in the Vauban style during the third year of Minh Mang's reign (1822).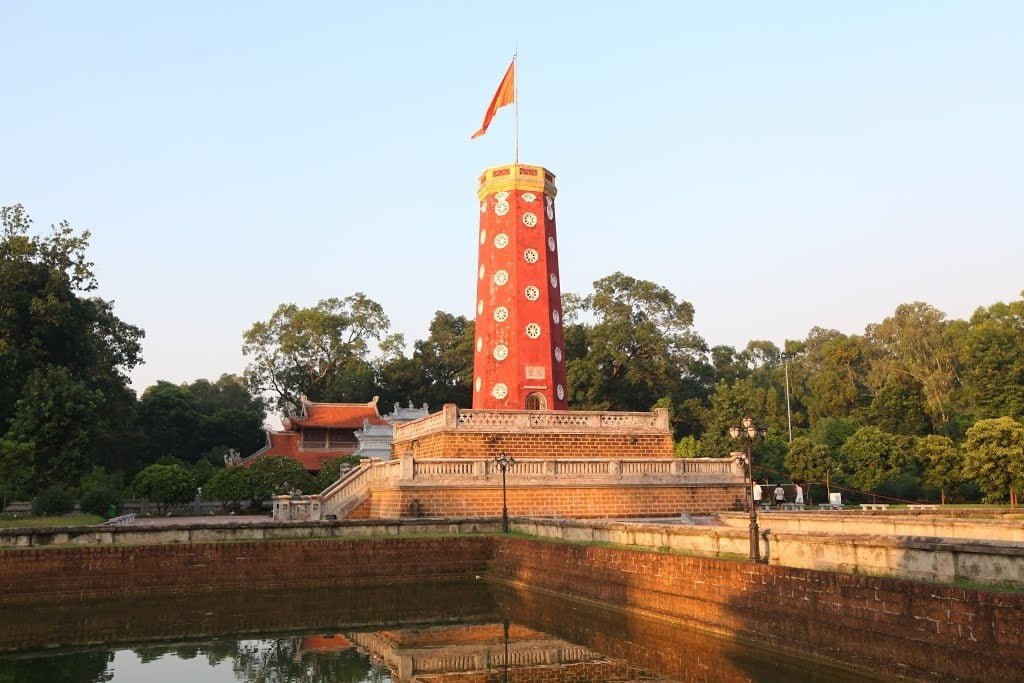 Duong Lam Historical-Cultural Site (Land of Two Kings)
Situated about 4 km from the city and 46 km north of central Hanoi, Duong Lam, formerly known as Ke Mia, is the only village in the country where two kings were born: Phung Hung (761 – 802) and Ngo Quyen (898 – 944). Hence, Duong Lam is honored as the "Land of Two Kings" or more precisely, the "Village of Two Kings."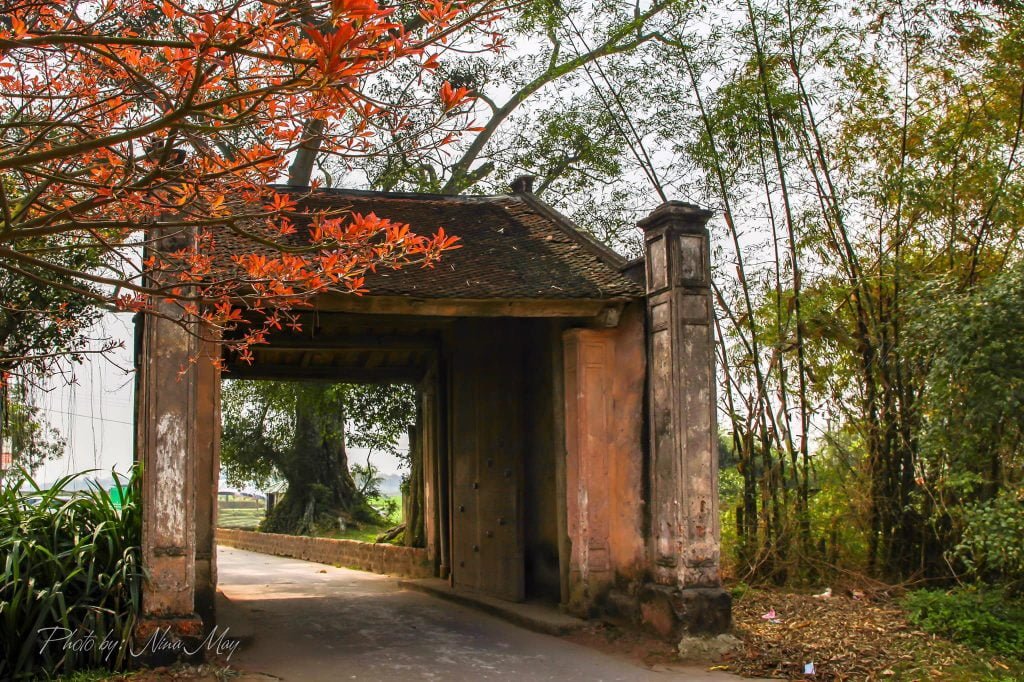 Dong Mo Lake Scenic Area
Located in the hills and valleys on the eastern side of Ba Vi Mountain, Dong Mo Lake and Ngai Son cover an area of nearly 2,000 hectares, including a 1,450-hectare reservoir with 21 large and small islands, creating a unique landscape that impresses tourists.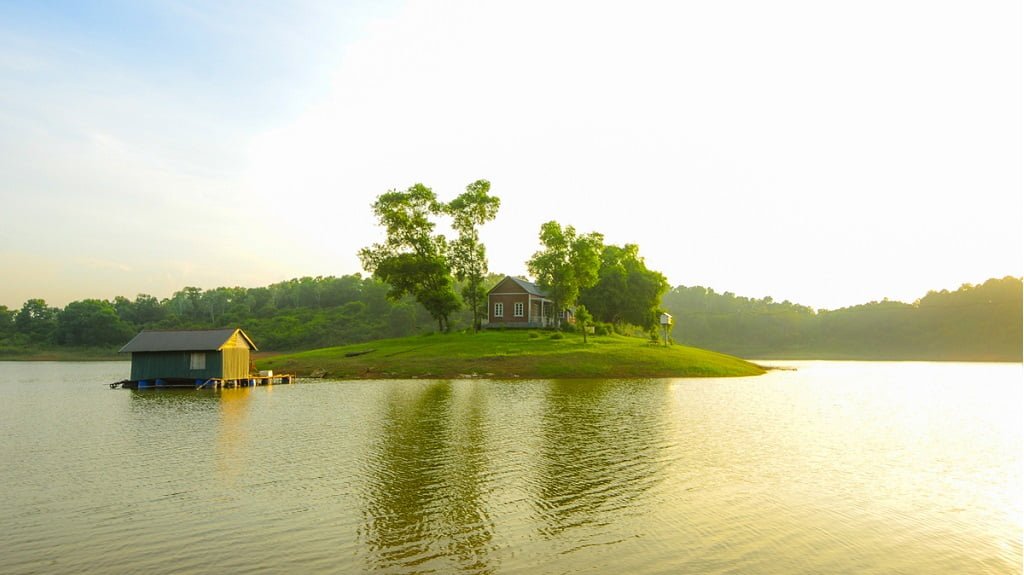 Den Va
Dedicated to Saint Tan, the deity who governs Tan Vien Son, one of the "Four Immortals" in the spiritual world of Vietnam. This ancient temple dates back from the Le Trung Hung period to the Nguyen era.
It is nestled in a forest of old, giant dipterocarp trees, situated on a 5-hectare land in the shape of a turtle with its head facing north.
It is famous for its spiritual energy and is located adjacent to the former Xa Tac area (now part of Trung Hung Ward), where the Son Tay Raid by the U.S. Air Force took place in 1970.
Vietnam Ethnic Culture Tourism Village
Spanning a large area and aiming to preserve, conserve, and promote the traditional cultural values of Vietnam's ethnic groups, this village showcases the complete replica of the nation's ethnic villages. It hosts annual cultural festivals such as the Vietnam Ethnic Culture Day, the Week of Great National Unity – Vietnamese Cultural Heritage, and the Spring Color Festival.
Son Tay cuisine Update 09/22/2023  
Phu Nhi Rice Cake
Phu Nhi Rice Cake is a popular local dish made from sticky rice combined with minced meat, dried shallots, and peanuts. The cake is wrapped in layers of dong leaves, giving it a distinct aroma when cooked.
The best way to enjoy it is when it is freshly cooked and still hot, with the outer layer of the cake turning a green color from the dong leaves, while the filling in the center adds a rich, oily sheen.
It is traditionally eaten by picking it up with chopsticks or a spoon, dipping it in fish sauce with sprinkled black pepper, and savoring its delicious flavors.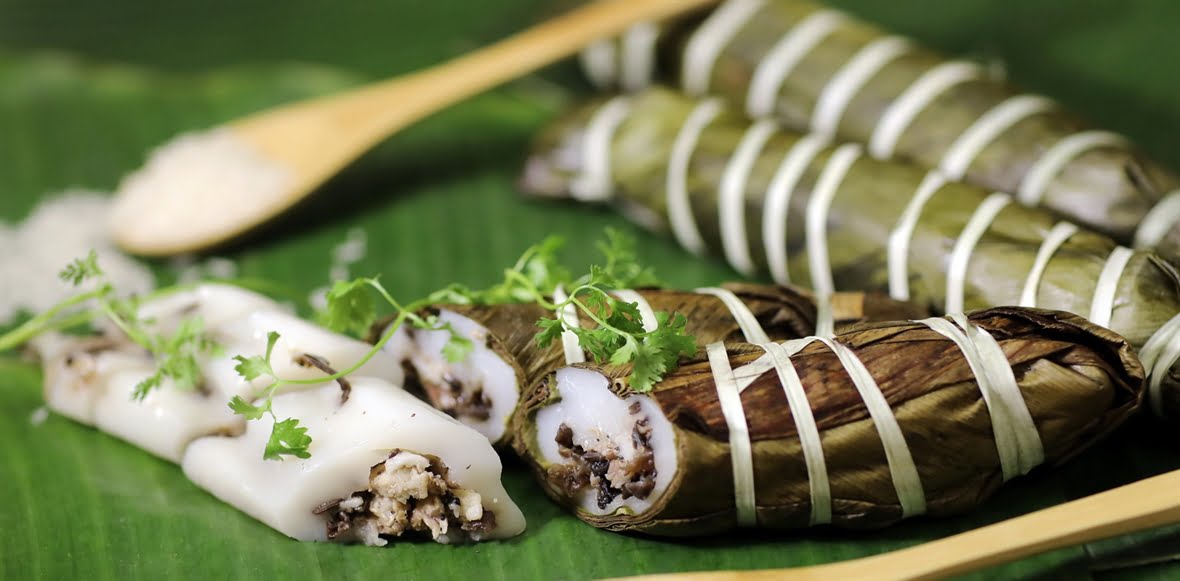 Ba Vi Fresh Milk
Ba Vi Fresh Milk is an unprocessed product that has not undergone pasteurization or homogenization. It is a must-mention among the specialties of Son Tay.
The cows in Ba Vi produce pure milk that is preserved and consumed within three days, resulting in higher nutritional quality compared to the fresh milk available on the market.
That's why visitors often seize the opportunity to buy fresh milk as a gift for their families, but they tend to purchase just enough and not too much.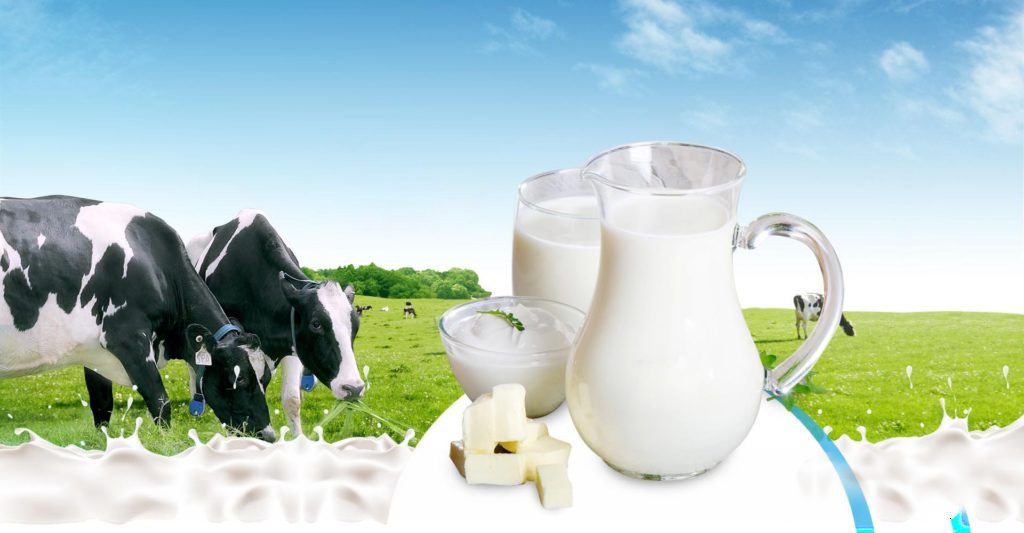 Ba Vi Milk Buns
Every time people visit Son Tay, they often tease each other with the saying, "Ba Vi has golden cows," referring to the herds of cows raised on farms in Ba Vi. Ba Vi is a small plateau located within Son Tay Town, where the cows are nourished by lush green meadows.
Yogurt and Purple Sticky Rice Yogurt
Made from Ba Vi fresh milk, yogurt is one of the favorite specialties of Son Tay among housewives. During visits to Son Tay, mothers often take the opportunity to buy several boxes of yogurt for their families, serving as both gifts and household consumption.
In addition to regular yogurt, purple sticky rice yogurt is also highly favored and enjoyed by many children.
Cinnamon Cookies
Another product made from milk, cinnamon cookies are a combination of flour, cinnamon, pure sugar, vanilla, and egg yolks. These cookies have the delightful aroma of cinnamon and a crispy, buttery texture, making them a beloved snack for all ages.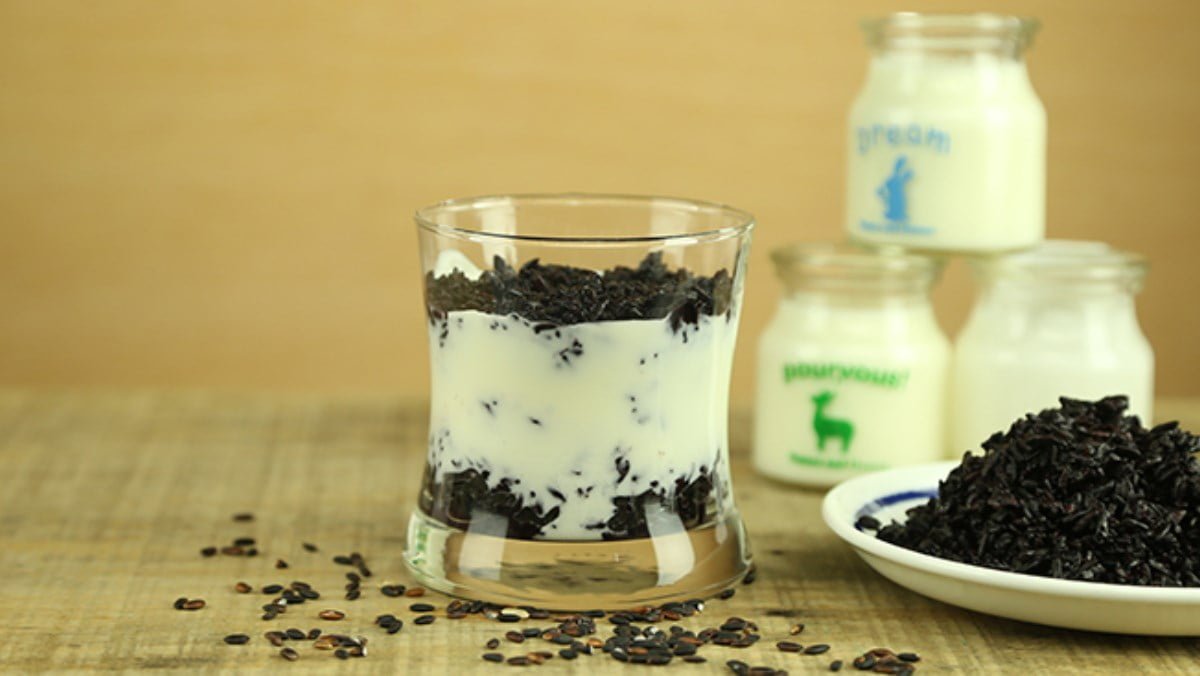 Lam Tea
When paired with a cup of tea, Lam Tea is an excellent delicacy. It is a famous specialty of Son Tay, often sold in the vicinity of Duong Lam Ancient Village, Mia Pagoda, the tomb of King Ngo Quyen, or the Bocai Dai Vuong Phung Hung Temple.
Peanut Candy from Duong Lam
One of the long-standing crafts in Duong Lam is the production of peanut candy. Peanut candy is not just a food item; it carries countless memories for the people in the ancient village of Duong Lam. Made from sugar, maltose, peanuts, it is a rustic and traditional treat.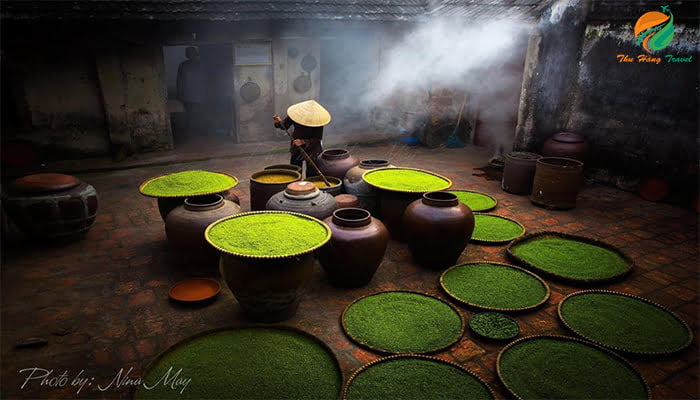 Son Tay Sugarcane Chicken
Son Tay Sugarcane Chicken is a unique type of chicken found in Son Tay. This chicken is often used as an offering in ceremonies and rituals, dedicated to ancient deities and past kings.
It has now become a distinctive culinary aspect of the region. Sugarcane chicken is not as tender as industrially farmed chicken, but it is also not as tough as traditional native chicken.
It has a fragrant, sweet taste, especially the castrated roosters, which are the crispiest.
The chickens in Son Tay are raised by allowing them to roam freely and find their own food in the countryside, ensuring a safe and enjoyable culinary experience.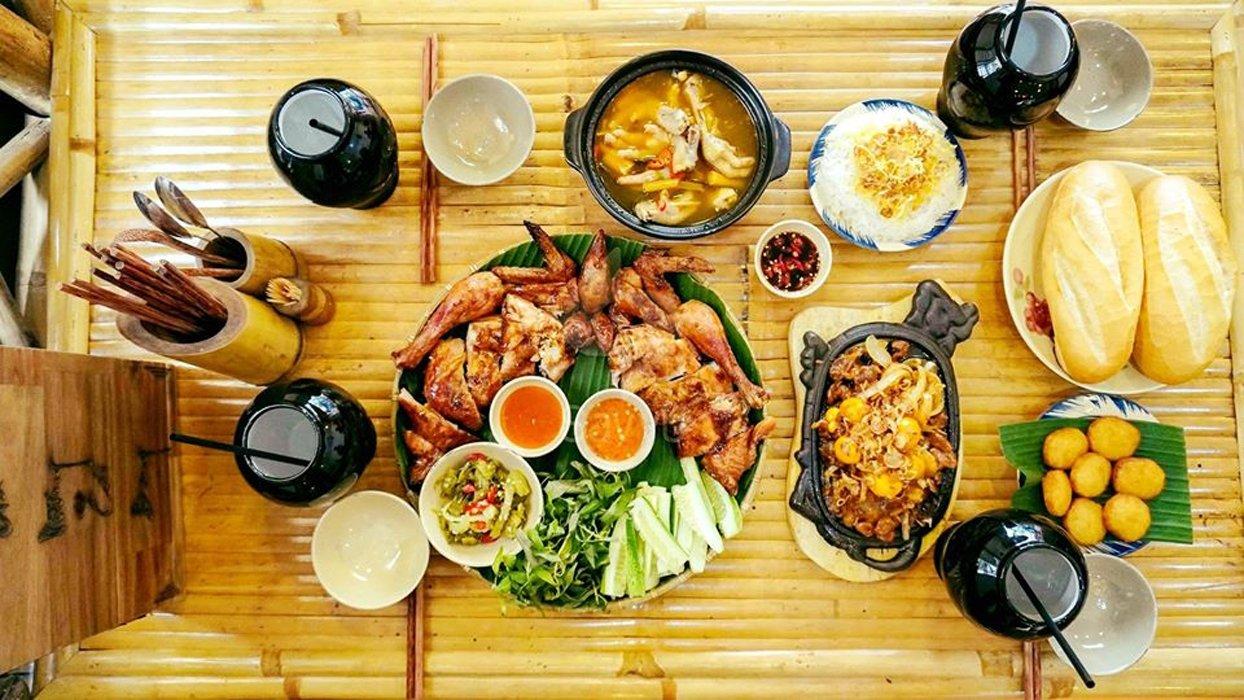 Don Duong Roasted Pork
Made from pork, Don Duong Roasted Pork is a specialty of Son Tay that stands out due to its intricate and unique preparation method.
The dish features a crispy, melt-in-your-mouth crackling on the outside, infused with the fragrant aroma of jujube fruits. Beneath the crispy skin lies tender, flavorful meat that is neither too greasy nor overwhelming.
To prepare 1 kg of Don Duong Roasted Pork, one must wait for six hours. However, the taste that this dish brings is worth the wait.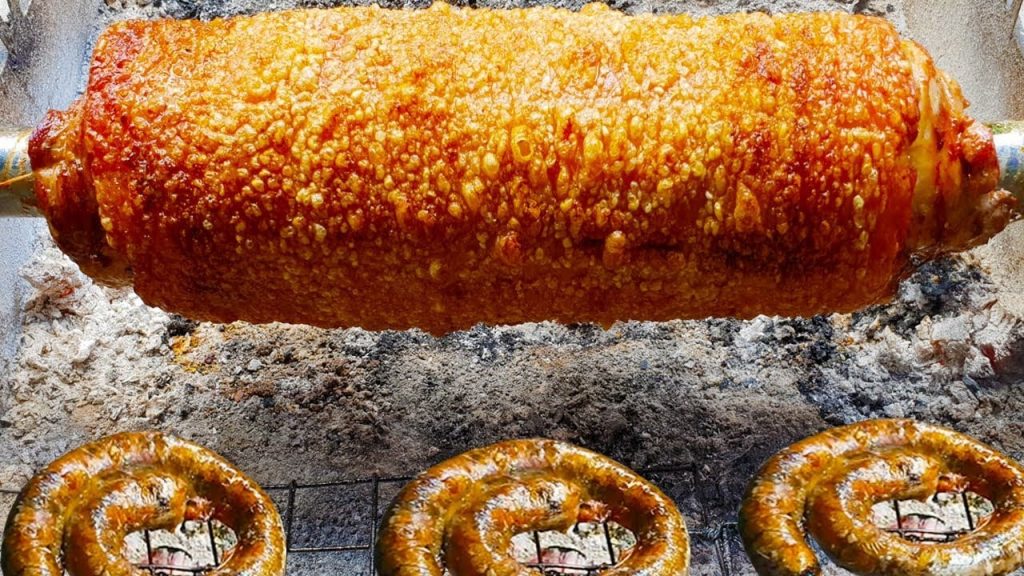 Ba Vi Wild Boar
Ba Vi Wild Boar is one of the preferred dishes on the menu for families visiting Son Tay. The dishes made from Ba Vi wild boar are prepared in various ways, suitable for all age groups.
Some dishes made from wild boar include wild boar salad, five-spice stewed wild boar, spicy stir-fried wild boar, pan-seared wild boar, and grilled wild boar, among others.
When combined with a serving of bamboo rice or a plate of sticky rice dipped in salted peanuts, you will feel as if you are exploring the mountains and forests of the Northwest, while remaining close to Hanoi.
Experience the allure of Son Tay town Update 09/22/2023 
Son Tay Town is the only town in Hanoi, serving as the economic, cultural, and social center as well as the western gateway to the capital. It is known for its numerous cultural and spiritual tourist attractions, as well as renowned resorts that attract visitors from all over.
However, Son Tay is also a land famous for its many traditional culinary specialties. Whenever visitors have the opportunity to come here, they all want to indulge in these delicacies or buy them as gifts for their loved ones and friends.