Crispy bread, filled with a variety of ingredients such as shumai, fish cake, roast pork, and skin, has gained popularity among many individuals.
Bread is a versatile and convenient food that is enjoyed by many due to its accessibility and portability. In Saigon, this dish has evolved into various versions, catering to the diverse preferences of diners. Six popular types of bread in Saigon, Vietnam
Bread shumai Update 09/22/2023 
Xiu mai, a popular dish, is made from minced pork mixed with various spices and ingredients to achieve a soft and tender texture, avoiding dryness. It is typically served with a broth made from fresh coconut or a sweet and sour sauce, perfect for dipping with bread. To enhance the flavors, xiu mai is often accompanied by slices of cucumber, coriander, and chili, adding a refreshing and spicy kick to the dish.
Suggested address: Hoang Dieu street (District 4) or corner of Hoang Dieu – Nguyen Tat Thanh, 397 Phan Xich Long (Phu Nhuan district), Nguyen Kiem (Go Vap district)…
See more: 'Scary' dishes but should try in Vietnam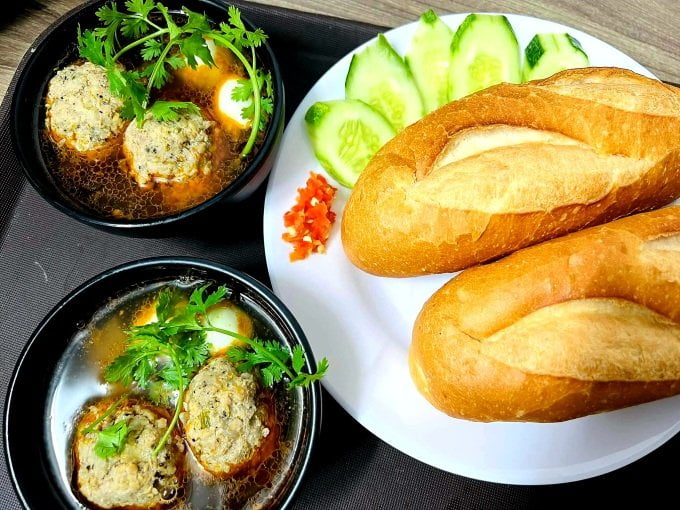 Shredded pork skin bread (shredded pork skin banh mi)
Banh mi, a beloved breakfast dish in Saigon, is known for its delectable sweet and sour fish sauce. The standout feature is the filling, which consists of a flavorful mixture of pork, skin, and hearing, creating a rich and satisfying texture.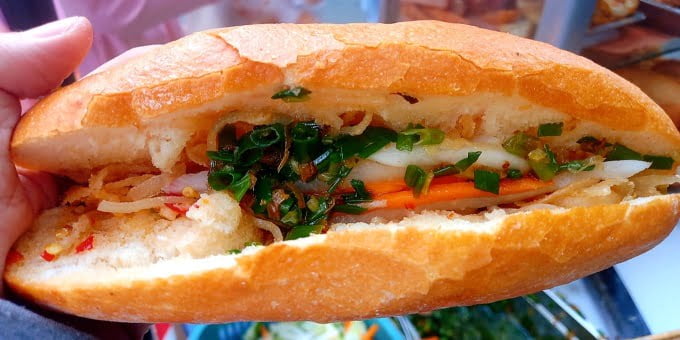 The banh mi vendor will slice the bread in half and fill it with the pork skin mixture, along with tangy pickles and scallion-infused fat. To complete the flavor profile, a balanced fish sauce is added, providing a delightful blend of sourness, spiciness, saltiness, and sweetness.
Suggested address: Corner of Ngo Thoi Nhiem Street – Nam Ky Khoi Nghia (District 3), the beginning of Nguyen Trai Street (District 1), Nguyen Thi Minh Khai Street, Cong Quynh Street (District 1)…
Bread with fish noodles
Banh mi fish cake has become a beloved dish among the people of Saigon. Its allure lies in the combination of crispy and chewy fried fish cake, sandwiched in a warm baguette, and generously slathered with chili garlic sauce. To enhance the flavors, vendors often add cucumber slices, laksa leaves, and fresh chili to provide a refreshing and spicy kick. The result is a delightful fusion of textures and tastes that keeps diners coming back for more.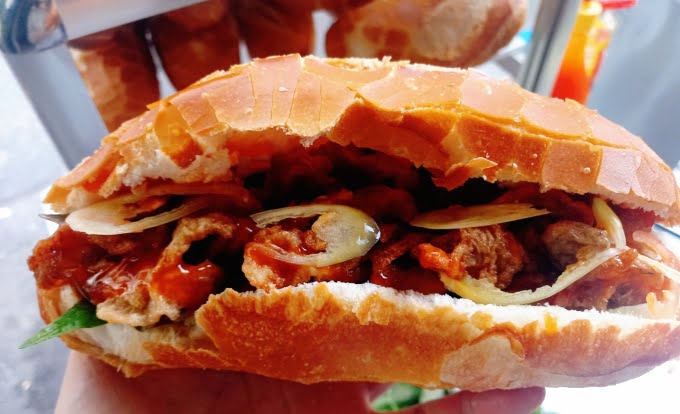 Suggested addresses: Nguyen Thi Minh Khai (District 1), 187 Vinh Vien (District 10), Dao Duy Anh (Phu Nhuan District), Nam Ky Khoi Nghia (District 3), Le Van Tho (Go Vap), Phan Boi Chau (Binh Thanh), Nguyen Cong Tru (District 1)…
Roast pork sandwiches
This dish has also captured the hearts of many diners with its winning combination of a crispy crust and succulent slices of roasted pork. The vendor will enhance the flavors by adding a few slices of cucumber, pickles, cilantro, and chili sauce. The result is a satisfying bite that offers a delightful contrast of textures and a burst of flavors.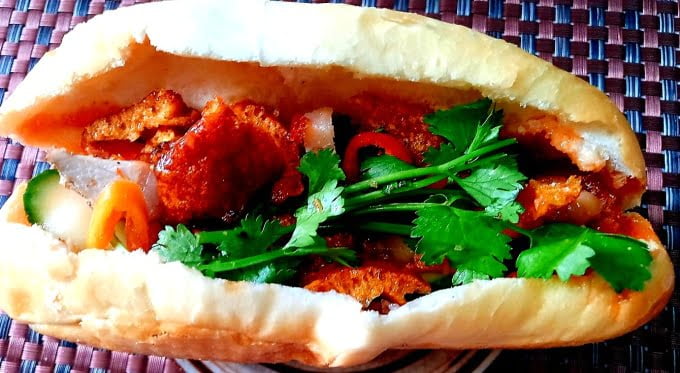 Suggested addresses: Nguyen Thuong Hien (District 3), Dong Ho (Tan Binh District), Tran Quy (District 11), Pham Phu Thu (District 6), Au Co (Tan Binh)…
Lot beef bread
This dish boasts an enticing feature of grilled beef rolls wrapped with fragrant bay leaves, accompanied by fresh cucumber, laksa leaves, pickled vegetables, onion fat, soy sauce, and a touch of chili or spicy satay sauce to enhance the flavors.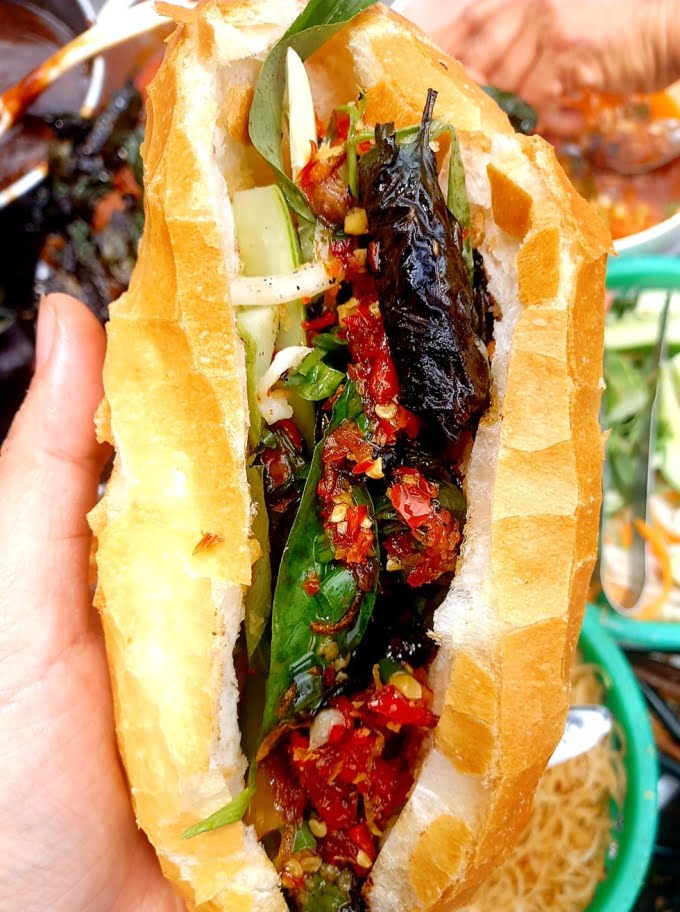 When savored, diners will relish the delightful combination of the crispy bread, the savory and succulent beef, and the harmonious blend of accompanying ingredients. It is a satisfying treat that tantalizes the taste buds with its rich and delicious taste.
Suggested address: Ton Dan, Xom Chieu, Nguyen Tat Thanh, near the intersection of Vinh Hoi (District 4), Le Duc Tho (Go Vap)…
Meatloaf bread Update 09/22/2023 
This is another beloved variety of bread in Saigon. Alongside its crispy and fragrant crust, various types of fillings are added, depending on the eatery. These may include spring rolls, cinnamon rolls, beef rolls, or other types of rolls.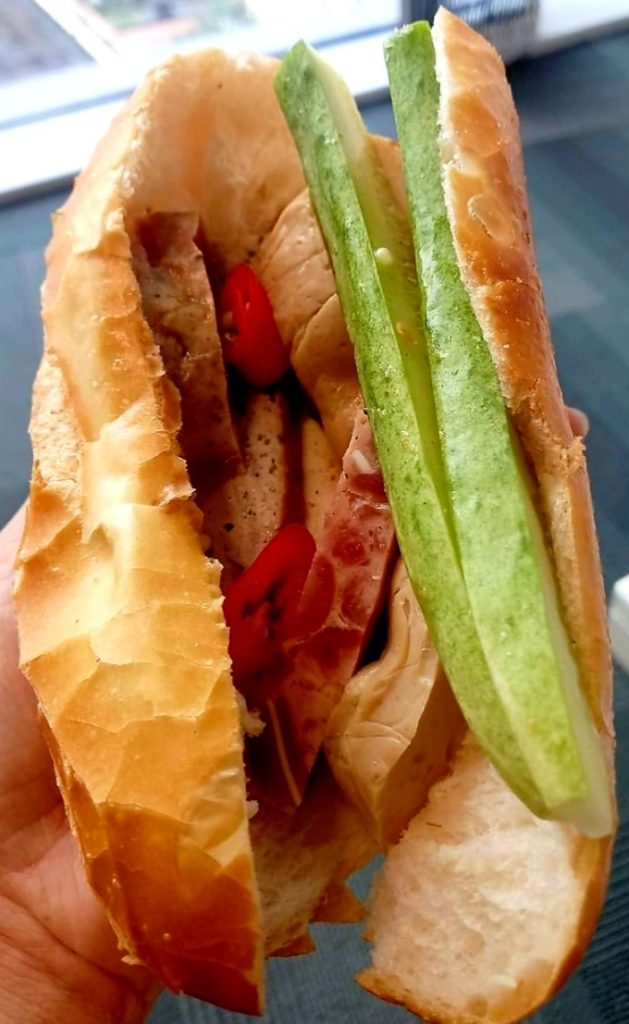 Some places even offer fillings like fatty liver pate, roasted chicken, or pork. To prevent monotony, the dish is typically garnished with cucumber or pickled vegetables, cilantro, onions, fresh chili, and other complementary ingredients. This combination creates a delightful and flavorful experience for diners.
Suggested address: on Hai Ba Trung Street (District 3), Cong Quynh (District 1), Ham Nghi (District 1), Le Thi Rieng (District 1), Le Van Si (Tan Binh District)…