The iconic buildings from the French colonial era, sidewalk stalls selling local specialties, motorcycles weaving through crowded streets… are the first impressions that tourists have of Hanoi. For many people, Hanoi has all the fascinating things to explore in their own unique way.
Hanoi's Beautiful Seasons Update 09/22/2023 
The ideal time to travel to Hanoi is during the autumn season from August to November and the spring season from March to April.
Many people believe that autumn is the most beautiful time of the year in Hanoi, with clear blue skies, cool breezes, falling yellow leaves, and the faint scent of milk flowers in the air.
When spring arrives, the weather becomes warm, and the streets seem to don new clothes as trees start to bud and flowers bloom in abundance.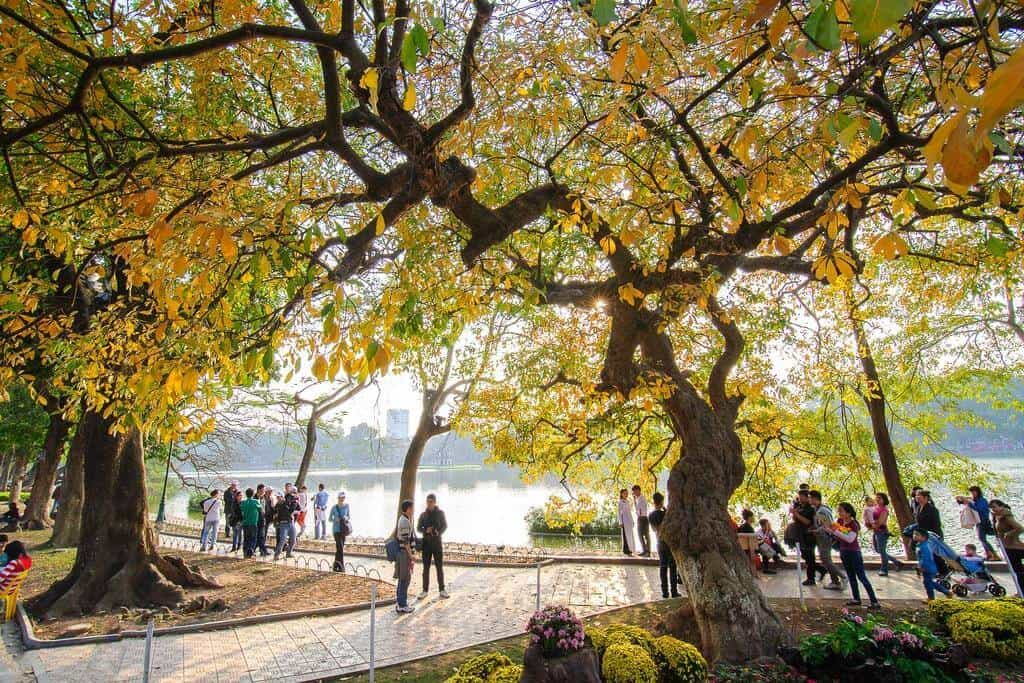 Transportation
Hanoi is often referred to as the heart of Vietnam, so travelers can conveniently move to the capital city by airplane, train, bus, private car, or motorbike from other provinces and cities.
To get around the city, you can choose to travel by car, motorbike, or bicycle. However, the experience will be more enjoyable if you ride a cyclo to explore the 36 old streets, join a motorbike or vintage Vespa tour.
Another recommended option to consider is the double-decker bus, with ticket prices ranging from 130,000 to 599,000 Vietnamese dong.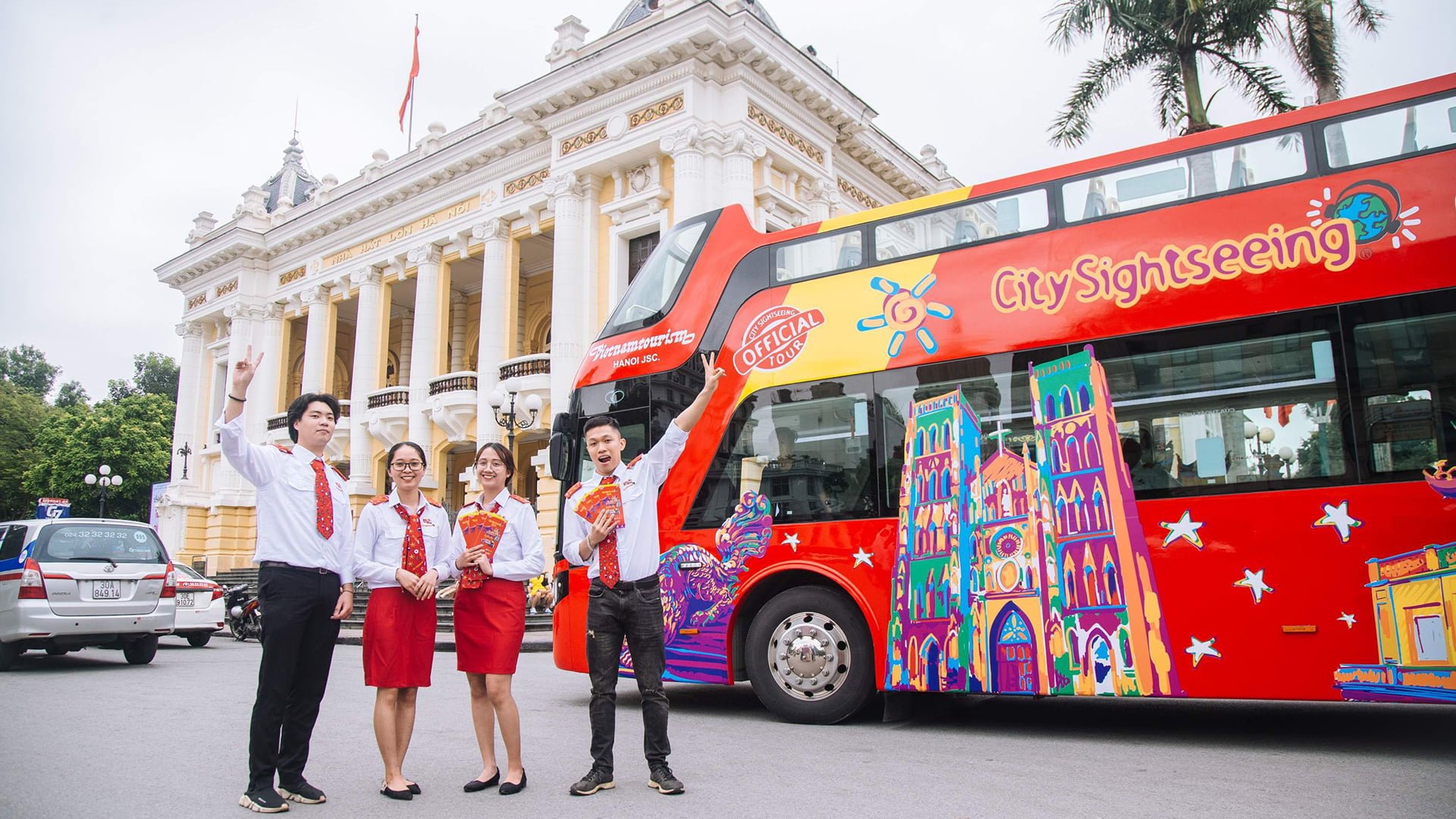 Accommodation
Hanoi offers a variety of accommodation options for travelers, including budget guesthouses, homestays, hotels, resorts, catering to different budgets and preferences.
If you stroll around the Old Quarter, you can rent a "backpacker-style" bed in dormitory rooms for around 100,000 Vietnamese dong per night, or opt for high-end hotels ranging from 3,000,000 to 5,000,000 Vietnamese dong per night.
Some notable hotels include the Sofitel Legend Metropole Hanoi, showcasing colonial French architecture, just a few steps away from the Opera House; the Hilton Hanoi Opera; the Apricot Hotel located by the Hoan Kiem Lake; the Sheraton Hanoi and InterContinental Hanoi Westlake, famous for their views of West Lake; and the Lotte Hotel Hanoi, situated on the upper floors of the 65-story Lotte Center.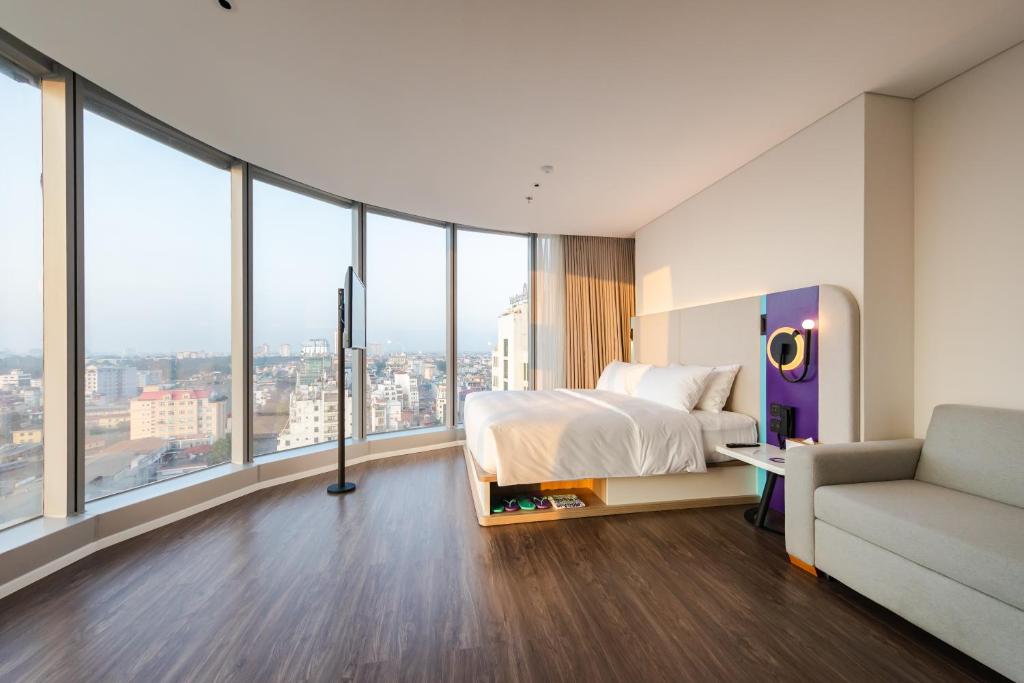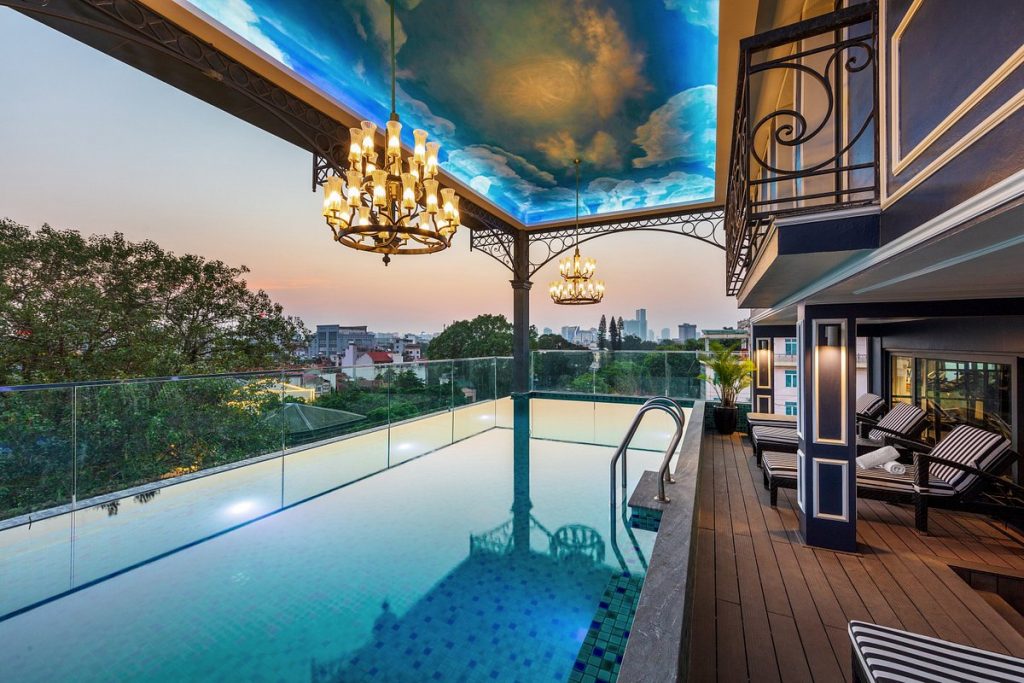 Exploration
Visiting
Hoang Thanh Thang Long
Hoang Thanh Thang Long is a world cultural heritage located in the heart of Hanoi and has a history of over 1300 years. This place contains unique relics and artifacts, evidence of the history of Thang Long – Hanoi and the history of the Vietnamese nation through many eras. Address: 19C Hoang Dieu, Dien Ban, Ba Dinh.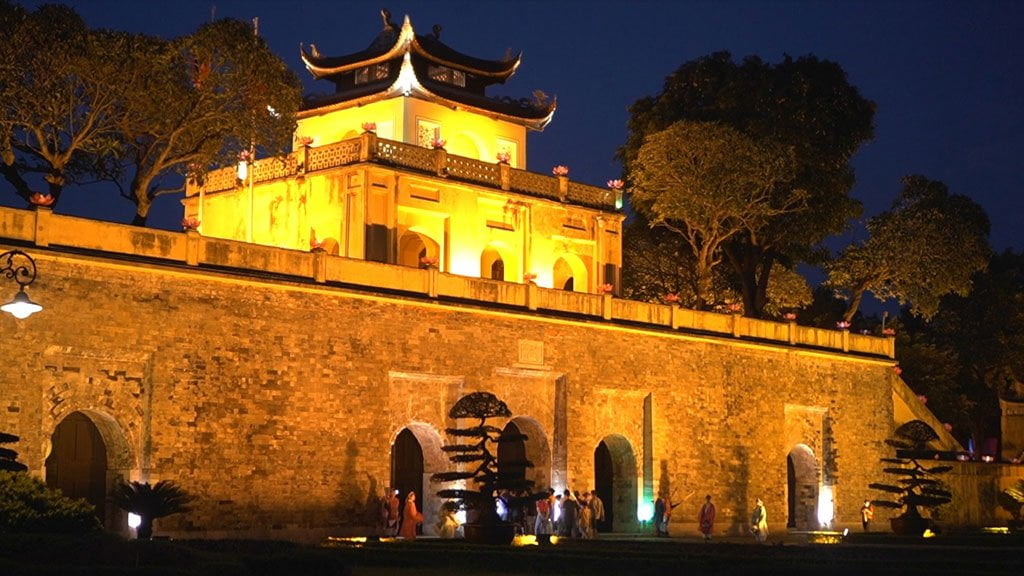 Hoan Kiem Lake
Hoan Kiem Lake is a natural freshwater lake in the city of Hanoi, connecting streets such as Hang Ngang, Hang Dao, Cau Go, Luong Van Can, Lo Su, with the Western Quarter planned by the French over a century ago, including Bao Khanh, Nha Tho, Trang Thi, Hang Bai, Dinh Tien Hoang, Trang Tien.
While strolling around the lake, besides enjoying the fresh nature amidst the urban streets, you can also visit Ngoc Son Temple and the old quarter.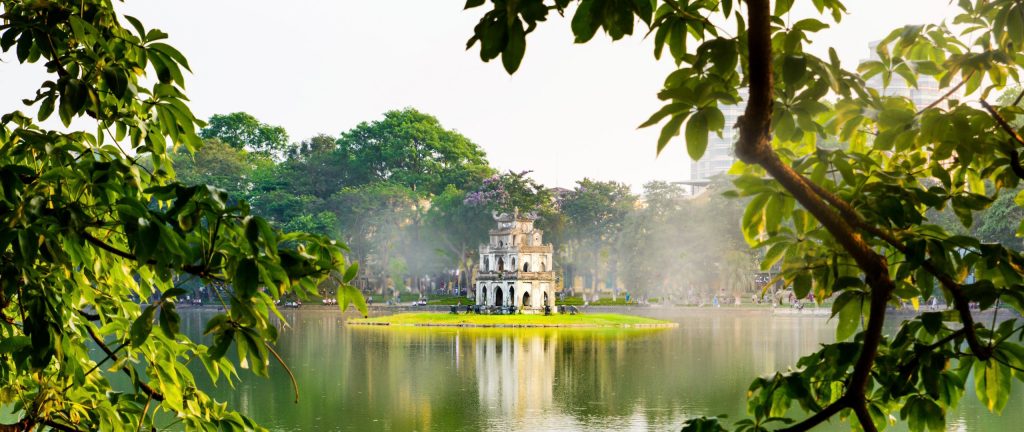 Tran Quoc Pagoda
Located on an island in the eastern part of West Lake, Tran Quoc Pagoda has been listed among the most beautiful pagodas in the world.
The pagoda has a history of 1,500 years and served as the Buddhist center of the imperial capital Thang Long during the Ly and Tran dynasties.
It was recognized as a National Cultural and Historical Relic in 1962. In 2003, the pagoda inaugurated the 15-meter-high, 11-story tall Lotus Tower.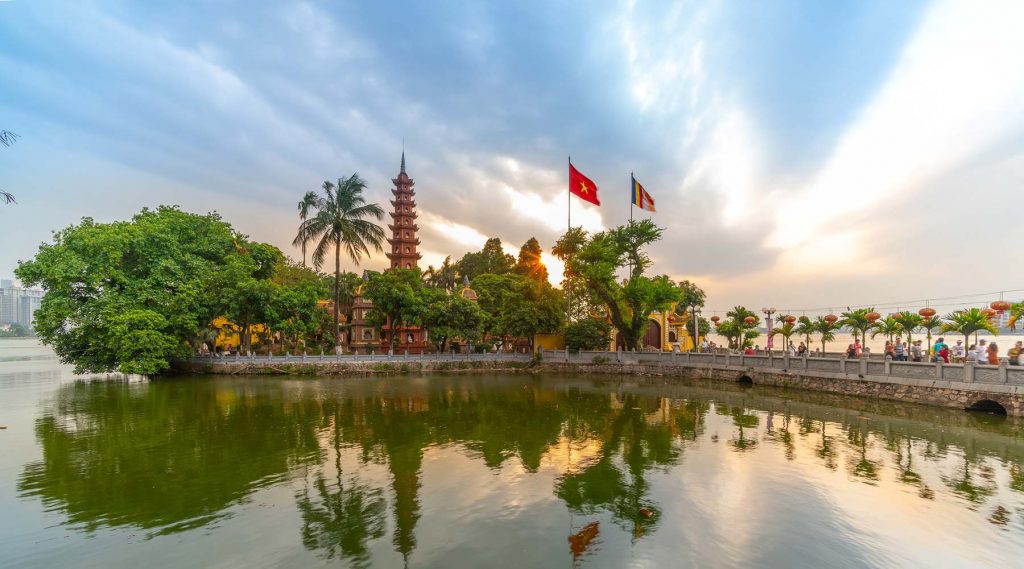 Temple of Literature – Quoc Tu Giam
This is the first university in Vietnam. Nowadays, visitors can explore the stone steles and the solemn grounds adorned with lotus ponds and ancient trees.
The Temple of Literature is a rare peaceful and tranquil place amidst the bustling city. Visitors can feel the harmony between the ancient and the modern as they walk through the thousand-year-old walls.
The Khue Van Pavilion (meaning "the pavilion of the beauty of Khue Cat") is an iconic landmark of Hanoi.
The Temple of Literature was built in 1070 during the reign of King Ly Thanh Tong. In 1076, King Ly Nhan Tong established the Quoc Tu Giam, the first national university in Vietnam.
This place also preserves numerous valuable artifacts and documents, especially the 82 doctoral steles recognized by UNESCO as the "World Documentary Heritage"
Ho Chi Minh Mausoleum
To the Vietnamese people, this is one of the most important tourist attractions in the country. Visitors come here to express their deep respect for President Ho Chi Minh. Tourists are required to maintain silence, dress appropriately, and refrain from taking photos in restricted areas.
Attending the flag-raising ceremony in the morning is a special experience at Ho Chi Minh Mausoleum. If missed, tourists can leisurely explore the city and return here to participate in the flag-lowering ceremony at 9 p.m. every day.
A solemn atmosphere envelops Ba Dinh Square as the loudspeaker announces the upcoming flag-lowering ceremony. People line up eagerly, following the dignified procession as the national flag is lowered to the tune of the song 'Uncle Ho is Still Marching Along with Us'.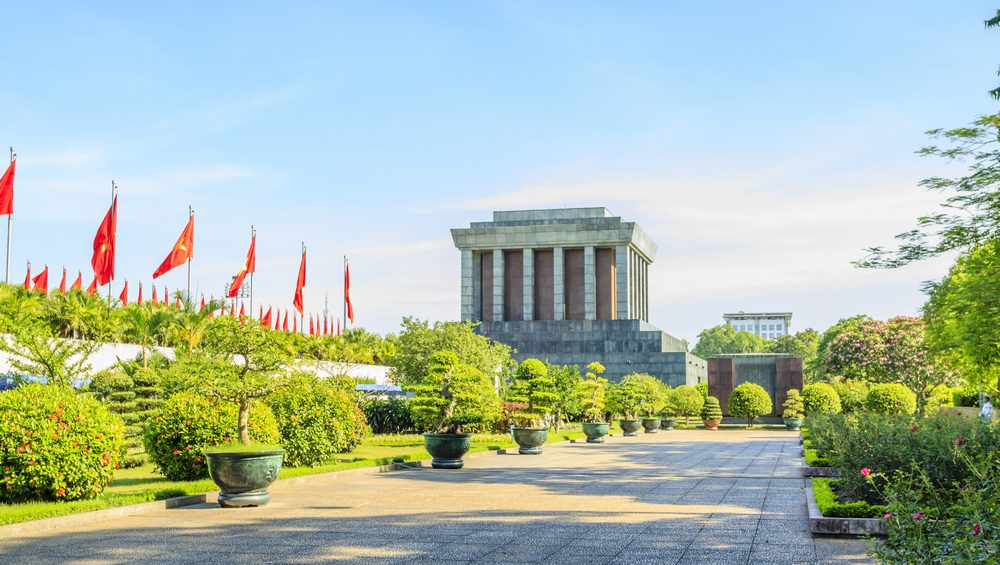 One Pillar Pagoda
The One Pillar Pagoda is one of the oldest temples in Hanoi. The temple was built on a wooden pillar over 1,000 years ago. In the 1950s, the original wooden pillar was decayed and replaced with a concrete column.
Western visitors should come here to stroll around this area as there are beautiful and impressive residential buildings surrounding it, making it one of the most attractive areas in Hanoi.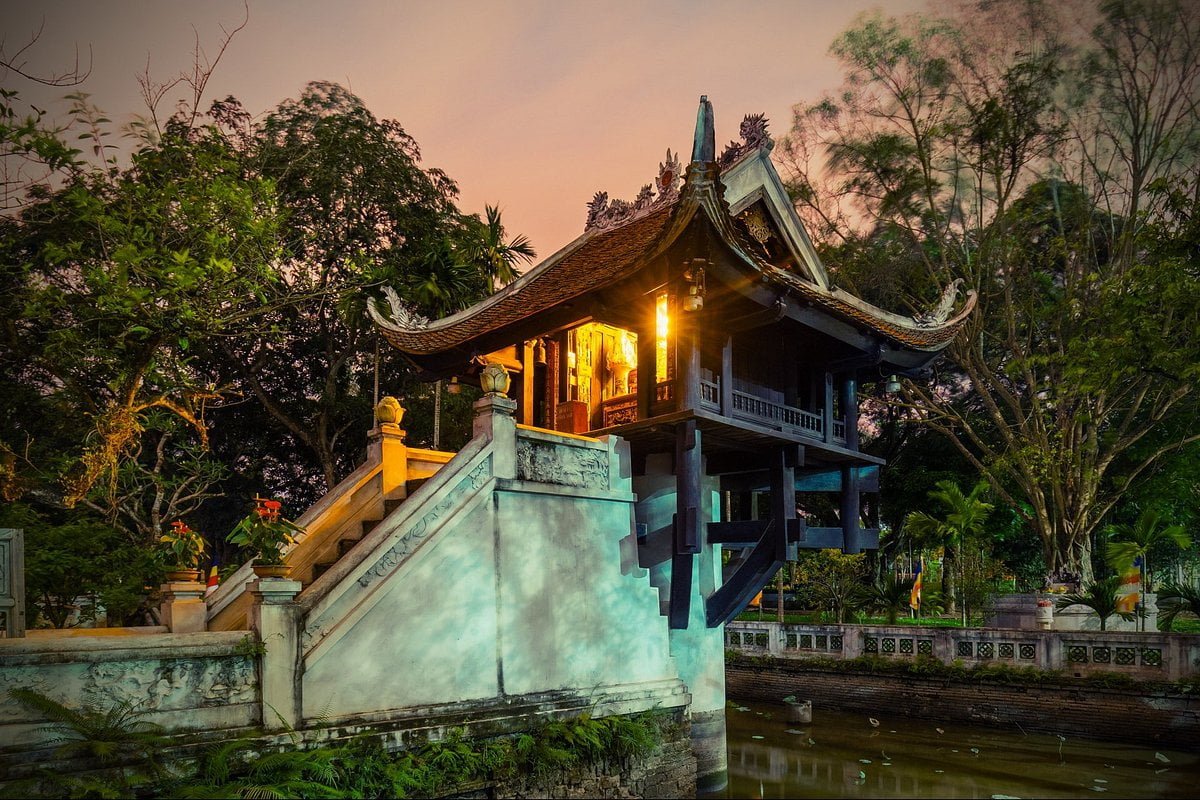 Old Quarter
Just let your feet guide you, and you will discover the most about the nostalgic colorful streets of the capital. No destination, no predetermined path, just turn right, turn left, or go straight.
One street sells toys, another is filled with shoes, clothes, antiques, or even motorcycle spare parts.
If you come here during the twilight hours, the experience becomes even more fascinating. You always have to be ready to dodge through the crowd and the buzzing motorbikes on the road.
This is how the 1,000-year history of Hanoi flows through the streets like the lifeblood coursing through every vein, breathing into the essence of both the past and the present.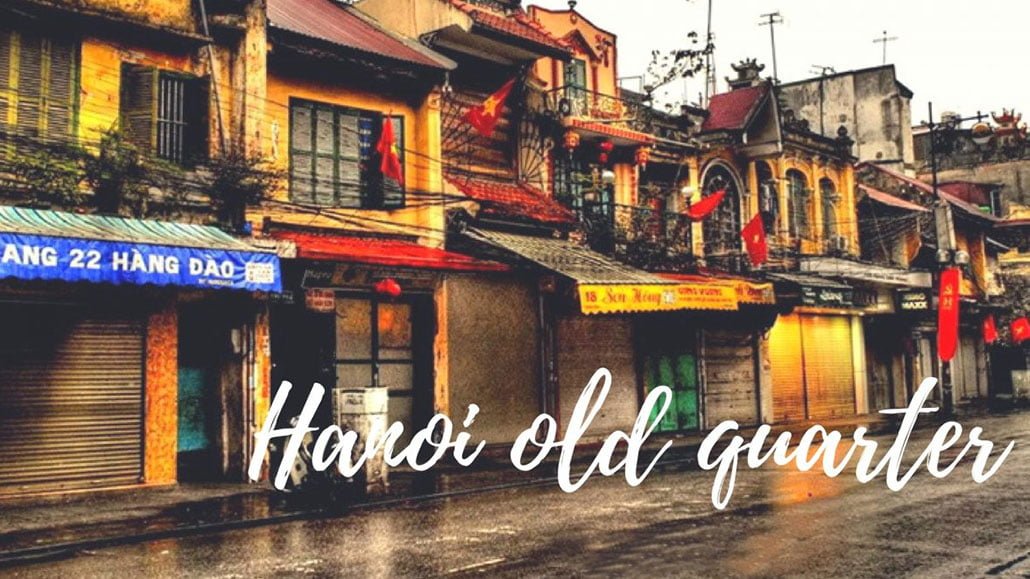 Museums
One cannot miss visiting museums and historical sites when traveling to any city. One of the most popular places for tourists to check-in is the Museum of Ethnology.
The Museum of Ethnology currently preserves and displays 15,000 artifacts, 42,000 documentary films, photographs, and thousands of other materials about the 54 ethnic groups in Vietnam.
In addition, tourists also visit the Vietnamese Women's Museum, Hanoi Museum, National Museum of History, Hoa Lo Prison, and the historical site of Hanoi Flag Tower to learn about the culture and history of the city.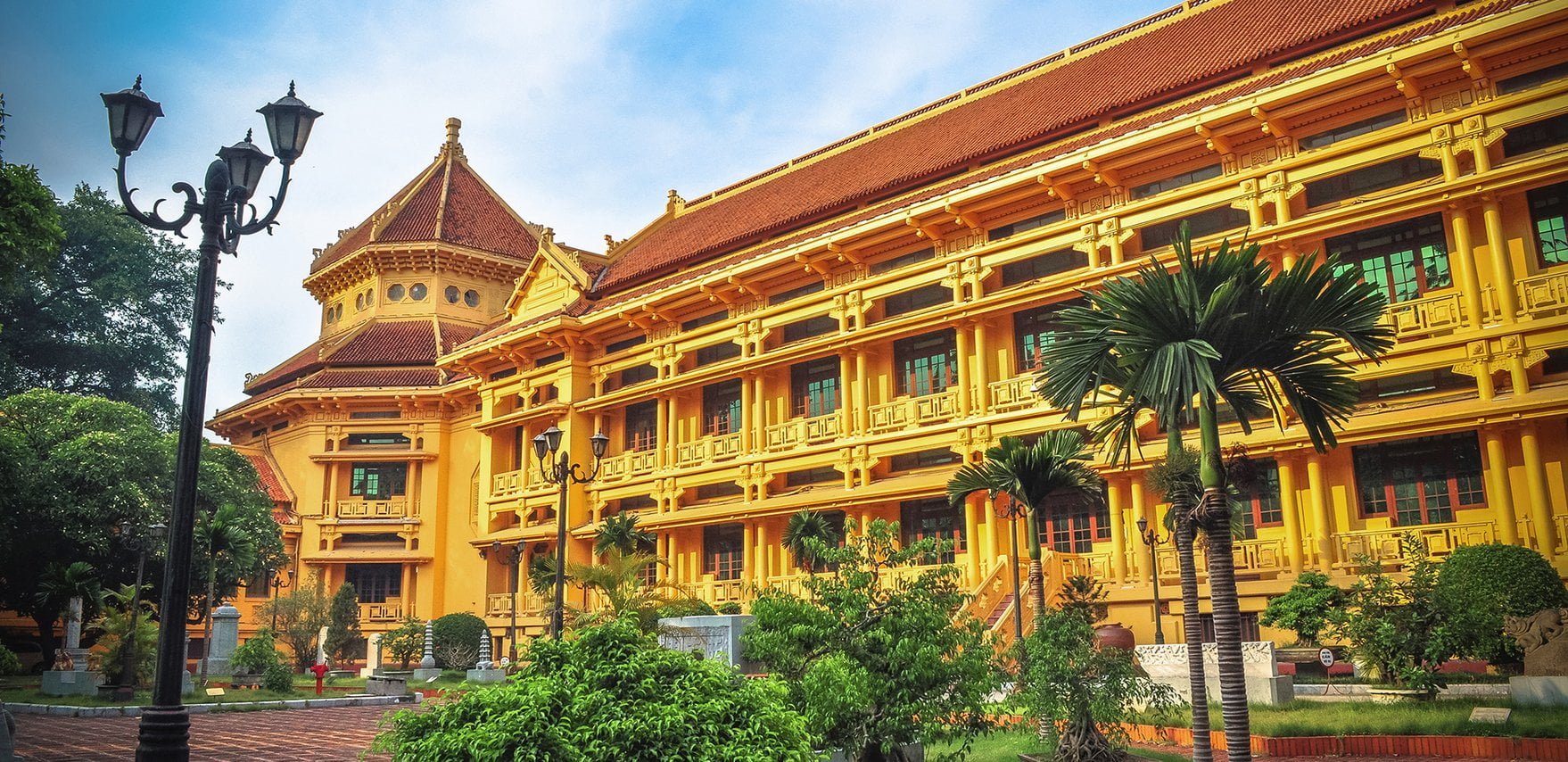 What to See Update 09/22/2023  
In addition to visiting famous landmarks and scenic spots, tourists should enjoy the unique ethnic art shows in Hanoi.
Water puppetry
This is a form of stage art that tourists should watch when visiting Hanoi. This art form has a tradition of over 1,000 years in Vietnam. There are two popular venues that many visitors frequent: Thang Long Water Puppet Theater at 57B Dinh Tien Hoang and Vietnam Puppet Theater at 361 Truong Chinh.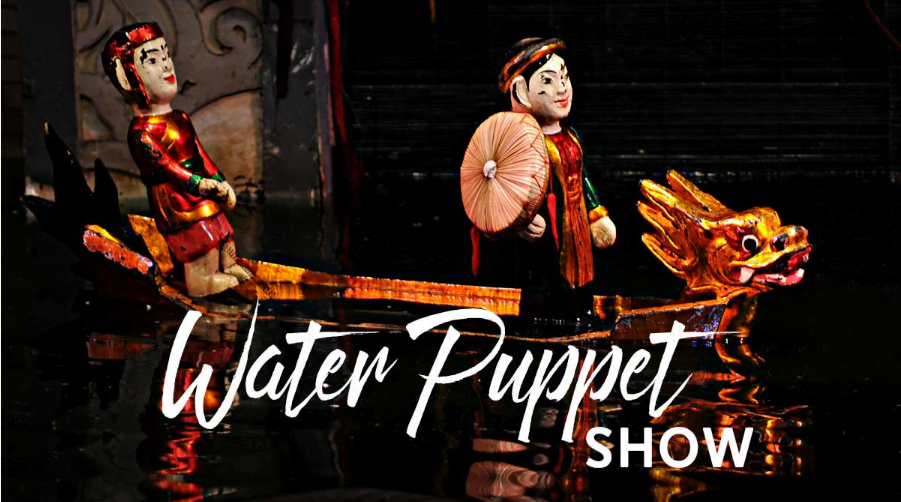 Ca tru singing
Ca tru originated in the 11th century and bears resemblance to the geisha rituals of Japan and opera performances. Initially, ca tru was considered entertainment for the noble class in the royal court, but it later became part of Hanoi's modern cultural scene.
Ca tru has five main performance spaces: ceremonial singing at the village gate, singing for the authorities, home performances, singing competitions, and singing at taverns. Tourists can listen to ca trù at the Hanoi Ca Tru Club located at 42 Hang Bac or Ca Tru Thang Long at 146 Tu Hoa.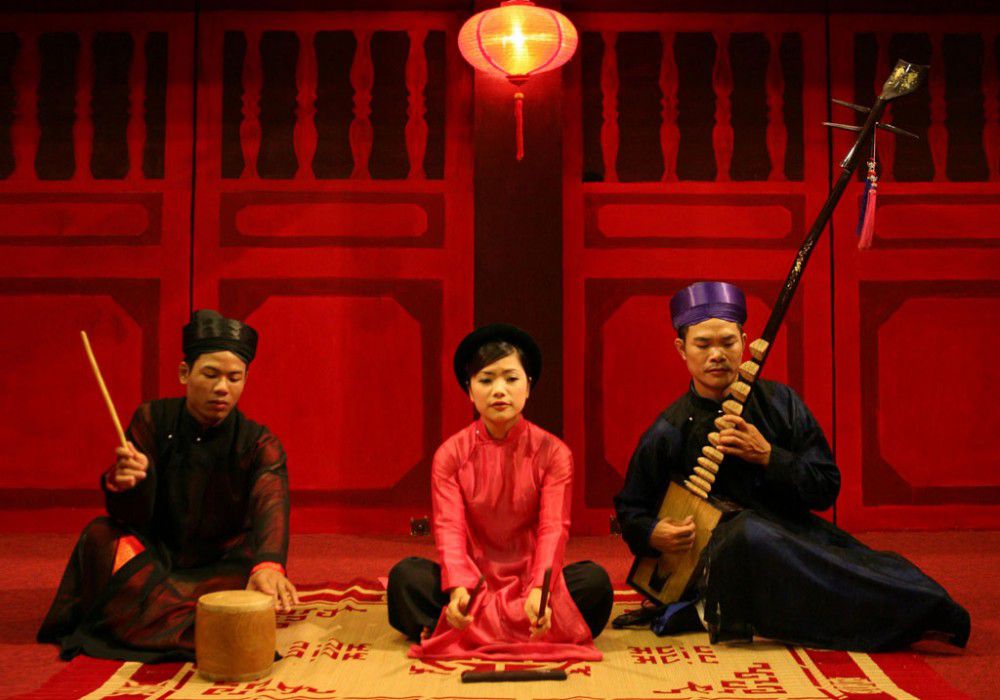 Spectacle show
The Essence of the North is a spectacle performance staged at Thay Pagoda, at the foot of Thay Mountain, in Sai Son commune, Quoc Oai district, Hanoi.
The show takes place on a large 4,300 square meter water surface, immersing tourists in the life of Northern farmers through audio and lighting performances. The majority of the actors participating in the spectacle are farmers from Quoc Oai district.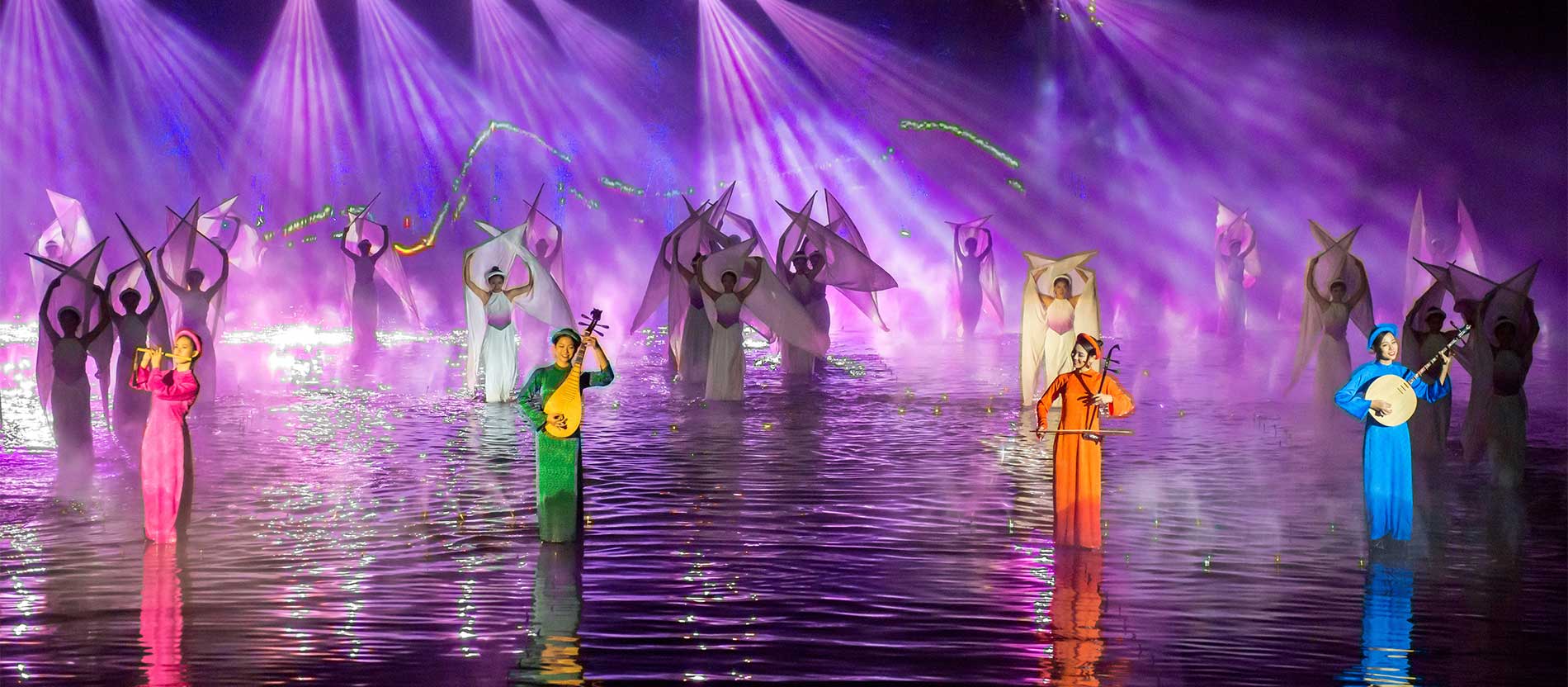 In addition to the performances, tourists can also directly experience the traditional culture of the Northern region outside the stage, with stalls selling banh gio (rice dumplings), banh te (sticky rice cakes), banh nep (sticky rice cakes), wrapped lotus leaf and banana leaf sticky rice, peanut candy, and dodol candy. Travelers can buy these treats and sit on small chairs in the garden while listening to quan ho folk music.
Where to Play Update 09/22/2023 
Stand-Up Paddleboarding (SUP) on West Lake
Wake up just before dawn, hop on your bike, and head to West Lake to experience water activities like SUP and kayaking. The best time to go is usually from 5 AM to 7 AM or in the cool afternoon.
You can rent boats and boards from shops on Lac Long Quan Street, Au Co Street, Trich Sai Street, etc., with prices starting from 250,000 Vietnamese Dong per day.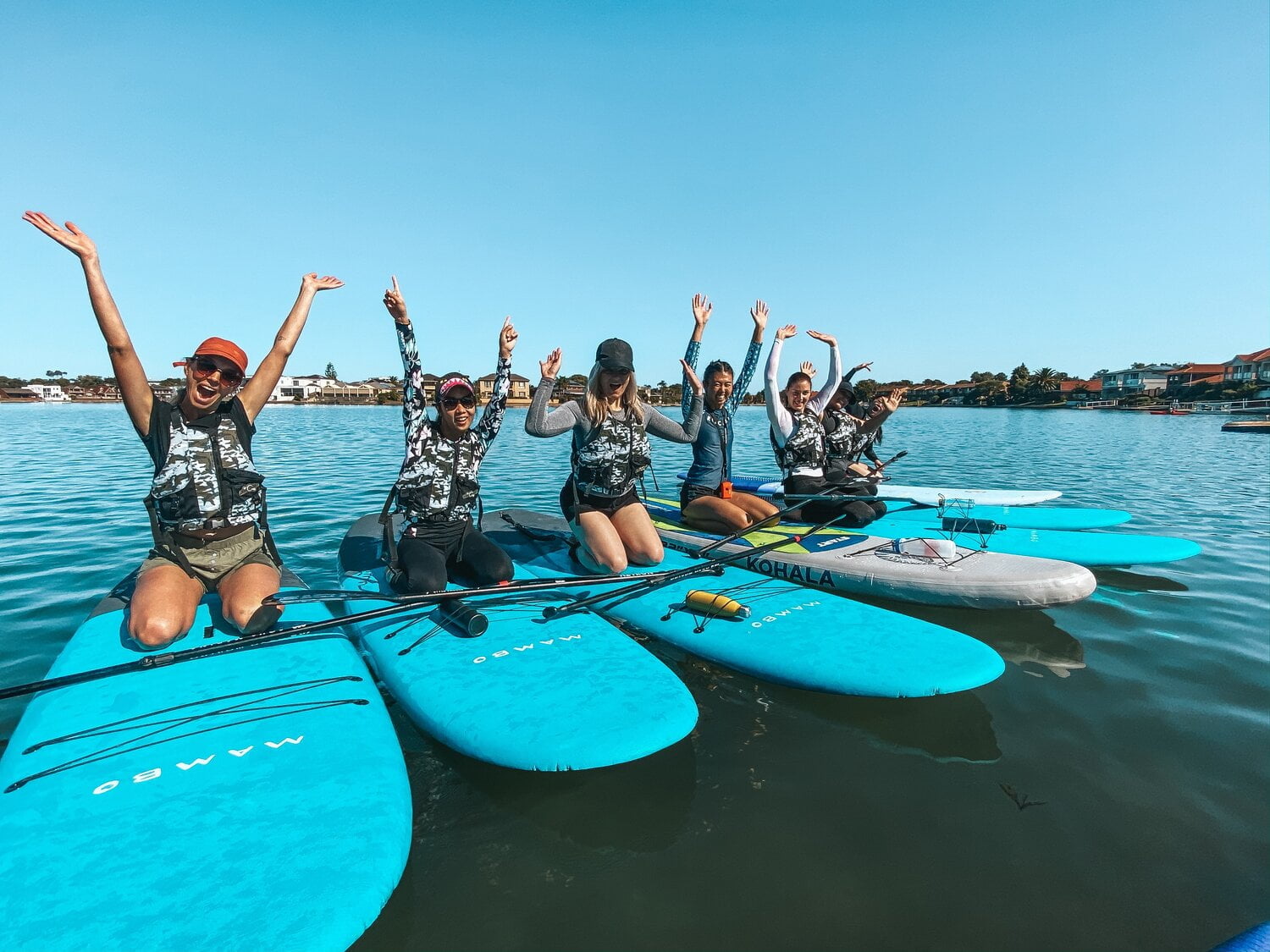 Admire Hanoi's Panoramic View from Above
When in Hanoi, you cannot miss the Lotte Observation Deck located on Lieu Giai Street. This is the place where you can get a bird's-eye view of the capital city from the 65th floor. The observation deck is made of transparent glass, allowing you to take creatively framed photos from any angle. It opens from 9 AM until the end of the day.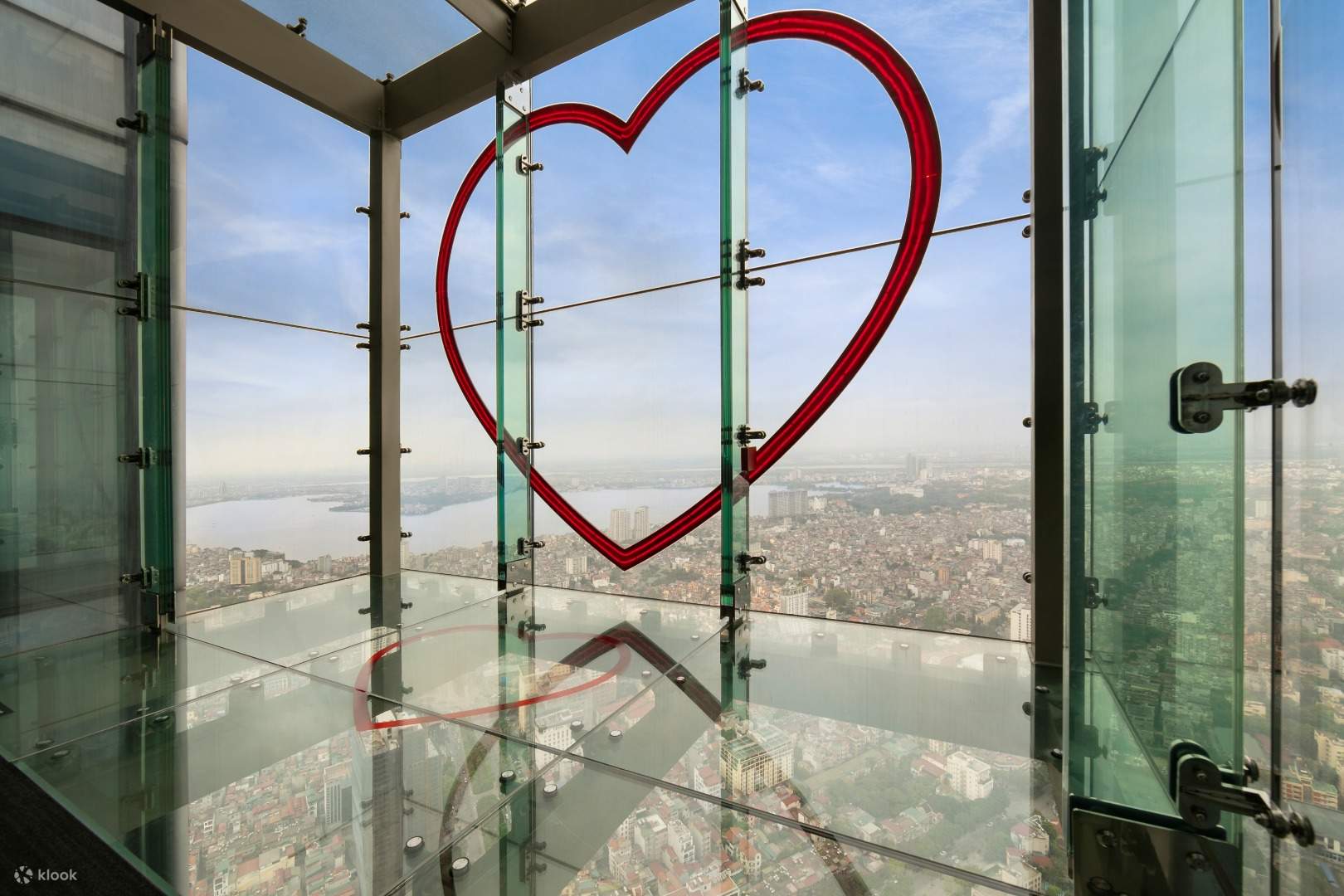 Walking Street
Every week, the Hoan Kiem Walking Street opens from 6 PM on Friday until Sunday night, attracting both locals and foreign tourists. This space offers various entertainment activities, from games to street art performances. Don't forget to embark on a "food tour" around the walking street.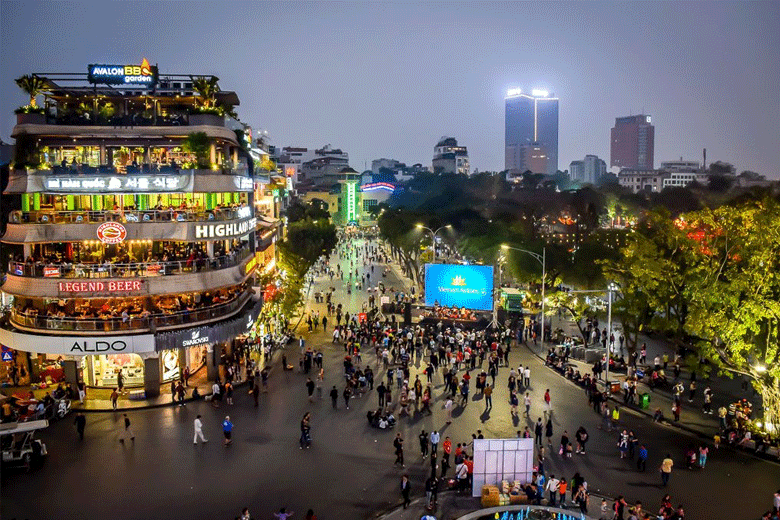 Visiting Markets
It's not just Dong Xuan Market; Quang Ba Flower Market and Long Bien Wholesale Market are two addresses that travelers often recommend for a visit when in the capital city. These markets mainly trade in flowers and fruits, but the "must-do" for tourists is to stay up late or wake up early to fully experience the vibrant and bustling atmosphere of a different Hanoi when night falls.
Located right under the Long Bien Bridge, Long Bien Wholesale Market is lively all year round, with the most famous section being the outdoor fruit market. The market starts bustling around 8 PM and becomes livelier as the night progresses.
As for Quang Ba Flower Market, it stays open throughout the night, but the busiest time is around 3-4 AM, with buyers and sellers bustling around. Various bouquets and arrangements are loaded onto and unloaded from vehicles in great numbers.
Food and Beverages
Hanoi cuisine perfectly combines the flavors of sour, spicy, salty, sweet, and reflects the true image of the ancient city: vibrant, tranquil, captivating, and appealing. You can easily enjoy Hanoi's specialties at street-side eateries such as pho bo (beef noodle soup), bun cha (grilled pork with vermicelli), banh mi (Vietnamese sandwich)…
Pho
When in Hanoi, you cannot miss pho, especially pho bo (beef pho), which usually comes in two main types: well-done and rare. Well-done beef refers to beef pieces boiled until tender in the broth, while rare beef refers to thinly sliced beef that is quickly blanched in boiling water.
Then, the seller will arrange the meat slices on the pho noodles, pour in the broth, and serve the dish to customers. Some recommended addresses are Pho Thin, Bat Dan, Tu Lun, Pho Lam on Hang Vai Street, and Pho Tram on Yen Ninh Street.
If you want to try different variations, suggested places are Quan Nguyet at 5 Phu Doan Street, Quan Cham at 63 Yen Ninh Street, Lan Ong-style mixed chicken pho, or rolled pho at Ngu Xa Street.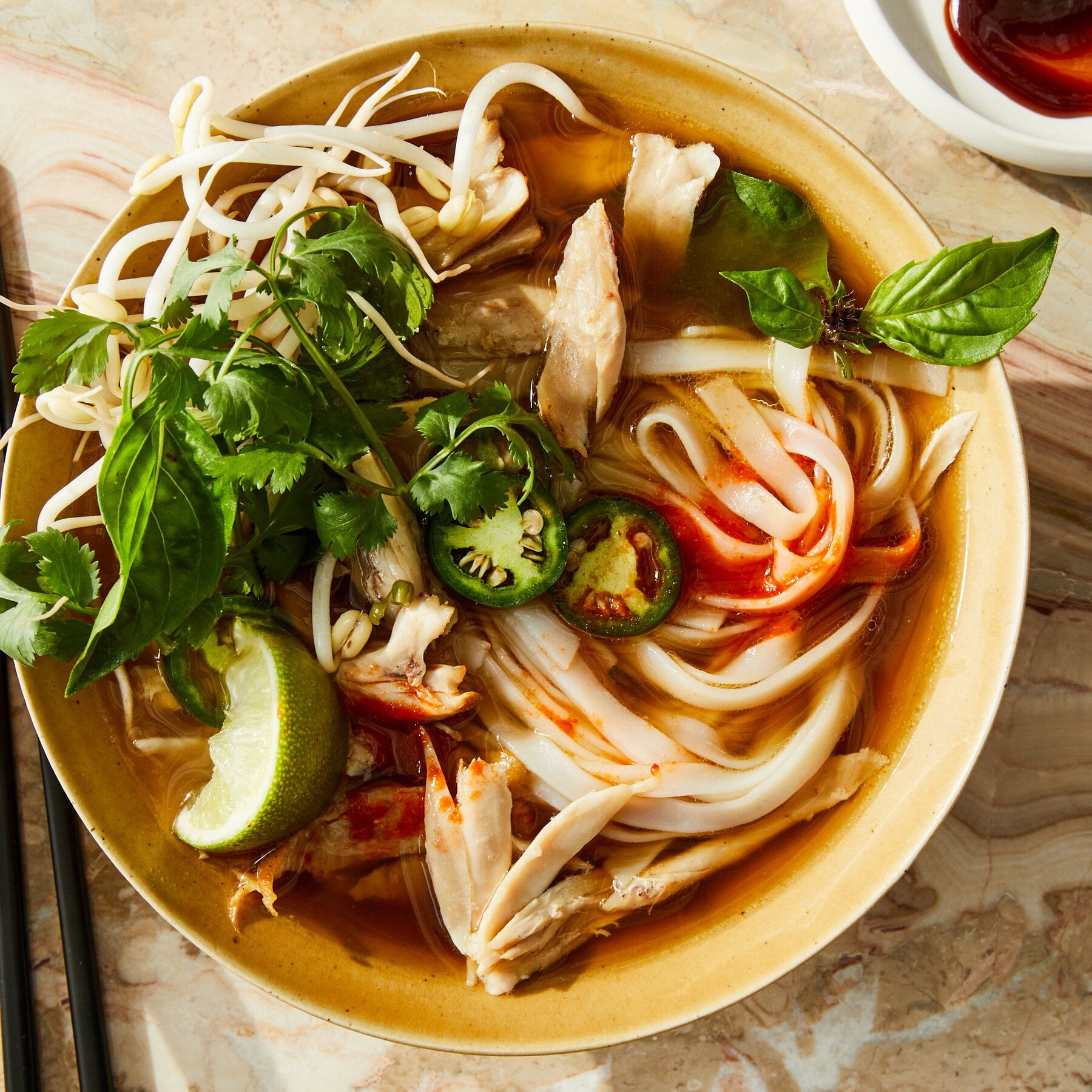 Bun
Hanoians have a wide variety of bun dishes. The most notable ones are bun cha, bun thang, bun oc, bun moc, bun doc mung…
When it comes to authentic traditional specialties in Hanoi, bun thang cannot be missed. The people of Hanoi skillfully transform leftover foods after Tet into an elaborate and exquisite bun dish.
A bowl of bun thang costs around 30,000 – 50,000 VND. Currently, there are only a few places in Hanoi that sell bun thang, such as Ba Duc (Cau Go), Ngoc Tuyen (Dao Tan), Thuan Ly (Hang Hom)…
Bun cha, commonly eaten for lunch, is similar to grilled meat vermicelli in southern and central Vietnam, but the marinated grilled meat in Hanoi-style bun cha is more intricate.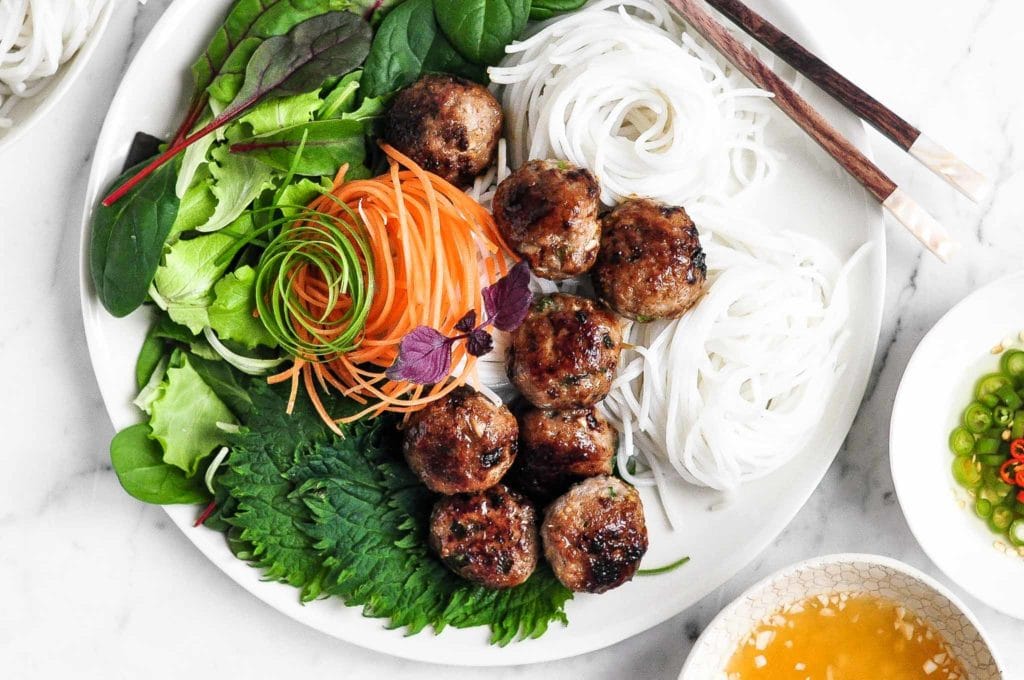 Bun moc in Hanoi costs 20,000 – 40,000 VND. This type of bun is usually sold at shops specializing in bun suon (pork ribs vermicelli), bun doc mung, bun bung… S
Finding bun oc in Hanoi is not difficult; diners can visit bun oc eateries on Hai Ba Trung, Dang Dung, Hoe Nhai Streets to enjoy hot bun oc. A bowl of bun oc usually contains about 6-7 snail pieces, served with crab broth, corn, beef sausage, and sometimes fertilized duck eggs.
Another version is cold bun oc or bun oc cham. Some famous places include Co Xuan bun oc stall on O Quan Chuong Street, or street stalls selling bun oc at the intersection of Bui Thi Xuan, and the renowned bun oc stall of Co Giang on Luong Ngoc Quyen Street. The price for each bowl usually ranges from 30,000.
Coffee
Coffee is a distinctive feature of Hanoi, with many long-standing coffee shops in the Old Quarter. Egg coffee is one of Hanoi's specialties, made from whipped egg on top of Vietnamese coffee. Egg coffee has a slightly yellowish color and is served in a small cup.
Diners always have a small spoon to enjoy the creamy foam on top, like a "prelude" before drinking the coffee underneath. Renowned places for delicious egg coffee include Cafe Dinh, Cafe Giang, Cafe Pho Co, Loading T, All Day Coffee… The price for each cup starts from 25,000 VND.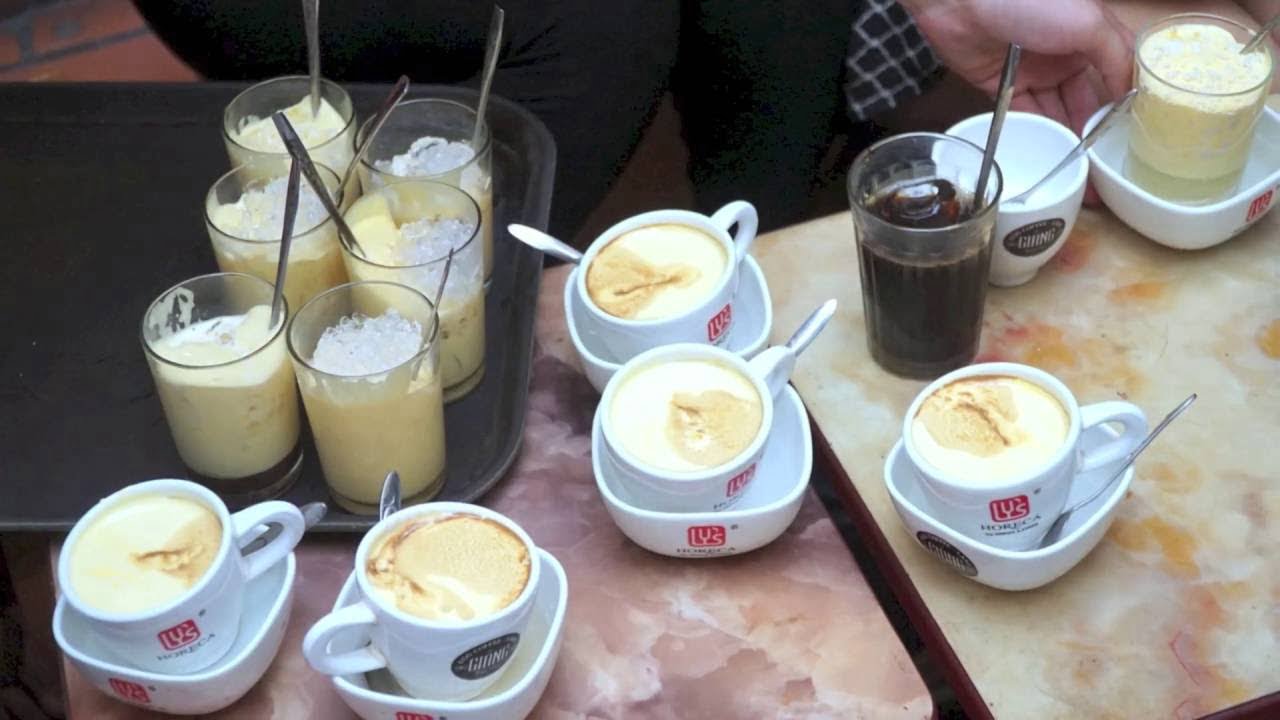 What to buy as gifts Update 09/22/2023 
In addition to preserved apricots, green rice cakes, lotus tea, visitors to Hanoi can buy silk in Van Phuc village or pottery in Bat Trang as gifts for their relatives and friends.
Preserved apricots
With various flavors such as sour, spicy, salty, and sweet, which represent the essence of Hanoi cuisine, preserved apricots are a popular gift choice when leaving Hanoi. The most famous address for this snack is Hang Duong Street.
Here, visitors can find their favorite preserved apricot flavors such as apricot, plum, ginger, tamarind, peach, lime, kumquat, pomelo, cherry, coconut, and tamarind.
However, if you are buying as a gift for someone from the southern region, you should choose tamarind-flavored preserved apricots, as they have a sweet and distinct taste made from the sour fruit characteristic of Hanoi.
Depending on the type, preserved apricots cost around 100,000 – 150,000 VND per kilogram.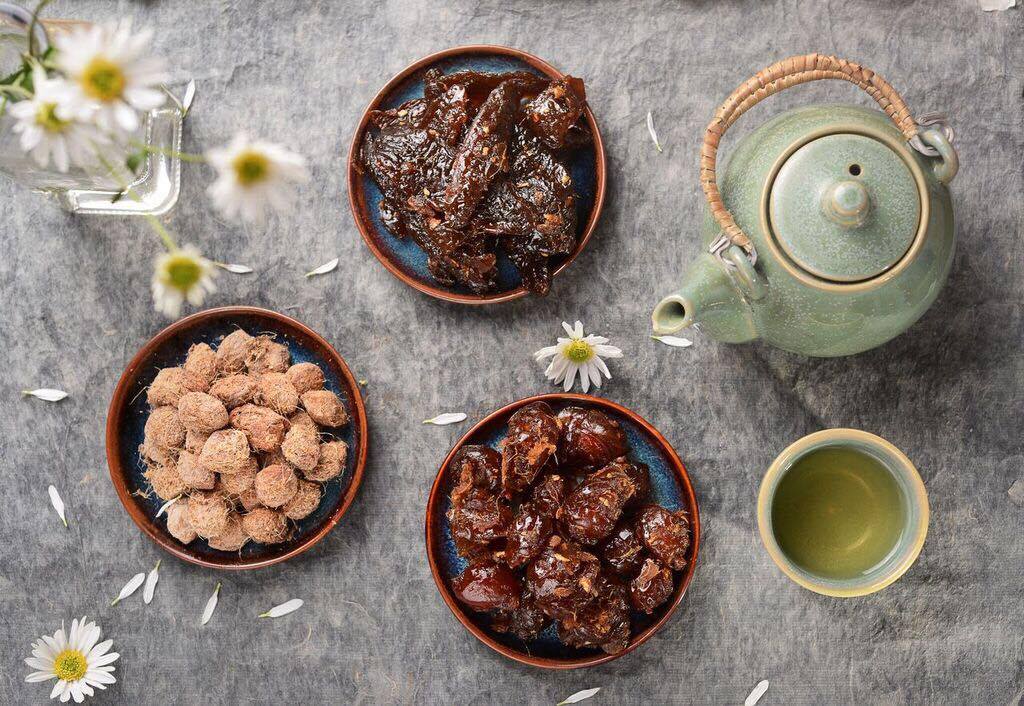 Green rice cakes
The aroma of Vong Village's green rice cakes has long added a unique charm to the capital's cuisine. However, since they are only available in the autumn season, Hang Than green rice cakes are a perfect alternative for many visitors.
These sticky cakes have a soft outer layer and a rich filling made of mung beans and creamy coconut, with a subtle natural fragrance of pomelo.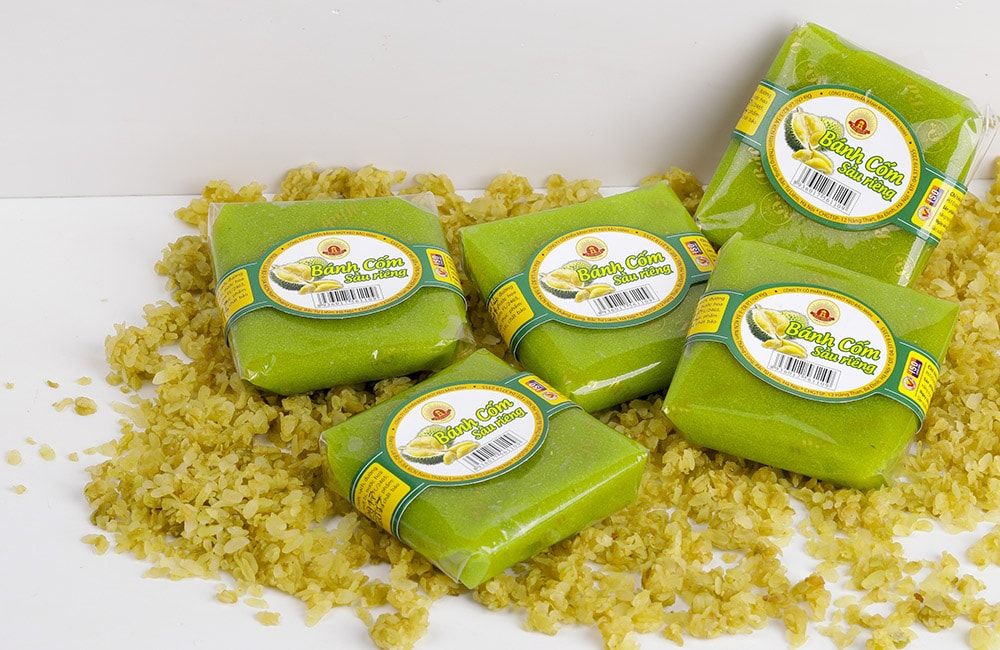 Vietnam lotus tea
Tay Ho lotus tea is definitely a precious gift for loved ones and friends after visiting Hanoi. The process of infusing lotus tea is an art that requires a lot of time and effort. The dried tea buds, carefully selected from the best variety, are infused 5-7 times with lotus stamens (white seeds on the top of the lotus pistil) to absorb the aroma and flavor.
The lotus used for infusing must be grown in the ponds of West Lake, such as Nhat Tan and Quang Ba, as they are the most fragrant and produce the most stamens.
Although lotus tea is only available in May and June during the summer, thanks to this meticulous infusion process, its fragrance is preserved throughout the year and accompanies visitors to every corner of the country.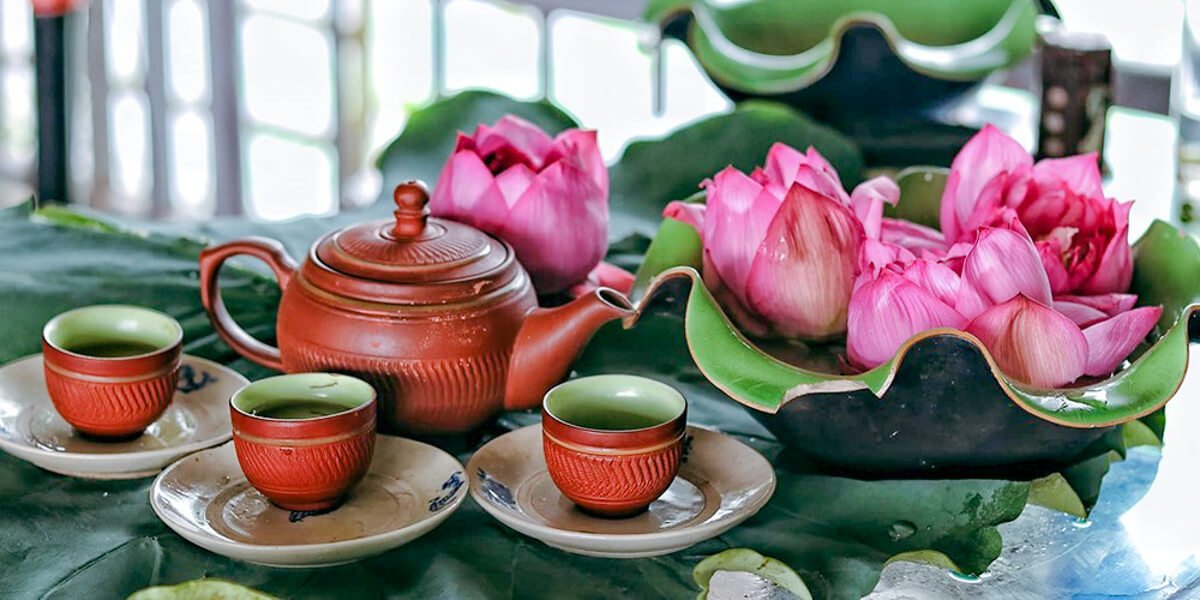 Van Phuc silk
Thanks to its thin, soft, breathable, and color-fast nature, silk is highly favored by tourists. Whether it's winter or summer, visitors can find the perfect silk gifts such as scarves, clothes, dresses, and bags in Van Phuc silk village (about 10 km from the center of Hanoi). You can also buy silk at stalls on Hang Gai Street or Dinh Liet Street.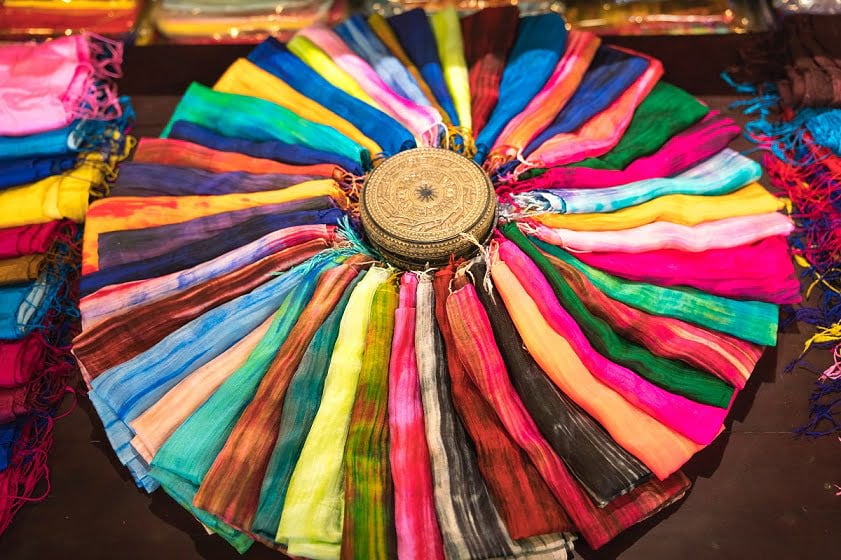 Bat Trang pottery
If you have the opportunity to visit Bat Trang, don't forget to buy pottery products from this traditional craft village. With distinctive enamel colors and exquisite craftsmanship, Bat Trang pottery items have a unique beauty.
In addition to commonly used utensils such as bowls, plates, cups, and saucers, this place also offers special gift items such as wind chimes and figurines.
Visitors to the pottery village can also try their hand at making bowls, vases, bottles, and cups as meaningful and enjoyable gifts.
Remember to respect local customs and traditions during your visit to Hanoi. Enjoy your exploration of this captivating city!