Nestled in the outskirts of Hanoi, Vietnam, lies the picturesque Dan Phuong District, a hidden gem awaiting discovery by avid travelers and history enthusiasts alike.
With its rich cultural heritage, serene landscapes, and warm-hearted locals, Dan Phuong District has become an intriguing destination for those seeking an authentic Vietnamese experience.
In this article, we will delve into the essence of Dan Phuong, exploring its map, postal codes, tourist attractions, and captivating history as of 2024.
Let's explore the fascinating things in Dan Phuong District together with TripWordwide.
Dan Phuong District | About Dan Phuong: Map, postal codes, Tourist, History Update 09/22/2023  
History of Dan Phuong District
Dan Phuong: A Land of Heritage and Historical Transformations
Dan Phuong is an ancient land, with archaeological findings at Ba Noi, Hong Ha commune, and Ngoc Kieu commune, Tan Lap ward, revealing that the land of Dan Phuong dates back to the Phung Nguyen culture (early Bronze Age), approximately 3,500 to 4,000 years ago.
According to the "Dai Nam Nhat Thong Chi" (The Chronicles of Dai Nam), the district's name has its origins in the 13th century during the reign of King Tran Thai Tong (1246).
During the Ming dynasty, it was known as Dan Son, located in Tu Liem district, Giao Chau prefecture. In the Later Le dynasty, Dan Phuong was part of the Quoc Oai district under Son Tay commandery.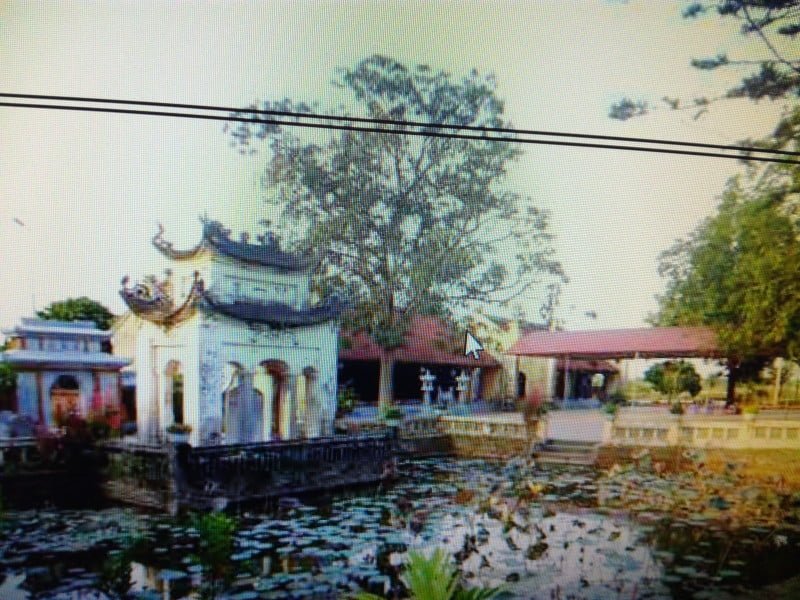 In 1831, during the reign of King Minh Mang, administrative boundaries were adjusted, and new provinces were established. Dan Phuong district became its own separate entity in 1832, remaining under the jurisdiction of Quoc Oai.
After the August Revolution in 1945, the provincial administrative level was abolished, so from August 1945 to March 1947, Dan Phuong district was part of Ha Dong province.
Starting from March 1947, the four districts of Dan Phuong, Hoai Duc, Thanh Tri, Thanh Oai, and the town of Ha Dong were transferred to Hanoi, based on the decision of Zone II (When the events of December 19, 1946 occurred, the Hanoi Front was merged into Zone II.
From November 1, 1948, Zone II was placed under the direct authority of Region III, but by May 1949, Hanoi Zone was separated to establish an independent Hanoi Front, under the command of the General Command. This situation continued until after 1954, when it was referred to as the Hanoi Zone).
From March 12, 1947, to May 1948, Dan Phuong district was merged into the administrative region IV – Hoai Duc and Dan Phuong commune (according to document number: 038/KCT, dated March 13, 1947, UBK – Zone XI Command of the Commanding Board of Zone XI).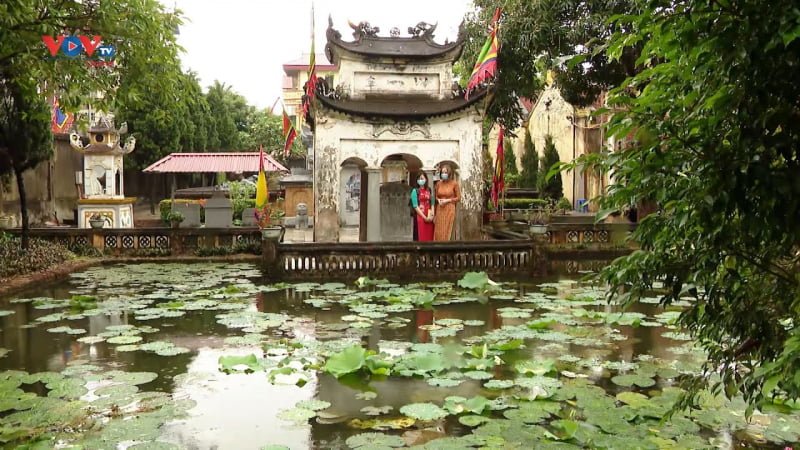 In May 1947, the Central Committee decided to separate three provinces of Hanoi, Ha Dong, and Son Tay from Zone II and establish Zone XI.
From May 1948 to October 1948, Zone XI was dissolved and Lương Hà province (Ha Dong – Hanoi) was established, falling under Region III.
At this time, the combined district of Hoai Duc and Dan Phuong was separated to become Lien Bac district. Dan Phuong belonged to Lien Bac district, Lương Hà province.
From October 1948 to March 1954: Region III divided Lương Hà into two provinces: Ha Dong and Hanoi, therefore, Dan Phuong was part of Lien Bac district, Ha Dong province.
In December 1952, most of the Dan Phuong area belonged to the northern part of Lien Bac, under the control of the Northern Lien Bac Executive Committee, with the national highway 11A (32) serving as the boundary, in order to better direct the resistance movement.
In April 1954, Dan Phuong district was re-established and placed under the management of Son Tay province, based on the decision of the Executive Committee of Region III.
In August 1954, Region III transferred Dan Phuong district back to Ha Dong province.
On April 20, 1961, the National Assembly issued a Resolution on expanding Hanoi city, whereby five communes (Tan Dan, Tan Tien, Trung Kien, Minh Khai, Tran Phu) of Dan Phuong district were transferred to Ha Dong province.
On April 21, 1965, the Standing Committee of the National Assembly issued Decision 103-NQ-TVQH on approving the establishment of Bac Thai, Nam Ha, Ha Tay provinces and the merger of An Hoa commune in Thach That district, Son Tay province (old), into Tien Xuan commune in Luong Son district, Hoa Binh province.
Accordingly, Hoa Binh and Ha Đong provinces were merged into a new administrative unit named Ha Tay. Dan Phuong district fell under the administration of Ha Tay province.
According to the Resolution of the National Assembly of the Socialist Republic of Vietnam regarding the merger of some provinces, issued on December 27, 1975, Hoa Binh and Ha Tay provinces were merged into a new province called Ha Son Binh. At that time, Dan Phuong district was an administrative unit under Ha Son Binh province.
On August 12, 1991, the National Assembly issued a Resolution on adjusting the administrative boundaries of some central provinces and cities, dividing Ha Son Binh province into two provinces: Hoa Binh and Ha Tay. Accordingly, Dan Phuong district was transferred from Hanoi city to Ha Tay province.
On August 29, 1994, the National Assembly issued a Resolution on the adjustment of administrative boundaries for Hanoi city, Ho Chi Minh City, and several provinces including Ha Son Binh, Vinh Phu, Cao Lạng, Bac Thai, Quang Ninh, and Dong Nai. According to the Resolution, Dan Phuong district was transferred to Hanoi city for administration.
On August 1, 2008, the entire Ha Tay province was merged into Hanoi city according to Resolution 15-NQ/QH from the third session of the 12th National Assembly, dated May 29, 2008. Therefore, Dan Phuong district falls under the administration of Hanoi city and remains stable until today.
Geographical Location
In terms of geography, Dan Phuong is a small district of Hanoi city, located in the northwest central part of Hanoi. It is situated roughly in the middle of National Highway 32, which runs from the center of Hanoi to Son Tay. To the east, it borders Bac Tu Liem district, to the north, it borders Me Linh district with the Red River forming the boundary, to the west, it borders Phuc Tho district, and to the south, it borders Hoai Duc district.
Administrative Divisions
Unit: District Party Committee – People's Council – People's Committee of Dan Phuong District

Address: 105 Tay Son Street, Phung Town, Dan Phuong District, Hanoi City

Phone number: (024) 33886384; Email: vanthu_danphuong@hanoi.gov.vn

Area: 77.35 square kilometers.

The district consists of 16 administrative units, including Phung Town and 15 communes: Dan Phuong, Dong Thap, Ha Mo, Hong Ha, Lien Ha, Lien Hong, Lien Trung, Phuong Dinh, Song Phuong, Tan Hoi, Tan Lap, Tho An, Tho Xuan, Thuong Mo, Trung Chau.
Dan Phuong District Hanoi Vietnam postal code Update 09/22/2023  
District / County Zipcode
Dan Phuong District Postal Code 13000
Wards / Communes Zipcode
Phung Town 13006

Dan Phuong Commune 13007

Dong Thap Commune 13020

Ha Mo Commune 13009

Hong Ha Commune 13015

Lien Ha Commune 13013

Lien Hong Commune 13014

Lien Trung Commune 13012

Phuong Dinh Commune 13019

Song Phuong Commune 13021

Tan Hoi Commune 13010

Tan Lap Commune 13011

Tho An Commune 13018

Tho Xuan Commune 13017

Thuong Mo Commune 13008

Trung Chau Commune 13016
Topography and Climate of Dan Phuong District
Dan Phuong District has the characteristics of a tropical monsoon climate, characterized by hot and humid weather with heavy rainfall during the summer and a dry and cold winter (early winter being dry, while late winter is wet). The average temperature in the summer is around 23°C, while in the winter, it ranges from 15-16°C. It is influenced by the north-east monsoon, resulting in significant temperature fluctuations throughout the year, ranging from 12-13°C.
The hot season typically spans from May to September, with the highest average temperature exceeding 30°C and occasionally reaching above 37°C. The cold season lasts for about 3-4 months (from December to February or March), with the coldest months being December and January when temperatures drop to as low as 18°C, and the lowest recorded temperature is 5°C. There is a transitional period between the hot and cold seasons, creating four distinct seasons in Dan Phuong: spring, summer, autumn, and winter.
The average air humidity throughout the year is approximately 83-85%, with the highest humidity occurring in March and April, reaching up to 98%.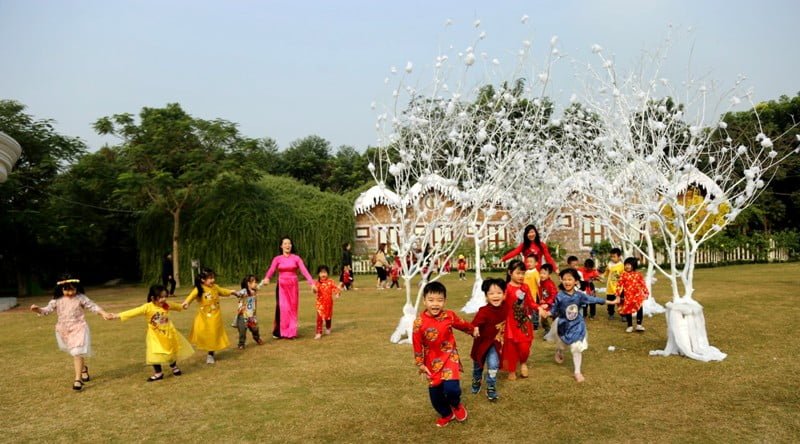 Transportation Infrastructure
While residents of districts such as Dong Anh, Gia Lam, and Long Bien need to cross several bridges to reach the city center of Hanoi, those in Dan Phuong can easily access the city's inner districts via roadways, with National Highway 32 being the primary route. The Red River serves as a connection point between Dan Phuong, Dong Anh, and Me Linh. However, there are no bridges in Dan Phuong that span the Red River, so residents typically use the Tho An and Lien Ha ferry terminals for transportation.
The closest bridge to Dan Phuong is Thang Long Bridge, located approximately 7 kilometers away, followed by Nhat Tan Bridge at a distance of 12 kilometers, and Vinh Thinh Bridge at 15 kilometers away.
In the future, Hanoi plans to construct the Hong Ha Bridge to span the Red River and connect Dan Phuong District with Me Linh District. This bridge will have a length of 6 kilometers and an estimated investment of around 9.9 trillion Vietnamese dong. The southern end of the bridge will be located in Hong Ha Commune, Dan Phuong District, intersecting with Hong Ha Road near Gia Le Pagoda, while the northern end will be situated in Van Khe Commune, Me Linh District.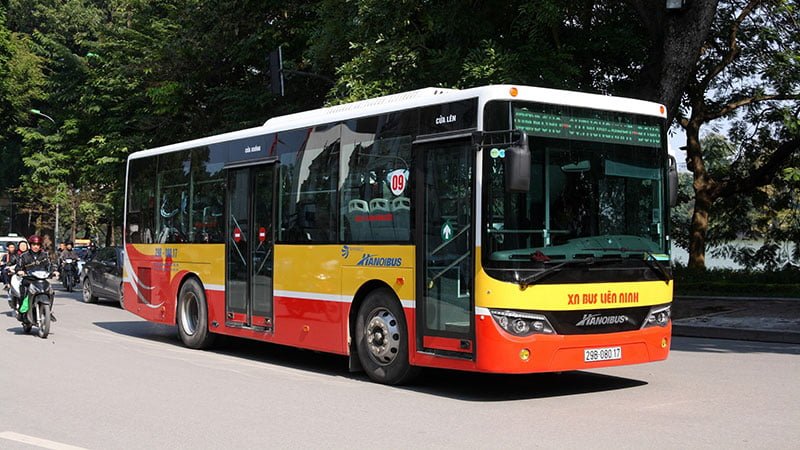 Currently, Dan Phuong District has only one bridge, the Phung Bridge, which crosses the Day River and connects Phung Town with Phuc Tho District. According to the capital city's transportation plan for the period up to 2030 and with a vision extending to 2050, Dan Phuong is set to have urban railway lines No. 3 (Nhon – Hanoi Station – Hoang Mai) and No. 4 (Me Linh – Sai Dong – Lien Ha).
In 2020, Dan Phuong District constructed 8 district-level roads with widths ranging from 13 to 22 meters. In the near future, the district will implement several more key road projects, including the mega-project of Ring Road 4. This road, approximately 4.3 kilometers long, will pass through the territory of Dan Phuong District, spanning the communes of Tan Hoi, Ha Mo, Hong Ha, and Lien Hong within Dan Phuong.
The Tay Thang Long Road, spanning 33 kilometers, starts at the junction with Vo Chi Cong Road and ends at the intersection with Road 32 in Son Tay Town. Once completed, Tay Thang Long Road will help alleviate traffic congestion on Road 32 and connect various projects in Dan Phuong to the city center.
Additionally, Dan Phuong District will undertake road renovations and expansions in various areas, including Quan Doai Khe Road, branch roads N12 and N13, the road leading to the Doai Khe Cultural Center, the link road from N4 to N1, the road leading to the Van Hien Temple, Provincial Route 422 to Thung Hoi Hamlet, Dai Phung Ring Road, the road from the base of Phung Bridge to the People's Committee of Dong Thap Commune, the road from the Dong Thap Kindergarten to the main road of Bai Thuy Hamlet, and more.
In the coming years, Dan Phuong District's transportation infrastructure will undergo further upgrades and expansion to enhance its connectivity with other districts and meet the growing development needs in all aspects.
Exploring Dan Phuong District
Traveling to The Phoenix Garden in Dan Phuong District, Hanoi

The Phoenix Garden travel
The Phoenix Garden, also known as the Dan Phuong Eco-tourism Area or The Phoenix Garden Hanoi, is located very close to the center of Hanoi compared to other eco-tourism destinations. Therefore, most Hanoi residents who frequently travel are familiar with it. The address of this premium eco-tourism area in Dan Phuong is approximately 20 kilometers west of central Hanoi. It boasts a vast and lush landscape with terraced fields of golden and vibrant green mustard greens, making it exceptionally beautiful. Here, you can organize picnics, camping trips, group gatherings, and enjoy the sight of pine forests and butterflies. It's also a great place for young children to play and relax.
Furthermore, you can take adults here for sightseeing or meditation, as within the Dan Phuong eco-tourism area, there is a serene and beautiful temple called Linh An Temple. With just half a day off, you can have a date, leisurely stroll, admire the scenery, and capture the most cherished memories with lush trees and flowers in this peaceful environment.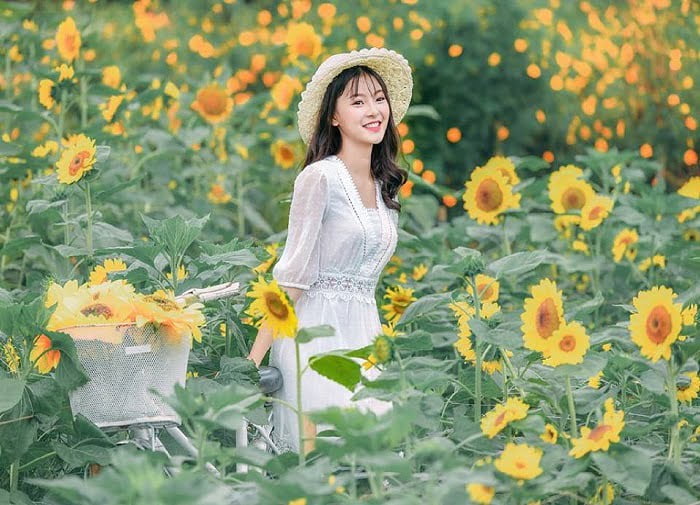 Traveling to Dai Tu An Pagoda in Dan Phuong District, Hanoi

Dai Tu An Pagoda travel
Situated prominently in Phung Town, Dan Phuong District, and located at the southwestern gateway of Hanoi, Dai Tu An Pagoda stands as a remarkable focal point within the premium eco-urban area of The Phoenix Garden. Construction of Dai Tu An Pagoda commenced on May 9, 2010, covering an area of 19,275 square meters and featuring architectural designs inspired by the Northern region of Vietnam. The centerpiece of the pagoda is a 25-meter-high statue of Buddha Amitabha (A Di Da Phat), strategically placed at the heart of the area, creating a sense of spiritual connection for the entire urban community.
Over the years, Dai Tu An Pagoda has organized monthly meditation retreats for Buddhist practitioners at home and hosted significant Buddhist ceremonies and festivals, including Buddha's Birthday, Vu Lan (Ghost Festival), Buddha Amitabha's Birthday, and the Enlightenment of Buddha. It serves as a hub for cultural, religious, and spiritual activities within the residential garden area, catering particularly to the elderly population and appealing to the younger generation.
Admiring the Terraced Fields
Leaving behind the charming gardens, you can visit the vibrant terraced fields covered in mustard flowers. These terraced fields recreate a breathtaking and majestic natural landscape of the mountainous region. They have become a hot destination for nature lovers and photography enthusiasts alike, offering the opportunity to appreciate and capture beautiful moments.
In addition to the expansive flower gardens and terraced fields, the Dan Phuong eco-tourism area also houses Dai Tu An Pagoda, featuring spacious, tranquil, and cool surroundings. This serene place is designed for those seeking peace and tranquility, far removed from the hustle and bustle of urban life.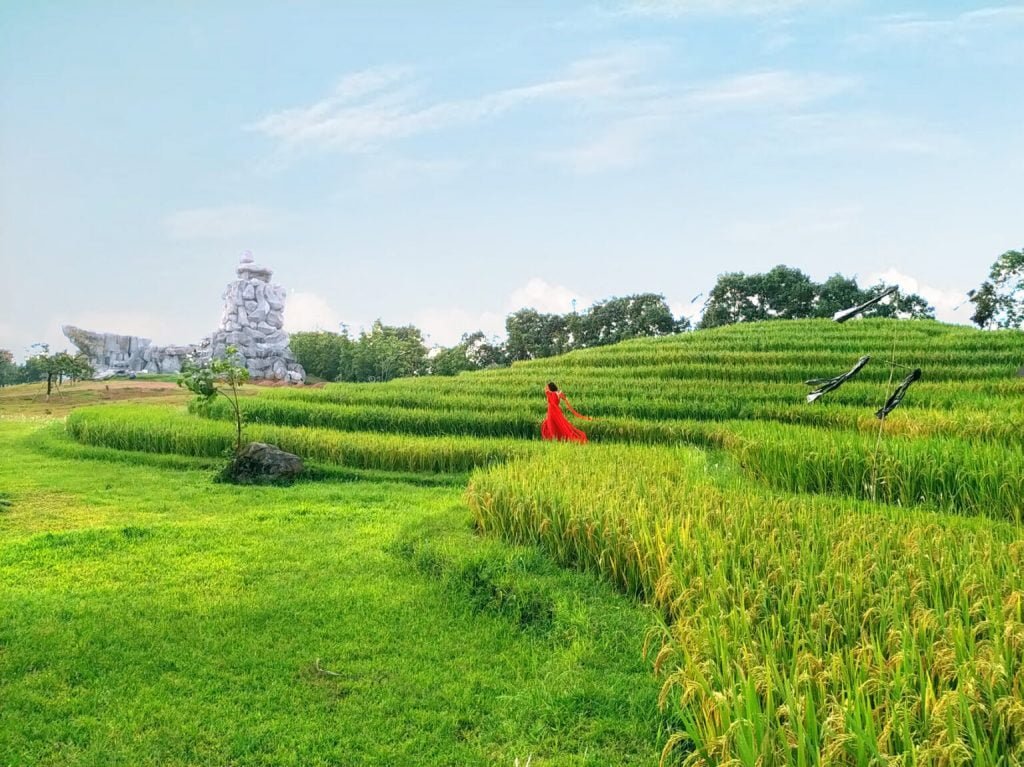 Infinity Pool
Furthermore, you can partake in a variety of exciting recreational activities at the Dan Phuong eco-tourism area, The Phoenix Garden. The Tien Thien Infinity Pool is one of the largest infinity pools in Hanoi, offering ample space for you to splash around, play, and have fun to your heart's content.
The entrance fee to the pool is 50,000 Vietnamese dong for adults and 30,000 Vietnamese dong for children under 1.3 meters in height. Children under 0.7 meters receive free admission. The pool is equipped with a professional lifeguard team, ensuring a safe environment. Additionally, there are affordable swimming classes available here for both adults and children.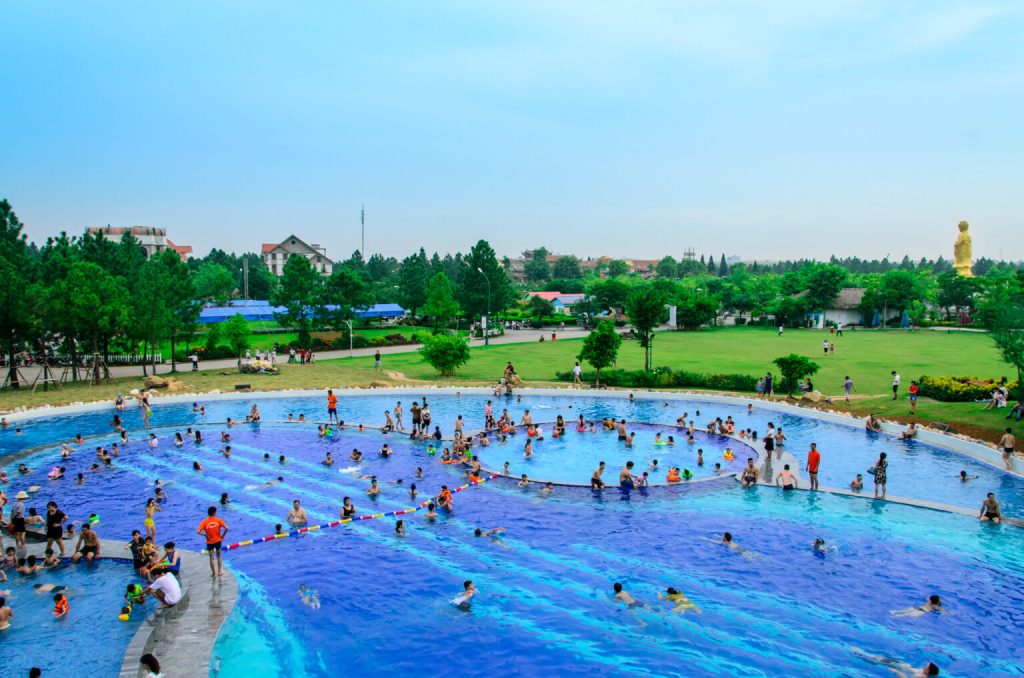 Exciting Recreational Activities
In addition to the swimming pool, there is also an indoor rock climbing area with artificial rock walls that challenge those who enjoy adventurous games. For outdoor enthusiasts, there are numerous fun activities to participate in, such as artificial grass sledding, priced at 40,000 Vietnamese dong per ride. Swing sets and monkey bridge crossings are also attractive activities, and the best part is that they are free.
For families with children visiting the eco-urban area of Dan Phuong, you can enjoy paddle boating on the crescent-shaped lake for only 30,000 Vietnamese dong per 30 minutes. Furthermore, young children can partake in entertaining activities like bumper cars, carousel rides, and swings within the children's amusement area.
Depending on the occasion, you may have the opportunity to join traditional festivals featuring folk games or dazzling, large-scale light festivals during holidays and special events.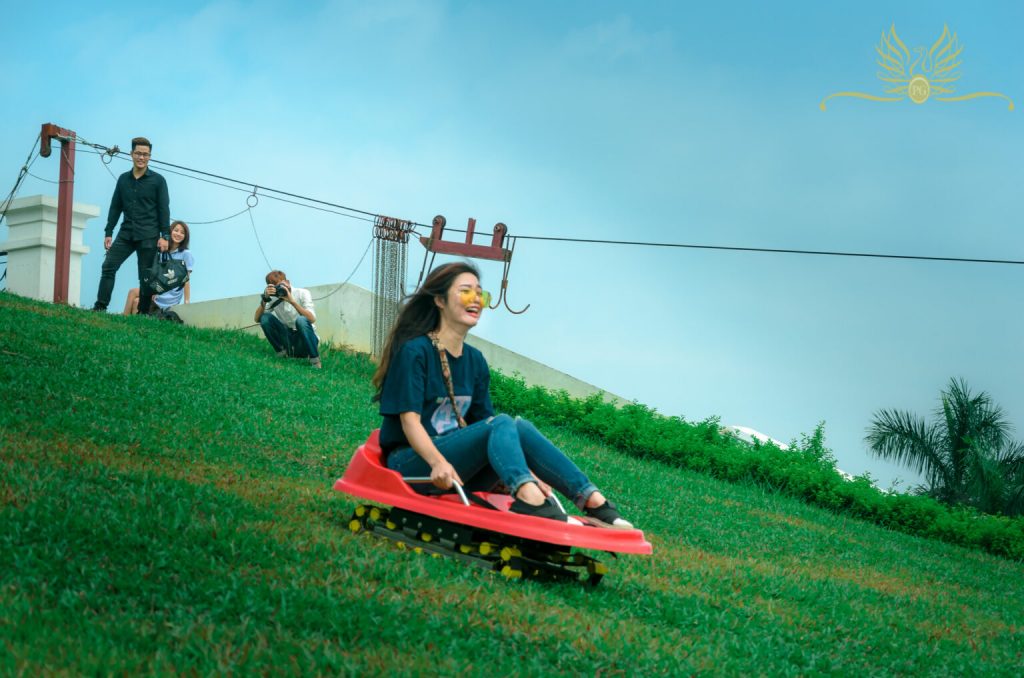 Famous Drinking and Dining Spots in Dan Phuong District
Lofita Tea & Coffee
When it comes to delicious coffee shops with beautiful views and unique styles in Dan Phuong, you definitely can't miss Lofita Tea & Coffee. With its distinctive trendy orange color and the energetic rabbit mascot, Lofita has created a true coffee space for the younger crowd.
Boasting million-dollar rooftop views, Lofita is the perfect destination for a group of young friends who love taking photos and want to capture the most beautiful moments together.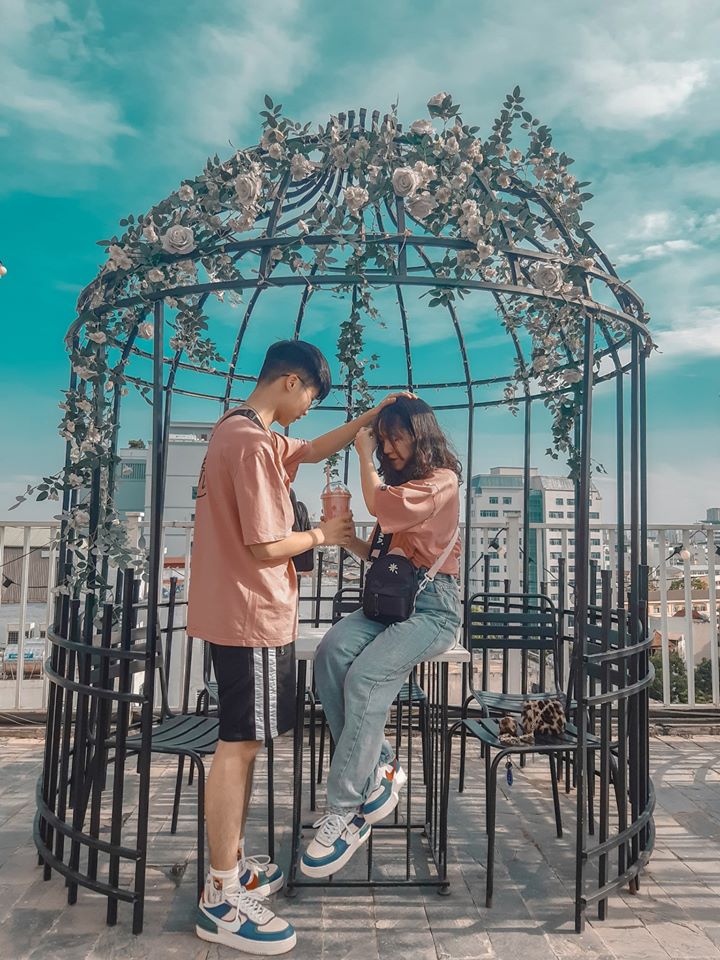 1 Xu Lemon Tea Shop
If you're looking for a truly comfortable outdoor space, be sure to visit 1 Xu Lemon Tea Shop. Despite being called a lemon tea shop, rest assured that you can find all kinds of beverages here, from coffee to various fruit teas and even snacks.
With its unique and creatively designed interior, 1 Xu Lemon Tea Shop is a favorite spot for check-ins and famous wedding photoshoots in the area. This is the delightful café in Dan Phuong that we want to recommend to you.
Liên Hương Vegetarian Hotpot Buffet
Liên Hương Vegetarian Hotpot Buffet is a name that's not unfamiliar to many. The first establishment of Liên Hương Vegetarian Hotpot Buffet was located in Cau Giay District. After many years of establishment and growth, Liên Hương Vegetarian Hotpot Buffet has expanded with multiple branches, serving vegetarian buffets in the Dan Phuong District area. Understanding the demand for vegetarian dishes here, Liên Hương has tailored its menu to cater to the budget of the majority of customers.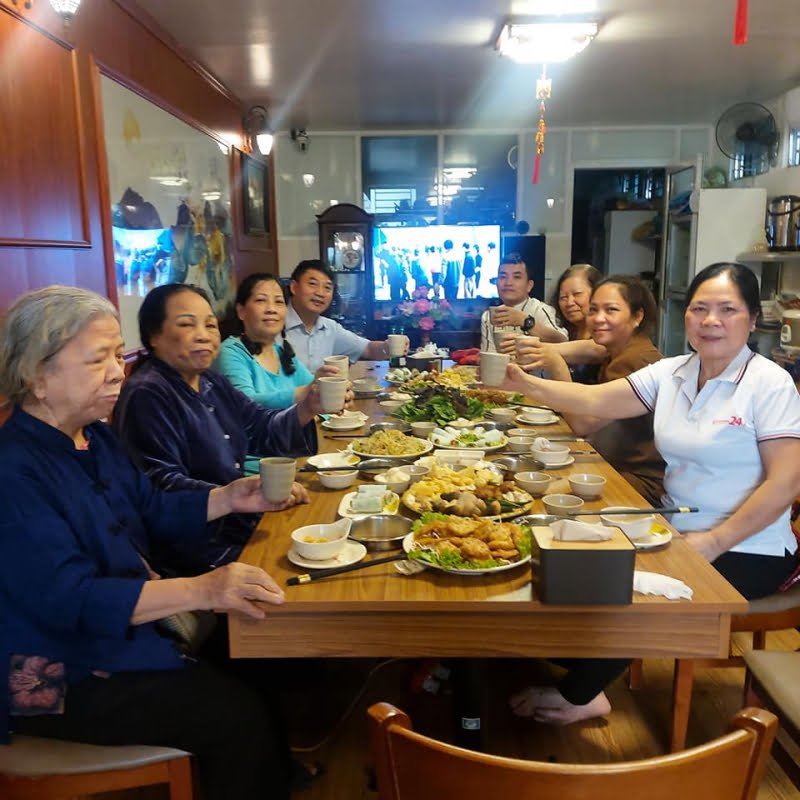 Hoa Truc – Hanoi Grilled Pork Vermicelli
Hanoi Grilled Pork Vermicelli, also known as "bun cha," has long been famous across different regions in Vietnam. However, its origin is not in Dan Phuong, so for a long time, the residents here had difficulty enjoying this renowned Hanoi dish. Nowadays, with the increasing number of eateries opening up, Hanoi Grilled Pork Vermicelli has become more readily available in Dan Phuong. Among the delectable bun cha restaurants, Hoa Truc is a must-visit. It's a place specializing in Hanoi Grilled Pork Vermicelli and is beloved by many.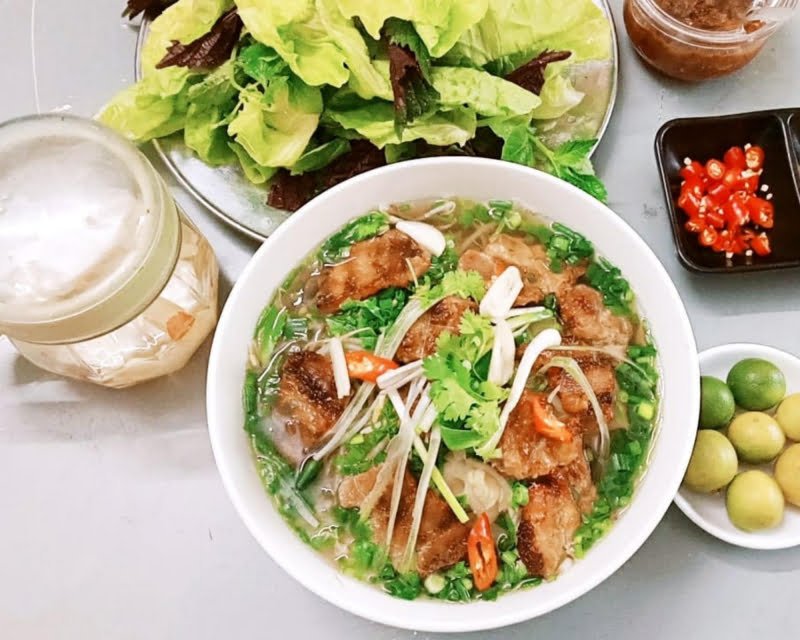 Mã Cường Quán Restaurant
Mã Cường Quán is one of the renowned restaurants in Dan Phuong District, Hanoi. This restaurant specializes in serving delicious dishes made from horse meat and rustic local dishes with strong flavors of the Northwestern mountainous region.
When you visit Mã Cường Quán, you'll have the opportunity to indulge in delectable horse meat dishes such as horse stir-fry, horse with celery, horse salad, rare horse meat with lime, Japanese-style horse meat, and more, each with unique and distinctive flavors. The preparation methods are quite unique, and the prices here are very affordable.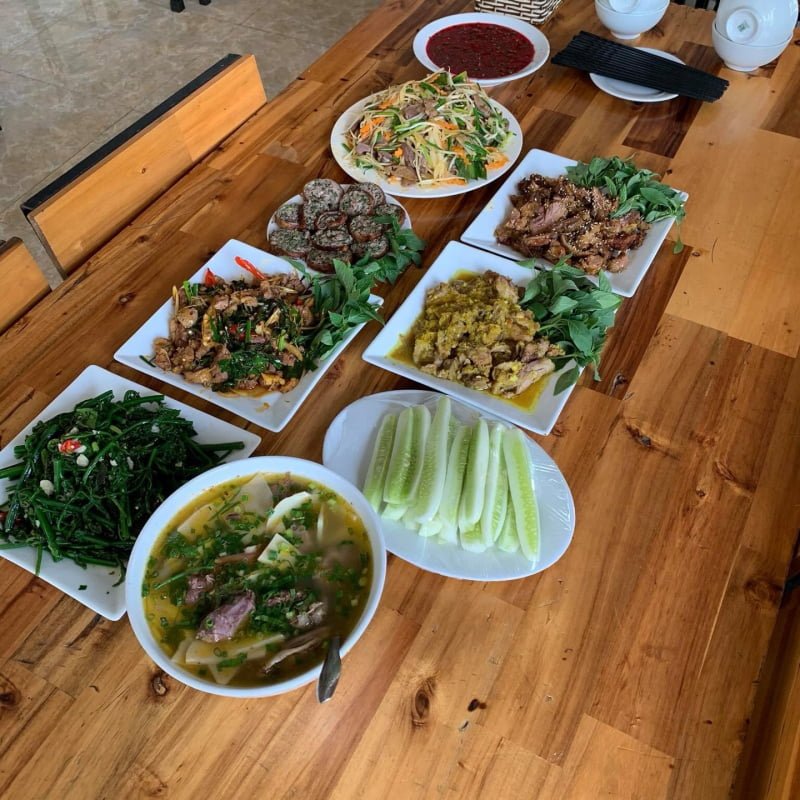 Experience the allure of Dan Phuong District Update 09/22/2023 
The fresh and spacious environment, with numerous relaxation corners and stunning photo backgrounds, along with a wide range of entertaining activities, has made this check-in spot incredibly popular.
If you're looking for a weekend getaway that doesn't require traveling too far, then the eco-urban area of Dan Phuong, The Phoenix Garden, is an excellent choice. So, why hesitate? Prepare for your weekend camping trip to this exciting recreational destination!