Cambodia not only offers mesmerizing landscapes but also boasts a renowned culinary scene, especially when it comes to street food.
Cambodian cuisine is famous for its diversity, richness, and vibrant flavors, resulting from the fusion of Eastern and Western culinary cultures. Among them, unique street foods like Num Pang, Nom Banh Chok, Num Plae Ai,… are among the top 10 street foods to try when visiting Phnom Penh.
Num Pang
Similar to Vietnam, influenced by French cuisine, bread is one of the popular and distinctive street foods in Cambodia, becoming a familiar breakfast dish for many locals and tourists. The recognizable feature of Num Pang sandwich is its hearty bread filled with various ingredients such as butter, pate, sauce, spicy chili, salad, and meat…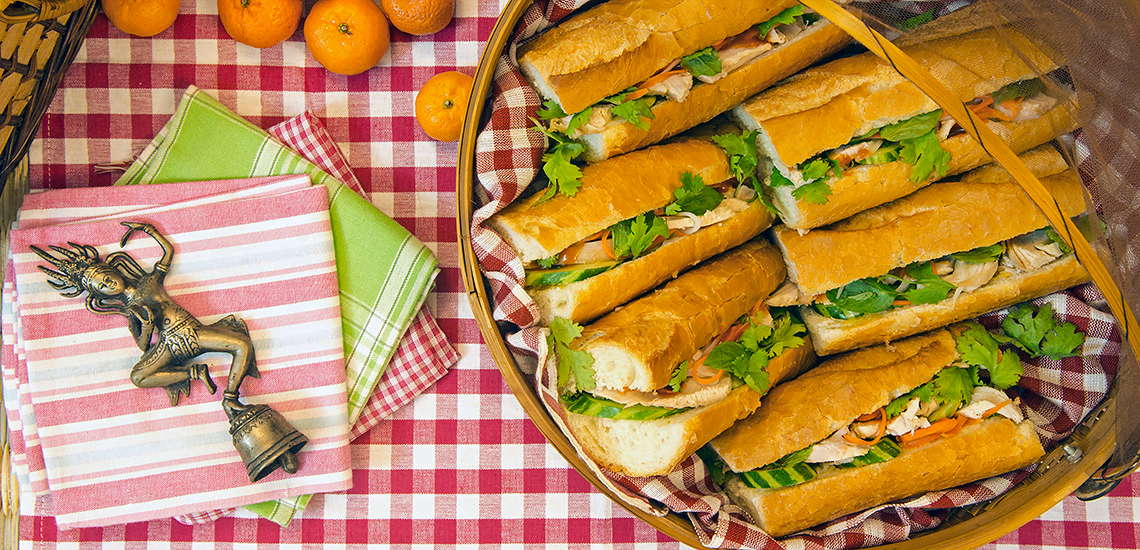 Nom Banh Chok
While walking on the streets of Phnom Penh, tourists easily come across street vendors selling Nom Banh Chok, with one side featuring a pot of fragrant curry sauce and the other side a basket of fresh green vegetables.
This dish is known as the "national dish" of Cambodia, with its main ingredients including rice noodles, papaya, mung beans, bean sprouts, banana blossoms, cucumber,…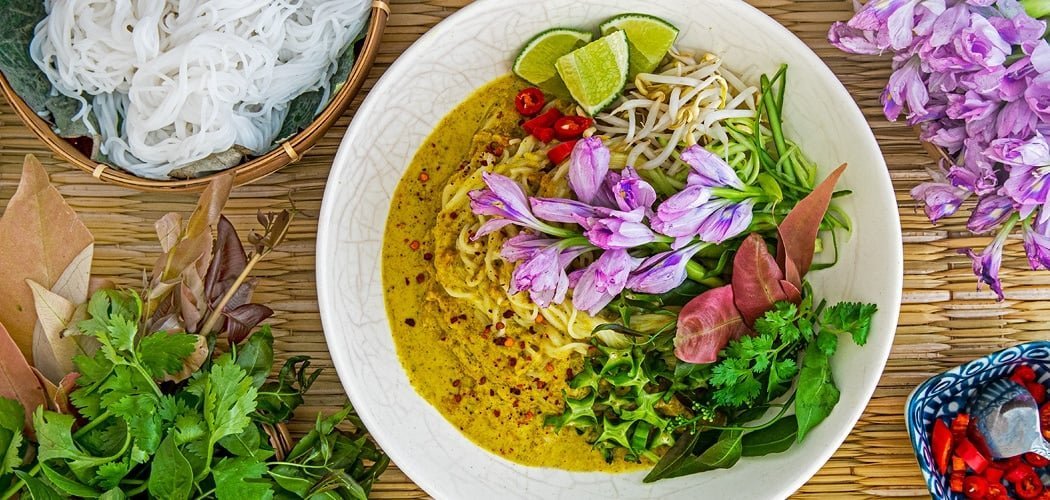 Num Plae Ai
Num Plae Ai, also known as Cambodian rice cakes, is one of the top 10 street foods to try when visiting Phnom Penh. So, don't hesitate to stand on a street corner and indulge in this unique dish. These small rice cakes are perfectly round, filled with a caramelized palm sugar filling, and coated with finely shredded coconut, creating an incredibly enticing treat.
Bai Sach Chrouk
Bai Sach Chrouk is a dish made from grilled pork served with rice, fried eggs, and pickles. The pork is marinated with flavorful spices according to the Cambodian recipe, including coconut milk and garlic, then grilled over charcoal.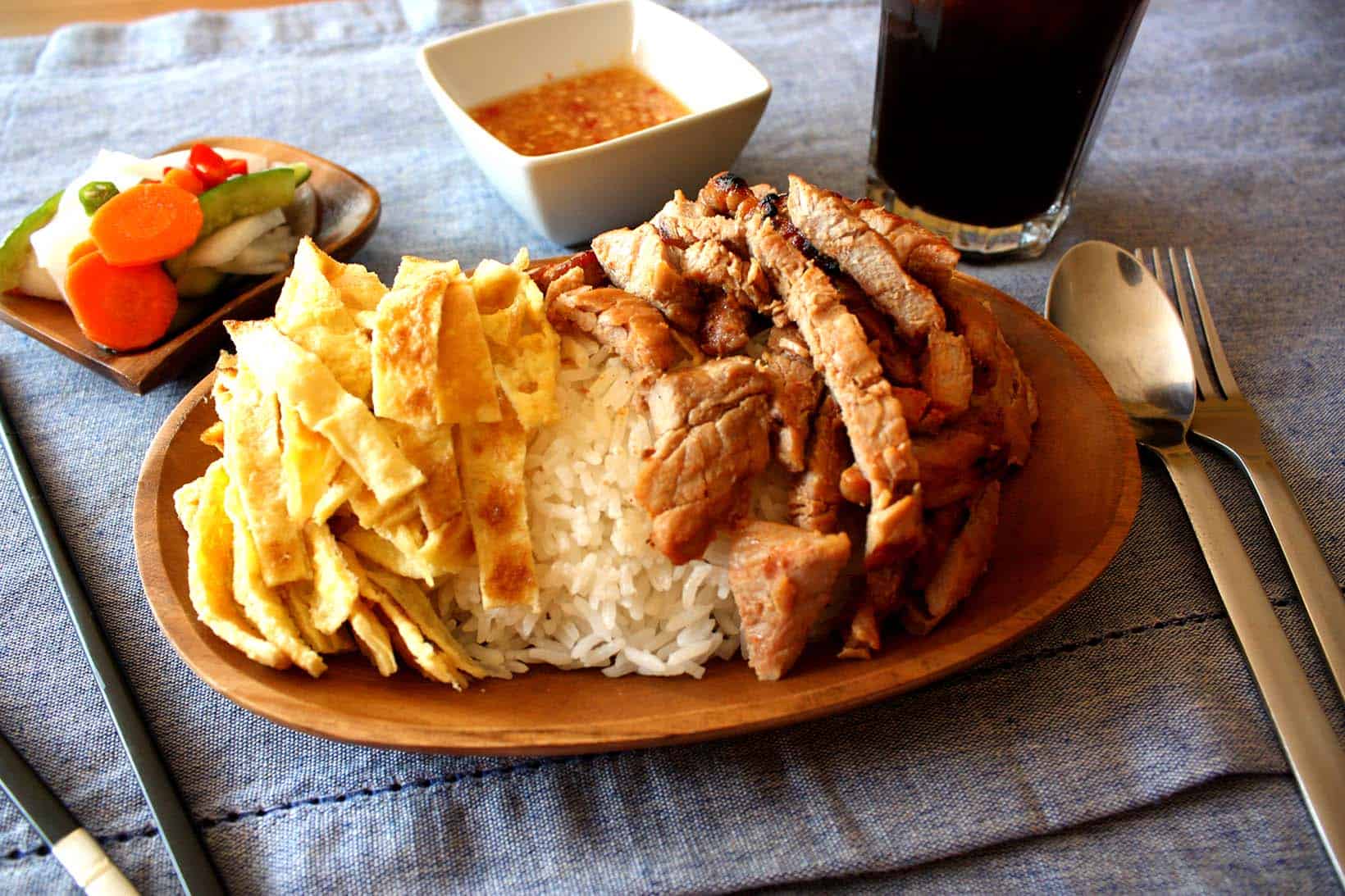 Mi Char
Mi Char is a popular Cambodian stir-fried noodle dish, loved by young people for its affordable price and quick preparation. Vendors can use egg noodles, instant noodles, or rice noodles stir-fried with soy sauce, fish sauce, beef, vegetables, and sometimes topped with fried eggs.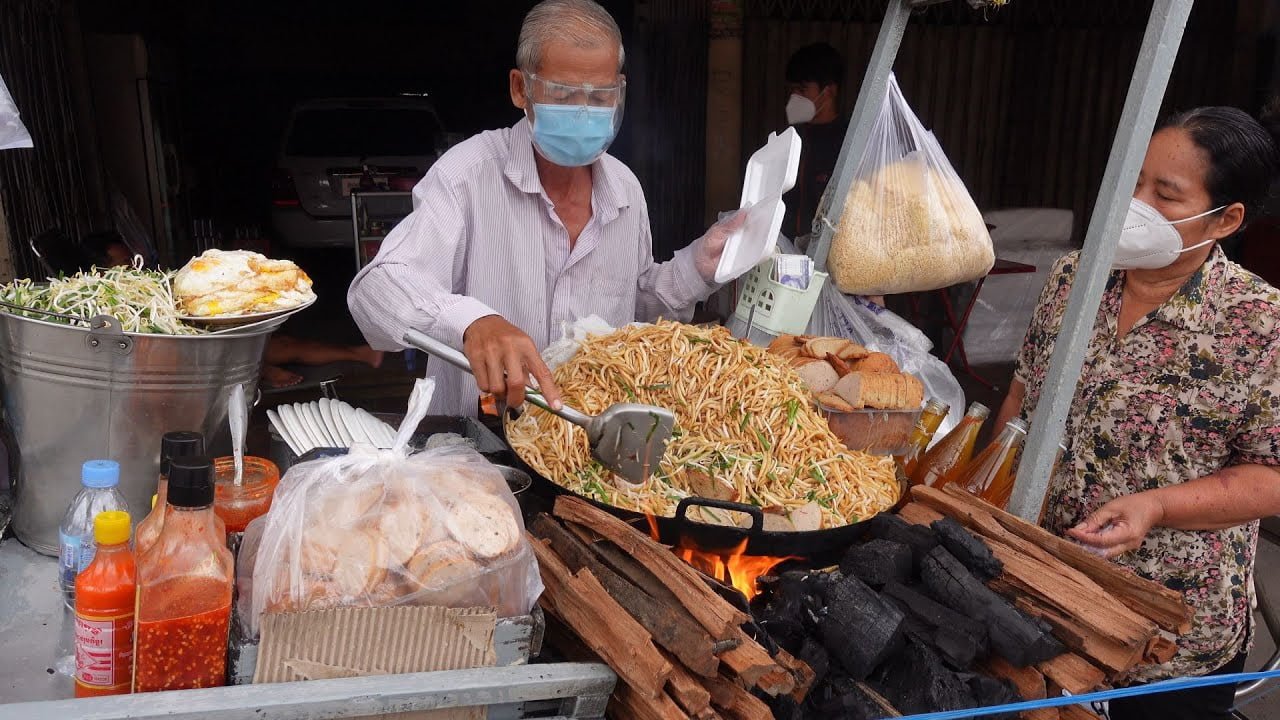 Kuy Teav
Kuy Teav is a street food dish originating from the Chinese community in Cambodia. This dish combines ingredients such as pork or beef broth, rice noodles or flat rice noodles, chives, green onions, bean sprouts, shrimp, meat, beef balls, liver,…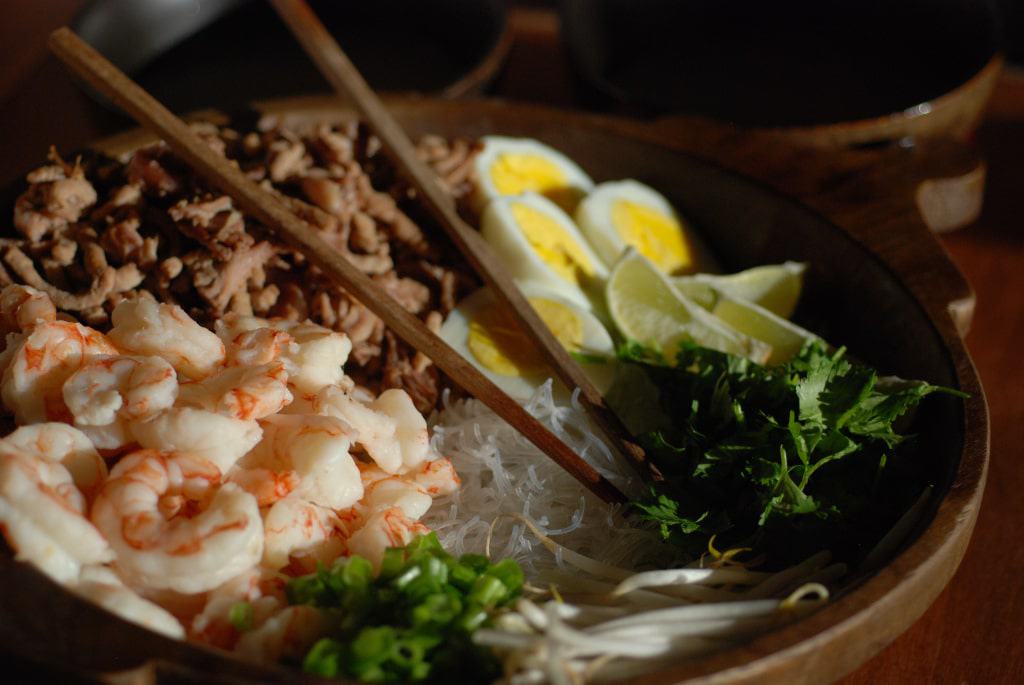 Ngeav Chamhoy
Traveling to Cambodia without tasting Ngeav Chamhoy, one of the top 10 street foods to try when visiting Phnom Penh, is considered incomplete for visitors to the capital city.
Ngeav Chamhoy is actually a steamed clam dish with lemongrass, chili, lime leaves, and galangal. This dish has become a popular snack to enjoy with beer in Phnom Penh.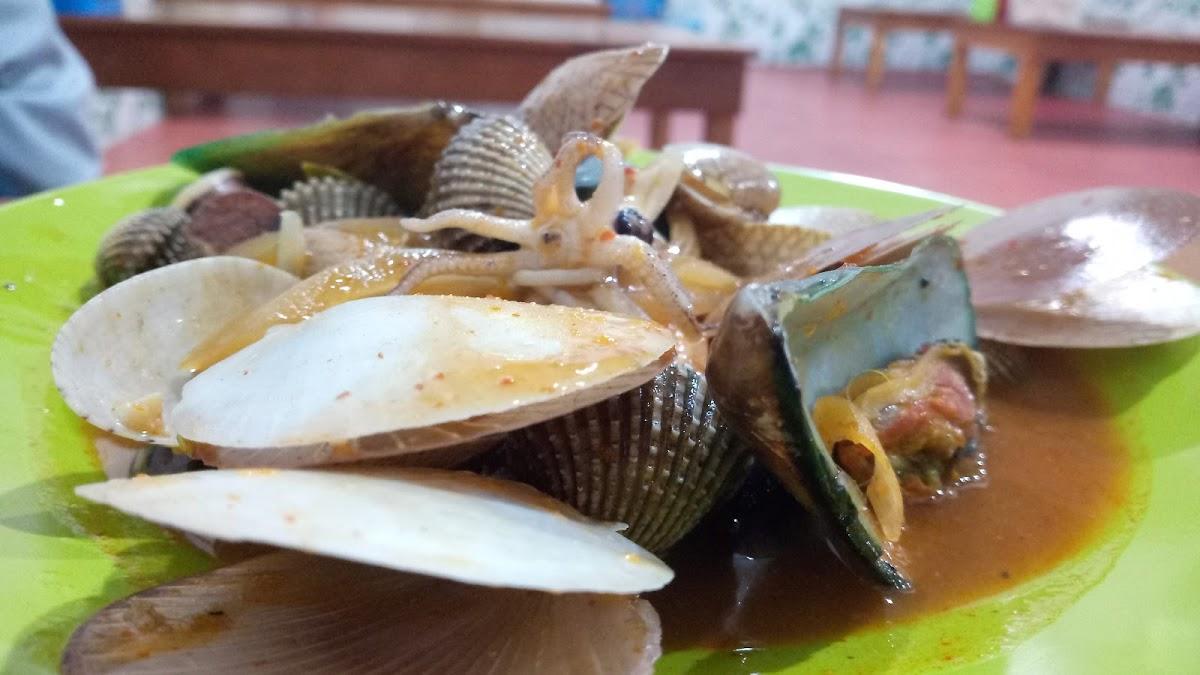 Num Sang Khya l'peou
At the end of this list is a dish with a long and difficult-to-read name, but once someone tries this dish, they will forever remember its taste on their palate. This unique dish is made from pumpkin. After cleaning the seeds, the cook fills the hollow part with egg whites, palm sugar, coconut milk, and steams it for 30 minutes.
After being cooked, visitors will be impressed by the vibrant colors inside, with distinct layers of colors, and the soft, sweet, and fluffy texture of eggs, pumpkin, and coconut milk when enjoying this dish.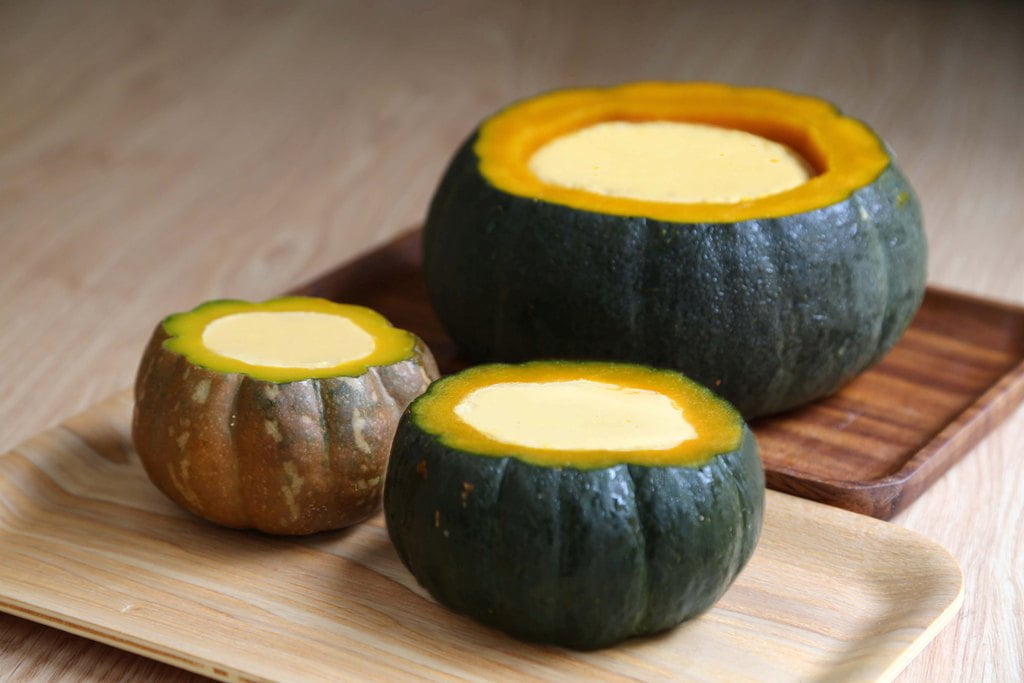 Ang dtray
This is the name of the grilled squid skewers, a popular dish in coastal areas of Cambodia such as Sihanoukville and sold directly at the beaches for tourists. The squid is cleaned and marinated with ingredients such as lime juice and fish sauce for flavor infusion. When preparing to grill, the squid is threaded onto skewers and cooked over charcoal stoves. This dish is best enjoyed with a dipping sauce made of lime, garlic, and chili.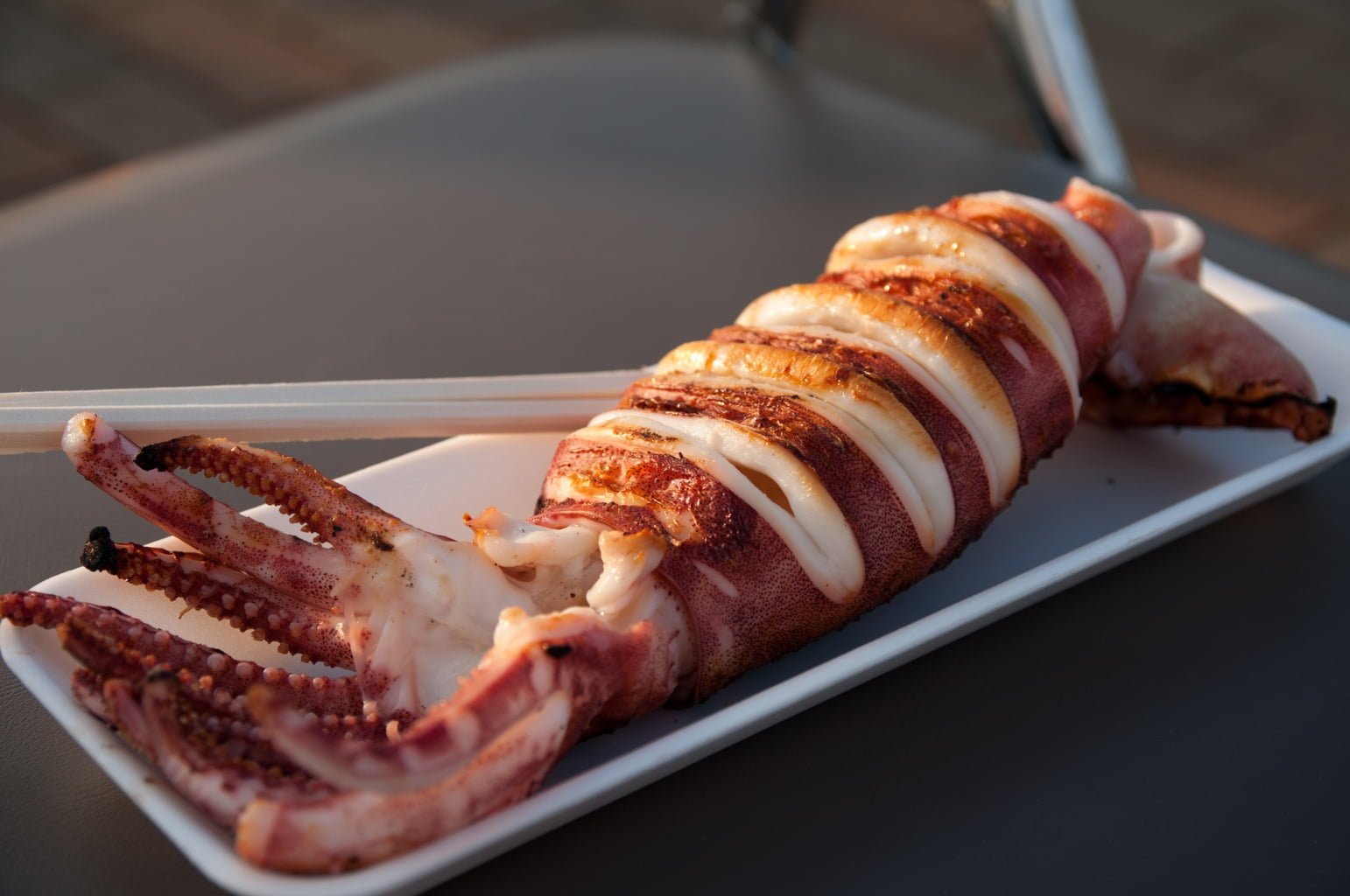 Cha houy teuk
Most of the dishes mentioned above are savory dishes. So if you try a variety of them, you might get tired of them, right? Then let's try a delicious dessert jelly from Cambodia called cha houy teuk.
This dish consists of sticky rice cakes made from glutinous rice, sweet taro, red pumpkin, red beans, jackfruit, and colorful jelly cubes. When eating, you pour coconut milk on top. This dish is truly refreshing and also serves as a thirst quencher.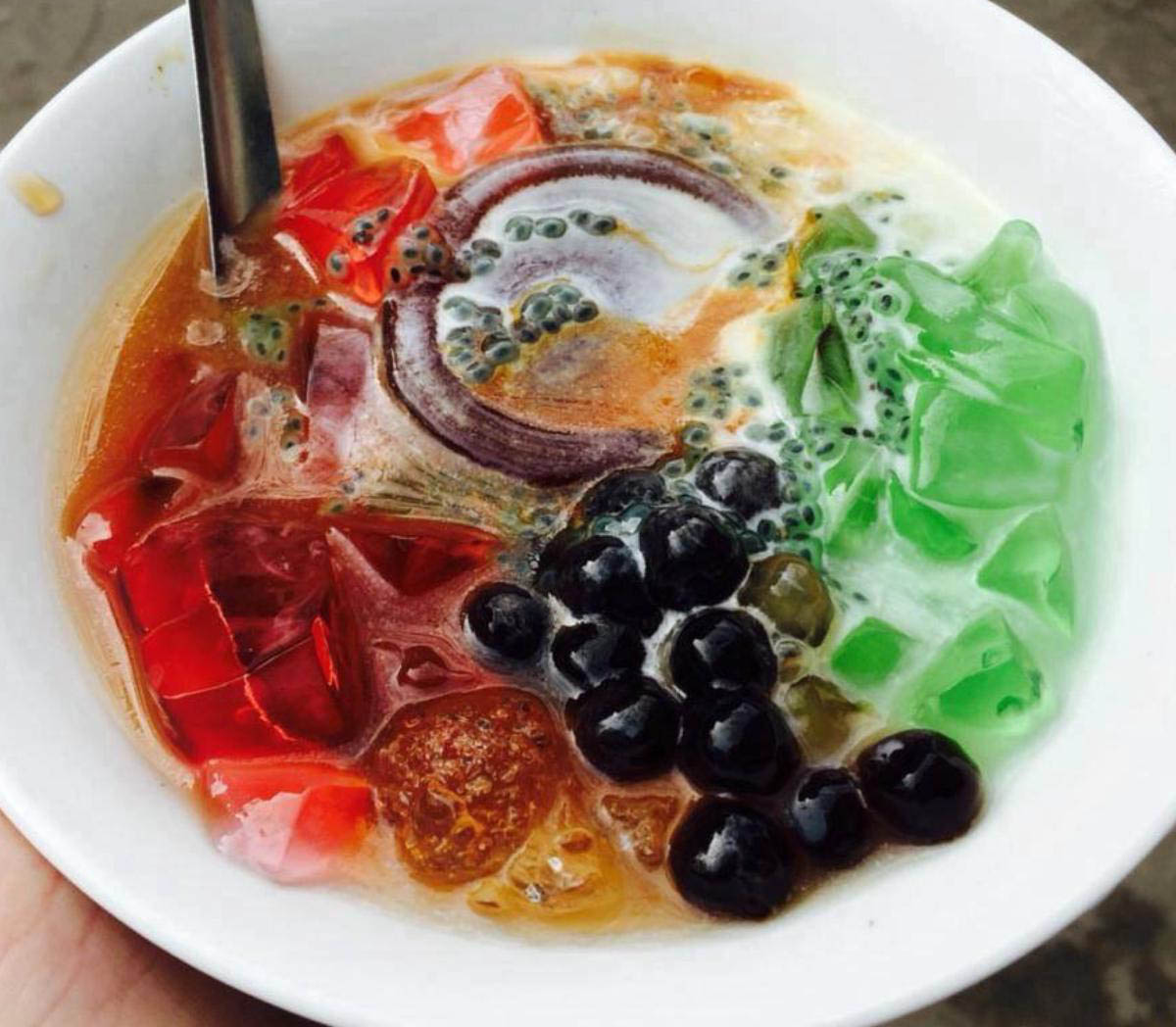 The street food in Cambodia is very enticing, isn't it? Come here right away and indulge yourself.